Finesse-Fishing.com Shop - Lures
Daiwa Crusader Spoons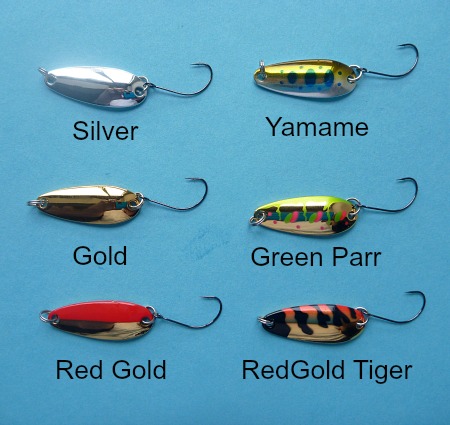 2.5 or 4.0 gram weight
2.5g spoon just under 1 1/8" long, 4g spoon 1 3/8" long

Single hook
Highly polished for maximum flash
Split ring attachment for maximum action
2.5 gram Crusader Spoons
Daiwa Crusader 2.5g
Silver - $6
Daiwa Crusader 2.5g
Yamame - $6

Daiwa Crusader 2.5g
Gold - $6

Daiwa Crusader 2.5g
Green Parr - $6

Daiwa Crusader 2.5g
Gold-Red - $6

Daiwa Crusader 2.5g
Red Gold Tiger - $6

4.0 gram Crusader Spoons

Daiwa Crusader 4.0g
Silver - $6

Daiwa Crusader 4.0g
Gold - $6

Daiwa Crusader 4.0g
Gold-Red - $6
---
Shipping
Domestic shipping is by USPS First Class Mail (unless ordered along with a rod). The $4 charge will be added to your order automatically.
Shipping to international buyers requires additional postage. International First Class postage requires an additional $6 to Canada or Mexico or $10 to other countries. If the line is being shipped with a rod, pay the additional postage on the rod page. No additional postage is required for the line.

Additional First Class Postage to Canada or Mexico
Additional First Class Postage to Other Countries
Payment
Payment is processed by PayPal but you do not need a PayPal account. You can use your credit card.
Finesse-Fishing.com is a TenkaraBum LLC website. Payments will show on your statement as TenkaraBum.