Finesse-Fishing.com Shop - Lures
Daiwa Crusader Spoons

2.5 or 4.0 gram weight
2.5g spoon just under 1 1/8" long, 4g spoon 1 3/8" long

Highly polished for maximum flash
Split ring attachment for maximum action
The spoons DO NOT HAVE THE BLACK LINES shown in the images
THE SPOONS ALL COME WITH A SINGLE MICROBARB HOOK even though the photos don't show hooks

Daiwa Crusader 2.5g
Gold-Red - $6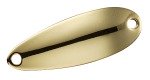 Daiwa Crusader 2.5g
Gold - $6
Daiwa Crusader 2.5g
Silver - $6
Daiwa Crusader 2.5g
Yamame - $6
Daiwa Crusader 4.0g
Gold-Red - $6
Daiwa Crusader 4.0g
Gold - $6

Daiwa Crusader 4.0g
Silver - $6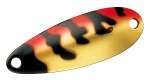 Daiwa Crusader 2.5g
Gold Red Tiger - $6
Daiwa Crusader 2.5g
Green Parr - $6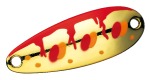 Daiwa Crusader 2.5g
Red Parr - $6
Daiwa Crusader 2.5g
Blue Silver - $6
---
Daiwa Presso Adam Spoons

2.2 gram spoons in stock

Just over 1" long, 7/16" wide
THE SPOONS COME WITH A SINGLE BARBLESS HOOK even though the photos don't show hooks (and they are SHARP!)

Split ring attachment for maximum action

Daiwa Presso Adam
Area Mocha $6.00
Daiwa Presso Adam
Glossy Black $6.00
Daiwa Presso Adam
Orange Gold $6.00
Daiwa Presso Adam
Persimmon $6.00

Daiwa Presso Adam
Lemonade $6.00
---
Daiwa Presso Vega Spoons

.4 gram or .8 gram

Just under 7/8" long and just under 3/8" wide
THE SPOONS COME WITH A SINGLE BARBLESS HOOK even though the photos do not show hooks (and they are SHARP!)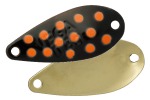 Daiwa Presso Vega .4g
Nightmare $6.00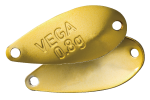 Daiwa Presso Vega .4g
Gold $6.00
Daiwa Presso Vega .4g
Silver $6.00
Daiwa Presso Vega .4g
Glossy Black $6.00
Daiwa Presso Vega .8g
Nightmare $6.00
Daiwa Presso Vega .8g
Gold $6.00
Daiwa Presso Vega .8g
Silver $6.00
Daiwa Presso Vega .8g
Glossy Black $6.00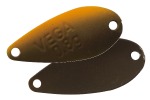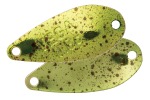 Daiwa Presso Vega .4g
Mocha Black $6.00
Daiwa Presso Vega .4g
Dark Forest $6.00
Daiwa Presso Vega .4g
Lemonade $6.00
Daiwa Presso Vega .8g
Mocha Black $6.00
Daiwa Presso Vega .8g
Horizon $6.00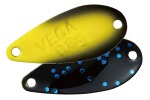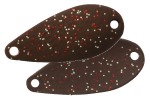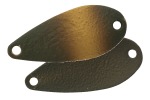 Daiwa Presso Vega .4g
Yellow Dagger $6.00
Daiwa Presso Vega .4g
Brown Pellet $6.00
Daiwa Presso Vega .4g
Green Pellet $6.00
---
Shipping
Domestic shipping is by USPS First Class Mail (unless ordered along with a rod). The $4 charge will be added to your order automatically.
Shipping to international buyers requires additional postage. International First Class postage requires an additional $6 to Canada or Mexico or $10 to other countries. Add postage just once for multiple small items. If small items are being shipped with a rod, pay the additional postage on the rod page. When additional postage is paid for the rod, no additional postage is required for the line, lures or other small items.

Additional First Class Postage to Canada or Mexico
Additional First Class Postage to Other Countries
Payment
Payment is processed by PayPal but you do not need a PayPal account. You can use your credit card.
Finesse-Fishing.com is a TenkaraBum LLC website. Payments will show on your statement as TenkaraBum.
---