Covid-19 Announcement
INTERNATIONAL: Shipments are taking a very long time to arrive. Expect delivery to take more than one month.
DOMESTIC: Many deliveries are taking about a day longer than normal. A few deliveries are taking a lot longer than normal. If you planning a trip, please order well in advance.

---
Daiwa Dr Minnow

Daiwa Dr Minnow plugs are used by Japanese anglers to fish for trout in mountain streams. The high back and fixed (rather than sliding) weight design create a very stable plug that produces a wide rolling wobble with a steady retrieve and a darting action with a twitched retrieve.
I have used some Dr Minnow plugs for a couple months now and I am sold on their effectiveness.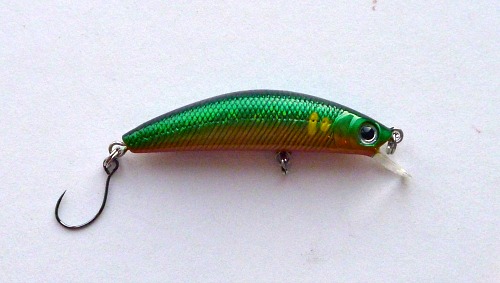 Daiwa Dr. Minnow 5F Green Ayu
Replacement Single Barbless Hook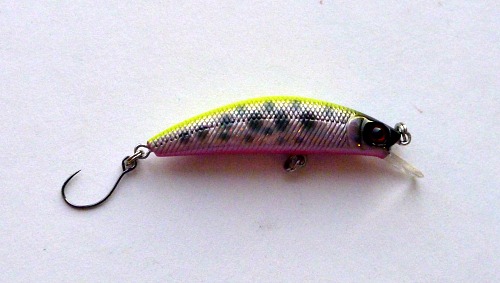 Daiwa Dr. Minnow 5FS Chartreuse Yamame
Replacement Single Barbless Hook
By the time I first tried the Daiwa Dr Minnow lures, I had already gotten replacement single barbless hooks. I'd had a bad experience with a fish that had gotten horribly hooked on a pair of trebles and had vowed to fish only single hooks. From the very beginning, I fished the Dr Minnow lures with just a single barbless hook, as shown above. With a good pair of split ring pliers It is a relatively easy task to remove the front treble hook and replace the rear one with the single hook. It turned out that the lures still wiggled and wobbled in ways that the trout found hard to ignore.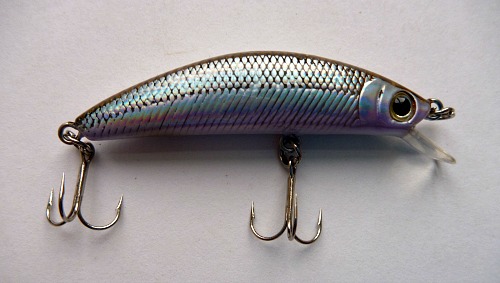 Daiwa Dr. Minnow 5F "Wakasagi"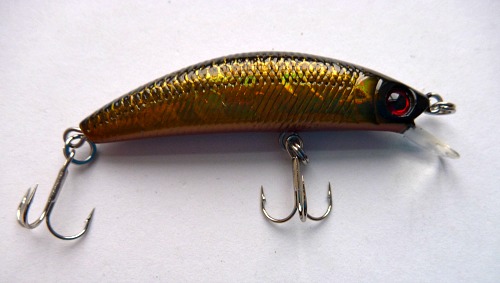 Daiwa Dr. Minnow 5FS "Black Gold"
I debated for quite some time about whether to stock the lures despite having caught some very nice fish with them. The sticking point (or rather, points!) was that the plugs come with a pair of treble hooks as shown above. I had already decided that I wanted to sell only single hook lures and despite the fact that it is not difficult to remove the front treble hook and replace the rear one with a single barbless hook, I just don't have time to swap out the hooks on every lure I sell.

I found that the single hook was still very effective at hooking fish. Sure, I had some hits that weren't hook-ups, but I certainly got enough hits to more than make up for the misses.

What I found to be quite interesting and very encouraging is that the Daiwa Dr Minnow plugs when fitted with single barbless hooks often came out by themselves after the fish was in the net. With minimal damage from the barbless hook, and little or no "air time" from the unhooking process, the Daiwa Dr Minnow with a single barbless hook is about as fish friendly as you can be and still go fishing.

All of that together overcame my reluctance. They are very effective, and because minnow lures seem to be the "go to" lures for mountain stream fishing in Japan I know people here in the US are going to use minnow lures (jerk baits). I just want people to use single hook lures, and I figure the best way to promote that is to provide a free replacement single barbless hook with each lure sold and come right out and ask people to use it rather than the factory trebles.

Please remove the front treble and replace the rear treble with  single barbless hook.
---
Warning:
The hooks are sharp.
The coffee's hot.
The fish are slippery when wet.
---