Covid-19 Announcement
Most international flights have been cancelled.
There is no ETA for out-of-stock items that come from Japan.
Shipments to overseas buyers will take longer than normal - possibly much longer. Patience is a virtue - especially in fishing.
---
Daiwa Presso Combo
Daiwa Presso AGS 54XUL-S
The Daiwa Presso AGS 54XUL-S is an "Area" trout rod, designed for stocked trout in lakes. Presso is Daiwa's top brand for Area gear. AGS is their Air Guide System (carbon fiber guides, which are both lighter and stiffer than titanium). 5'4" is the length. Extra Ultra Light is the action. The rod has a solid tip, which is more flexible and more sensitive than the hollow tip on most spinning rods
Personally, even though the rod was designed for catching stocked trout in lakes, I think it would be about the nicest rod for little wild brookies that you could possibly find. The extra ultralight action and flexible solid tip are perfect for smaller fish.
Daiwa Presso AGS 54XUL-S
The rod is rated for 1.5 to 3 lb line. I've never fished with 1.5 lb line but I have often fished with 2 lb line. It is plenty strong enough for brookies, and plenty light enough to get the best action out of small lures. The rod is rated for lures ranging from .6 to 2.5 grams. That spans pretty much the whole range of micro spoons, from the .6g Forest Chaser up to the 2.5g Daiwa Crusader and Shimano Slim Swimmer. That range also includes the 2 gram Smith AR-S single hook spinners. Like the rod, the AR-S single hook spinners and the micro spoons are intended for Areas but I have found them to be deadly in a small stream.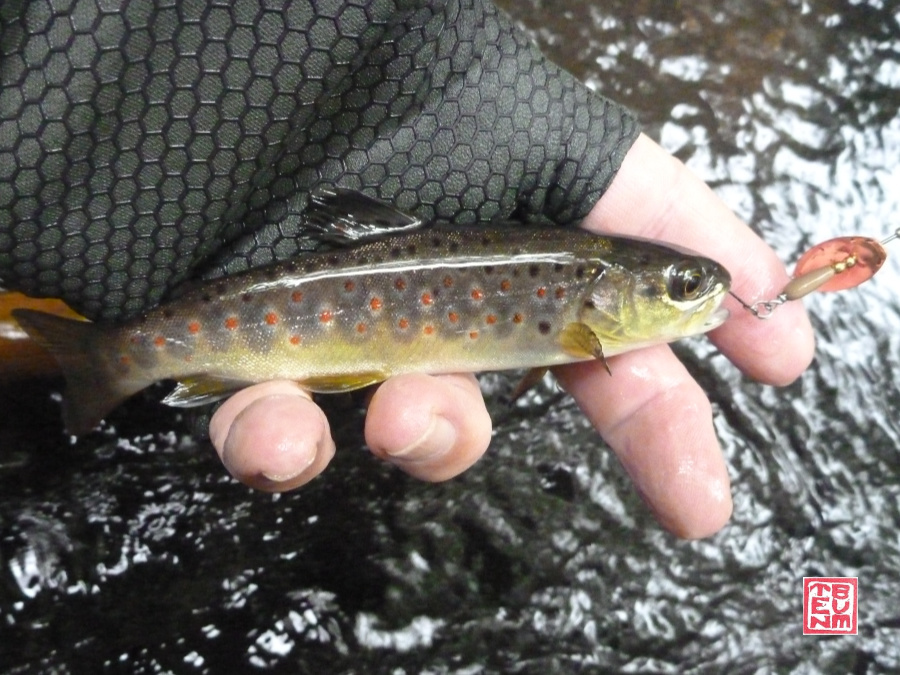 Smith AR-S single hook spinner
From the time I first learned of Area trout rods, I had assumed that they were pretty much limited to fishing in lakes. Trout in the Areas are heavily pressured, and anglers fish very light lures and very light lines. To protect the light lines, Area rods are soft. I had thought that the soft rods were only for lakes, where you didn't have to fight the current in addition to the fish.

Last year, one of my customers mentioned that his Area trout rod was a lot of fun for catching brookies in the headwaters. I had to give it a try. The stream I went to holds browns rather than brookies, but at 5-7" long, they are certainly brookie sized.
I spent the day fishing micro spoons and AR-S single hook spinners and had a wonderful day. I had to agree that an Area rod is not limited to lakes by any means!

Not long ago, I saw a YouTube video of a Japanese angler fishing a Daiwa Presso AGS rod in a mountain stream. He was fishing Smith AR-S spinners, which are perfectly suited to an Area trout rod. He caught a lot of modest fish, which also were perfectly suited to an Area trout rod. He fished upstream, and never had to fight the current in addition to the fish.

Based on my customer's comments, my own experience and the YouTube video, I had to conclude that a soft, Area trout rod is just fine for fishing streams as long as 1) you fish lures appropriate to the rod - micro spoons and small spinners rather than heavy sinking minnows, 2) the fish aren't too large, and 3) the current isn't too strong.
The soft rod is not just OK for fishing in streams, it's actually more fun if you are catching little wild brookies, or rainbows or redbands or greenbacks. Of course, it is more fun for stocked fish, too, if your state stocks the same size fish as my home state of New York (mostly 9-10" with a few 13-14"). Hooking a 13-14" fish with the Daiwa Presso 54XUL-S would give you a fight you won't soon forget, but if the current isn't too strong you shouldn't have a problem with it.

Perfect stream for Area rods
The photo above is the stream on which I tried the Area trout rod. It really was a perfect choice. I'll definitely do it again.

A Catskill brookie stream
Most Area rods are 6' or a bit longer, which is fine for fishing in lakes and fine for streams the size of the one I fished, but is a bit long for fishing really small streams. The stream shown above is representative of the brookie streams in my area. The 5'4" Daiwa Presso AGS 54XULS would be a much better choice for that stream. It  would still be fine for the one I fished.
If you are fishing in a stream where you expect to catch smaller fish (any brookie stream in the country), a short Area rod is actually an excellent choice. JDM rods designed for stream fishing will be a lot stiffer - stiffer than you need (or probably want) for catching smaller fish. The rods have to be stiffer because Japanese stream anglers mostly fish heavy sinking minnows - which need a firmer rod to give them the twitching, darting action that Japanese mountain stream anglers want.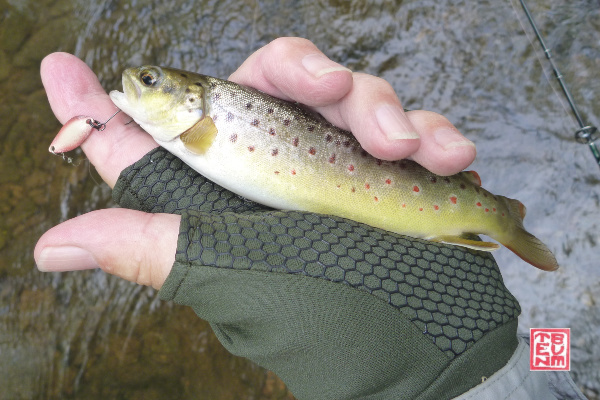 Micro spoons work very nicely in small streams.
If you are fishing micro spoons, though, or small, light spinners, you don't need a stiff rod. Those lures do not need a twitching retrieve.

The Daiwa Presso AGS 54XUL-S is the shortest Area spinning rod I know of. It is also one of the nicest.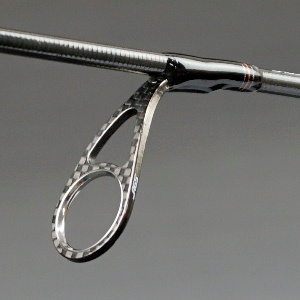 Daiwa Presso AGS Guide
The AGS (Air Guide System) guides are carbon fiber. They are lighter and stiffer than titanium. That makes the rod more sensitive, but it also increases casting distance.
The rod has SVF technology, which reduces the amount of resin relative to the amount of carbon - resulting in a lighter, stronger rod.
The X Torque construction is a 45 degree wrap which helps reduce twisting.
The V-Joint allows a smooth bend across the two sections, reducing the flat spot at the joint that other rods exhibit.
The Megatop is a carbon solid tip, with resin and carbon fibers evenly dispersed. It allows a small diameter, flexible, sensitive tip that bends evenly in any direction.
The bottom line is that the Daiwa Presso AGS 53XUL-S is a premium, technologically advanced rod that is lighter, more sensitive and more fun.

Daiwa Presso AGS 54XUL-S Stats
Model
Type
Tip
Length
Sections
Breakdown Length
Rod Weight
Line Weight
Lure Weight


Presso AGS 54XUL-S
Area (lake)
Solid
5'4"
2
33.125"
2.4 oz
1.5 - 3 lb
.6-2.5g (1/50-1/11oz)
Made in Thailand
---
Daiwa Presso 1025


Gear ratio - 4.8
Retrieve per turn - 60 cm (23+ in)
Drag Maximum - 2.0 kg (4.4 lb)
Weight - 170 g (6.0 oz)
Line capacity (Nylon)
     2.5 lb - 100 m (109 yds)
     3 lb - 90 m (98.4 yds)
Handle length - 35 mm (1.37 in)
Bearings - 10/1
Made in Japan

Daiwa Presso 1025
The Daiwa Presso 1025 is the perfect match for the Daiwa Presso 54XUL-S. It is likely to be the smoothest reel you've ever experienced.
Most of the reels offered on Finesse-Fishing.com have high gear ratios. The reason for that is so you can cast upstream in a freestone mountain stream and retrieve faster than the current. The Presso 1025 does not have a high gear ratio. For fishing smaller streams with modest current, though, that is not a problem.
For that matter, when fishing micro spoons, a slower retrieve is  actually better. If you retrieve a micro spoon to quickly, it will spin. You want it to wobble, not spin. Small "in-line" spinners, such as the AR-S single hook spinner, also do not need a reel with a high gear ratio to be effective. The "in line" design, in which the spinner shaft goes through a hole in the blade rather than having the blade attached to the shaft with a clevis, is extremely efficient. The blade will spin even with a relatively slow retrieve. And as spinner pros will tell you, if the blade is swimming, you'll catch fish.

Daiwa Presso Combo
The rod and reel are perfectly matched for each other. Both were designed for fishing in lakes, but both will do just as well fishing for smaller fish in streams with modest current, using lures like micro spoons or small in-line spinners.
The combo price of $650 is a significant discount from the regular price of each component if purchased separately.

---
Shipping
Domestic shipping is $10 via USPS Priority Mail (2-3 day delivery).
The charge for international shipping depends on the destination country, the weight of the package, the overall length of the package and the value of the package. Packages under 24" long and under $400 in value will go via USPS First Class International. Packages over 24" or over $400 will go via USPS Priority Mail International. The International shipping charge will be calculated at checkout.

---
Warning:
The hooks are sharp.
The coffee's hot.
The fish are slippery when wet.
---