Shimano Cardiff NS Baitcasters

Shimano Cardiff NS Baitcasters, particularly their 3-piece B42UL-3 and B47UL-3, are very capable, very convenient baitcasters ideally suited for headwaters and other small streams. The NS stands for Native Special.

Shimano Cardiff NS B42UL-3
Ever since I got my first baitcaster designed for trout fishing in streams (a wonderful 5'3" 2-piece Tenryu) I have wanted a shorter 3 or 4 piece model for narrow headwaters steams. A 3 or 4 piece rod is much better for backpacking.
Although I don't backpack into my fishing spots, I generally do fish with a backpack.  I almost always have more than one rod with me and it is convenient to strap the one I am not fishing with to the backpack. Also, it is easy to carry a lunch and enough water to avoid dehydration.
In the East, many stream-side trails are essentially deer trails, complete with low branches and vines that you have to duck under. Two-piece rods strapped to a backpack catch on all those branches and vines. Three and four-piece rods don't.

I have gotten emails from customers who carry more than one rod at time, not because they do product descriptions or trip reports like I do, but so they can fish both flies and lures, often a tenkara rod for mountain streams and a spinning rod for the alpine lakes from which the streams flow. Carrying more than one rod at a time is much, much easier if they telescope or break down to a short length.

Shimano Cardiff Native Special
Up until last year, my short, 3-piece baitcaster was a Daiwa Wise Stream. Last year, though, Shimano introduced two 3-piece baitcasters in the Cardiff Native Special series. The Shimano rods are a bit more flexible than the Daiwa, which I was sure would make them better at casting lighter lures. I had seen them at the Osaka Fishing Show in January 2020 and couldn't wait to get one. Of course, then the pandemic hit and I had to wait months before actually fishing with it.
Since I viewed the short, ultra-portable 3-piece rod as a rod for small streams, on my first day with the rod I brought Smith AR-S single hook spinners, 2-gram lures you might use in small headwaters streams.
Shimano Cardiff NS B42UL-3 and Aldebaran BFS XG
The Shimano Cardiff NS B42UL-3 and Aldebaran BFS XG handled the 2g spinners very well. Surprisingly well, actually. For headwaters fishing, where I would want a short rod and would want to use light lures, the Shimano Cardiff NS B42UL-3 is the best baitcaster I've found.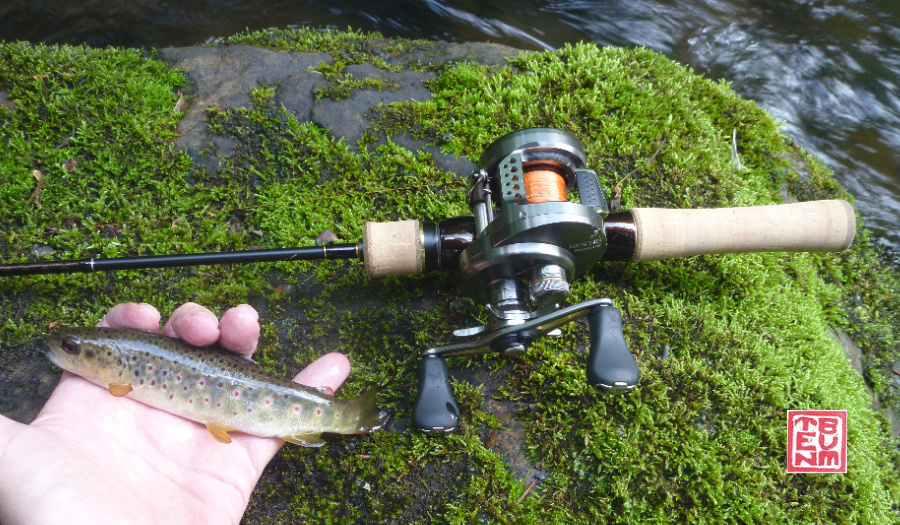 Shimano Cardiff NS B42UL-3 and Calcutta Conquest BFS HG
On my second trip with the rod I decided to try it with the Calcutta Conquest BFS HG. That combination also did just fine with the 2g spinners.
Shimano Cardiff NS B42UL-3, Aldebaran BFS XG, Daiwa Silver Creek Minnow 50S.
On the third time I fished with the Shimano Cardiff baitcaster, I realized I hadn't fished anything but light lures, mostly 2 gram spinners. Most Japanese lure fishermen who fish trout streams use heavy sinking minnows. I am sure that is what the designers had in mind for the rod.
The Shimano designers probably didn't have a Daiwa lure in mind, but the rod cast a Daiwa Silver Creek 50S sinking minnow so well I started to wonder why I spent the first couple days throwing light spinners. The thought actually crossed my mind that perhaps I should leave the light stuff for spinning rods and concentrate on the 4.5g minnow lures with my baitcasters.
At my skill level (not an expert by any stretch of the imagination), the difference between a 2 gram lure an a 4.5 gram lure was like night and day. The Shimano Cardiff Baitcasters will cast a 2g lure well, don't get me wrong, but with with a 4.5g sinking minnow the casting is just effortless.
No, on second thought, I'm still gonna cast the light stuff. Baitcasters are just too much fun.

Model
Type
Length
Sections
Breakdown
       Length
Rod Weight
Line Weight
Lure Weight
Price



Cardiff NS B42UL-3
Wild (stream)
4'2"
3

18"
2.5 oz
2 - 6 lb
1 - 7 g  (1/32 - 1/4 oz)
$385
Made in Indonesia

Cardiff NS B47UL-3
Wild (stream)
4'7"
3

19.7"
2.7 oz
2 - 6 lb
1 - 7 g  (1/32 - 1/4 oz)
$390
Made in Indonesia
---
---
Shipping
Domestic shipping is $10 via USPS Priority Mail (2-3 day delivery).
Please note: All packages are shipped via USPS. If you have a PO Box, please list ONLY the PO Box in your address, not the PO Box and your street address.
The charge for international shipping depends on the destination country, the weight of the package, the overall length of the package and the value of the package. Packages under 24" long and under $400 in value will go via USPS First Class International. Packages over 24" or over $400 will go via USPS Priority Mail International. The International shipping charge will be calculated at checkout.

Import Duties and Taxes

International purchases may be subject to import duties and taxes. I cannot keep track of all import regulations in all countries written in all languages. Understanding and paying import duties and taxes is the responsibility of the buyer.
Finesse-Fishing.com no longer ships to the UK. The new VAT regulations are too onerous for a one-man shop that rarely ships anything to the UK anyway. I apologize.
---
The hooks are sharp.
The coffee's hot.
The fish are slippery when wet.
---