Area Fishing
by Les Albjerg
(Idaho)

For those that are new to this forum, "Area Fishing" refers to place where fish are intentionally planted - heavily and regularly. They are popular in Japan, where they are all privately managed. Where I live in Idaho there are 6 sort of "Area" fishing places near me. They are public waters, not private. The Idaho Fish and Game plants trout in all 6 of them. They are heavily pressured waters. I used to avoid them at all costs. Joe Robinson in his book, "Piscatorial Absurdities" cured me of my prejudice. I now embrace the challenge of pressured waters. This week I fished two of my Areas. This morning I went out with my son Luke who is disabled and we enjoyed a nice 90 minute session before the storms move in. A week ago I was on a wild creek with only wild fish. It is a contrast that is for sure. I do like to eat fish, and I keep some planters.
One of the realities I have discovered is my fishing has become scattered. I've been fishing too many rods and techniques and not becoming very good at any of them. I have decided to streamline. As much as I have learned from the old masters, the new JDM equipment that Finesse Fishing brings us is so much superior. Earlier in the week, I compared my Joe Robinson inspired (his work comes from the 1970's) spinning rod and reel and the Shimano Cardiff 1000 reel mated with the Daiwa Iprimi 60XUL-4. Doing the flip cast with the modern setup was so much better! It was a perfect day for fishing, no wind, great sunshine, and lots of room to fish. I also fished my BFS outfit, a Shimano Adlebaran BFS XG paired to a Tenyru Rayz RZ4102B-UL. After a lot of practice, I'm finally getting baitcasting dialed in. I didn't catch any fish on Thursday, but had a great time fishing. My BFS outfit is a keeper!
Today I went out with an outfit that I put together from Finesse-Fishing, but neither the rod or reel are now offered on the site. I had two goals in mind, (1) catch fish, and (2) evaluate to see if this combo is a "keeper." I fished the Daiwa 17 Gekkabijin EX 1003 paired to the Shimano Soare CI4+ Ajing S408UL-S. It is a 4 foot 8 inch powerhouse rated for 1-3 pound test line and an amazingly wide lure range of 0.4 grams to 8 grams. I'm not sure the weight of this rod, but it is very light! For those who don't know, Ajing is fishing for Aji, which is a fish in Japan. It is also known as a horse mackerel. They generally run between 8 and 12 inches and can go as big as 20 inches. They are a salt water fish. The Ajing rods make a great trout rod! Most Ajing rods are well over 6 feet long, so this short rod is unique. I'm so glad I bought one before Chris stopped stocking them. He told me they didn't sell well. It is a premium rod with Shimano's Spiral X and Hi Power X technology used in its construction. It has a very minimal handle and reel seat that does feel good in the hand. The Daiwa 17 Gekkabijin EX 1003 is an Ajing reel. It is designed for 1-3 pound test line. It is the most expensive reel I own. The more I use it, the more I appreciate how well built it is!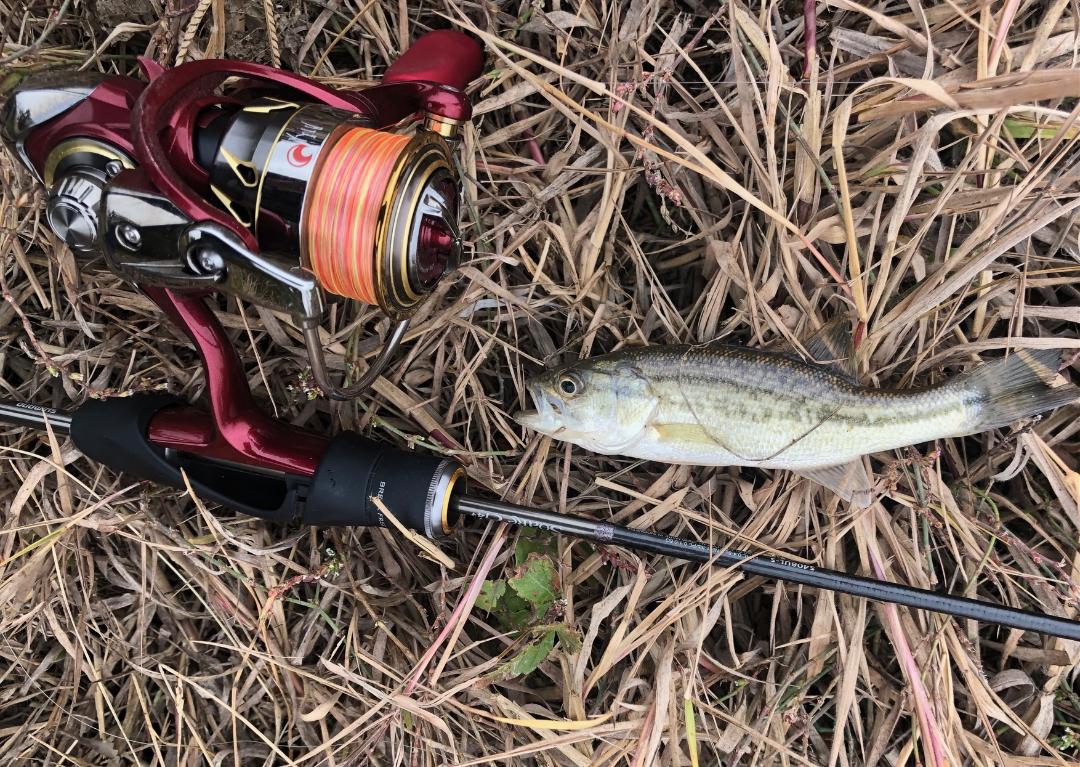 So, Luke and I got to the pond. The skies were changing. The temperature was dropping. There were plenty of people at the pond! My favorite spot was occupied. My second favorite wasn't, so we went there. To start the day, I began fishing with the Forest Tournament number 9, 0.9 gram spoon. In the first 15 minutes I caught no fish. I then moved to my third favorite spot. I also noticed nobody else was catching fish. The third cast in spot three and I had a nice very little bass on! The skunk was off! When I landed him, a huge carp swam away less than 2 feet from me. How did I miss him? Over the next 10 minutes, I caught 2 more small bass. I continue to be amazed at how well this short rod can cast with accuracy and distance such a light lure. The wind was swirling, and I could still punch the 0.9 gram lure to where I wanted it to land. I was really hoping for a trout. That said, I wasn't in the best place to get the lure out to one of my favorite spots where the trout usually hang out. Time to switch gears.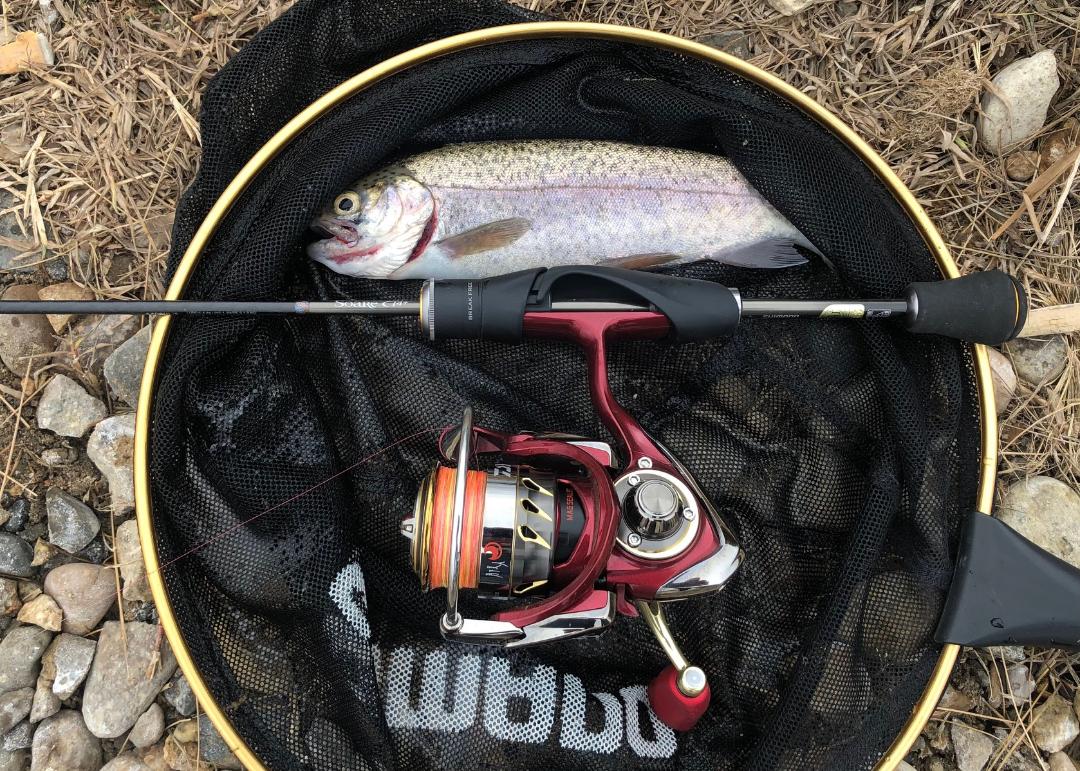 I put on a 6 gram Smith Niakis Gold Spinner. This rod just amazes me. Even though I had gone to the other extreme of it's rating, it still had a very balanced feel when it loaded. Casting was accurate. On the third cast, I was into a planted rainbow. It was a very enjoyable fight. I don't like to be "over-gunned." Simply yarding in a fish isn't fun in my book. I had three nice runs and one jump before he came to the net. Three casts after the first fish, I was into a much nicer fish! I landed a respectable 11 incher. Again, a very nice battle. I could feel the head shakes. I could turn the fish, and my son Luke was in charge of the net! Fish three was the smallest of the day! I was going to stop at four fish, however the next cast and I was into the biggest fish of the day! He jumped three times. He took line 4 times, and he is the first tagged fish I have ever caught. H'm, I may be in for some prize money! The limit is 6 fish. Three more casts and I had two more fish, we were done for the day.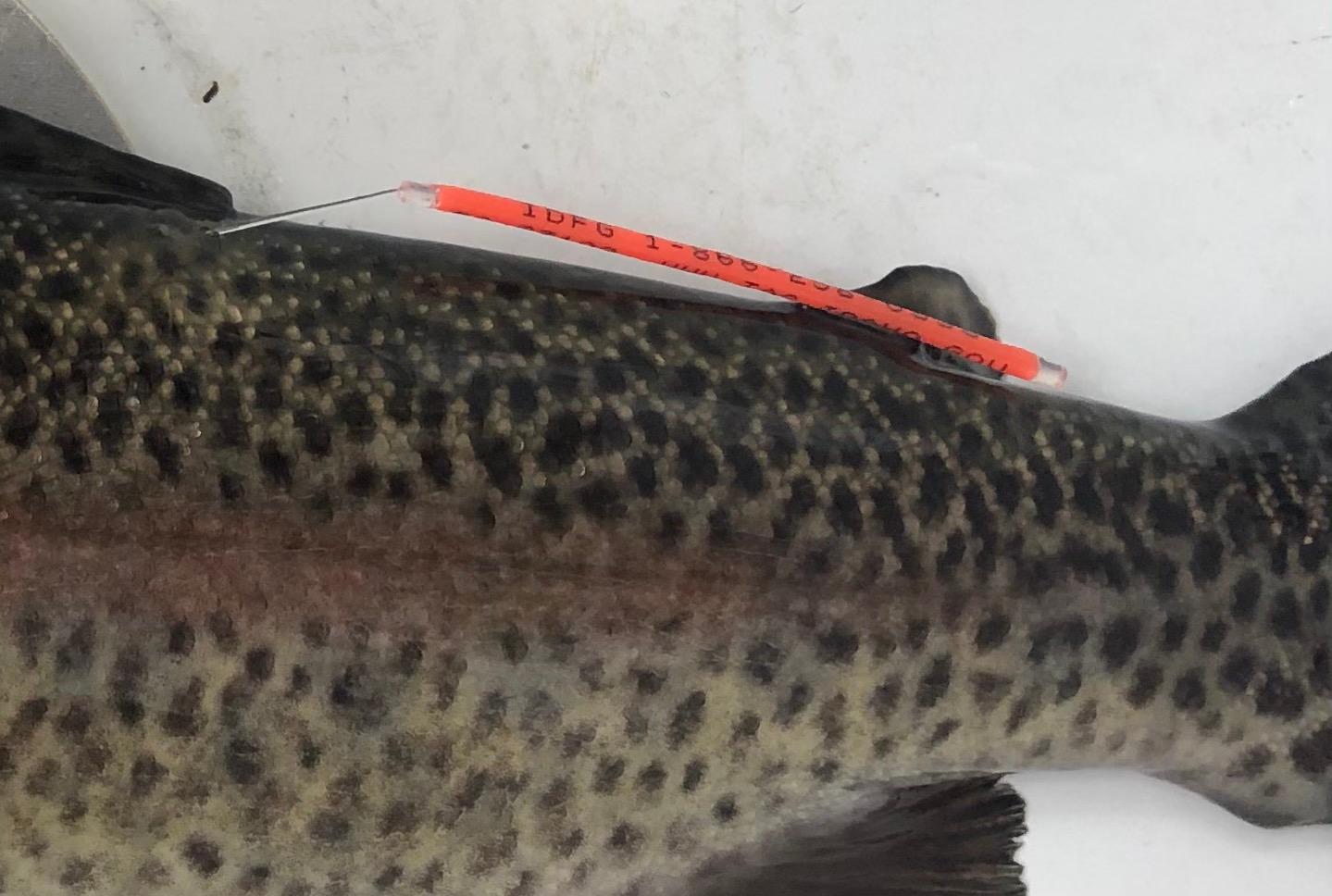 As much as I love getting away from it all, it is nice to have fishing close by. Pressured waters have their own challenges. Being able to get out for about 2 hours is nice. Learning these waters brings a special satisfaction. In two hours, as far as I know, I was the only who caught fish. Fishing the unique tackle found here seems to excite the fish more than the standard fare that one most often sees. As I was leaving, two kids under ten years old said to their Dad, "Why can't you catch fish like that guy?" I couldn't help but smile a little! You want to get a little more fishing in? Find your close by areas, and take on the challenge of pressured fishing. It has it's own unique fun!
Comments for Area Fishing

---
November 7, 2020
Special Order
by: Chris Stewart
If anyone wants a Shimano Soare CI4+ Ajing S408UL-S rod or a Daiwa Gekkabijin reel I can order one for you.

---
Please be sure to indicate which article the comments are for.
---
The hooks are sharp.
The coffee's hot.
The fish are slippery when wet.
---