Clamps and Nippers

Clamps and Nippers may not be absolutely necessary, but they definitely are handy to have. I would say clamps are darn near necessary if you fish lures with barbed trebles. If a fish is hooked by only one of the three points on a treble hook, all it takes is one headshake to put one of the others in your finger. Even worse is a minnow plug with two sets of trebles. I once had to drive one of my fishing buddies to the emergency room after a smallmouth bass flipped out of his grip and buried one of the other hooks in his index finger. You don't want your fingers anywhere near those barbed trebles! Even with a single barbless hook, which I highly recommend, it will be much easier to unhook small fish in particular if you can reach in with a pair of clamps to get the hook.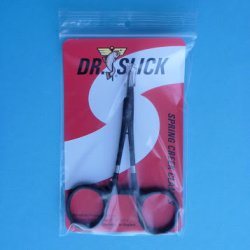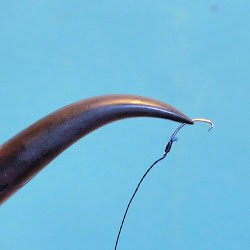 Of the various clamps that are available, my favorite by far are the Dr. Slick curved Spring Creek Clamps. They have very small, sharp points, which makes it very easy to get the clamps into the mouth of a smaller fish. They come in flat black and shiny gold and stainless. I carry only the flat black ones!

Dr. Slick Spring Creek Curved Clamps - $14
---
I suppose you could do without nippers if you always bite your line to cut it. I always did - until a strange little half circle chip broke out of a front tooth. My dentist told me I shouldn't bite my line - before, after and several times during the time she was grinding down the rest of the tooth so the chip wouldn't be quite so noticeable. After that, I started using nippers. I would suggest learning from my experience rather than waiting to learn from your own.
Dr. Slick ECO Nippers - $6
---
Shipping
Domestic shipping is by USPS First Class Mail (unless ordered along with a rod). The shipping charge is $4.00 for packages that weight less than or equal to 8 ounces. The charge for packages over 8 ounces is $6.50. The charge will be added to your order automatically.
Please note: All packages are shipped via USPS. If you have a PO Box, please list ONLY the PO Box in your address, not the PO Box and your street address.
International shipping is by USPS First Class Mail International (unless the entire order is over $400 or the order requires a box longer than 24". The shipping charge depends on the destination and the weight, length and value of the package.
Import Duties and Taxes

International purchases may be subject to import duties and taxes. I cannot keep track of all import regulations in all countries written in all languages. Understanding and paying import duties and taxes is the responsibility of the buyer.
Russia
Finesse-Fishing.com no longer ships to Russia.

UK

Finesse-Fishing.com no longer ships to the UK. The new VAT regulations are too onerous for a one-man shop that rarely ships anything to the UK anyway. I apologize.

---
---
The hooks are sharp.
The coffee's hot.
The fish are slippery when wet.
---