Daiwa Tenkara Rods

Covid-19 announcement:
Finesse-Fishing.com is located in New York City, which is essentially locked down. Up until March 23, the USPS still picked up my shipments each day.
Package pickup has been suspended. My neighborhood post office is still open, but I am going outside as little as possible because I am in an "at risk" group.
For now, I plan to take packages to the post office only when I have to go out anyway to get groceries.

Finesse-Fishing.com is still open, but shipments will be much slower than normal.
Most international flights have been cancelled, so there is no ETA for out-of-stock items that come from Japan.
---
---
The top of the line Daiwa Tenkara Rods are called "Expert." Whether you are an expert or a beginner, you will appreciate the quality. Dr. Ishigaki, the Japanese tenkara master best known in the west, once told me that Daiwa and Shimano make the best tenkara rods. He helped to design the Shimano rods. That he considers the Daiwa rods to be in the same plane is a testament to their quality.

I carry more models of the Daiwa tenkara rods than those of any other maker. That is because they are all a bit different but they are all truly excellent.
The Daiwa Expert tenkara rods can be divided into two broad categories: rods designed to use level lines and rods designed to use either level or tapered lines. Each of those categories can be subdivided into two subcategories.

Daiwa Expert Long Level Line Tenkara Rods (L LL36 and L LL45M).
The Daiwa Tenkara rods designed for level lines are designated LL. They are subdivided into the LL rods and the L LL rods. The extra L is for "long" but the "long" denotes the length of the rod when collapsed, not the length of the line! There is one LL rod, which collapses to about 24 inches. The two L LL rods collapse to about 28 inches. The LL rod is the Daiwa Expert LL 36, which is a 3.6 meter rod (just under 12'). The two L LL rods are the L LL 36 and the L LL45M. The M stands for multiple lengths, as the rod can be fished at either a 4 meter length or a 4.5 meter length.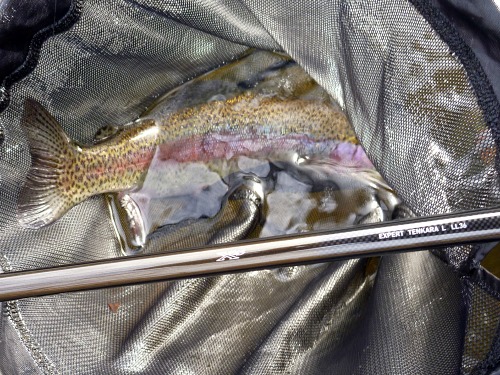 Daiwa Expert Tenkara L LL45M.
The Daiwa tenkara rods designed for either level or tapered lines are denoted LT. The subcategories are LT, for their normal LT rods and their LT H rods. The H stands for hard, and the LT H rods are slightly stiffer than the LT rods. The LT H rods are intended for casting longer lines in wider rivers. The LT rods are the LT 33 (3.3m, just under 11'), the LT36 and the LT 39 (3.9m, just under 13'). The LT H rods are the LT H36 and LT H44 (4.4m, about 14 1/2 feet).
Daiwa Tenkara Rods: Which to Choose

The Daiwa LL rods are wonderfully smooth casting rods that just excel at casting level lines. In this case, level lines also means light lines. I would suggest fishing the LL 36, the L LL 36 or the L LL45M with a size 3 level line. If you really are an expert, the rods will cast a size 2.5 line without issue.

Choose one of these rods if you want a slow, relatively soft rod that almost casts itself. If you don't mind that the collapsed length is longer than most tenkara rods, choose the L LL 36 or L LL 45M. They are even smoother casting because they have fewer sections. The LL 36 rod has a shorter collapsed length and so is more convenient to carry or pack.  No matter what rod you are used to, you probably will have to slow down your casting stroke to fish with these rods. When you do, though, the casting is effortless.
Choose the length based on the width of the streams you fish. If you fish relatively small streams, choose the L 36 or the  L LL36. If you fish wider streams, choose the L LL45M. One other consideration is whether there are low tree branches overhead where you fish. The Daiwa Expert Tenkara L LL 45M is 4 meters long (over 13') at the shorter of its two lengths. The longer length will give you more casting distance, but low branches will definitely get in the way.
The Daiwa tenkara rods are clearly JDM rods, and the level line rods in particular are very well suited for unweighted wet flies in small to medium sized streams - the purest (or purist) definition of Japanese tenkara. They are too soft to fish weighted nymphs effectively. If you will want to fish weighted nymphs, one of the LT rods would be a better choice.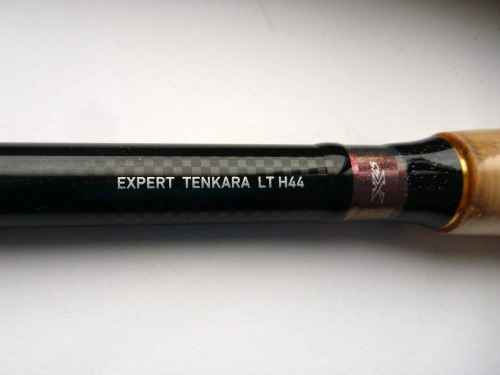 Daiwa Expert Tenkara LT H44
Even though my personal view is that the softer LL rods and the lighter level lines they will cast are more conducive to finesse fishing, there are tenkara anglers who prefer to use furled or even floating lines. The heavier furled lines are much better suited to larger, wind resistant flies. If you wanted to fish a hopper/dropper for example, a furled line would a reasonable choice.
Similarly, if you wanted to fish a deer hair bass bug, a floating tenkara line would be a reasonable choice. When fishing in a lake, drag from current is not a factor, but drag from the wind can be. A floating line can be anchored in the surface tension, where it will not be blown around by the wind. Also, because it doesn't sink like a fluorocarbon line, it is easier to set the hook when you get a strike, and easier to pick up for a new cast when you don't.

The Daiwa Expert Tenkara LT rods are stiffer and more tip flex than the level line rods. If you want to fish weighted nymphs, the LT rods would be a much better choice than the LL rods, which are too soft to get good hook sets in deep water.
Even though a soft, full-flex rod will tire a large fish more quickly than you would think, the Daiwa Expert Tenkara LT rods will give you a bit more control over the fish and would be a better choice if you expect to catch larger fish.
The Expert Tenkara LT H44 is the world's best big fish tenkara rod in my opinion, bar none. Even though tenkara as defined in Japan is only for trout and only on mountain streams, people in the US do use their tenkara rods for warm water streams, lakes and ponds, and for bass and sunfish. If you plan to fish for bass with a tenkara rod, the Daiwa Expert Tenkara LT H44 is the one to use.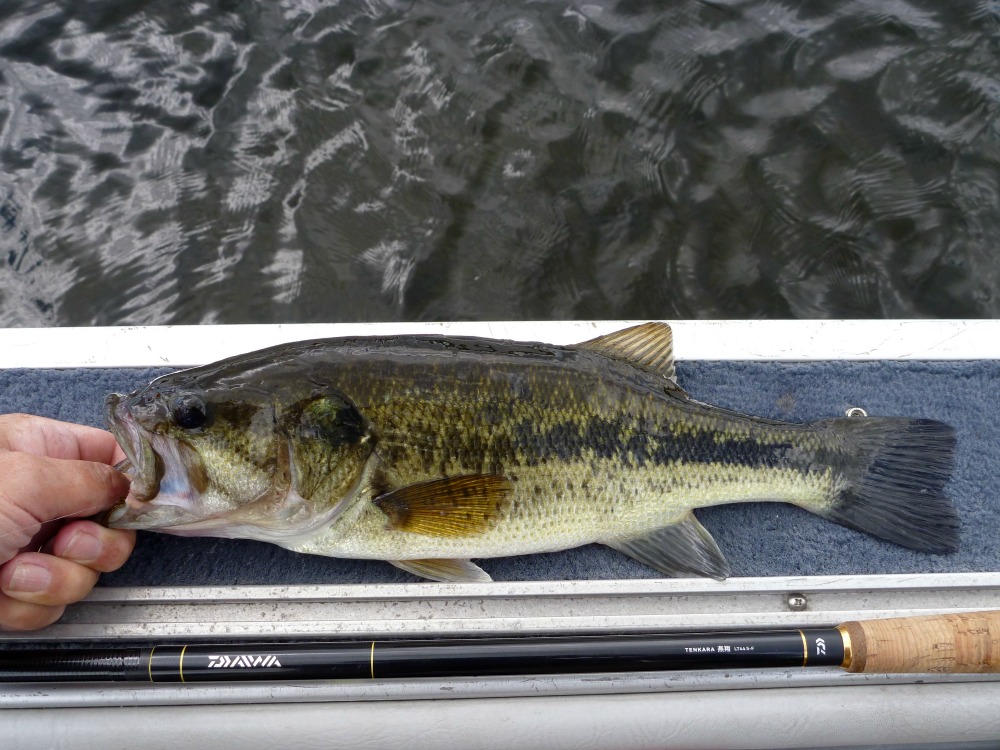 Rod shown is Daiwa Enshou LT44SF, which the Expert LT H44 replaced.
Shop for Daiwa Expert Tenkara Rods

---
Warning:
The hooks are sharp.
The coffee's hot.
The fish are slippery when wet.
---