Daiwa Wise Stream 45ULB-3
---
The Daiwa Wise Stream 45ULB-3 has been discontinued. Daiwa now makes a 42ULB-3, which I have not seen. In any event, I no longer import Daiwa rods.

---
The Daiwa Wise Stream 45ULB-3 is an extremely convenient, extremely capable baitcaster for trout fishing in streams.
To me, the key feature of the Daiwa Wise Stream 45ULB-3 is that it is a relatively short, three-piece rod.  The broken down length is about 19" - which makes it easy to carry strapped to my backpack. I may have different demands than most fishermen, in that I always take more than one rod with me, and often switch off between a spinning rod or baitcaster and a tenkara rod or keiryu rod. Even if you don't carry multiple rods for a day on the stream, if you do any backpacking or if you ever need to slip a rod and reel into your carry-on bag, having a rod that breaks down to 19" is a big plus.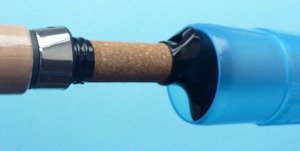 Daiwa 45ULB-3 fits in the Medium Rod Case
 One other thing I truly like about the rod is that the trigger on the grip is short enough that it fits in my Medium Rod Case. That makes it easy to protect the rod when carrying it strapped to a backpack or wedged into your carry-on.
The two piece Tenryu and Shimano baitcasters are long enough when broken down and strapped to a backpack they are always getting caught on overhead tree branches or streamside bushes. Now that Shimano has introduced a three-piece Cardiff NS baitcaster, the Daiwa Wise Stream has lost its overwhelming advantage in convenience, but it still has a huge advantage in price.

I understand that not many people fish for trout with baitcasters - let alone backpack in to do it. I aim to change both of those things. Truly, the more I fish with ultralight baitcasters on trout streams the more I realize how great they are for it.
At 4' 5" the rod is relatively short - 5 inches shorter than the Tenryu RZ4102B-UL and 11 inches shorter than the Tenryu RZ542B-L. That makes it much easier to execute flip casts to tight spots and to cast in streams that may be a bit narrow and brushy for a longer rod.
The rod is a bit stiff, though, so to do flip casts well I would recommend fishing with the Forest iFish AT 50mm sinking minnows, which are a bit heavier than most at 5.5g.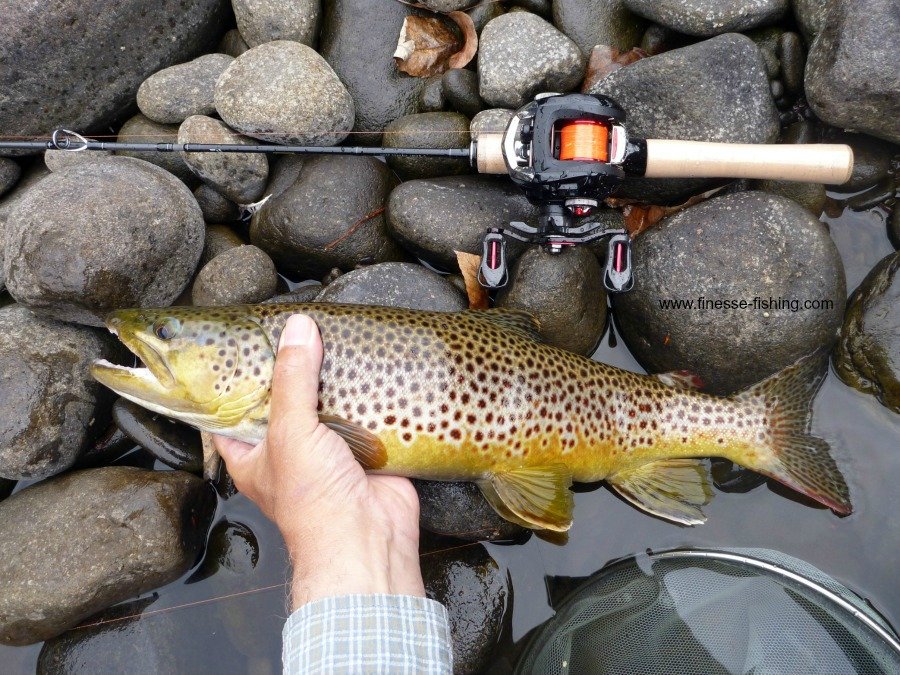 Daiwa Wise Stream 45ULB-3 rod
Daiwa SS Air 8.1L reel
Varivas Bait Finesse Nylon 4lb line

When you put the sections together there will be a gap. It is supposed to be that way. Don't force it.
The composite cork reel seat may not be as pretty as the polished hardwood of the Tenryu or of the Wise Stream spinning rod. However, the composite cork reel seat does have a couple things going for it. Daiwa mentions that the reel seat saves weight - and I'm sure it does. Personally, I think the more important advantage, which I grew to appreciate as I fished with the rod the first time on New York's Beaverkill River, is that the composite cork provides a very nice nonskid surface that truly does give you a good grip on the rod. My second cast with the Wise Stream 45ULB-3 hooked a 20" brown trout and keeping a good grip on the rod was pretty important.
The recommended line weight range for the Daiwa Wise Stream 45ULB-3 is 2-6lb. The lure weight range is 1.5-7g. Although the Wise Steam will cast the 2.5g Daiwa Crusader spoon well enough (and certainly far enough for fishing a relatively small stream), it does much better with the 4g (roughly 1/8 oz) Crusader and better yet 5.5g Forest iFish AT sinking minnow lures. You don't need extra distance, but the greater weight gives you more accuracy (or perhaps makes accurate casting easier for people who are not experts).
All in all, the Daiwa Wise Stream 45ULB-3 is a nice baitcaster that is easy to pack, easy  to handle on smaller streams and which will easily handle good sized fish. It seems a bit stiff for an ultralight. To me it seems more like a light.

Model            Wise Stream 45ULB-3
Type              Wild (stream)
Length           4'5"
Sections         3
Breakdown
  Length         19 1/4"
Rod Weight     2.5 oz
Line Weight     2-6 lb
Lure Weight    1.5-7g
                     (approx 1/16-1/4 oz)
---
I am sure that Daiwa designers did NOT optimize this rod for use with a Shimano Aldebaran or Calcutta Conquest. ;-) It will do quite nicely with a Daiwa SS Air or Alphas Air Stream Custom. Both reels, like the rod, have since been discontinued.

---
Finesse-Fishing Home > Bait Finesse System > Daiwa Wise Stream ULB-3

---
The hooks are sharp.
The coffee's hot.
The fish are slippery when wet.
---