Fuji EZ Keeper

A Fuji EZ Keeper holds your lure securely, keeps it from tangling around the rod tip and keeps it out of bushes and branches as you walk down the trail. Many anglers hook  their lure to the butt guide. I wouldn't, at least I wouldn't hook the point through the guide itself. You definitely do not want scratches in the guide inserts. Hooking the point through the "K" foot of the guide is probably fine, since it won't scratch the insert, but it is probably better idea to use a Fuji EZ Keeper, which keeps the hook well away from the guide.
For the Daiwa Wise Stream 50TUL, you definitely should use a Fuji EZ Keeper. When the rod is collapsed, the butt guide is too close to the  rod tip.
Even with the extremely small Daiwa Presso Vega spoons, the distance from the tip guide to the but guide is too short for the hook to hold. Also, is definitely not safe to just reel the lure right up to the rod tip and let the hook wave around, free to catch anything it touches.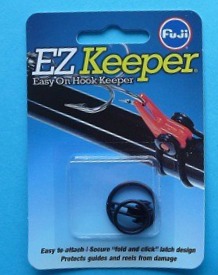 The Fuji EZ Keeper attaches to the rod easily. Wrap the O ring around the rod blank and over the "ears" of the Keeper. The Keeper folds up to hold the hook or down to be out of the way.
And in case you needed any more reason to use single hook lures, when the lure is hooked as shown in the photo above, the point is relatively well protected. If the lure had treble hooks, two of the three hooks would be exposed.

Fuji EZ Keeper - $4 (pkg of one)
---
---
Shipping
Domestic shipping is by USPS First Class Mail (unless ordered along with a rod). The $4 charge will be added to your order automatically.
Shipping to international buyers requires additional postage. International First Class postage requires an additional $6 to Canada or Mexico or $10 to other countries. Add postage just once for multiple small items. If small items are being shipped with a rod, pay the additional postage on the rod page. When additional postage is paid for the rod, no additional postage is required for the line, lures or other small items.
The buttons below are just for the additional shipping, not for the product(s) described above and the shipping. You must also click in the product buttons above.

Finesse-Fishing.com does not sell to residents of the European Union or the European Economic Area.
Additional First Class Postage
Canada or Mexico - $6
Additional First Class Postage
Other Countries - $10
Payment
Payment is processed by PayPal but you do not need a PayPal account. You can use your credit card.
Finesse-Fishing.com is a TenkaraBum LLC website. Payments will show on your statement as TenkaraBum.
---
---
Warning:
The hooks are sharp.
The coffee's hot.
The fish are slippery when wet.
---