Fuji EZ Keeper

A Fuji EZ Keeper holds your lure securely, keeps it from tangling around the rod tip and keeps it out of bushes and branches as you walk down the trail. Many anglers hook  their lure to the butt guide. I wouldn't, at least I wouldn't hook the point through the guide itself. You definitely do not want scratches in the guide inserts. Hooking the point through the "K" foot of the guide is probably fine, since it won't scratch the insert, but it is probably better idea to use a Fuji EZ Keeper, which keeps the hook well away from the guide.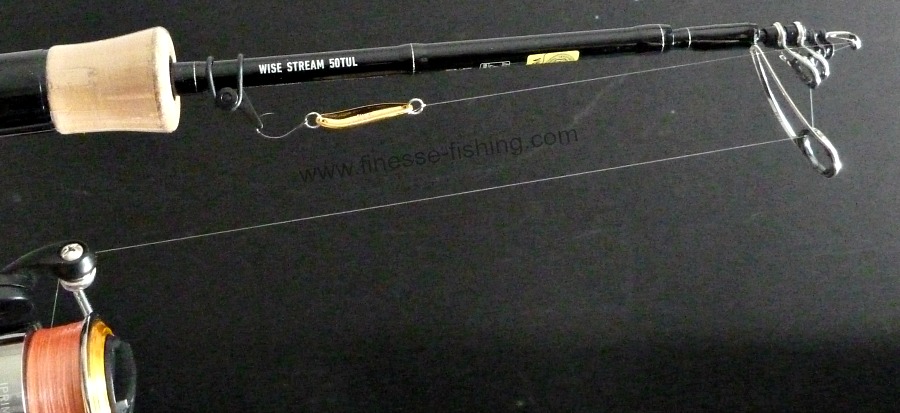 For the Daiwa Wise Stream 50TUL, you definitely should use a Fuji EZ Keeper. When the rod is collapsed, the butt guide is too close to the  rod tip.
Even with the extremely small Daiwa Presso Vega spoons, the distance from the tip guide to the but guide is too short for the hook to hold. Also, is definitely not safe to just reel the lure right up to the rod tip and let the hook wave around, free to catch anything it touches.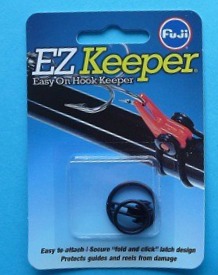 The Fuji EZ Keeper attaches to the rod easily. Wrap the O ring around the rod blank and over the "ears" of the Keeper. The Keeper folds up to hold the hook or down to be out of the way.
And in case you needed any more reason to use single hook lures, when the lure is hooked as shown in the photo above, the point is relatively well protected. If the lure had treble hooks, two of the three hooks would be exposed.

Fuji EZ Keeper - $4 (pkg of one)
---
The Fuji Hook Keeper is the same item, packaged for sale in Japan rather than the US.
Earlier this year I couldn't get the EZ Keepers so I ordered directly from Japan.

Fuji Hook Keeper - $4 (pkg of one)
---
Shipping
Domestic shipping is by USPS First Class Mail (unless ordered along with a rod). The $4 charge will be added to your order automatically.
Please note: All packages are shipped via USPS. If you have a PO Box, please list ONLY the PO Box in your address, not the PO Box and your street address.
International shipping is by USPS First Class Mail Intenational (unless the entire order is over $400 or the order requires a box longer than 24". The shipping charge depends on the destination and the weight, length and value of the package.
Import Duties and Taxes

International purchases may be subject to import duties and taxes. I cannot keep track of all import regulations in all countries written in all languages. Understanding and paying import duties and taxes is the responsibility of the buyer.
---
---
The hooks are sharp.
The coffee's hot.
The fish are slippery when wet.
---