JDM Plugs Shop

---
WooDream Handmade Lures
WooDream lures are Japanese hand made wooden lures. They are absolutely beautiful (and they catch fish). More info...

---
WooDream Arbor 50FHR
Length: 50mm
Weight: 3 grams
Floating, High Response

S-shaped path with steady retrieve, dying bait fish action with twitches.


---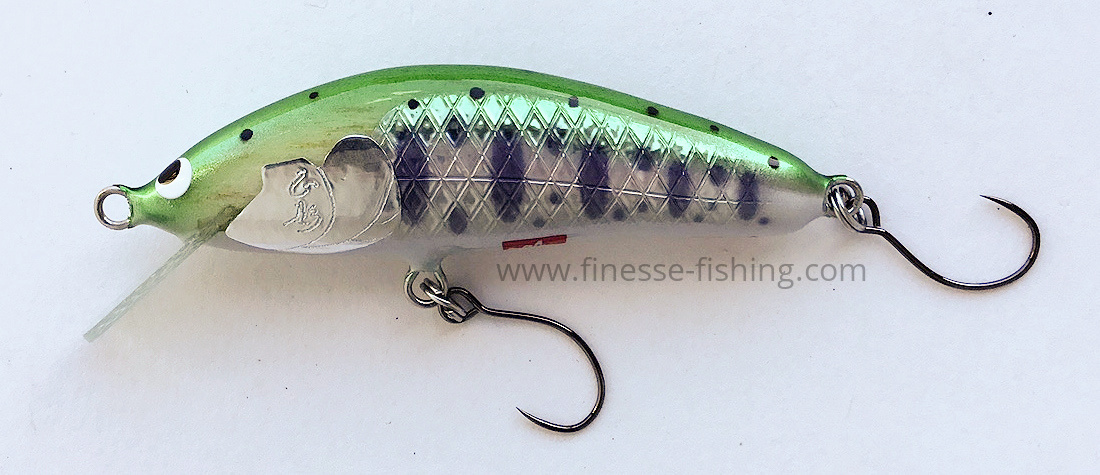 Color: GYM
There are too many models and colors to show on this page, but the WooDream Arbor handmade Japanese lures are now in stock. Please click the link to view them.

---
Smith D-Contact
Smith D-Contact 50S Ugui
Probably the most common coloration for "minnows" (generic term for small fish species) in the US is an olive-brown back, a black line down the side and a white belly. There are no fish in Japan that have that exact coloration, but the Ugui is the closest. I am pretty confident that the Smith D-Contact Ugui will be taken readily by trout in any waters where minnows with the brown/black/white coloration exist.
50mm, 4.5g
---
Smith Bottom Knock Swimmer
Area - Olive Pellet

The Smith Bottom Knock Swimmer (BTK Swimmer) Area model is an adaptation a very successful lure developed for mountain streams.
The Area model is smaller and lighter, and has a single barbless hook rather than a treble hook. The action is also more subtle than the mountain stream model, and is better suited to quieter water.

Fished slowly, it will bounce along the bottom. With a steady retrieve it will wiggle enticingly.

I think it will do very nicely in small streams.
30mm, 2.2g
---
Daiwa Silver Creek Minnows

The first Japanese minnow lure I ever got was a Daiwa Silver Creek minnow. I thought it was a wonderful lure, and I caught a quite a few fish with it. Initially I was reluctant to import it, thinking it might be too expensive to sell well. However, the Spearhead Ryuki and Daiwa Step Darts have sold, so I have reconsidered.

The flat sides and low center of gravity produce a very enticing wiggle with a steady retrieve and controlled twitches with a pulsed retrieve.
The lures come from Daiwa with a pair of treble hooks. They will come from Finesse-Fishing with a single hook taped to the box.
---
Daiwa Silver Creek 44S
Heavy sinking model
4.4 cm length (about 1 3/4")
4.2 gram weight
---
Daiwa Silver Creek 50S
Heavy sinking model
5.0 cm length (2")
4.5 gram weight
---
Daiwa Silver Creek 61S
Heavy sinking model
6.1 cm length (2.5")
6.5 gram weight
---
Daiwa Presso Step Dart 40S

40 mm length (just over 1.5 inches)
3.2 grams (just under 1/8 oz)
Two single Vanfook CK33W #8 barbless hooks
Fast sink
Fast wobble on steady retrieve
Side to side darting action on jerked retrieve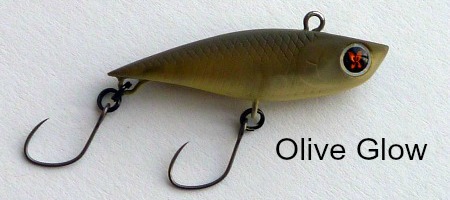 Olive Glow

Daiwa Presso Step Dart 40S
Olive Glow - $16
---

Daiwa Presso Step Dart 40S
Topping Food RG - $16
---
Forest iFish AT
The Forest iFish AT (Area Tune) lures are 50mm, heavy sinking minnows. At 5.5g, they are heavier than most 50mm minnow lures. They have a fixed weight, which Forest claims provides more control when swimming and twitching the lure.
They come with two single VANFOOK SP-31BL #6 hooks.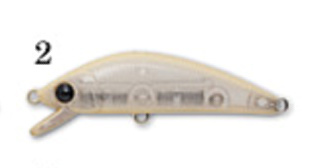 iFish AT No.2 - $15
---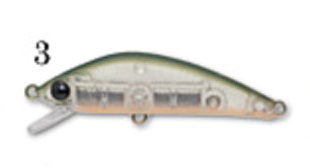 iFish AT No.3 - $15
---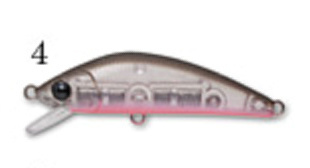 iFish AT No.4 - $15
---
Palms Alexandra
The Palms Alexandra is one of the few minnow plugs intended for trout fishing in mountain streams that comes from the factory with single hooks. The lure is a "heavy sinking minnow" and is weighted. The weight slides to the back when casting, to improve accuracy, and to the middle after it lands to allow a level orientation as it sinks. The Palms Alexandra is flat sided, and has an erratic action. The lip is constructed to be stronger than on most minnow lures. The front hook is attached to an eye that swivels, reducing the chance that a fish could lever or twist itself off the barbless hook.
The AX43 is 1.7" and 3.3g
The AX50 is 2" and 4.5g

Palms Thumb Shad
The Palms Thumb Shad is a suspending minnow lure designed for trout fishing in mountain streams. Most JDM minnow lures are either floating or sinking, so you are always at risk of not getting the lure deep enough or getting too deep and getting it caught in rocks.  The Palms Thumb Shad is a nice option when you want it to get down a bit, but then stay around that depth. Having single hooks also reduces the chance that the Thumb Shad will get hung up on rocks or sunken logs. A steady retrieve is standard, although you can add gentle pulses to get an irregular darting action. The molded plastic lip is stronger than on most minnow lures, reducing the chance that it will break if an errant cast lands on rocks.
The TS39 is 1 5/8" (not counting bill) and weighs 2.2 oz.

Palms Thumb Shad TS39
Stream Shad Color
Palms Thumb Shad TS39
Stream Shad Color - $15
---
Shipping
Domestic shipping is by USPS First Class Mail (unless ordered along with a rod). The $4 charge will be added to your order automatically.
Please note: All packages are shipped via USPS. If you have a PO Box, please list ONLY the PO Box in your address, not the PO Box and your street address.
International shipping is by USPS First Class Mail Intenational (unless the entire order is over $400 or the order requires a box longer than 24". The shipping charge depends on the destination and the weight, length and value of the package.
Import Duties and Taxes

International purchases may be subject to import duties and taxes. I cannot keep track of all import regulations in all countries written in all languages. Understanding and paying import duties and taxes is the responsibility of the buyer.
---
---
The hooks are sharp.
The coffee's hot.
The fish are slippery when wet.
---