Lure Boxes

Lure boxes designed to hold what you need for a day on the stream.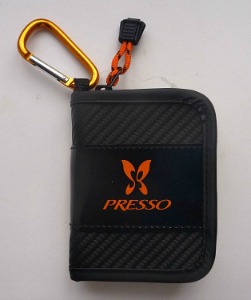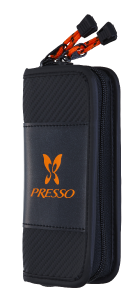 The Daiwa Presso Wallet (C) comes in four sizes - small, medium, medium large, and large. For now I just have the small and medium in stock.The (C) suggests that this is the third version.

The photo below left shows that the small wallet easily holds ten Vega spoons or eight of the Adam or Lupin spoons on each side.
The small wallet would also hold eight of the 2.5g Crusader spoons on either side but I would recommend replacing the barbed Crusader hook with a barbless hook first.
Dimensions are 3.5" x 4.5" x 1.25" for the small and 3.5" x 7.25" x 1.5" for the medium (although they may be a bit thicker when full of spoons).
There is a clear plastic sheet separating the two sides of the small wallet, and separating the sides from the middle foam sheet in the medium walle. The small wallet comes with the carabiner shown in the photos. Hanging the wallet from the carabiner will keep the spoons from getting all tangled.

Although you could carry minnow plugs if you replaced the trebles with a barbless single hook, the wallets are clearly designed for spoons. It is much easier to pick a spoon out of the wallet than it is to pull a spoon out of one of the plastic boxes shown below. The boxes will hold lots of spoons, but it is a bit cumbersome to get out the one you want. I think the ideal solution would be to have a Daiwa Presso Lure Wallet for your spoons and a Meiho box for your plugs.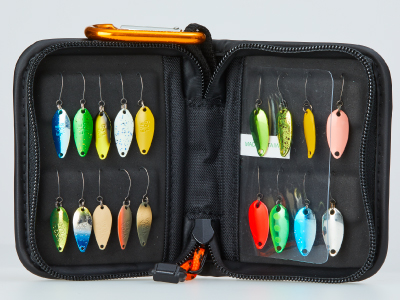 Daiwa Presso Lure Wallet (C) small - $24 Spoons not included.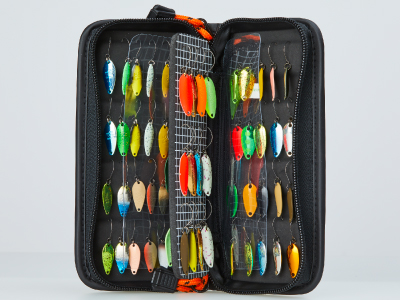 Daiwa Presso Lure Wallet (C) medium - $30 Spoons not included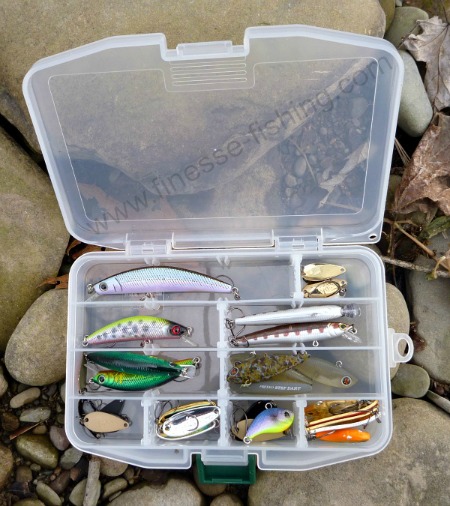 I guess we can forgive Meiho for thinking this is a fly box rather than a lure box. They call it the Meiho Fly Case F but it makes a great box for ultralight lures.
It is extremely versatile in that each of the four long side to side compartments can be divided into two, three or four compartments to fit the lures you have. The Daiwa Crusader, Adam and Vega spoons will fit in one of the smallest compartments. The Yo-Zuri Single Hook Pins Minnow or Daiwa Presso Step Darts, or the Daiwa Dr. Minnow lures (not yet in stock) will need half the full length, and longer minnow lures would need three quarters of the length.
The box fits lots of lures and yet still fits in a fishing vest pocket. Dimensions are 5.75" x 4" x1". Not bad for $5.25!
Lures not included.

Meiho Fly Case F - $5.25
The six-compartment Minimalist Fly Boxes also makes reasonable minimalist lured boxes if you carry only a few lures with you and if they are not too large. If you mostly fish the micro spoons, like the Crusader 2.5g spoons, the Adam spoons or the Vega spoons, one small box may be all you need. The dividers are removable, so it is easy to carry a few plugs as well.
They are indeed minimalist, but if you carry on a few lures, one or two of them may be all you need. And for just $2 each, there's no reason NOT to have a couple.
Lures not included.

Minimalist Box - $2
---
---
Shipping
Domestic shipping is by USPS First Class Mail (unless ordered along with a rod). The $4 charge will be added to your order automatically.
Shipping to international buyers requires additional postage. International First Class postage requires an additional $6 to Canada or Mexico or $10 to other countries. Add postage just once for multiple small items. If small items are being shipped with a rod, pay the additional postage on the rod page. When additional postage is paid for the rod, no additional postage is required for the line, lures or other small items.

Additional First Class Postage to Canada or Mexico
Additional First Class Postage to Other Countries
Payment
Payment is processed by PayPal but you do not need a PayPal account. You can use your credit card.
Finesse-Fishing.com is a TenkaraBum LLC website. Payments will show on your statement as TenkaraBum.
---
---
Warning:
The hooks are sharp.
The coffee's hot.
The fish are slippery when wet.
---