Lure Boxes

Lure boxes designed to hold what you need for a day on the stream.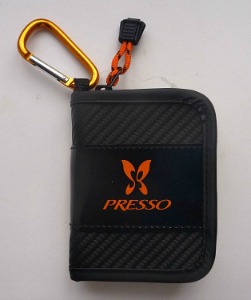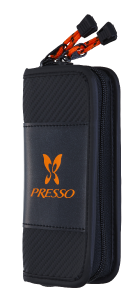 The Daiwa Presso Wallet (C) comes in four sizes - small, medium, medium large, and large. For now I just have the small and medium in stock.The (C) suggests that this is the third version.

The photo below left shows that the small wallet easily holds ten Vega spoons or eight of the Adam or Lupin spoons on each side.
The small wallet would also hold eight of the 2.5g Crusader spoons on either side but I would recommend replacing the barbed Crusader hook with a barbless hook first.
Dimensions are 3.5" x 4.5" x 1.25" for the small and 3.5" x 7.25" x 1.5" for the medium (although they may be a bit thicker when full of spoons).
There is a clear plastic sheet separating the two sides of the small wallet, and separating the sides from the middle foam sheet in the medium walle. The small wallet comes with the carabiner shown in the photos. Hanging the wallet from the carabiner will keep the spoons from getting all tangled.

Although you could carry minnow plugs if you replaced the trebles with a barbless single hook, the wallets are clearly designed for spoons. It is much easier to pick a spoon out of the wallet than it is to pull a spoon out of one of the plastic boxes shown below. The boxes will hold lots of spoons, but it is a bit cumbersome to get out the one you want. I think the ideal solution would be to have a Daiwa Presso Lure Wallet for your spoons and a Meiho box for your plugs.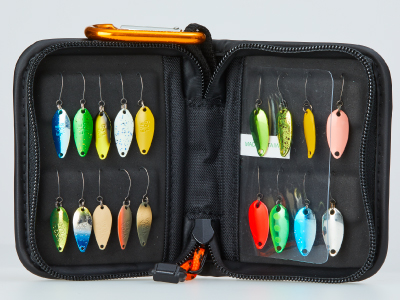 Daiwa Presso Lure Wallet (C) small - $24 Spoons not included.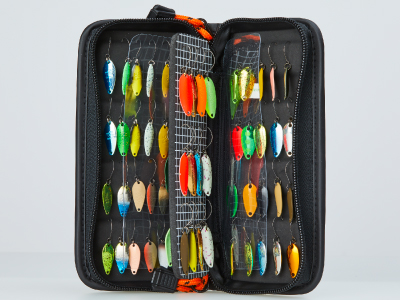 Daiwa Presso Lure Wallet (C) medium - $30 Spoons not included