Micro Snap Swivel

The Cultiva Micro Snap Swivel, Tairiki Snap and Direct Snap make lure changes, well, a snap. The Micro Snap Swivel also reduces line twist. Both are much, much smaller than what we are used to in the US, and so will not change the profile or look of your lure. Their small size and light weight make them ideal choices while spin fishing for trout or enjoying mountain stream bait finesse.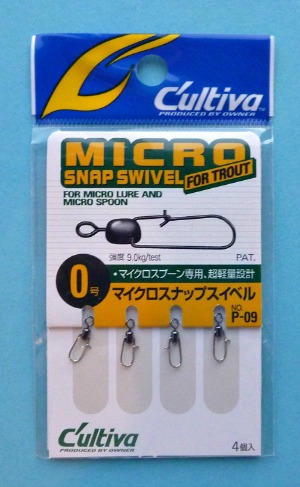 The Cultiva Micro Snap Swivels are indeed micro, no more than 1/2 inch long. They make changing lures quick and easy and also reduce line twist. Although I personally prefer fishing with spoons, spinners are very popular in the US, and the smaller sizes are perfect for fishing small streams. The biggest problem with them is the line twist that all inline spinners generate. All of them. When fishing with spinners you have two choices:
1). respool with new line frequently, or
2). use a swivel (and respool a little less frequently).
Inline spinners do catch fish, though, so people put up with the line twist. If you want to use spinners, I would highly recommend also using a snap swivel, and the Cultiva Micro Snap Swivel is the least obtrusive one you will find. Despite it's small size, it is rated at over 19 lb test! When finesse fishing with 2 or 3 or 4 lb line, you will never have to worry about the swivel failing.

Cultiva Micro Snap Swivel - $4.50 (pkg of 4)
---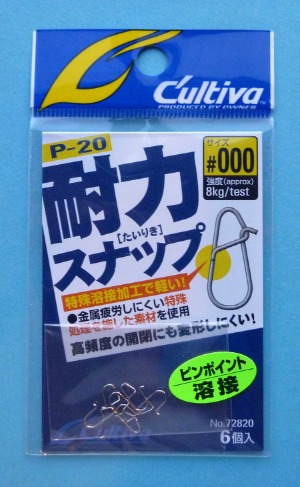 The Cultiva Tairiki Snap (load bearing snap pr P-20 welded snap) is an ultra simple, ultra light snap that makes changing lures easy. Despite its small size (less than 3/8" long) it has three features that make it stand out.
1). The end of the snap where it attaches to the lure is a wide, smooth curve. That allows maximum movement of the spoon or minnow lure.
2). A special welding process is used to insure strength. The snap is rated at over 17 lb test.

3). Extremely hard wire resists metal fatigue and retains its shape even after being opened and closed many times.

Cultiva Tairiki Snap - $5 (pkg of 6)
---
Cultiva Direct Snap - $5 (pkg of 6)
---
Shipping
Domestic shipping is by USPS First Class Mail (unless ordered along with a rod). The $4 charge will be added to your order automatically.
Shipping to international buyers requires additional postage. International First Class postage requires an additional $6 to Canada or Mexico or $10 to other countries. Add postage just once for multiple small items. If small items are being shipped with a rod, pay the additional postage on the rod page. When additional postage is paid for the rod, no additional postage is required for the line, lures or other small items.
The buttons below are just for the additional shipping, not for the product(s) described above and the shipping. You must also click in the product buttons above.

Finesse-Fishing.com does not sell to residents of the European Union or the European Economic Area.
Additional First Class Postage
Canada or Mexico - $6
Additional First Class Postage
Other Countries - $10
Payment
Payment is processed by PayPal but you do not need a PayPal account. You can use your credit card.
Finesse-Fishing.com is a TenkaraBum LLC website. Payments will show on your statement as TenkaraBum.
---
---
Warning:
The hooks are sharp.
The coffee's hot.
The fish are slippery when wet.
---