Spinning Line

---
Sunline Troutist Darkness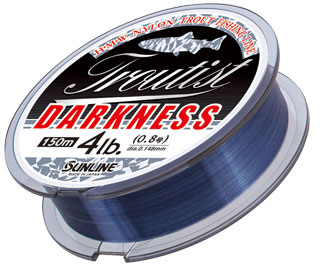 Sunline Troutist Darkness
Sunline Troutist Darkness, 150m - $19.25
Nylon

Higher molecular weight than other high-strength nylon lines. High in both tensile and knot strength, with superior durability, manageability, and straightness.
Newly developed nylon line technology gives you the same strength with smaller line diameter. Improves casting performance.
"Camouflage Color" blends into any environment. Won't spook even highly pressured fish.
Low initial stretch gives you accurate feedback of the lightest nibble.

150 meter spool marked at the 75 meter point to let you adjust the amount you load on your reel
---
Sunline Troutist Area Meister

Sunline Troutist Area Meister

Stealth Smoke leader 2 meters, Fluorescent Orange 8 meters (repeating)
Sunline Area Meister, 100m - $18
Nylon

Hi-Vis lines are easy to control to detect bites. However, they are hi-vis to trout, too. You could tie on a clear leader, but the knot weakens the line.  An integrated "stealth" leader is a better solution.

The front 2 m is dyed "stealth black" (actually a translucent smoke gray) which reduces as much as half the light reflection to avoid scaring trout.

The following 8 m is dyed fluorescent orange to guarantee visibility even in low light. The pattern repeats every 10 m.

The improved strength design allows long distance casting of light lures while still landing big trout without much difficulty.

---
Sunline Troutist Wild

Sunline Troutist Wild
Sunline Troutist Wild, 150m - $15
Nylon

Easy to see (brighter green than Varivas Sight Edition)

Easy to cast.

---
Varivas Super Trout Advance Sight Edition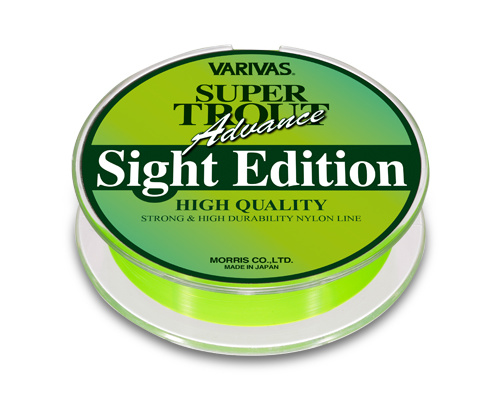 Varivas Super Trout Advance Sight Edition, 100m - $14.50
Nylon

Lightning Green color for maximum visibility.
3 lb line meets IGFA specs.
3 lb
.148 mm (.006")

4 lb
.165 mm (.007")
---
Varivas Bait Finess Nylon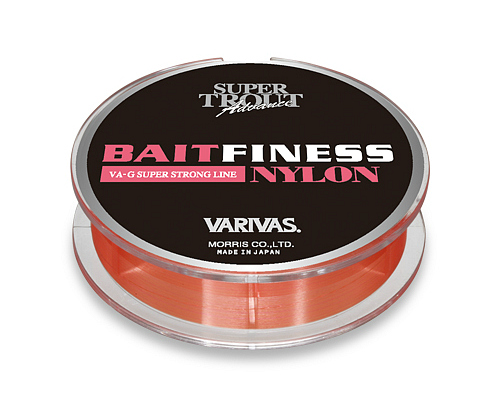 Varivas Bait Finess Nylon, 120m - $19.25
 This is a line dedicated to bait finesse fishing in mountain streams and in Areas.
Specifically formulated to suppress backlash.
The high-density molecular bonding process (VA-G manufacturing process) makes the line stronger for its diameter.

Extremely visible for better bite detection.
Marked every 30 m so you can efficiently manage the amount put on your reel.
---
Varivas Area Master Limited Super Ester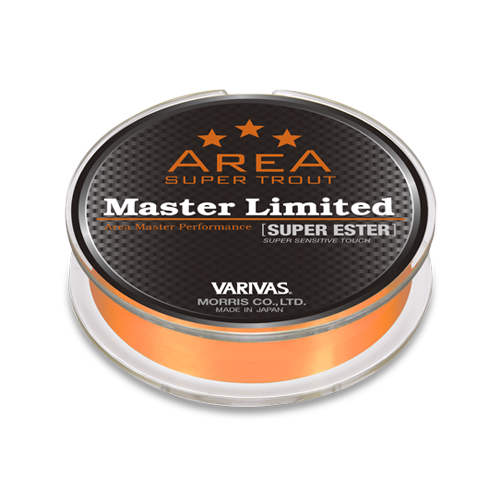 Varivas Area Master Limited Super Ester, 140m - $13

Area Trout Model: Neo-Orange ESTER main line.
Very low stretch material, great sensitivity, positive hook sets
Specific gravity about half way between nylon and fluorocarbon

SP-F Coating: proprietary Fluoride coating increased castability & durability.
---
Sunline Small Game PE-HG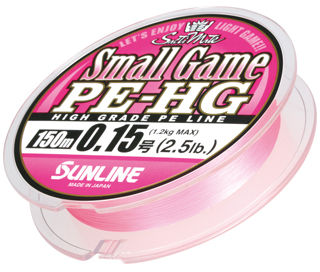 Sunline Small Game PE-HG, 150m
Braid
Extremely fine 8-strand braid (4 pairs) for excellent casting performance.
Sensitivity to detect the lightest bites - or the bottom.

Hi-Vis pink so you can see your line even in low light.
The strength you want when your "small game" turns out to be not as small as you expected.

Small Game PE-HG 6 lb (Japanese size .4 = .104mm = .004") - $54
---
Shipping
Domestic shipping is by USPS First Class Mail (unless ordered along with a rod). The $4 charge will be added to your order automatically.
Shipping to international buyers requires additional postage. International First Class postage requires an additional $6 to Canada or Mexico or $10 to other countries. Add postage just once for multiple small items. If small items are being shipped with a rod, pay the additional postage on the rod page. When additional postage is paid for the rod, no additional postage is required for the line, lures or other small items.
The buttons below are just for the additional shipping, not for the product(s) described above and the shipping. You must also click in the product buttons above.

Finesse-Fishing.com does not sell to residents of the European Union or the European Economic Area.
Additional First Class Postage
Canada or Mexico - $6
Additional First Class Postage
Other Countries - $10
Payment
Payment is processed by PayPal but you do not need a PayPal account. You can use your credit card.
Finesse-Fishing.com is a TenkaraBum LLC website. Payments will show on your statement as TenkaraBum.
---
---
Warning:
The hooks are sharp.
The coffee's hot.
The fish are slippery when wet.
---