Tenryu Fly Rods
---
Tenryu fly rods are now available in the US! I have been importing Tenryu tenkara rods for a few years now, and their spinning and baitcasting rods for a couple years. I have been very impressed by their quality. The fly rods are just as good!
Tenryu's lure rods have "Learn a lesson from the past" painted on the blank. The fly rods don't, but that same philosophy holds true.
Over the years, fly rods have gradually gotten faster and faster. The big name rod companies must think that fly fishermen just want to cast, not fish. With a fast rod you can cast the whole line but you don't need to cast 60-90 feet of line on a small stream. With all that line in the water, the drag you can't see from that far away will ruin your presentation anyway.
Rods got to the point that the average fisherman had to overline the rods and still had a hard time trying to cast them. Fly fishermen who wanted a pleasant day on the stream rather than a macho exercise to see who could cast the furthest finally rebelled. The pendulum then swung all the way to the other side, and glass rods became the rage.
Tenryu learned a lesson from the past and makes their fly rods with a composite of carbon and glass. The Tenryu Fates StreamWalker rods are 79% carbon and 21% glass. The Tenryu Fates Packer rods are 70% carbon and 30% glass. The rods aren't pool cues and they aren't noodles. They are soft enough that you will be able to feel the rod load and unload. They'll be fun with little wild brookies  - the 6-7 inchers you'll find in the small streams no one else fishes, but they'll easily handle fish three times that size.
Tenryu Fates StreamWalker

Tenryu Fates Streamwalker
The Tenryu Fates StreamWalker comes in four lengths: 6'6", 7'3", 7'9" and 8'2". All are 3-wt 4-piece rods. The rods differ not only in their length - they have very different actions. The shortest rod, at 6'6", is described by Tenryu as having a semi-parabolic action allowing tight loop casts at short range and targeting large fish in spots that are difficult to cast to. With a short break-down length, the rod is suitable for hiking into the headwaters.
The next longer rod, at 7'3", is described as having a fast action for pinpoint casting. It is noticeably stiffer than the next longer, 7'9" rod.

The 7'9" rod is described as bending from the middle part into the butt to prevent hooked fish from coming off. (At least, that's how Google Translate interprets it). It is pleasantly full flex and despite having the same carbon/glass percentage as the shorter rod, and is more reminiscent of glass or bamboo.
The longest of the StreamWalker series, at 8'2" is effective for loop control, line mending and long drifts. The supple tip and middle sections move with the fish to prevent fish from coming unhooked.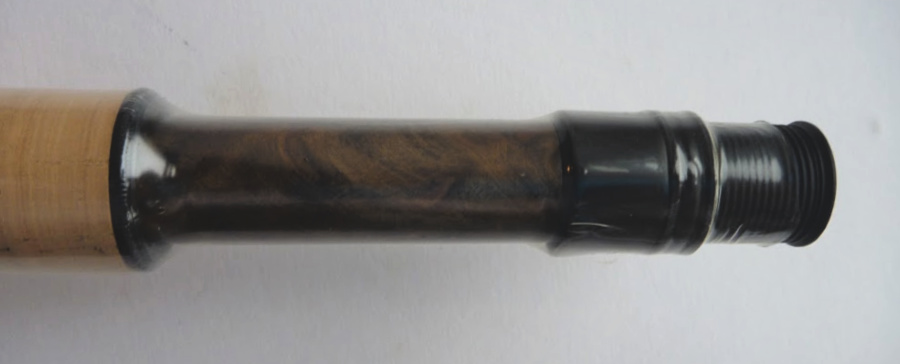 Tenryu Fates Streamwalker reel seat
The reel seat hardware appears to be black colored anodized aluminum. The hardwood spacer is the same exotic hardwood used for the reel seat spacers on their premium Specta and Alter spinning rods. Without the plastic shrink wrap (above) the wood it is very nice indeed.
3 weight
4 piece
79% carbon, 21% Glass
Rod sock and hard rod case included

Model - FSW663-4
Length - 6' 6"
Breakdown length - 20 1/2"
Weight 1.62 oz


Tenryu StreamWalker
FSW663-4 - $360

Model - FSW733-4
Length - 7' 3"
Breakdown length - 23"
Weight 1.83 oz


Tenryu StreamWalker
FSW733-4 - $370
---
Model - FSW793-4
Length - 7' 9"
Breakdown length - 24 1/2"
Weight 1.87 oz


Tenryu StreamWalker
FSW793-4 - $375

Model - FSW823-4
Length - 8' 2"
Breakdown length - 25 1/2"
Weight 1.95 oz


Tenryu StreamWalker
FSW823-8 - $385
---
Tenryu Fates Packer

Tenryu Fates Packer
Tenryu offers two rods in their Packer series, both 6-piece 3 wts. One is 7'0" and one is 7'6".

The shorter rod has a breakdown length of 15 7/8" (16 1/4" inside its 6-compartment cloth rod sock and 18 1/2" inside it's rigid case). The rod weighs 2.2 ounces by itself and 4.0 ounces inside the cloth sock. Tenryu says it is flexible enough to enjoy leader fishing at close range. I take that to mean the rod will cast effectively with just the tapered leader beyond the rod tip. For small, brushy headwaters streams, being able to make short, accurate casts can be the difference between a skunking and a "many" day.
The longer rod, at 7'6" is described as having a medium fast action and suitable for both subtle fishing (casting to small targets) and making longer casts to big trout in larger pools.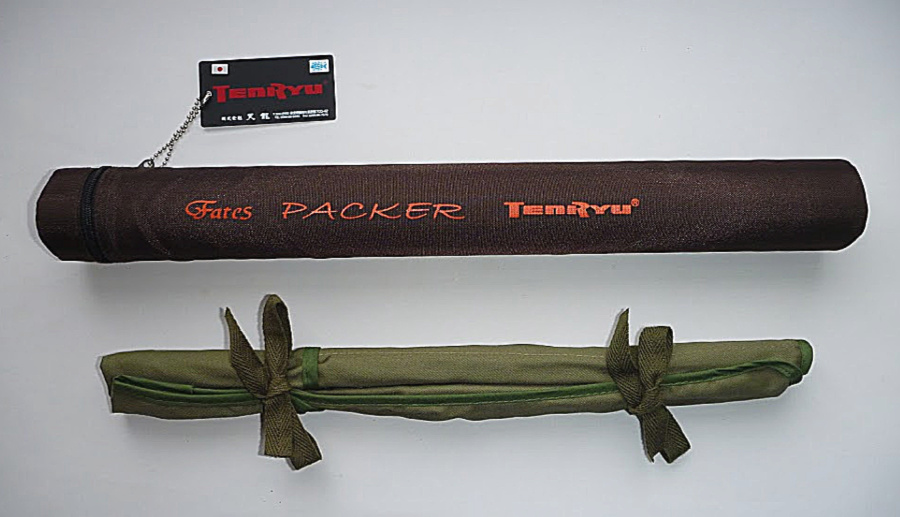 Tenryu Fates Packer case and sock
The rods fully packed inside the rigid case weigh about 9 ounces. You might not want to take the case with you if you are backpacking, but this case would have saved the trip for a friend of mine. On the first day of a pack trip, the mule carrying the gear fell and broke his only rod.

Inside the sock but without the hard case, either rod would make a compact, light package that will easily fit in a backpack or carry-on bag.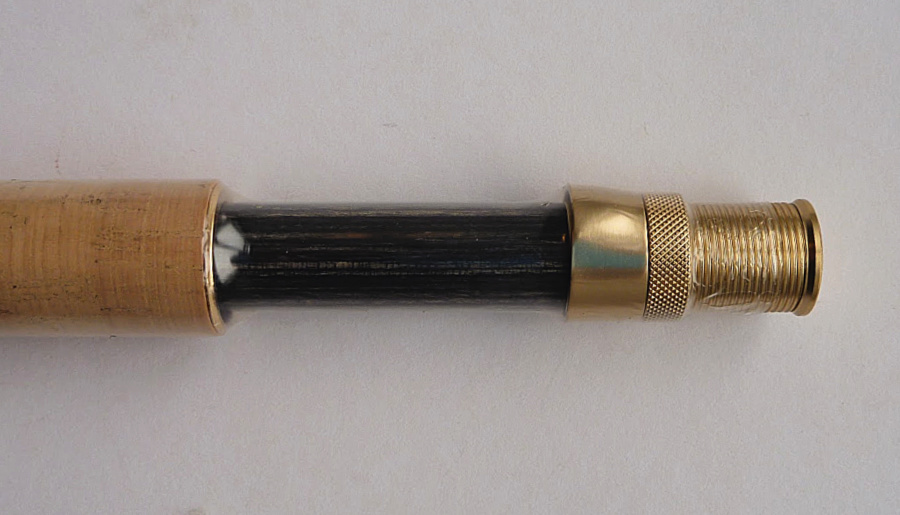 Tenryu Fates Packer reel seat
The reel seat hardware appears to be gold colored anodized aluminum with a hardwood spacer. I am not a wood expert and cannot identify the wood. I am not a photography expert either, and have a hard time capturing the wood pattern through plastic shrink wrap.
Tenryu says the 6-piece blanks have the same supple curve as a one piece rod, helping anglers cast their flies accurately. Knowing how supple the curves are on their 8 section Furaibo TF39 and 14 section Furaibo TF39TA are, I believe them.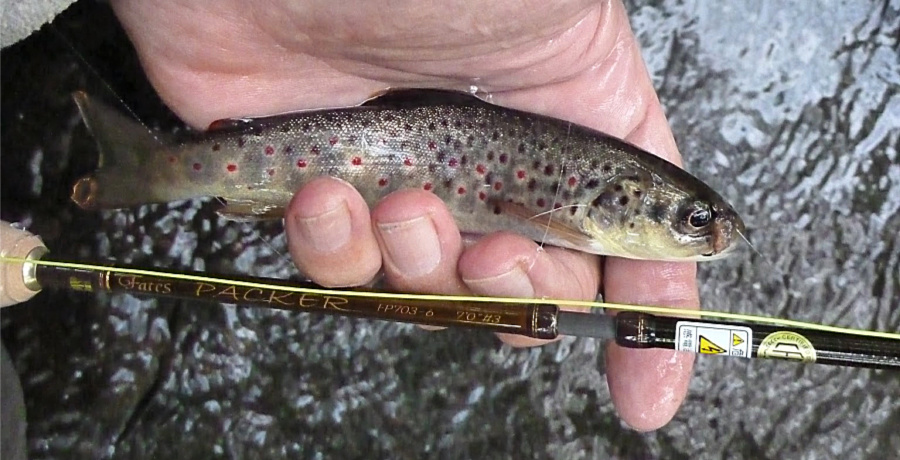 Tenryu Fates Packer
3 weight
6 piece
70% carbon, 30% Glass
Rod sock and hard rod case included
Model - FP703-6
Length - 7' 0"
Breakdown length - 15 3/4"
Weight 2.15 oz

Tenryu Fates Packer
FP703-6 - $340

Model - FP763-6
Length - 7' 6"
Breakdown length - 16 1/2"
Weight 2.33 oz

Tenryu Fates Packer
FP763-6 - $350
---
Shipping
Domestic shipping is $10 via USPS Priority Mail (2-3 day delivery).
Please note: All packages are shipped via USPS. If you have a PO Box, please list ONLY the PO Box in your address, not the PO Box and your street address.
The charge for international shipping depends on the destination country, the weight of the package, the overall length of the package and the value of the package. Packages under 24" long and under $400 in value will go via USPS First Class International. Packages over 24" or over $400 will go via USPS Priority Mail International. The International shipping charge will be calculated at checkout.

---
The hooks are sharp.
The coffee's hot.
The fish are slippery when wet.
---