Trip Report - 6-23-19
Third time's a charm. June 23 was the third time I went out trying to catch a brookie with a baitcaster. Actually, my first time was more of a "proof of concept" trip than a real attempt to catch a brook trout. I don't believe there are any brookies in the stream I fished. There are lots of small, wild trout, which I thought was probably good enough to see if I could cast a brookie-sized lure with a baitcaster. I caught a little brown with a 1.2g spoon, proving the concept.

My second outing, to a stream that I know has brookies, was a skunking. Low, clear water and bright, cloudless skies do not make for easy fishing.

On June 23, the stream I went to was also perfectly clear, and the skies were very nearly cloudless. The day did not start well. The first spot I wanted to fish already had several anglers in it. The second was open, but by the time I had rigged up, an angler working his way downstream worked his way right into the spot I wanted to fish. I moved again, but was unable to interest any fish in the only other spots on that stream where I had previously caught brookies.

On a hunch, I left the main stream and moved to a tributary, which I thought might hold brookies. I parked by a bridge just above where two streams came together. One was crystal clear but the other was severely discolored. I crossed the discolored one and started fishing a little below the junction, where one side of the stream was running clear and the other side was muddy.
I cast towards the shore on the clear side of the stream and retrieved into and through the discolored water.

Second cast:  after the spoon entered the discolored water - bam! Saw the flash, felt the bump, but no hookup. Third cast: after coming through the clear water and most of the discolored water, almost to my feet - fish on!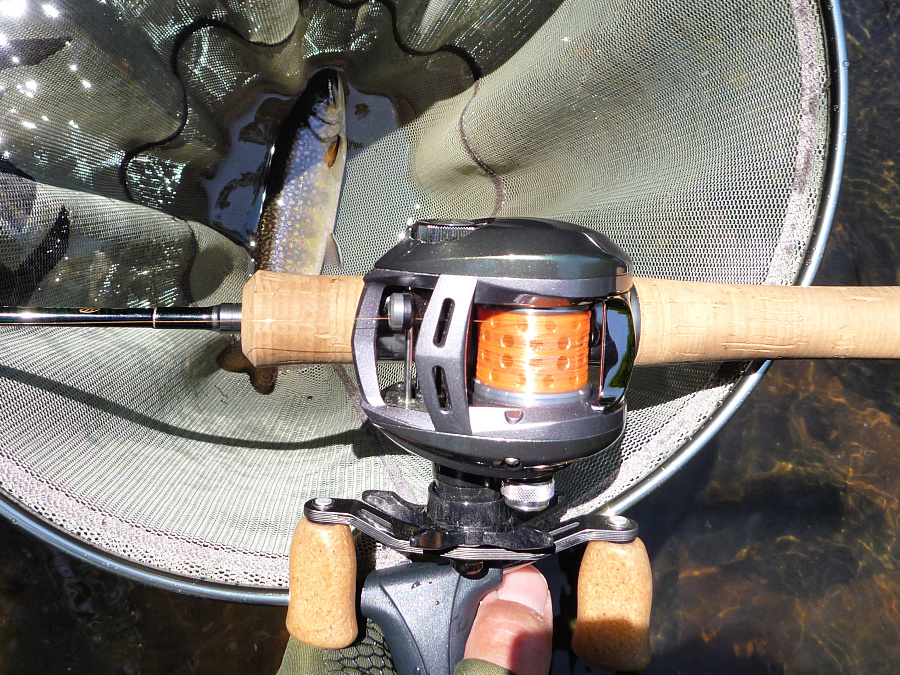 Tenryu Rayz RZ53UL-BC, Daiwa Alphas Air Stream Custom, Varivas Bait Finess Nylon 2.5 lb, Brook Trout!
Turned out it wasn't just a fish, it was a brookie! The definitive proof of concept. Baitcasters for brookies? You bet!
It wasn't a big fish. Most brookies aren't. And realistically, the fact that it was a brookie, rather than a little wild brown or rainbow, really isn't that important. It's just the clear confirmation that using a baitcaster for the ultimate in ultralight fishing - a little wild brookie in a little wild stream - is a reasonable approach.
Most of the people I know who fish for brookies do so with flies. A growing number are using ultralight - or even extra, extra ultralight JDM spinning rods like the Daiwa Iprimi 56XXUL-S or the upscale Daiwa Presso AGS 54XUL-S. I suspect, though, that as BFS fishing for trout increases in the US, people will use UL baitcasters in smaller and smaller streams, targetting fish that only a few years ago no one would have thought possible with a baitcaster.
Interestingly, even though that day I also fished with 1.2 and 1.8g spoons, the only hits I got were when I was fishing a 2.5g spoon. I think that's mostly because that was the spoon I happened to have on the line when I fished what turned out to be the productive part of the stream. Still, it pretty much proves (at least to me) that the push to fish lighter and lighter lures with a baitcaster has more to do with "is it possible?" than "is it necessary?"
Shimano 2.5g Slim Swimmer, gold.
Any of the BFS reels on the Finesse-Fishing.com site will cast a 2.5g spoon pretty easily. There is no need for an expensive aftermarket spool to cast that weight. The 2.5g Shimano Slim Swimmer I used is about an inch and a quarter long. Trout considerably smaller than the brookie I caught are capable of eating fish that size easily.
The Shimano Slim Swimmer comes in a range of weights (1.5, 2.5 ,3.5 and 5 grams). I only have the 2.5 in stock but I think I will get the others as well. I like the action. The slimmer design seems to stay a little deeper and the slimmer profile is closer to that of the real minnows that trout eat.
I only caught the one fish on Sunday, but it was a goal achieved.

---
The hooks are sharp.
The coffee's hot.
The fish are slippery when wet.
---