Covid-19 Announcement
Finesse-Fishing.com is located in New York City, which is essentially locked down.
Package pickup has been suspended. My neighborhood post office is closed. I go outside as little as possible because I am in an "at risk" group.
Finesse-Fishing.com is still open, for now. Next shipments tentatively scheduled for Wednesday, April 8 (rain in the forecast).
Most international flights have been cancelled, so there is no ETA for out-of-stock items that come from Japan.
---
Ajing Rod
by Kristine
(USA)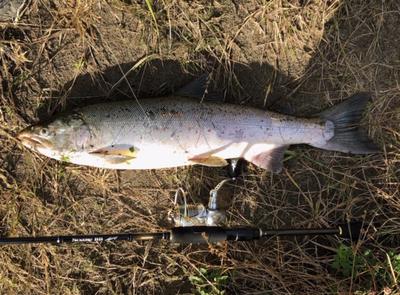 My family purchased a Shimano Soare BB Ajing rod for my brother. After a few months of fishing this rod, it is now his absolute favorite! He has caught 3" largemouth to 25" Coho with this rod. Larger fish have not been a problem. Just remember to keep the rod tip at a low angle when reeling in fish. This rod casts spoons like a rocket.
The attached picture is a 25" Coho caught on a Daiwa Crusader 5gr Pink/Silver.

Thank Chris for helping us select a great rod!

---
Warning:
The hooks are sharp.
The coffee's hot.
The fish are slippery when wet.
---