Covid-19 Announcement
Some shipments are still delayed, both domestic and international. If you are planning a trip, please order well in advance.

---
At the vise
by Terry Farmer
(Albuquerque)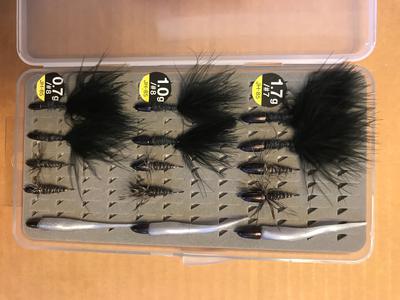 Ever since Chris led me to the "dark side" I've been devouring everything I can find concerning ultralight spin fishing. Notable finds were Erne St. Clare's 'The Modern Science of Spin Fishing' and Joe Robinson's 'Piscatorial Absurdities'. Joe's book led me to try tying jig hook "flures". Chris's Cultiva JH 85 jig hooks are perfect for this pursuit. Further inspiration came from two of the most popular Tenkara flies ever, the Keeper Kebari and the Killer Bugger. I also added a soft bait to my latest Triple Threat flure box. My hackle skills are grossly substandard but I doubt the fish will care much.

---
Warning:
The hooks are sharp.
The coffee's hot.
The fish are slippery when wet.
---