Covid-19 Announcement
Finesse-Fishing.com is located in New York City, which is essentially locked down.
Package pickup has been suspended. My neighborhood post office is closed. I go outside as little as possible because I am in an "at risk" group.
Finesse-Fishing.com is still open, for now. Next shipments tentatively scheduled for Wednesday, April 8 (rain in the forecast).
Most international flights have been cancelled, so there is no ETA for out-of-stock items that come from Japan.
---
Ditching Treble Hooks
by John V
(Salt Lake City UT)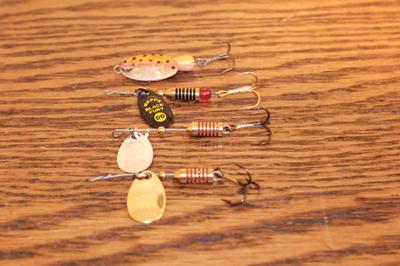 Mepps Spinners
Since I started using my new finesse spinning rod, I wanted to carry over my catch and release ethics from tenkara/fly fishing to my spin fishing.

Part of this was changing out the barbed treble hooks on my Rapalas and my Mepps spinners to a single barbless hook.

I have not noticed any increase in lost fish from this change of hook type.

In fact, I just removed the belly hooks on my Rapalas because I noticed that every fish I have been catching with them hit the tail hook.

A side bonus, I haven't had any bottom snags since ditching the belly hooks.
---
Warning:
The hooks are sharp.
The coffee's hot.
The fish are slippery when wet.
---