Exploring the past and taking it into the present!
by Lesley Albjerg
(Idaho)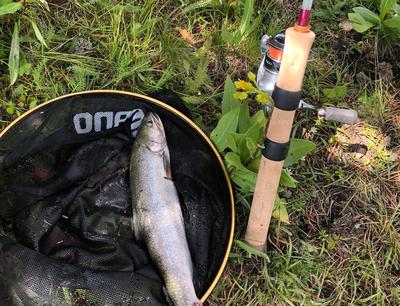 15 incher - First fish on the custom rod
This journey actually began a few years ago. Herb over on the TenkaraBum website talked about A.J. McClane's book "Spinning for Fresh and Salt Water Fish of North America." I bought a used one. It is amazing how light of line he advocates! When I was growing up 6 pound mono was considered going light! I've spent the last 3 years trying to get a copy of Joe Robinson's book "Piscatorial Absurdities." I was loaned a copy from a friend. In between those two books, I discovered you can download a free copy of Ernie St. Claire's book, "The Modern Science of Spin Fishing." Chris discussed this book in his write-up of the Daiwa Iprimi rods. I highly recommend reading his write-up on the Iprimi.

Actually all three of these books are dated! Robinson gives a detailed account of how to build a rod that will do the three casts that Ernie St. Claire developed. So, I had to build one! My rod is a little different. I used a 2 weight S-Glass fly rod blank. It is 3 piece instead of 2 piece. I did use the guides and handle he recommends. I spaced the guides to his specifications. I bought a Garcia-Mitchel 309 (actually several) because it is the reel he recommends. I cut the bail off like he instructed. I would say my rod is pretty close to what he would have built, and it totally meets the specifications in Ernie St. Claire's book.

After reading St. Claire's book, I asked Chris if he had a rod that came close to flexibility needed to do the casts in St. Claire's book. He recommended the Daiwa Iprimi 60XUL. It comes in a two piece or four. I opted for the four piece as I want to use it in the high lakes. Yes, it works well! I have it paired with a Shimano Cardiff 1000 and 2 pound test JDM nylon line. I am still learning the three casts, but all errors are mine. Having been a professional rod builder in the past, I just had to build one of Robinson's rods to compare!

I am very pleased with the results of my custom rod. It does the three casts well. The Tennessee handle isn't my favorite. However, another master angler Chris introduced me to, Frank Nale, advocates having your reel near the butt of the rod. With the Tennessee handle that can easily be done.

Last Tuesday, I dedicated my first two hours of fishing to my S-Glass rod. I had fished it several times before, but I wanted to give it a good workout before writing about the two. After a half hour, I broke ranks with Robinson and took off the Garcia-Mitchel and replaced it with my other Shimano reel. A reel without a bail isn't much fun in the wind! The wind peels the line off the reel - a lot of line! Really fast! I did fish the bail-less reel today and I see no real advantage. I will be putting a bail back on my Garcia-Mitchel 309. I bought a new bail. The reel I am using is almost new, and works well. Today catching fish, the drag is very good and worked well with the rod. I am very pleased with this throw back to a different era. It fishes well.

The Shimano Cardiff reel and the Daiwa Iprimi have a nice balance. Even though it has no cork, the reel seat and the crazy knob on the back is very comfortable. It is well balanced. It is a much lighter rig. I was surprised that the Shimano reel is only 2 grams lighter than my old Garcia-Mitchel. The weight savings is in the rod. Even though I have the four piece rod, it does cast a little better than the S-Glass. More important to me, is the feel in the fight! Graphite transmits the connection with the fish much better than fiberglass!

The bottom line - I'm glad I did the build. I have a nice rod. The Iprimi that is already to go is much nicer. It is also cheaper. We have better equipment now than they had in the past. I am so happy that there is one rod with full flex that will do the casts advocated by Robinson and St. Claire. I've chronicled a lot of this adventure on the blog. Chris has done an excellent write-up on light lures on a spinning rod in his write-up on the Imprimi. Time to go explore fishing rather than experimenting!