Covid-19 Announcement
INTERNATIONAL: Shipments are taking a very long time to arrive. Expect delivery to take more than one month.
DOMESTIC: Many deliveries are taking about a day longer than normal. A few deliveries are taking a lot longer than normal. If you planning a trip, please order well in advance.

---
Finesse Fishing Reel Off - Part 2
by Craig T
(Iowa)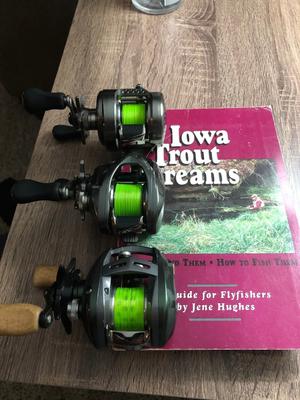 The Shimano Aldebaran is a premium reel that has many nice features, plenty of upgrade options and is just as smooth as silk. The reel I tested has an upgraded lighter spool with the brake kit. We can easily cast down to 2g or lower with this setup. You gain an 8.0 gear ratio for faster retrieves, high end rubber I shaped knobs on a clean swept aluminum handle with a clean silver finish to the body. For the experienced angler you can tweak the magnet layout inside to increase your distance and spool start up inertia for short loading a rod. This does mean you run a higher risk of backlash but with practice this reel is beyond capable of any technique you could want. If you are after a low profile reel that is top of its' class look no further. Fit, finish and performance will take you anywhere you want to go.
---
Warning:
The hooks are sharp.
The coffee's hot.
The fish are slippery when wet.
---