It's all about the pursuit......
by Jeff Roberts
(Tyler, TX)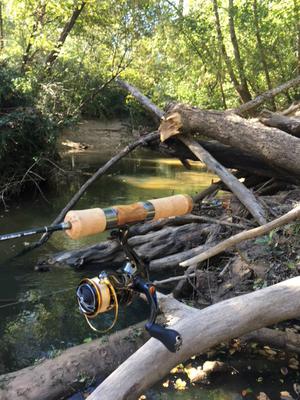 Tenryu RZ39LL and tight stream.
I love fishing! I have been fishing since I was a child and the love affair continues. As I have grown older, fishing is as much about the entire experience as it is catching fish. God's creation is amazing. It's that cool morning breeze, the sound of the river as it speeds by, birds flying about, and that first bite to get the nerves out. When you take in the pursuit of the fish it just means more.

I recently acquired the Tenryu Rayz RZ39LL from Chris at Finesse-Fishing.com. This rod embodies everything I love about "the pursuit." Its short length is made for fishing those really tight streams/creeks/or small rivers where no other rod can go. I paired mine with the new Shimano Soare 500s reel and it's an ultralight dream! Total weight of the combo is a mere 6.4oz! I could not spool the 2 lb line fast enough!

Fishing this rod is just plain fun. I fished it in open water, streams, creeks, and a small river here in East Texas so far. I have caught many sunfish, spotted bass, largemouth bass, and white bass so far on the rod. Largest bass was around 2 lbs and the rod handled it just fine.

One of the cool things about this rod is that you just want to use it. I find myself seeking hard to reach places just to see the short 3'9" rod shine. While you can fish the rod anywhere, taking it to an overgrown stream is where this rod will wow you. The ability to cast to spots with accuracy in the tight spots is as fun as it is effective. Be careful, you will be spending more time on google earth once you fish this rod.

Is it worth it? Absolutely! Watching this rod dance to the song of a wild beautiful fish while surrounded by nature.....Priceless.
Join in and write your own page! It's easy to do. How? Simply click here to return to Your Stories.
---
The hooks are sharp.
The coffee's hot.
The fish are slippery when wet.
---