Covid-19 Announcement
Most international flights have been cancelled.
There is no ETA for out-of-stock items that come from Japan.
Shipments to overseas buyers will take longer than normal - possibly much longer. Patience is a virtue - especially in fishing.
---
JDM PE Line

Sunline Small Game PE-HG
JDM PE line (what we would call braid) is absolutely wonderful stuff. It is expensive, and the lighter weight lines are extremely expensive, but high quality comes at a high price.
Although Sunline no longer sells braid for trout fishing, they sell a truly excellent braid for ultralight saltwater fishing. It seems we don't do much ultralight saltwater fishing in the US, but it is a big thing in Japan. Their Small Game PE-HG line works beautifully as a BFS line for trout fishing!
When I started using a baitcaster in trout streams I used the same nylon mono that I used with my spinning reels. After experimenting with a number of different lines, I came to believe a light braid is really the best choice. Nylon or fluorocarbon lines are perverse. It seems they want to jump off the spool, and will blow up into a bird's nest given half a chance. Given the same half a chance, braid seems to want to stay on the spool. I still get bird's nests (I'm still basically a beginner) but fewer and less extreme. I am sold on braid. It is considerably more expensive than nylon, but to me it is clearly worth it.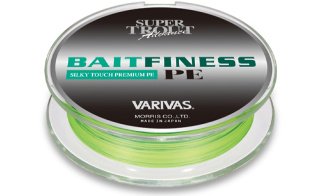 Varivas Bait Finess PE
Varivas Bait Finess PE is targeted at baitcasters and I have to say it is an excellent line. Personally, I have a slight preference for the Sunline because I can see it better against a background of light green foliage, but other than that, I like the Varivas line a lot! The line I have in stock is thinner than the Sunline braid I stock, and works very well indeed with light lures.

Baitcaster for micros?
Granted, most people do not use a baitcaster when fishing for micros, but if you want to use light lures, using a thin braid like the Varivas Bait Finess PE works very nicely.

---
Extremely fine 8-strand braid (4 pairs) for excellent casting performance.
Sensitivity to detect the lightest bites - or the bottom.

Hi-Vis pink so you can see your line even in low light.
The strength you want when your "small game" turns out to be not as small as you expected.
6 lb test .104mm dia, size .4

150m
$54


Braided line designed specifically to pitch smaller lures at Trout-Management-Area.
Sensitivity & Low Stretch: transmitting the exact feedback from lure better than Nylon.
Alternating chartreuse and green line coloring.
VARIVAS SP-F Fluoride-based line coating for reducing guide friction.

5.5 lb test .090mm dia, size .3

120m
$64

---
Shipping
Domestic shipping is by USPS First Class Mail (unless ordered along with a rod). The $4 charge will be added to your order automatically.

International shipping is by USPS First Class Mail Intenational (unless the entire order is over $400 or the order requires a box longer than 24". The shipping charge depends on the destination and the weight, length and value of the package.

---
---
Warning:
The hooks are sharp.
The coffee's hot.
The fish are slippery when wet.
---