Living the WooDream...
by Craig
(Cedar Rapids, IA )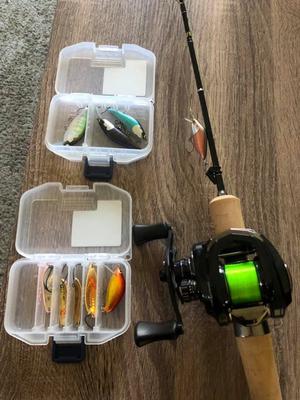 My setup.
After rain and snow with a freak low front pushing through I stayed close to home and made a trip to the urban trout stream. I've been playing with tuning my Abu Revo LTX-BF8 with new bearings, handle and knobs, pairing it with the Tenryu Rayz RZ53UL-BC. Spooled up with some Varivas Sight Edition in 4lb test I was headed down the road with a small selection of WooDreams in tow.

After bypassing some construction I parked down on the side of the trail and walked down stream a bit. Working my way down the hill I tucked behind a tree and slowly worked out into the water a bit. Made a couple of casts and missed my first fish, next cast I had a fish on then he got away after an aerial display. Couple of casts later I had a solid tug at the end of the line, felt bigger than the usual fish I've caught. A solid brown came to net as my first fish. A few more casts later and I hooked another. He quickly came up to the surface and flung the lure into a nearby brush pile. After retieing, and a couple more casts with nothing it was time to work upstream a bit more.

At the next bend it was a banner hole with lots of solid hits, several lost fish and many fish to net. Lots of brookies were hanging in this hole and for a solid 20 minutes it was fish after fish. I tested all of my WooDreams it was fun to watch the different actions of each style. If you haven't tried these out I highly recommend the investment. They react much differently than any of the traditional lures I've used.

All in all I lost count of the number of fish that came to hand, the number of fish that I lost after a brief fight, and a handful of missed connections.
Join in and write your own page! It's easy to do. How? Simply click here to return to Your Stories.
---
The hooks are sharp.
The coffee's hot.
The fish are slippery when wet.
---