Finesse-Fishing.com is located in New York City, which is essentially locked down.
Package pickup has been suspended. My neighborhood post office is closed. I go outside as little as possible because I am in an "at risk" group.
Finesse-Fishing.com is still open, for now. Next shipments tentatively scheduled for Wednesday, April 8 (rain in the forecast).
Most international flights have been cancelled, so there is no ETA for out-of-stock items that come from Japan.
Lousy Day In Paradise
by JJ
(Upstate SC)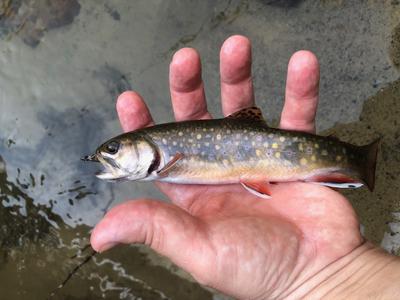 Elusive brookie
I know some of you are just now shaking off winters icy grip, and others dealing with run-off, but here in the southern Appalachian mountains,things couldn't be much better. A mild late winter rather gently transitioned into spring. The nearly constant rainfall that we've had since last September has normalized, and trout are very active.

I have been maintaining my weekly trips, sometimes squeezing in two. Some of those trips have been mostly hiking, and scouting for future fishing, but others are all about the fish. I'll do a separate post covering a previous trip that presents a "spring creek like" challenge for me.

Today's fishing was in one of my favorite creeks that's closer to home. It's a pleasant and beautiful drive, that I take at a slower pace, just to soak it all in. Turkey sightings are all but guaranteed, and the spring blooms, and various shades of green that change with the elevation, are enough to make fishing feel almost secondary. ALMOST! I continue to enjoy success with fishing only minnow lures (plugs). In fact, the brookie in the photo was finally landed on a jointed Daiwa plug that I got from Chris last year. I say finally because this fish lives in a small creek,under a small bridge on a small gravel road that is the headwaters of the creek that I come to fish. It has become my parting tradition to pull over on my way off the mountain, after a full day of fishing/hiking, to tempt this one brookie. It's a tiny flow of water at this point, with only one approach. I will cast no more than 6 times, and then I leave him be. A rule I impose on myself. Over the last year and a half, I have presented; spoons, homemade spinners, commercial spinners, and even small trout magnets. I have hooked him twice. Briefly! I have spooked him on the approach, and not seen him at all. Today, I caught him on the first plug that I showed him. I was worried that the splash from a plug, or the size, would spook him. Wrong! He approached with murder on his mind. I'm still amazed every time I see a fish no bigger than the plug, giving it hell.

Speaking of size, the rainbow in the other picture is one of the largest I've taken on any tackle. I don't carry a net because of the hiking, and bushwhacking usually involved, so that was the best photo I could manage. He fought me the whole way, and I couldn't hold him with one hand. The best reference I can manage are my feet in the photo. I wear a size 12 to 12 1/2 shoe. Last year I caught three similar sized rainbows out of the same waterfall pool, not ten minuets after a dog had been swimming and retrieving sticks in it. Other times, you wouldn't think a single live fish was in it. Go figure.

I am thoroughly enjoying my JDM journey. The lures, line, short multi section rods, all come together to make a great pack-in trout fishing kit. While I have become quite accurate, and proficient at spin casting, I can't help but notice an increase in short BFS rod offerings. I didn't think I would be tempted to go to the darker side, but with the availability of multi section rods, Chris's brookie post, and Les rebuilding his fathers reel, it may be too much to resist. My own late father was a bait caster. He took to it, and never looked back. Maybe it's spring fever, maybe the pollen has clouded my thinking. Regardless of the equipment,to be on a trout stream in the spring is damn near paradise.

JJ