Over The Moon with the Lunakia
by Les Albjerg
(Caldwell, ID)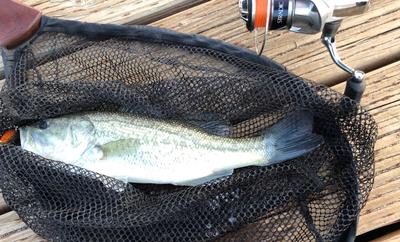 12 inch bass
A saltwater rod, for freshwater finesse fishing? Only Chris Stewart would think of that application. I went out for an hour today with the Tenryu Lunakia LK610S-MLT that came in the mail yesterday. The first thing I noticed when I unpacked the rod is the fit and finish rivals any custom rod out there. The second thing I noticed is the rod felt stiff. That said, you don't fish the rod without a line or lure on it!

I was hoping to catch some sunfish today. However, the only taker today was a nice 12 inch bass. It put the rod through its paces. The first thing I noticed was how many eyes Tenryu puts on this rod. Seven guides plus the tip. I think this was engineered by them. The stiffness goes away as soon as you begin casting. The guides have incredibly small eyes on the upper section.

I began fishing with a Cultiva Jighead 1 gram and a Cultiva Pinworm. The first thing I noticed is I could feel the jighead bounce on the bottom. I could also feel several small fish tapping the bait. I didn't catch any of them. I switched to a different soft plastic, and had the same results. Casting this rod is a dream! It is well balanced with both of the premium Shimano reels that I have. It didn't take long to get the feel of the rod.

The light was fading, and I wanted to try it with a spoon. I put on a 4 gram spoon that I got from a guy in Maine. On the 4th cast with it, the bass in the picture slammed it. Now I began to understand why so many guides. The bend in the rod was amazing. According to Tenyru it is suppose to have a parabolic bend and it does! The rod comes alive with a fish on! The reel seat is graphite Nishijin weave. It is not only beautiful, it is light and transmits every move the fish makes.

This is going to be a great rod for catching winter planted trout at the various ponds. Spring fishing for sunfish and frappies is going to be amazing. This rod will handle the perch I go after as well. It is everything I was hoping for. With a quality reel, I do think this rod can handle 90% of what I catch in lakes and ponds. The 12 inch bass made 4 nice runs, and I never felt like the Lunakia was even getting close to being maxed out. I enjoyed the battle. Twice he ran toward me, and I could feel the pulsing of his tail! He did a quick turn to the right and I was able to drop the rod and keep him under control. It was a lot of fun!