A Close Look at the Shimano Exlead S57SUL/R-GS
By Les Albjerg
Idaho

I must make a confession,  I'm prejudiced against rods with skeleton handles and solid tips.  The Shimano Cardiff Exlead S57UL/R-GS has both! 
My first experience with a skeleton handle wasn't a positive experience. 
I have 3 JDM rods that have very functional and comfortable skeleton handles.  There not as beautiful as the Tenyru handles, but in many ways I find them more functional.  The handle on the Exlead is very comfortable and functional.  One of my favorite things about the handle is it facilitates a natural alignment with the reel and guides.  I'm also able to drop my forefinger on the casting hand down on the rod for control and feeling the action of the lure or the bite of a fish.  The extension down to the bulb at the butt end is just the right length.  It helps with balance.  It is easy to brace it against your forearm while fighting a fish.  This is a very comfortable and functional handle.  It also holds the reel very securely.  Sure, my Tenyru Rayz handles are beautiful and functional, but for me, they are not as comfortable as the one on the Shimano Cardiff Exlead.
When I worked for a custom fly-rod shop, I just hated building rods that had solid tips.  It was very difficult to get a smooth transition with the guides, and the rods were fussy.  Buying and fishing with a Shimano Soare CI4+ Ajing S408UL-S  for the past two years has cured me of that issue.  It is one of my favorite rods, but that is another story!  It is not a full-flex rod.  However it is rated for lures from 0.4 grams to 8 grams!

I've been on the quest for a full-flex rod that has sensitivity and backbone.  Ernie St. Claire's book on spin fishing and Joe Robinson's take on it in "Piscatorial Absurdities" motivated me to build a rod to Joe's specifications.  It is a nice rod, but I knew there should be more.  I was able to fish a Daiwa Presso ST, and it came very close to what I was looking for. 
I continued my search and couldn't find a glass rod here in the States.  I knew an all or ultra high percentage graphite rod would just be too stiff.  I looked long and hard at the Tenyru Rayz RZA62UL-S.  The problem I had with this rod is it is almost all graphite.  The second issue for me is I wanted a rod under 6 feet. 
I was turned off by the description of the Shimano Cardiff Exlead S57SUL/R-GS, where it says, "Tip Solid Glass."  I figured that is where all the glass was!   I figured wrong!  There is a beautiful glass blend throughout this blank!  It is 68.8% glass and 31.2% graphite.  What you end up with is the flexibility and dampening qualities of glass and the power for casting and hook-sets with the graphite.  It is a nicely balanced blend!  It is 5 feet 7 inches so I like the length.  I know Chris doesn't sell anything he hasn't tried at least once.  When I inquired about the rod, his response was something like, "It's a nice rod but it didn't really stand out."  That put me back into my quandary,  Tenyru or Shimano?  Since I simply continue to be impressed with the Shimano Soare Aijing rod, and the Exlead is more glass than graphite that I thought I would give it a try.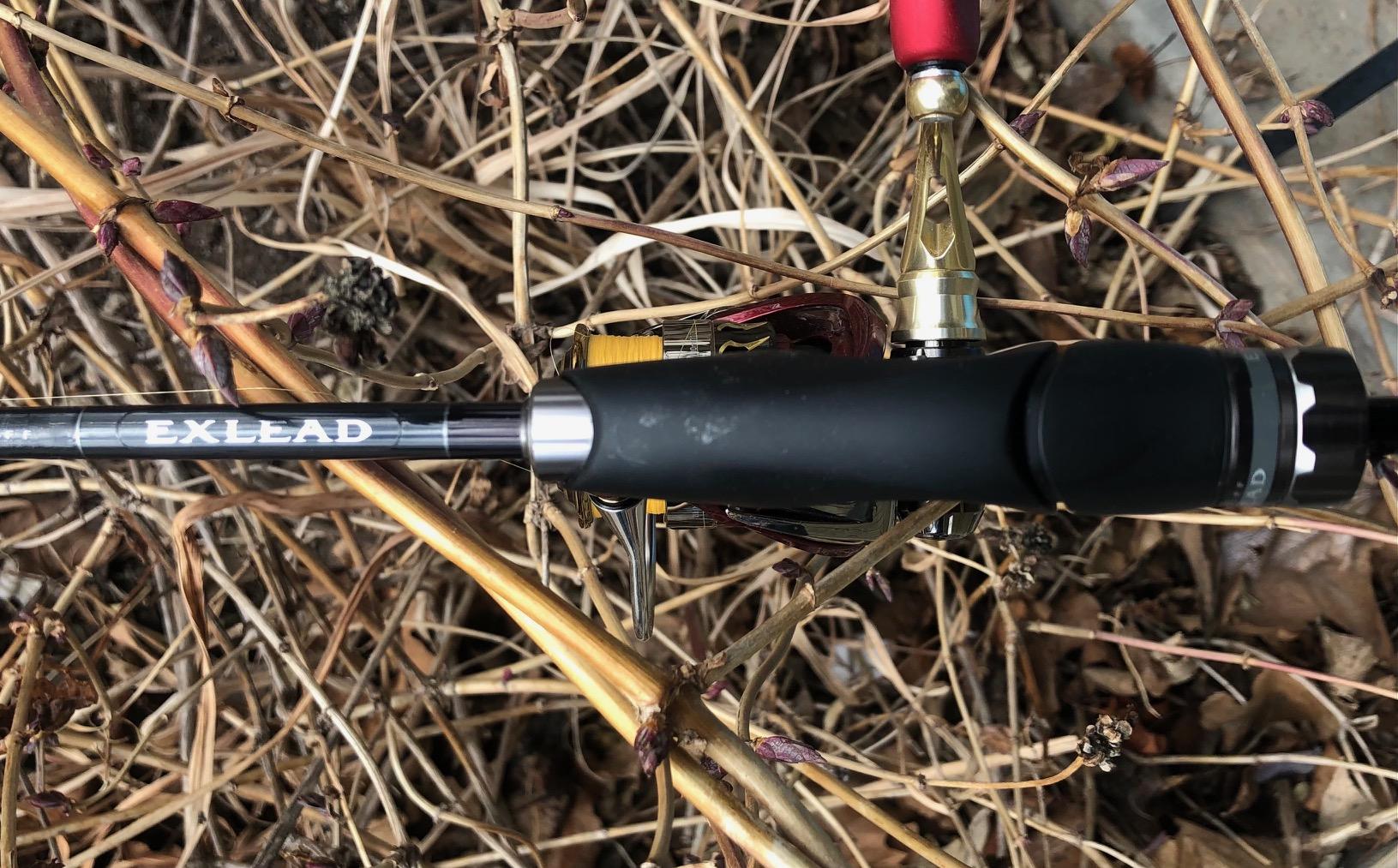 When the rod arrived and I opened the box, the first thing that grabbed my eye was the diameter of the blank by the handle.  I was so happy and relieved.  With the slightly larger diameter, I knew that there was glass blended throughout the rod!  The next thing I did was put it together and give it a good examination.   The first thing I noticed is that it has the Spiral X technology built into it.  It makes for a beautiful blank and adds to the directional stability of the rod.  It also has their High Power technology which means they have put their highest quality graphite into the rod.  When I grabbed the tip and flexed it I was very pleased to see a nice parabolic curve and that the transition between the solid tip and tubular part of the rod is seamless!  One of my gripes with JDM rods is the smallishness of the 1st guide on many of the rods  The Exlead has a nice sized 1st guide that leads to less abuse of the line and might be one of the contributing factors of how well it casts.

The Exlead is rated for 0.4 gram lures up to 3.5 gram lures.  I have fished a 4 gram lure with it, and it didn't get whippy at all, but I wouldn't go any heavier.  I have fished 0.5 gram spoons and it casts them surprisingly far!   I have fished 0.2 PE braid up to 3 pound fluorocarbon and it handles all the lines well.  It is rated for 1 pound to 3 pound test.  I've caught well over 60 fish with it so far.  The smallest was a 3 inch creek chub in a creek and the largest a 17 inch rainbow in a slow moving spring.  So, after testing several very ultra light rods, and even building one, have I found what I have been looking for?  I can answer the question with a resounding yes!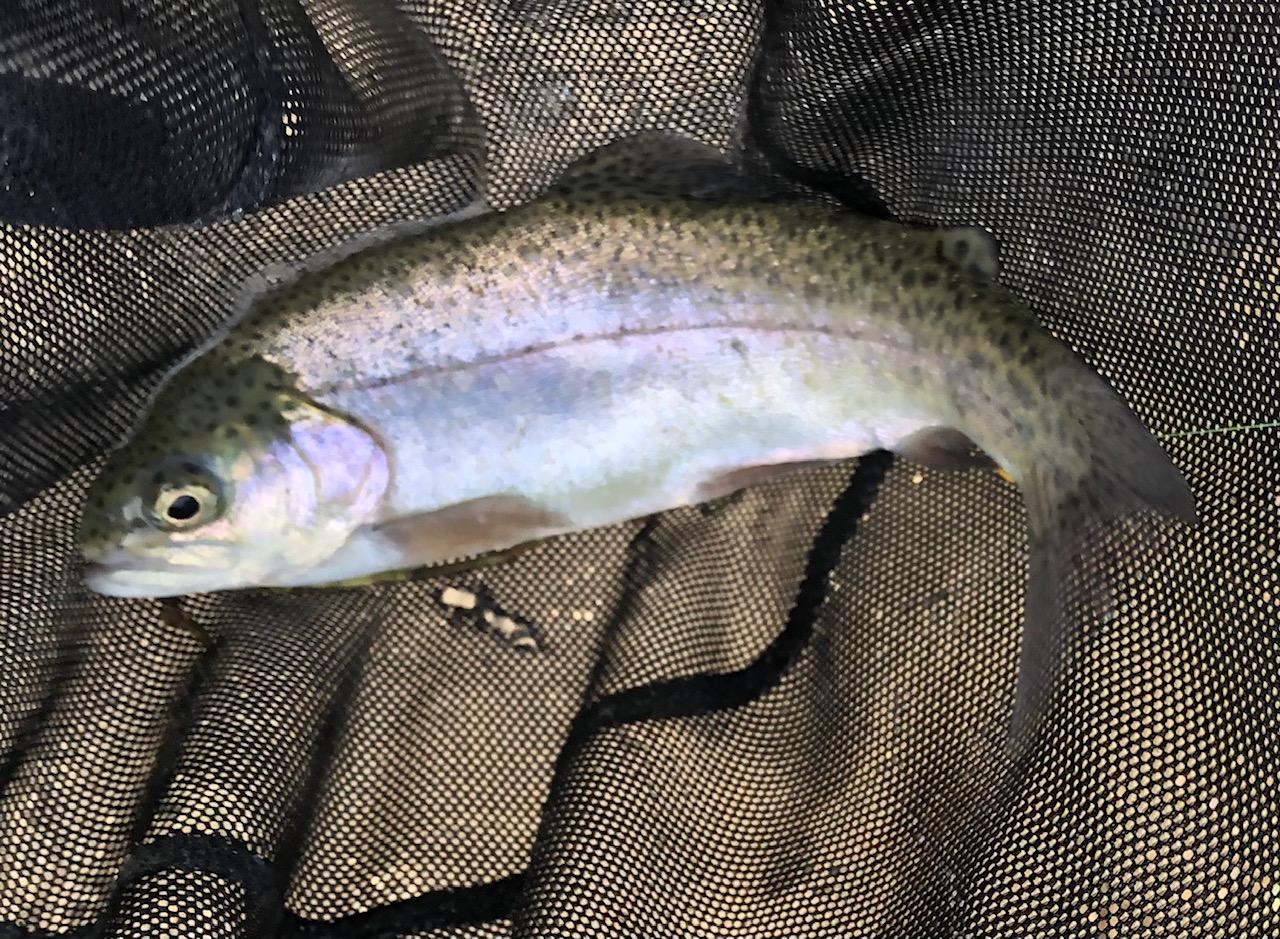 The first time fishing the rod was on a pond that was stocked with trout.  I was fishing a spinner that has been a good producer for me, and on the 2nd cast, I was into a nice 12 inch trout.  I was so pleased with the fight with this fish that I thought I was projecting my desire for this rod to be good!  I had a solid hook set in that the fish jumped twice and gave me three good runs before I landed him.  The rod had a smooth bend all the way down to the handle.  This is what I wanted.  Several rods I have tested simply lose the flex in the tip and it goes straight.  That doesn't happen with this rod!   I fished it this morning with  Ajing Jigs and plastic worms.  The rod handled the jigs well and the thrill has not diminished one bit!   This was my last test of the rod.  Even though it is a full-flex rod, it has enough backbone to fish deep with a jig.

Last week, I gave the Exlead a test that I didn't think it would pass.  I fished two of my rods that are rated for lures up to 8 grams.  I used the Smith Niakis 6 gram spinner on these rods and the 3 gram Niakis spinner on the Exlead.  The Exlead could cast the 3 gram spinner almost as far as the other 2 rods!  The effective range was almost the same.  The Exlead handles the aggressive take that trout normally do when they slam a spinner!

I caught 4 nice trout between 14 and 16 inches on a non-planted creek with plugs.  This rod can handle casting 3.5 gram plugs with no problem.  The wind came up in the afternoon and I continued to fish 2 gram to 3.5 gram plugs.  This wasn't the ideal rod for fishing where I was, but it was effective.  I would have much rather been fishing my Tenyru Spectra that is designed for current.  However, the Exlead passed the test.

The major reason for wanting a rod like this was for fishing spoons in still or slow moving water!  This rod excels fishing spoons.  Three weeks ago, I fished 0.9 gram spoons most of the day and caught over 20 trout.  This rod will cast them accurately 20-25 yards.  I moved to a different area where the best fishing is about 30 yards across the slow moving spring.   I was dropping the 1.9 gram Daiwa Presso Lumion within inches of the branches across the spring.  It was another 20 fish in about 2 hours!  This is where I caught my largest fish so far, a nice 17 inch rainbow.  He jumped 3 times, and gave me 4 nice runs.  Every move and head shake was transmitted to my hand.  He fought hard, but I never felt the rod was at or near it's limits.  The last fish of the day took the spoon with less that 10 feet of line left.  I saw the fish slam the spoon and turn to head for the deep!  The rod handled the moves of that fish perfectly, and it was one of the funnest battles of the year so far!

So, why go to all this trouble?  I'll answer that in two ways.  You catch more fish and it is more fun catching them.  This morning I set up on my spot and I was into a fish in less than 5 minutes.  A couple of minutes later I was into a nice second trout a 15 incher!  The guy next to me walked over and was very friendly.  He said he had been there 90 minutes and hadn't caught anything and wondered what I was using.  I felt sorry for him, so I rigged him with a 2.2 gram jig head and have him 2 extra plastic tails after showing him how to rig them on his rod.  He was using at least 8 pound test line.  He was also set-up on the honey hole, my favorite spot.  He fished for about another 45 minutes and caught nothing!  I saw his line go tight 5 times, but he couldn't feel the take with his outfit.  To add insult to injury, when he came over to say good-bye and thank me a trout slammed my jig about 15 feet out and we both saw the silver flash of the trout as he turned to run!  The poor guy walked away shaking his head.   He said, "It must just be your day!"

The Shimano Cardiff Exlead S57SUL/R-GS is what I was looking for.  It is one of the few graphite - glass blended rods out there that enhances the best qualities of both materials.  This is a rod that exceeds my expectations of what I was looking for.  I really like fishing 0.9 - 2.5 gram spoons.  This is in the sweet spot for this rod.  It casts well.  It feels good in the hand.  It has backbone for strong hook-sets.  It transmits the bite and battle of the fish beyond expectations.  This rod is worth a serious look if you are wanting to fish light tackle.  Three months from now, I'll be fishing crappies and sunfish with the Exlead!  Should be fun.
---
Comments for
A Close Look at the Shimano Exlead S57SUL/R-GS
February 9, 2021
Thanks Les!
by Jim Balyszak (Adirondack Jim)
Another great rod review and article, thanks Les!
---
February 14, 2021
Probably the best aside from the Tenryu Rayz Alter
by Logan Orth
Good afternoon, Mr. Albjerg. Great post! I will say that the Shimano Cardiff Exlead will probably be the best panfish rod you can find aside from the Tenryu Rayz Alter. Even though I don't own it, I have been studying rod structure for quite some time now and I can say that the higher glass content will make the rod much better for Crappies than sunfish. I own a couple of older 100% glass rods that my neighbor gave me, and while they are not JDM rods, they are still extremely soft (but very, very whippy). Sunfish mouths are relatively tough and require a slightly firmer rod than the Exlead to effectively set the hook. Also, Crappies hit lures a lot harder than sunfish do, so the extra glass content will help absorb some of the shock from the hit. To end, I want to say thank you to you and Mr. Stewart for helping me decide on what Tenkara rod to buy. I have narrowed down my options to the Daiwa Sagiri 39MC and the Nissin Pro Square 320, and just need the final word from both you and Chris to see which would be the best buy.
---
February 16, 2021
Nissin Pro Square 6:4 320
by Chris Stewart
Logan, just had a brief email exchange with Les. We both recommend the Nissin Pro Square 6:4 320. Les doesn't have the Sagiri 39MC but is quite happy with the Pro Square. I like the Sagiri 39MC a lot, but would recommend the Nissin as a first tenkara rod because it can be used with 5X tippet , while the Sagiri is limited to 6X maximum. Also, as much as I like the Sagiri I think fishing with the Pro Square 6:4 320 is more fun.

---
March 14, 2021
250+ Fish Update
by Les Albjerg
Have you ever had the glitter wear off? I'm sure that has happened to most of us. Well for my fishing, the Shimano Exlead S57SUL/R-GS continues to be an impressive rod. I have settled in on fishing it with braid line after trying several nylon and fluorocarbon lines. The combination of glass and graphite is very well balanced. Every fish battle has been fun with this rod. It isn't as sensitive as a couple of my all graphite rods, but I don't think I've missed many fish! It does have a very nice balance between the backbone of a rod with a fast taper and a slower rod that really transmits the battle with the fish.
I really enjoy fishing this rod with 0.9 gram to 3 gram lures. I have mostly fished spoons and spinners. The last few times out, I have fished Ajing 1 gram to 2.2 gram jig heads with various plastic tails. I have caught plenty of fish with them too. What I'm most impressed with is how well this rod gives solid hook sets. The last two times out, I have not lost a fish due to a poor hook set. I fished a couple of other rods, and I can't say the same about them.
I continue to enjoy this rod and I'm sure it will be fished a lot this year and hopefully for years to come! For slow moving water in a creek or stream it is short enough. For still waters and even lakes it is long enough to cast much further than I anticipated. When it comes to the fun factor, it has not diminished, but continues to grow. I went through a number of rods before finding this one! If your perusing the offerings on this website, give this rod a good look. I almost passed it over.
---
Please be sure to indicate which article the comments are for.
---
Finesse-Fishing Home > Your Stories > A Close Look at the Shimano Exlead S57SUL/R-GS
---
The hooks are sharp.
The coffee's hot.
The fish are slippery when wet.
---