A Close Look at the Shimano
Soare
CI4+ Ajing S408UL-S
By Les Albjerg
Idaho

Sometimes you end up with unintended consequences with a purchase.   Sometimes, not very often, they are positive!  In one of his earlier write-ups on this rod Chris said, "The most surprising thing, to me, is that a stiff rod - and the rod does feel surprisingly stiff - can cast a light lure so well. This rod could cast a .4g Daiwa Vega spoon better than Daiwa's XXUL area rods."  I had been fishing the fly-rod spoons a lot with fixed line rods, and I was looking for a spinning rod that would cast those light lures.  So, I ordered one.
When it arrived, I was a little surprised at how stiff it really was.  However like most graphite rods, once the reel is on, and the line is strung and a lure attached they seem to come alive.  Of course the first thing I did was put a 0.4 gram spoon on and headed out to do some lawn casting.  It didn't take long to get good 10-15 yard casts.   I then put on a 2.5 gram spoon.  I did not heed Chris' warning, "A heavier lure, like a 2.5g spoon, just goes like a bullet. I can almost guarantee that your first cast will be in the trees on the far bank. Do be careful when you take the rod out for the first time."  I not only cast the spoon over the fence, but across the road!  
My first time fishing the rod with 2.5 gram spoons was on the Boise River and there are two trees adorned with 2.5 gram Crusaders from that first outing.  This rod has power, and thus it earned a name.  I call it my "Pocket Rocket."  Since I bought it for fishing very light spoons, I headed over to Wilson Springs and tried it where I normally fish the 0.4 gram spoons.  It was a many fish day!
After the first couple of weeks fishing the  Shimano Soare CI4+ Ajing S408UL-S, I knew I had a winner.  Looking over my fishing logs, I was surprised at how much I have fished this rod, and in the past two years I have caught more fish on it than any of my other rods.  Is this the perfect rod?  There is no such thing.  I have caught 3 inch brook trout from streams and a  22 inch rainbow from the South Fork of the Boise River.  I have caught several 4-5 pound largemouth bass from a private pond, and several 18 inch smallmouth bass from the Payette River.  The only thing missing is Panfish.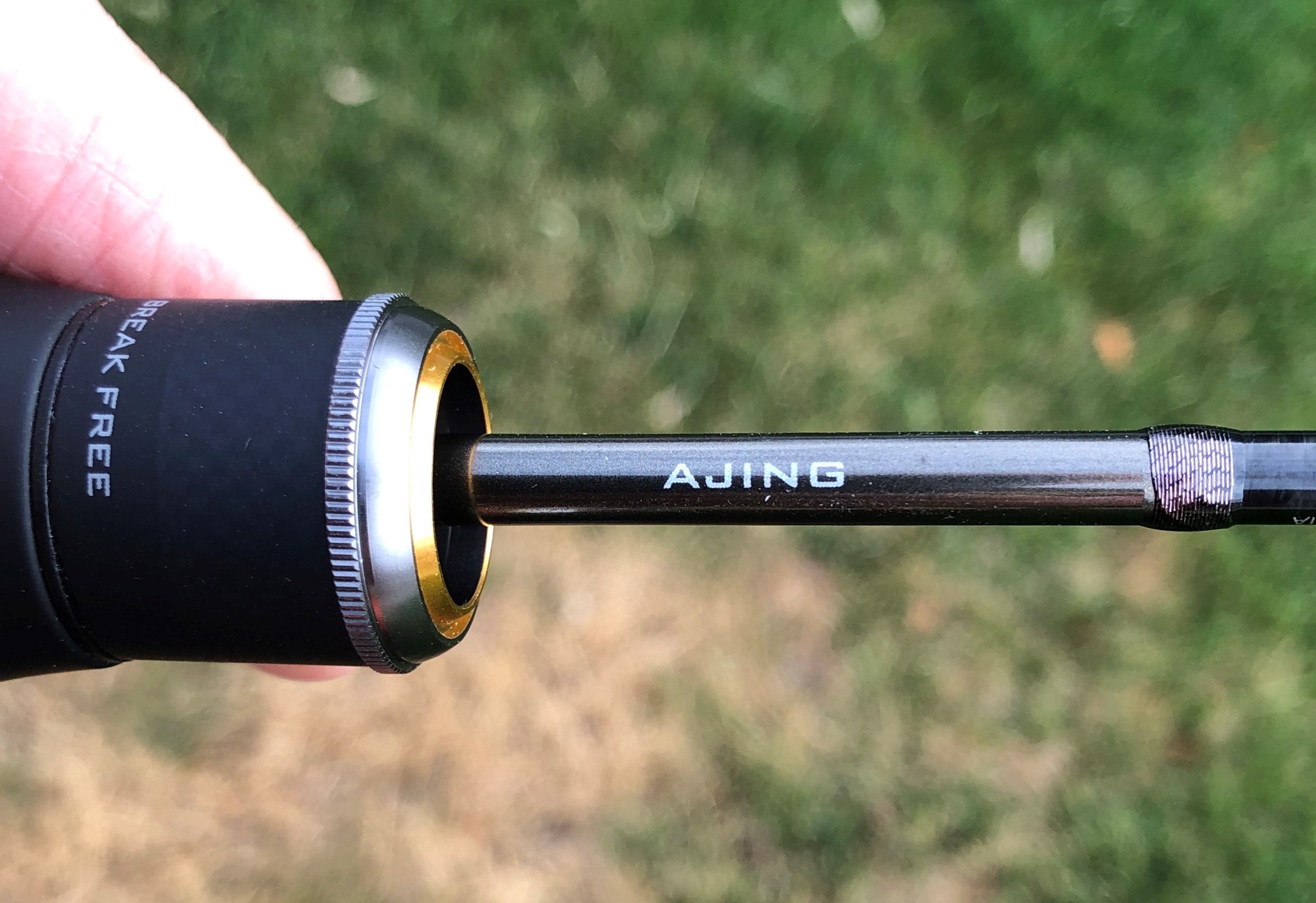 I went out yesterday to fish the Shimano Soare CI4+ Ajing S408UL-S to see if the magic is still there.  It had been awhile since I fished it.  The magic is still there!  One thing I have never done is fish it as it was intended to be fished. It was designed to fish for Aji, and in Japan that is done primarily with light jigs and small plastics. So I started the day with a C'ultiva JH-85 Jig Head and a B-Vibe White plastic tail.  On the second cast, I had a nice fish on!  It was another wonderful battle.  Over the next 15 minutes, I caught 2 more rainbows in the 9-11 inch range.  So, yes it works well as an Ajing rod.  If anyone wants to fly me to Japan to fish for the real thing, I'll go!
I put the rod through the paces.  I fished a 3 gram and a 6 gram Smith Niakis spinner.  I caught 2 fish on each.  However, I've discovered a new passion and that is fishing spoons.  Spoons can be manipulated more than a spinner.  Here is a picture of the spoons fished today.  From left to right: a 0.5 gram Rodio-craft Blinde Flanker, a 2.5 gram Daiwa Presso Eve Gekiatsu, a 2.7 gram Smith Pure, a 2.5 gram Daiwa Crusader, and 4 gram Diawa Crusader and an 8 gram Dardevle.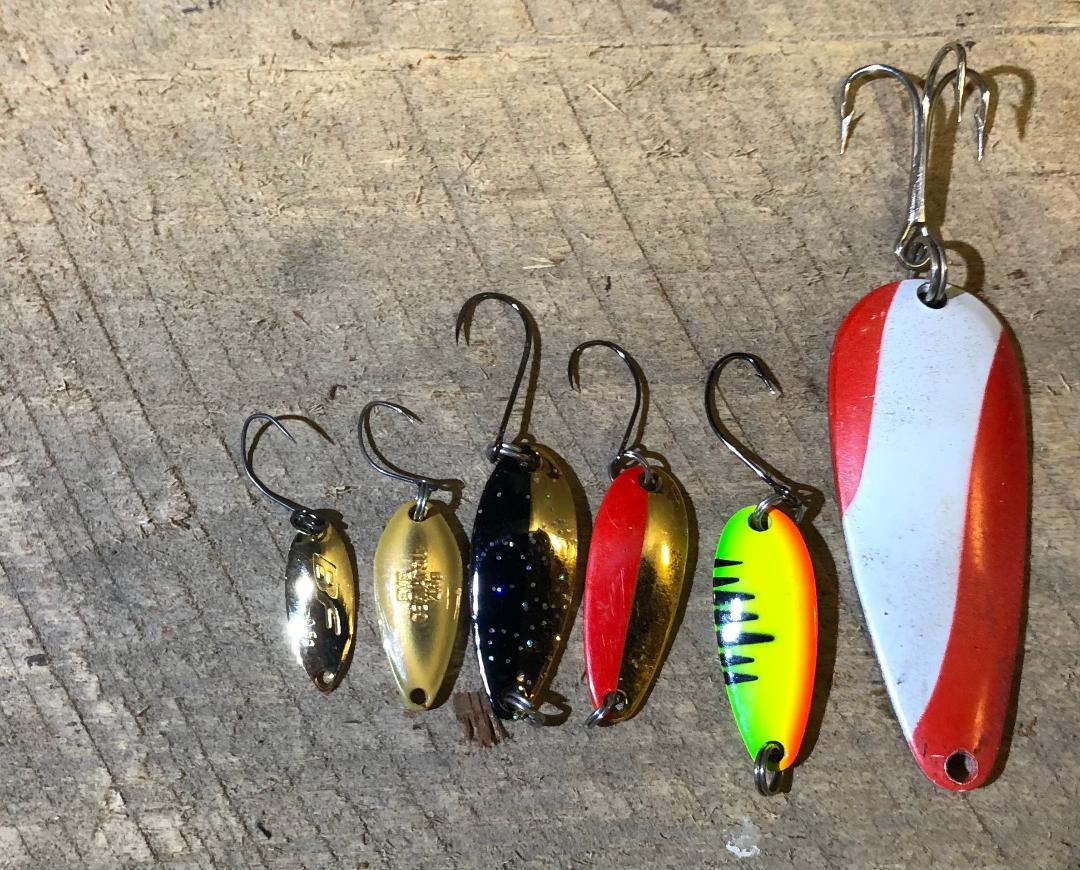 Why a Dardevle?  My grandpa gave me that lure when I was 8 years old.  He died when I was 15.  As a tribute to him, I have caught one fish every year with my Dardevle.  Yesterday was the day, and it just happens to be the max weight for the S408.  A nice 11 inch rainbow slammed the lure.  It is now safely put away for another year!  So yesterday I fished pretty much the full spectrum of the rod.  I just didn't have time to fish the spoons in the 1-2 gram range.  The rod will fish them!  I personally like the spoons around 2.5 grams.  If you look at the picture, the 2.5 gram Eve Gekiatsu is a lot smaller than the 2.7 gram Smith Pure or the 2.5 gram Crusader.  The Eve fishes much deeper!  It also casts like a bullet!  Now to the fishing!

Where I was fishing yesterday is very familiar to  me.  It is a slow moving spring.  The water flows from south to north, and about a half mile north of where I was fishing, the springs turn into a creek.  There a subtle currents and eddies.  It is as close to an "Area" that you will find in the States as it is stocked almost weekly.  The water stays at an ideal temperature for trout year-round.  There is a lot of natural feed so if the trout survive the onslaught of PowerBait, some of them grow to a nice size.  I began the day with the 0.5 gram spoon and fished the drop-off.  I shot the light spoon out about 25 feet and counted to 15 before beginning my retrieve.  On the first cast I had moved the lure about 6 feet and  "Wham!" fish on.  I have learned, with this rod, you do a "short set" when setting the hook.  If you are one who really enjoys hauling back on a hook set, this rod just has too much backbone for that.  A strong flick of the wrist gets you past the the soft tip and buries the hook in the trout's mouth.  With the 0.5 gram and less than 1.5 gram lures I have found that you have to set the hook.  With the 2.5 gram spoons, the fish generally set the hook when they slam the spoon!   It was an exceptional day yesterday.  I didn't lose a fish, except for the one that broke me off.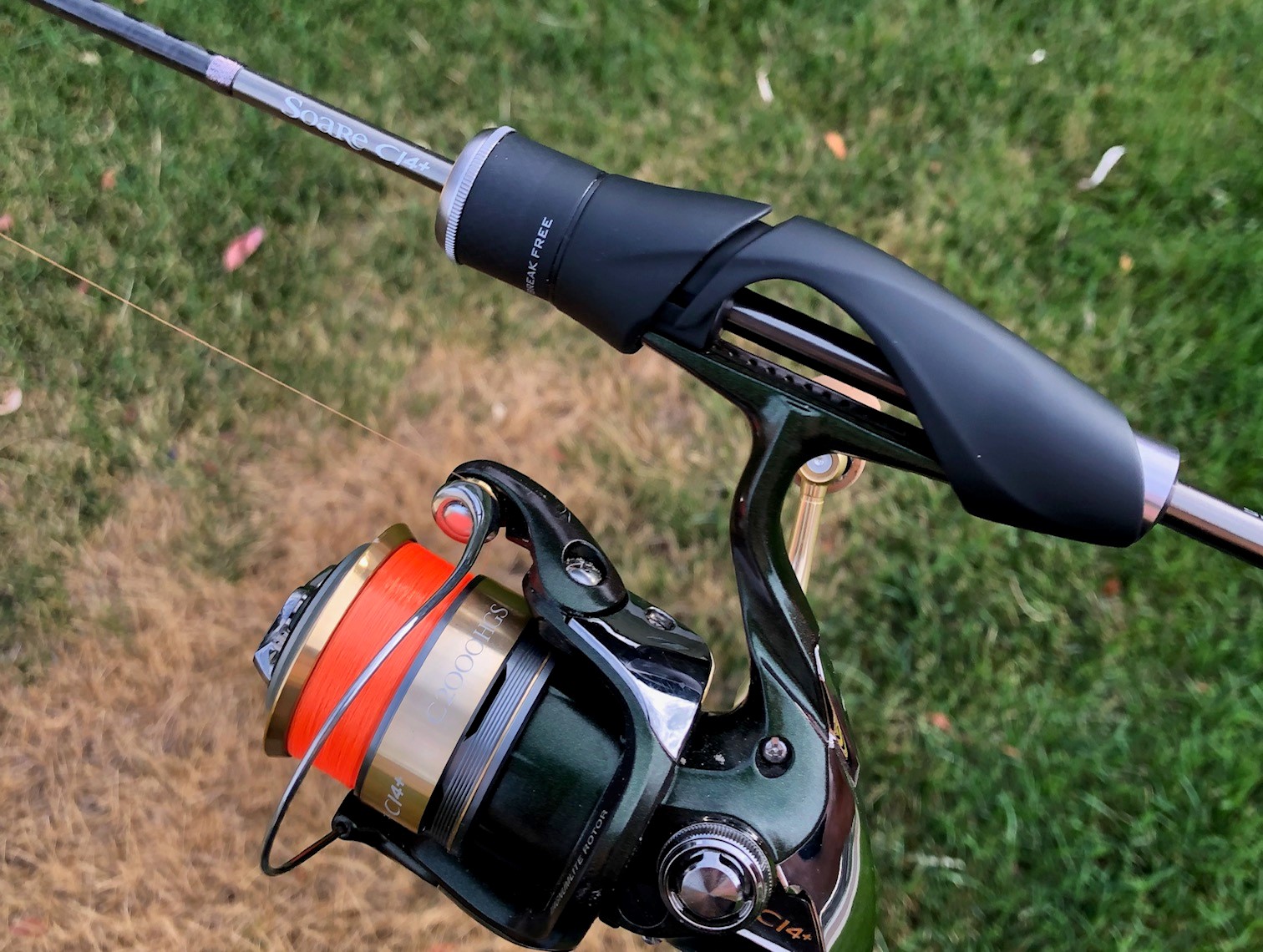 This rod has exceptional feel.  You know when you have a weed on the hook.  You can feel the tick of a rock vs a light hit by a fish.  There are some advantages to having a rod with a soft tip and an aggressive profile in the taper back to the handle. This is a very light rod.  It only weighs 1.6 ounces.  Care must be taken in which reel you pair with this rod.  I have a fairly nice Shimano domestic reel.  It doesn't work well with this rod.  It is a 1000 size reel.  You need a reel with a really good drag for this rod.  The Shimano Cardiff CI4+ 1000SHG works really well.  I also have an Ajing reel made by Daiwa that was a one time deal from Chris that works well too.   I personally like the 1000 size reels, but I am sure the Shimano Soare CI4+ 500S would work well too.  This rod is not forgiving when it comes to a poor drag.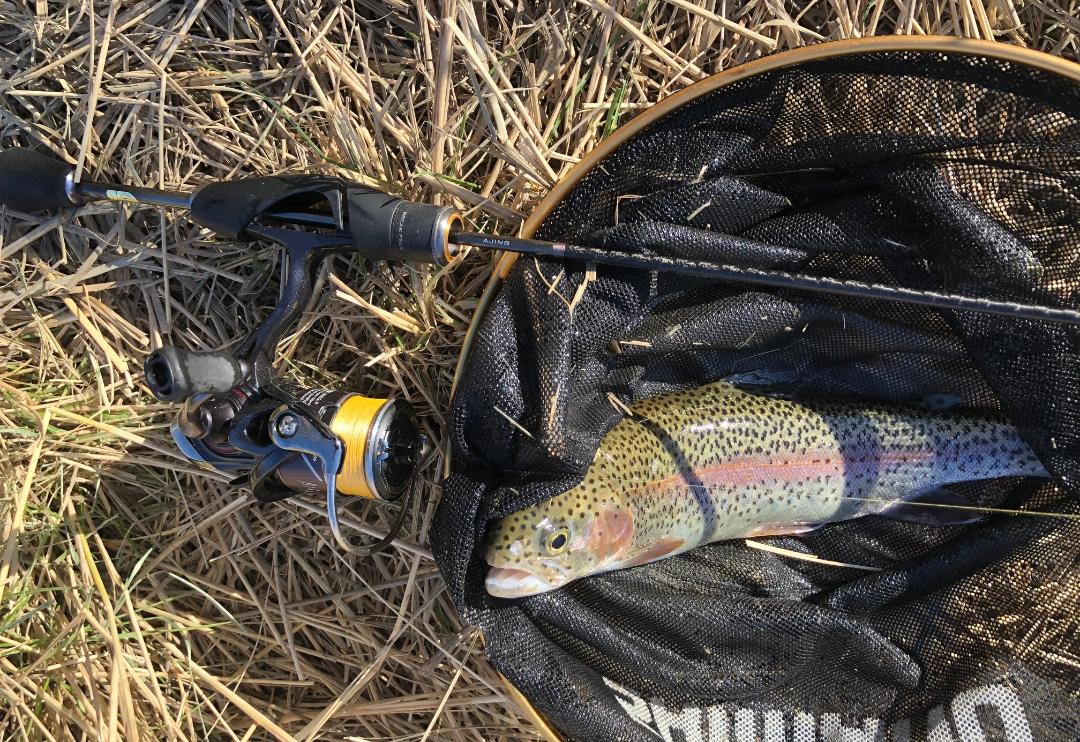 I'm not sure if this rod shines with the 2.5 gram spoons, or if I just fish that weight a lot!  Where I was fishing yesterday, there is a fairly deep pocket where the fish often congregate.  A kid set up and tossed a shrimp on a hook with a sinker right in the middle of the hole.  I warned him that I was fishing spoons, and I didn't really alter my fishing style since he crowded in on me.  I was casting the 2.7 gram Smith Pure out about 20 yards and working the south edge of the pool.  In 12 casts, I caught 8 fish.  The kid soaking the shrimp caught nothing the whole time I was there.  Just before the kid showed up, I lost a 2.7 gram Smith Pure.  I failed one of my cardinal rules with this rod.  You have to retie after 4 fish or about a half hour of fishing.  I saw the trout that slammed the spoon.  It was a very nice at least 18 inch carry-over.   More on lines next, but fishing braid, you  really feel everything going on with this set-up!  I didn't set the hook, the fish did.  He made a good jump.  He ran toward me, and I barely could keep pressure on.  He then took a right and went for the deep.  The line broke at the snap.  It was a good knot after inspecting the break.
Because of the stiffness of the rod, and maybe its overall construction, this rod is harder on line than my other rods.  It is also more sensitive to the line you are using.  One of my favorite lines is a 4 pound co-polymer line.  This rod does not like it!  I fished all the past summer with Sunline Shooter BMS Azakaya Fluorocarbon, 3 lb.  I went through 300 yards of it!   I'm also convinced that the stiffness of a rod also contributes to line twist.  It isn't just the spinning of the lure or the abuse of the reel that contributes to line twist in my opinion.  I have found that with either fluorocarbon or nylon with this rod everything is fine and then all of a sudden the line goes bonkers.  That is why I carry extra line in my backpack.  Since last fall, I have been fishing the  Shimano Soare CI4+ Ajing S408 UL-S with 0.3 PE Braid.  This does two things.  It gives me a 5 pound test line and it makes for an ultra-sensitive rod!  As long as you have a reel with a good drag and have it set right, every fish with this rod is a thrill!   A second issue with braid is you have to really pay attention to your casting as well.  A little more power and this rod paired with braid will zing the lure a long long way!  There are two 2.5 gram Eve Gekiatsu spoons in the bushes from a previous session where I was fishing that proves this.  Yesterday, I over cast 3 times and almost put some more lures in the bushes.  To tame this rod, another of my favorite lines is the Sunline Troutist Wild 2.5 pound.  This line is like giving the rod a shock absorber.  It is the line I prefer when fishing the S408 in a creek or river.

Last summer I was up in the mountains on one of my favorite creeks.  I was fishing the Ajing S408 with the Sunline Troutist Wild 2.5 pound and an Andres TS-45SP 3.5 gram 45mm Thumb Shad. At 4 feet 8 inches this rod is an excellent length for fishing most of the creeks I enjoy fishing.  This rod casts plugs well too!  I had no problem dropping the plugs right where I wanted to.  I caught my largest fish of the year that day.  It was a 21 inch rainbow.  I had just finished lunch.  I rounded the bend of the creek and there was a nice deep hole that had been dug out by the run off, and most unusual for this creek, there was a layer of sand on the edge.  I made 4 or 5 casts to the places I figured there must be a fish and nothing, not even a follow.   Before leaving the pool disappointed, I thought a swim through the sandy area with the Thumb Shad would make my coverage complete even though I thought there couldn't be a fish in there.  It was like the bottom of the creek moved as that monster rose up and smashed the Thumb Shad.  It was a war!  When the fish felt the hook, he turned and headed for the deep part of the pool.  Line was screaming off the reel.  This is the most bend I had experienced with the Ajing S408.  I was praying everything would hold together!  The fish just buried himself on the bottom, but the rod had enough backbone to move him.  The trout took another ploy and head up toward the riffles.  I was able to turn him and keep him out of the rocks.  Then the battle was on!  Four jumps and six runs in the pool and he came to the net!    He came off the Thumb Shad in the net, so I gave him a big thanks and let him go!  That Rainbow may have been a  Steelhead as the creek I was fishing dumps into the Salmon River.  The next fish was a 16 inch cutthroat.  It was a great fish, but a bit anticlimactic after that monster!  This is a rod that can be fished comfortably all day.
Last fall, I combined some fishing with my hunting.  I found myself taking the Ajing S408 with me into the high desert.  It was awesome for fishing the willow lined creeks.  It was long enough to get around the willows, but short enough to not be impeded by the narrow casting lanes often presented.  It also had the backbone to control the fish in some restricted areas.  I fished the Smith Niakis spinners a lot as well as bait set-ups with Red Wigglers.  One of the creeks is known for Redband rainbows in the 6-8 inch range.  The first pool I cast to, I was into a 17 inch Redband!  What a battle!  That fish took me all over the pool, but the Ajing S408 handled it well.
For a rod that is sold for fishing Aji, I have found it to be one of the most versatile light rods.  It has its quirks, but overall I really enjoy this rod.  It has an unusual ability to work with a wide range of lure weights.  It is sensitive to line weight as well as needing a reel with an excellent drag system.  If you're looking for a rod that bends to the cork, this isn't the rod you want.  If you want a rod that gives you an ability to feel the fish with amazing sensitivity this rod is the one you want!  It is a little harder on line than other rods.  All of that said, this is one of my favorites.  Chris in his review sums it up well, "If you want a shorter rod that will absolutely excel at fishing with a light line and light lures, this one should be high on your list."
---
Comments for A Close Look at the Shimano
Soare CI4+ Ajing S408UL-S
May 25, 2021

Great Review!
by Logan Orth
Good morning, Mr. Albjerg. Great review! You really seem to like your Shimano spinning rods. What I will say is that based on your review of the rod, you seem to have found the best "jack of all trades" for JDM ultralight spinning rods because of the number of lures it can fish well. I do have one question for you regarding lures: what is your favorite spinner that Chris sells on his website?
---
May 25, 2021

Smith Niakis
by Les Albjerg

By far my favorite spinner is the Smith Niakis spinners in both 3 gram and 6 gram.  I find them to be very effective with slow, medium, and fast retrieves.
Please be sure to indicate which article the comments are for.
---
Finesse-Fishing Home > Your Stories > A Close Look at the Shimano Soare CI4+ Ajing S408UL-S

---
The hooks are sharp.
The coffee's hot.
The fish are slippery when wet.
---