Smith Multiyouse
The Smith Multiyouse spinning rods were introduced in early 2020, with the baitcasters added to the series in early 2021. The "Multi" is a reference to multiple situations in which you would use the rod and also to multi-piece rods, as each rod in the series is a 3, 4 or 5 piece rod designed for convenient packing and travel.
The "youse" is less clear. I suppose it could signify use, as in multiple uses for the rods, but then again whoever named it may have gone to college in Philadelphia, and it could mean that all "youse guys" need this rod.
Whereas Japanese rod names are beyond our understanding, we definitely do understand the appeal of relatively short, glass rods for small stream fishing. Although there are rods as long as 8' in the Multiyouse series, I've decided to concentrate on the two shortest spinning rods and the two shortest baitcasters.
Those four rods are 100% glass with the tip sections being solid glass. Interest in glass rods has increased dramatically as more people have found Angler Saito's YouTube videos. The extreme loading of his glass baitcasters, shown in super slow motion video, has sent hundreds if not thousands of anglers in search glass baitcasters.
I cannot source the rods Angler Saito used in those videos. You can order them directly, but last I checked they were over $700 with a 4-6 month wait, and that was before the pandemic sickened the world supply chain. It seems other manufacturers saw the videos as well. Smith, Daiwa and Palms have introduced glass baitcasters within the last year.
The supply chain is still sick, though. Of the four Smith Multiyouse baitcasters I ordered, only one came. That one got bought before I even had a chance to photograph it or take it outdoors. I did get a chance to wiggle it at least. It felt a bit firmer than the same-length Multiyouse spinning rod.

Until I can get another chance to handle one of the baitcasters, I'll have to limit myself to comments about the Smith Multiyouse spinning rods.


The Smith Multiyouse TRMK-423UL, shown above, is a 4'2" 3-piece glass spinning rod with a solid glass tip section. The short 4'2" length makes it very handy on small overgrown streams. The short 17 3/4" breakdown length makes it very handy backpacking in to those small overgrown streams. Although it is 100% glass, with a solid glass tip, the rod weighs only 2.7 ounces.
The TRMK-483UL is 4'8", also 3 pieces, 100% glass with the tip section being solid glass. The breakdown length is a little longer, at 19 3/4", but that's still not too long to strap to the side of a backpack and head up overgrown eastern stream side trails. It weighs in at 2.9 ounces.
Despite having only a 5" length difference, the two rods feel remarkably different. The 4'2" rod has a thinner blank, so even though the 4'8" rod has a bit more inertia, the shorter rod will load more for a given lure weight than the longer one.
The rods in fact have different lure ratings. The 423UL is rated for lures of 1-6 grams. The 483UL is rated for lures of 1-7 grams. Doesn't sound like much, but you can feel the difference in the rods. The 483UL is just a bit stiffer. It's still a UL rod, but its not quite as UL as the 423UL.
The C423L baitcaster, which I thought felt a bit stiffer than the 423UL spinning rod, is rated for 2-8 gram lures. You will feel the difference. The customer who bought it reported that it is not as soft as one of his other glass rods, but definitely is more sensitive.

I haven't been out much since the pandemic hit, and my fishing trips seem to have been either tenkara trips or nothing to write here about. I did have one nice day with the Smith Multiyouse TRMK-423UL last June, though.
I see the TRMK-423UL as a small stream rod, or even a headwaters rod. For that trip I chose light lures - ones I would use in the headwaters for relatively small fish: 1.2g spoons and 2g spinners. Thus, I didn't get the deep rod loading that Angler Saito gets with his heavy sinking minnows. What I did get, though, is all the distance and accuracy I would want for fishing a small stream. Although 1.2g is almost at the lower end of the rod's lure rating, the 423UL handled it beautifully. I need to get the 423UL out some day with the 4.5g Daiwa Silver Creek Minnows or the 5.5g Forest iFish AT plugs. That has to be fun.
Actually, it's a fun rod with any lures (and with any fish). It doesn't take a big fish to put a bend in the rod.

Smith Multiyouse Features and Specs

The Smith Multiyouse rods come with some very nice features. The blank is a golden olive. The windings are brown thread with gold accents.


There is a built-in hook keeper. No more scratching your guides with the hook point or barb.


There are alignment dots so you can get the alignment right the first time,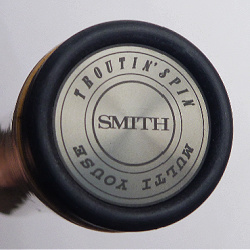 The laser-engraved metal end cap is protected by a hard rubber ring. In addition to protecting the metal from scratches, the rubber helps prevent the rod from sliding and falling when you lean it up against a wall, a tree, a rock or the side of your car.

The reel seat spacers are natural wood, and every one is different (remarkably different). The spacers for the TRMK-483UL have an orange and green pattern that I have never before seen in wood. You'll either love it or hate it.

Model
Type
Length
Sections
Breakdown
       Length
Rod Weight
Line Weight
Lure Weight
Price


TRMK-423UL
Wild (stream)
4'2"
3

17 3/4"
2.7 oz
1-5 lb
1- 6 g (about 3/16 oz)
$335
Made in China
TRMK-483UL
Wild (stream)
4'8"
3

19 3/4"
2.9 oz
1-6 lb
1 - 7 g (about 1/4 oz)
$345
Made in China

One rod in stock

---
Shipping
Domestic shipping is $10 via USPS Priority Mail (2-3 day delivery).
Please note: All packages are shipped via USPS. If you have a PO Box, please list ONLY the PO Box in your address, not the PO Box and your street address.
The charge for international shipping depends on the destination country, the weight of the package, the overall length of the package and the value of the package. Packages under 24" long and under $400 in value will go via USPS First Class International. Packages over 24" or over $400 will go via USPS Priority Mail International. The International shipping charge will be calculated at checkout.

Import Duties and Taxes

International purchases may be subject to import duties and taxes. I cannot keep track of all import regulations in all countries written in all languages. Understanding and paying import duties and taxes is the responsibility of the buyer.
Finesse-Fishing.com no longer ships to the UK. The new VAT regulations are too onerous for a one-man shop that rarely ships anything to the UK anyway. I apologize.
---
Finesse Fishing Home > JDM Spinning Rods > Smith Multiyouse

---
The hooks are sharp.
The coffee's hot.
The fish are slippery when wet.
---