Tenryu Lunakia
The Tenryu Lunakia rods are very light, very sensitive, very nice rods designed for Ajing and Mebaru fishing in Japan. Here in the US, they will do wonderfully for panfish and trout. Given the rod lengths, I would use them in lakes rather than smaller streams.

Currently, Tenryu makes five models of the Lunakia. I have the 6'10" rod (tubular tip, rated for 4 lb line and 5 g lures) and the 6'3" rod with a (solid tip, rated for 3 lb line and 3 g lures).

Solid Tip vs Tubular Tip
Interestingly, Tenryu does not label these rods specificaly as being either ajing or mebaru rods. They list them as rods for the "Rockfish Game" or "Light Game" and indicate they are for both aji and mebaru. The solid-tipped rods have the very fast, tip action of an ajing rod, while the tubular-tipped rod has the mid flex action one would expect of a mebaru rod. The two are really quite different. Both are extremely sensitive rods - but they are sensitive in very different ways!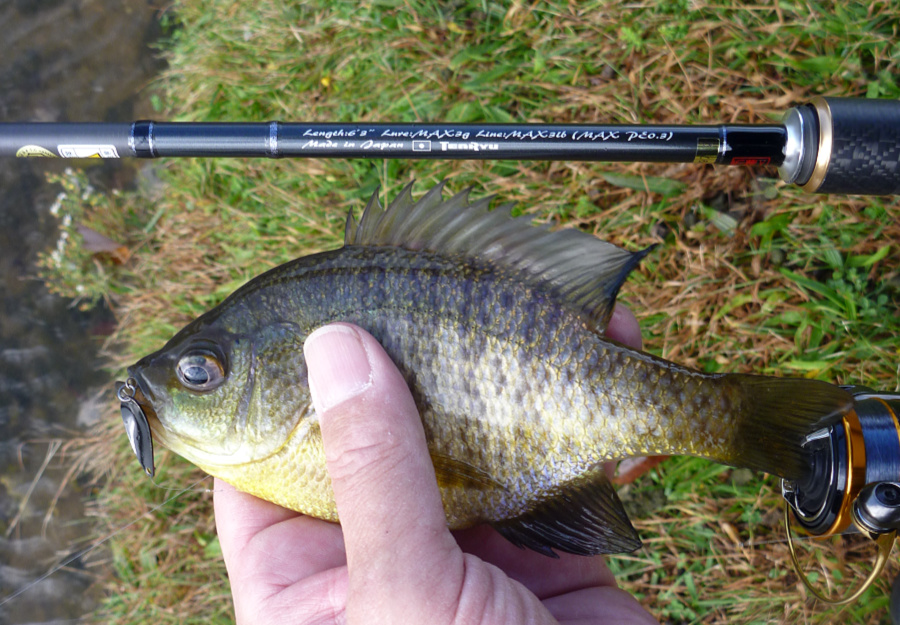 The solid tip vibrates with the wobbling of even a Vega spoon
and bends noticeably with the take of even a small fish.
The solid tip is very thin and very flexible. When fishing a small spoon like a Daiwa Eve, Forest Chaser or Rodio-craft Blinde Flanker, you can see the rod tip vibrate as the spoon wobbles. When a fish takes the spoon or jig you can feel it, but if you watch your rod tip you can see it even before you feel it. The rod is extremely sensitive in that the rod tip reacts to the slightest change in line tension. If you fish by watching the rod tip, you'll love this rod. It is the most sensitive tip I've seen in a spinning rod. If you fish a stream, I'm sure the tip will react every time your lure crosses a seam between different current speeds. If you fish with bait (on a tight line rather than with a float), you will see the take before the fish feels tension on the line.

The tubular tip isn't nearly as flexible as the solid tip. What that does, though, is transmit the slightest tap from the line straight to your hand. You can feel when a fish takes a jig, when the jig hits a rock, when it slides across a bottom that is sandy or muddy but not rocky, when you hook a leaf. The rod is extremely sensitive in that it transmits the slightest "tic" on the line.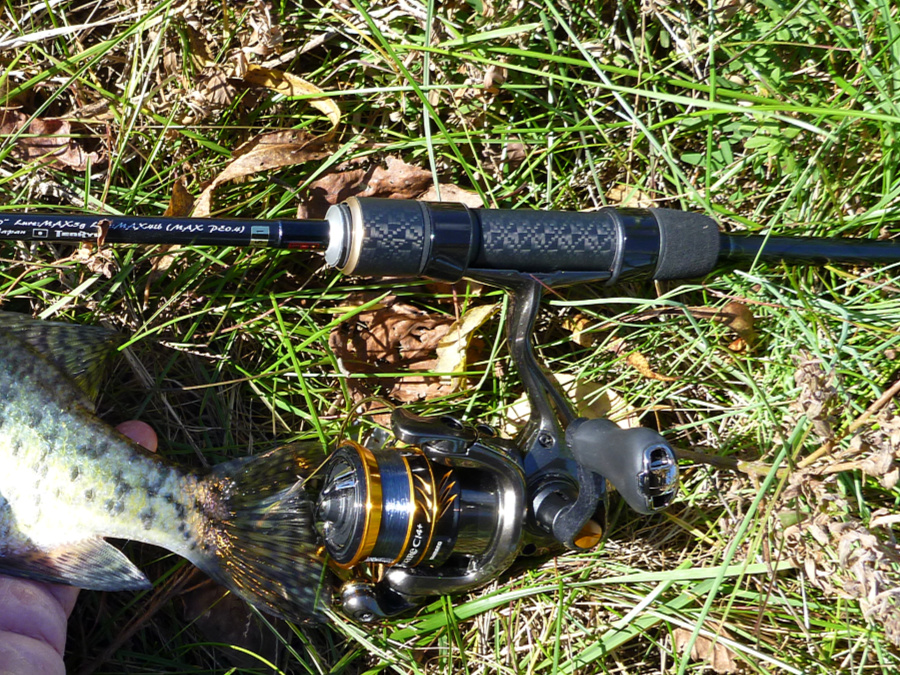 Unique "Nishijin weave" that traditionally has been used for silk kimonos
The Lunakia reel seats are carbon fiber, featuring the unique "Nishijin weave" that traditionally has been used for silk kimonos. In addition to looking very sharp, it helps to transmit sensory information. As much as I like the traditional cork grips of the Tenryu Alter "area" rods, the carbon fiber really is more sensitive.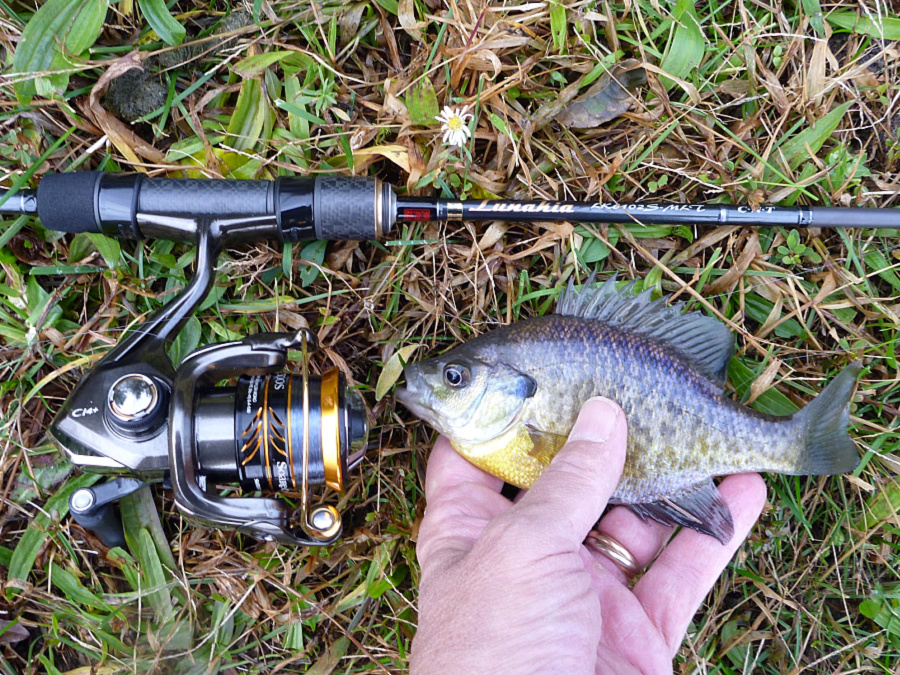 You will be surprised at how much you will be able to feel from the fight of even a small fish.
Lots of rods are described as allowing you to feel every head shake. Of all the rods I have ever fished, the Tenryu Lunakia  LK6102S-MLT is in a class by itself. Everybody likes to catch big fish, but you will be surprised at how much you will be able to feel from the fight of even a small fish.

The first time I fished the LK6102S-MLT I was fishing 2 lb test nylon line, which is known more for its stretch than its sensitivity. I was quite surprised by what I could feel through the rod.
Randy G, who probably has fished more JDM ajing and mebaru rods than anyone else in the US, has mentioned more than once that ester lines are a lot more sensitive than nylon. This rod may not actually demand it, but to get the utmost sensitivity, it only makes sense to use the most sensitive line.
PE line (braid) is also extremely sensitive, but in the weights required for these rods good quality braid is extremely expensive. The Tenryu Lunakia LK6102S-MLT is rated for size .4 PE line. I have had the size .4 Sunline Small Game PE-HG in the shop. It is one of the best braids in the world, but it is $54 a spool.  The LK632-LMLS is rated for size .3 PE line, max.   Size .3 Varivas Bait Finess PE line is $64 a spool.

The Lunakia LK632-LMLS has an extremely fast action, but it is soft enough for crappies. Chuck C photo.
Randy G has also said "Mebaru rods are excellent for crappie and gills. Ajing rods are great for gills but prabably really too fast for crappie." Although the solid-tipped Tenryu Lunakia LK632-LMLS has the extremely fast action of an ajing rod, I don't think it is too stiff for crappies. I think the rod is fast because the tip is so soft. Randy has caught thousands more crappies than I have, but I would have no fear using the LK632-LMLS for crappies.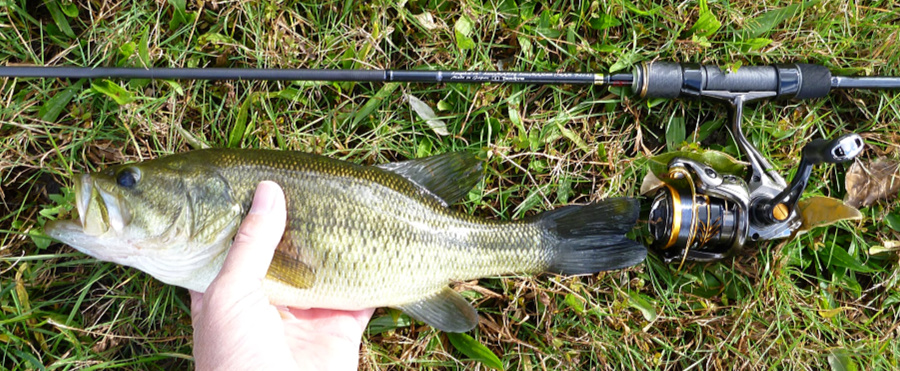 Hooking a modest bass is no problem, just don't lift it with the rod.
And if you happen to  hook a modest bass while fishing for bluegills or crappies, the rods can handle it. What they can't handle is lifting a bass like the one shown above, either into a boat or up onto a raised shoreline. The Tenryu Lunakia rods are very light, relatively stiff and very sensitive, which means they are not designed for lifting. Also, the Tenryu website warns against "too upright position of rod", what we would call high sticking here in the US. The rods are designed for a gradual bend, not an extreme one.
Also, when putting the rod back into the rod case, put the tip section in butt first, not tip first.

I wouldn't let that dissuade you from getting such a nice rod. I'd just be careful, and be aware of its limits.
Tenryu Lunakia Rod Specs

Model

Type
Tip
Length
Sections
Breakdown
       Length
Rod Weight
Line Weight
Lure Weight

Lunakia
LK632S-LMLS
Ajing
Solid
6'3"
2

39"
2.0 oz
3 lb max
3g max (1/10 oz)
Made in Japan
Lunakia
LK6102S-MLT
Ajing/Mebaru
Tubular
6'10"
2

42"
2.2 oz
4 lb max
5g max (5/32 oz)
Made in Japan
---
Home > Finesse Spin Fishing > JDM Spinning Rods > Tenryu Lunakia

---
The hooks are sharp.
The coffee's hot.
The fish are slippery when wet.
---