The good new days!
by Les Albjerg
(Caldwell, Idaho)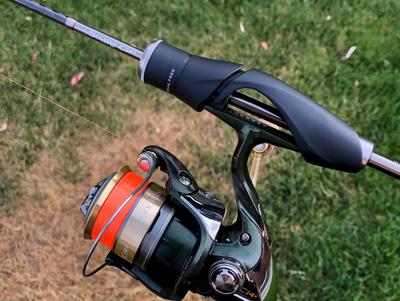 Reel Seat
I bought an Ajing rod for perch fishing up at Lake Cascade. I discovered that these rods are amazingly versatile. A few weeks ago I fished my longer Ajing rod for trout up in the mountains. It was amazing! So, I was reading more on this website about the Ajing rods and found the following statement by Chris:

"One of the more amazing ajing rods is the Shimano Soare CI4+ Ajing S408UL-S. Most ajing rods are long, well over 6 feet. The Shimano Soare CI4+ Ajing S408UL-S is just 4'8". That's stream-rod length, and actually the rod makes a nice little trout rod for small streams. The most surprising thing, to me, is that a stiff rod - and the rod does feel surprisingly stiff - can cast a light lure so well. This rod will cast a .4g Daiwa Vega spoon better than Daiwa's XXUL area rods. There is just enough flex in the rod tip to propel the light lure well."

Mine came in the mail yesterday! Wow what a rod! I did some canal casting last night between thunderstorms and got a good feel for the rod. I'm not sure stiff is the right word for these rods. I like thinking it is more like it is full of power! I've named my rod the "Pocket Rocket." I fished Wilson Springs this morning for an hour and caught 4 fish. The last fish was on a 0.4 gram Vega spoon! I could cast it easily about 25 feet with 2.5 pound JDM line. Next time out, I will be spooled with some 1 pound line to see how far I can cast one of these light weights. The other three were caught on a Smith D-Contact 50S Chartreuse Black Yamame.

If you want a rod that gives you amazing feel of what your lure is doing underwater this is the rod for you. If you want a rod that transmits every head shake of the fish as well as change of direction, this is the rod for you. This rod is so light, it is a pleasure to cast, amazingly it is less than 2 ounces! I was amazed at how well I could feel it loading and unloading during the cast. If you want a rod that bends "to the cork", this isn't the rod for you! That said, the one trout that took me into the current this morning did give it a nice full bend. This rod makes me feel like a kid in the candy store again. Next week I will be up in the mountains again fishing.

So, why is this rod so expensive? One of the reasons is that it has Shimano's high tech technology in it. "Spiral X" and "Hi Power X" are two very complicated and complex graphite methods that are unique to Shimano. Last winter I read an article that talked about because of being such a big as well as innovative company, Shimano is hard to compete with. Yes this rod feels stiff, but when you put a lure on the end of the line, it comes alive! When you are fighting a fish, it provides the buffering to protect your line with minimal compromise from the ability to feel the fish!

This is simply one of the most amazing rods I have ever fished. Actually, I am finding the Ajing rods to be well suited for stream fishing for trout and smallmouth bass. I watched a lot of videos this winter from Japan to see what Ajing looked like as well as how these rods are fished in their natural environment. It reminded me of jetty and canal fishing as well as dock fish on the Oregon coast. Those waters are almost always moving in some way, current, waves, and tidal changes. These are light tough rods designed for water that moves! I am convinced that this is why they work so well in streams. Chris is on to something introducing them for fishing in freshwaters. So if you are looking for an exciting short spinning rod, I would encourage you to look hard at the Shimano Soare CI4+ Ajing S408UL-S.