Trip Report - 5-12-21
This, that or both?
The purpose of the trip was to decide whether to replace my Tenryu Rayz RZ4102B-UL with a Tenryu Rayz Spectra RZS51LL-BC. I have felt for a long time that in order to become truly proficient at casting, I would have to pick one rod and fish only that rod. You may not have that limitation. I'm sure there are anglers who can pick up any rod, practice for a few minutes and start putting lures into paper-plate sized targets with regularity. Not me.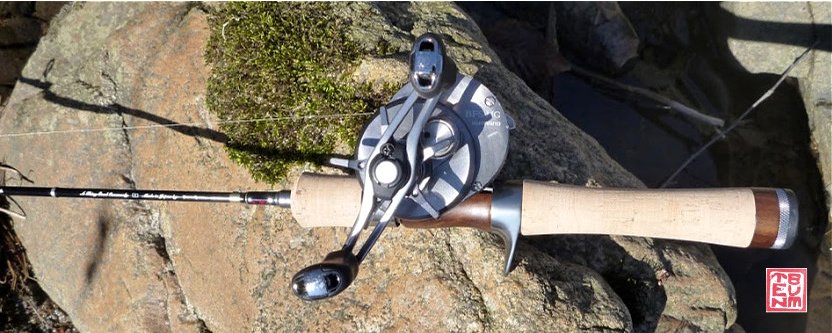 Tenryu Rayz RZ4102B-UL
I took up stream fishing with a spinning rod or baitcaster way too late in life, and I just don't have time to practice (not having a back yard sucks). I don't even get that much "practice" when fishing because it seems every fishing trip is with a different rod (and on at least half of my trips I'm casting flies or bait rather than lures). Not complaining, just laying the groundwork for the "This, that or both" question.
If I recall correctly, I decided to keep an RZ4102B-UL (Rayz 4'10" 2-piece Baitcaster - Ultra Light) after I knew that Tenryu had decided to make the RZS51LL-BC (Rayz Spectra 5'1" Light Light - Bait Caster. Light Light is between Ultra Light and Light) but before I received the first one in the shop. I was able to get a good sense of what the rod would be like by fishing my RZS51LL spinning rod with a BFS reel. Tenryu uses the same blank for both the spinning and baitcasting versions of the RZS51LL.

The RZ4102B-UL is softer than the RZS51LL-BC, and I felt it would be more suitable for lighter lures and for flip casting (see also flip cast lesson). While I still believe that, I have come to the conclusion that for my own fishing, if I will be fishing lighter lures I will be much more likely to fish with a spinning rod than a baitcaster. Also, developing an accurate flip cast is likely to take a lot more practice than I'm willing and able to devote to it.
And that brings me back to the belief that fishing the same rod all the time will allow me to get more proficient, given the limited time I have to fish. My May 12 trip was to compare, back to back, my RZ4102B-UL and my RZS51LL spinning rod fished as a baitcaster and decide whether to keep the Rayz or buy the Spectra and sell the Rayz (or maybe even buy the Spectra and keep the Rayz).
For lures, I chose the three 50S sinking minnows, the Daiwa Wise Stream Minnow 50S, the Forest iFish AT and the WooDream Arbor 50S. Over the last few years, I have spent a lot more time fishing spoons than minnow lures, but Japanese stream fishermen overwhelmingly choose sinking minnows over spoons. What do they know that I don't know? The collective wisdom of decades of stream fishing by thousands of fishermen, that's what!

I chose a stream that is relatively close by and heavily stocked. It seems my trips so far this year have been a lot more fishing than catching, and I wanted the day to be about more than just casting practice. I was not disappointed.
Well, I was not disappointed by the reaction I got from the fish - starting with my very first cast. Unfortunately, "fish on" very soon became "fish off." I turned out to be the fishing version of The Karate Kid. "Wax on, wax off" turned out to be "fish on, fish off." I lost count, but I know I hooked at least seven fish. I got exactly one into the net. As I've told my tenkara customers for years, I'm a merchant, not a master.

The only fish I got into the net.
I don't think my problem was that the fish got off barbless hooks. The only fish I got into the net was caught on a WooDream Arbor 50S ("PKO" color), which comes with barbless hooks. I had replaced the treble hooks on the Daiwa Wise Stream Minnow 50S with barbed singles. The barbs didn't help.
I guess I just didn't set the hooks. Frank Nale teaches in his spin fishing seminars that you must set the hook when fishing spinners. I have not found that to be the case with micro spoons. The barbless hooks that come with the micro spoons, which are designed for fishing in Areas (private, pay-to-fish ponds that are heavily pressured, and in which anglers generally use small lures and very light lines), penetrate so easily that the fish are just "on." I'm so used to fishing micro spoons that I must not even have thought of setting the hook.
With only one fish that actually stayed on the hook, I couldn't compare the two rods regarding how they felt with a fish on the line. That, unfortunately, brought the day back to casting practice.
Here, though, the two rods felt very different. Tenryu describes both rods as being for lightweight plugs, with the RZ4102B-UL also described as being suitable for spinners and spoons of about 3 grams. I have used mine for lures ranging from 1.2 grams to 5.5 grams and thought it performed just fine. However, for the 4.5 to 5.5 gram plugs I cast on the 12th, the Spectra was just much, much nicer. Had I not had the Spectra with me, I would have been quite happy with the Rayz. Comparing it to the Spectra, though, well, let's just say I decided right then and there to buy a Spectra RZS51LL-BC for myself. 
So now the question is whether to keep the RZ4102B-UL for use with lighter lures. For that, I will need to take my new Spectra RZS51LL-BC out and see how well it does with lures of 2 to 3 grams. I suspect I will set a lure weight (to be determined) below which I will fish the RZS51LL spinning rod and above which I will fish the RZS51LL-BC baitcaster. I've fished the RZS51LL spinning rod with 1.5g spoons and found that it did just fine. The blank can handle the light lures. With a BFS reel, though, I do better with a bit more weight. 

Having the same blank for both rods, with only the grips and guides being different, should optimize my casting performance. Having such wonderful rods to fish with will certainly optimize my fishing pleasure.
For anglers who know they will want a rod that is slightly softer or slightly shorter than the Spectra, the concept of using the same rod for both spinning and baitcasting applies to the Tenru Rayz RZ4102S-UL spinning rod and the RZ4102B-UL baitcaster also.

---
Finesse-Fishing Home > Trip Reports > Triip Report 5-12-21

---
The hooks are sharp.
The coffee's hot.
The fish are slippery when wet.
---