Trip Report - 7-14-19
This is a companion piece to the 7-14-19 trip report published on the TenkaraBum site. The report on the TenkaraBum site concentrates on the portion of the day when we fished a couple ponds in a second office park.
The day was intended to be a multi-species micro fishing day but when we got to the stream we found that the water was so high and discolored that sight fishing for micros would have been impossible. Instead of the ultra light, ultra soft seiryu rod I had intended to fish for micros, I pulled out my Shimano Soare CI4+ Ajing S408UL-S, which I hadn't fished for a while.
The last time I had fished this particular stream with a spinning rod was for an "any method" species contest with my friend, Coach (Trip Report 8-13-17). On that day, he fished a seiryu rod. For most of the day I fished a Daiwa Iprimi 56XXUL-S spinning rod, which I thought might prove to be the best possible spinning rod for micros.

For this year's trip, I brought the little (4'8") Shimano Ajing rod, thinking that it's much greater sensitivity compared to the Iprimi might make it even more fun. We didn't stay long, as the high water just killed the fishing everywhere except for one pool that is deep even in low water.
In addition to wanting to catch a few small fish with the Shimano, I also wanted to try a 1.2g Daiwa Presso Eve spoon that I though might be a good replacement for the 1.2g Daiwa Presso Lupin spoons, which have been discontinued.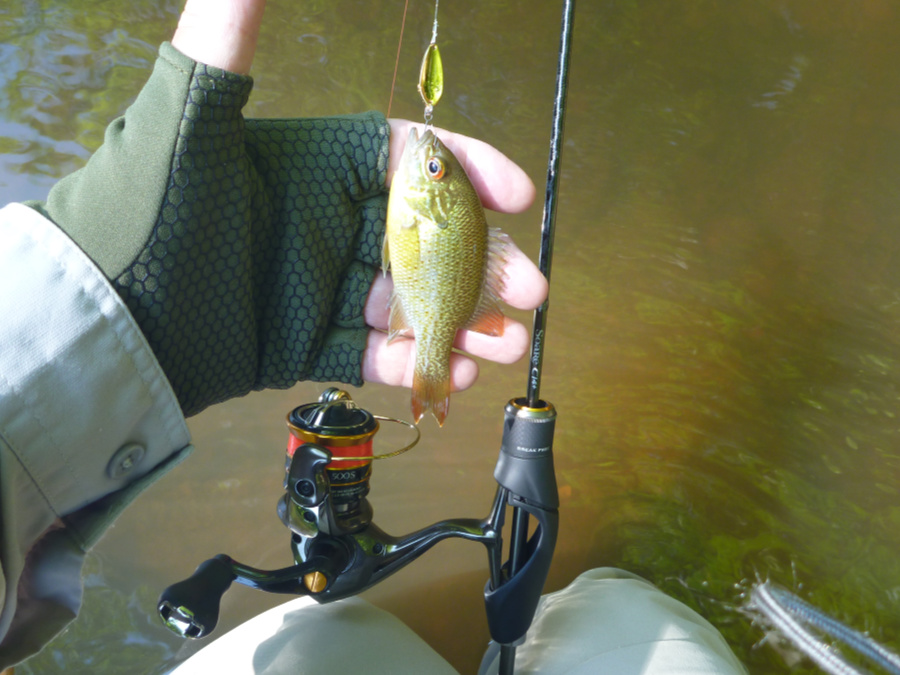 Shimano Soare CI4+ Ajing S408UL-S rod, Soare CI4+ 500S reel, redbreast sunfish.
As it turned out, the Eve spoon worked just fine. I was not at all surprised. The action is a little different than the Lupin action, but a different spoon shape will have a little different action.

There were bluegills and green sunfish also.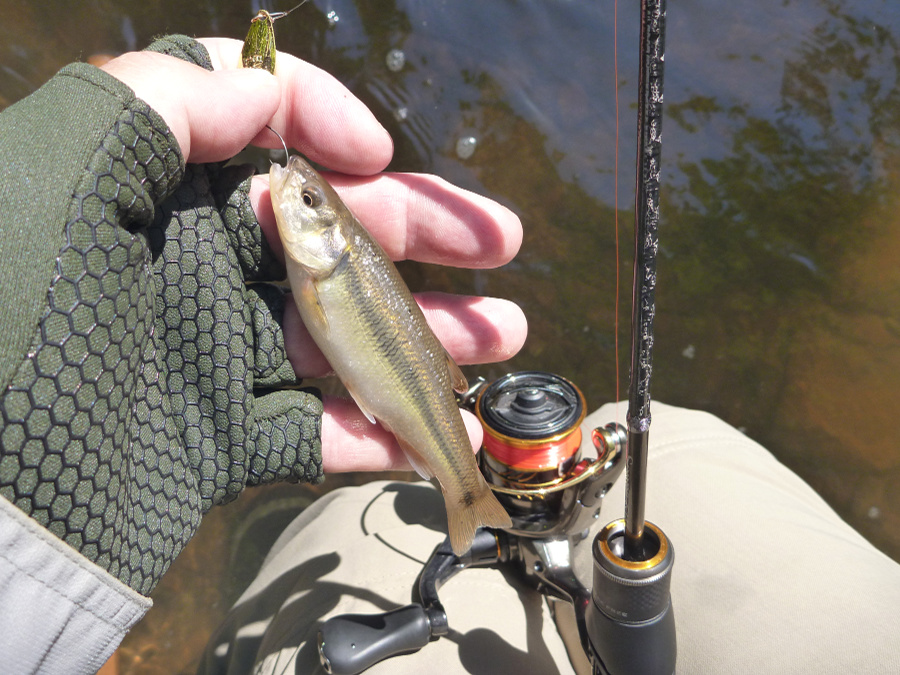 Creek Chubs hit lures, too, if the lures are small enough.
After the action in the pool slowed down, and we caught nothing at all either upstream or downstream from that one spot, we left to go to a pond in an office park. The pond has some surprisingly nice bluegills and bass (probably because you can't see it from the road so it gets very little fishing pressure).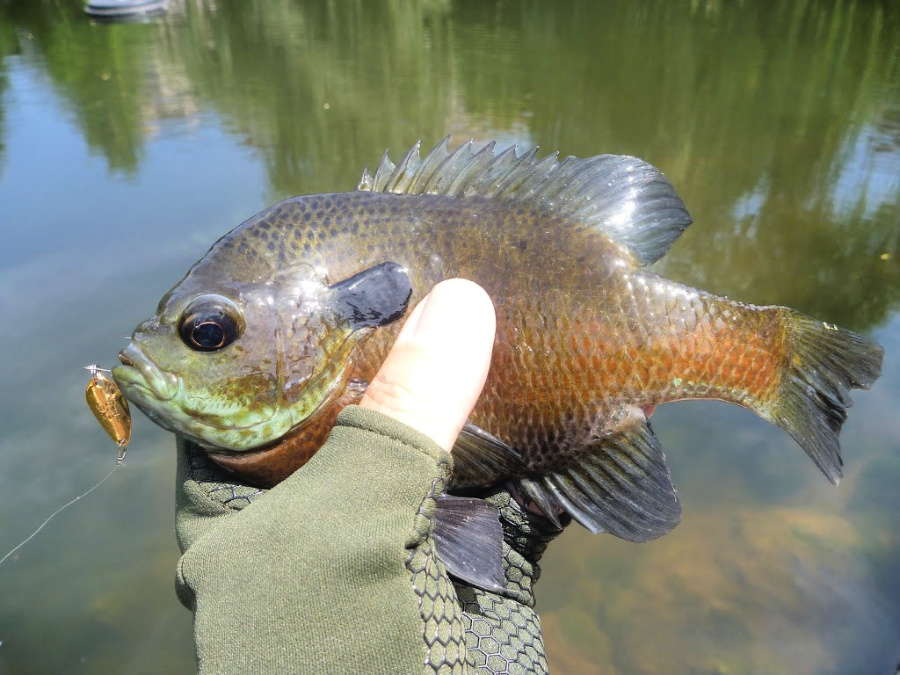 Micro spoons work very nicely for bluegills.
The Daiwa Presso Eve spoon kept working so I kept fishing it. Although I just fished with a spinning rod that day, the main reason I wanted to find a replacement for the Lupin spoons is that 1.2g is as light as I can effectively cast with a baitcaster.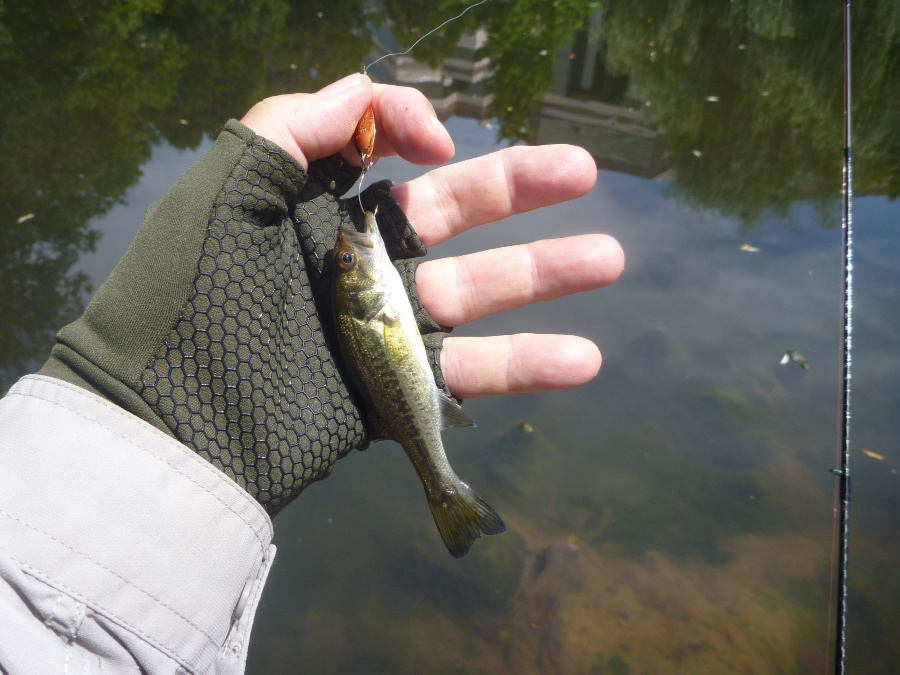 Small fish, but you can feel every wiggle.
Of course, if you fish with small spoons, you will catch small fish. The good news, though, is with a rod a sensitive as the Shimano Soare CI4+ Ajing S408UL-S you will still feel every wiggle.
Whether the Shimano Soare CI4+ Ajing S408UL-S or the Daiwa Iprimi 56XXUL-S is a better micro fishing rod depends entirely on what you want a rod to do. The Shimano is much better at transmitting the feel of the slightest tap and the wiggle of the smallest fish. The Daiwa is much better if you want a rod to bend with even a small fish. The Daiwa is much, much softer. Both rods are rated for lures as light as .4g  (1/70th oz) and for lines no stronger than 3 lb. The Shimano will cast a.4g lure much better than the Daiwa, but then again, it costs more than twice as much.
Both rods are nice, and both are a lot of fun with even small fish, but they are very different rods.

---
The hooks are sharp.
The coffee's hot.
The fish are slippery when wet.
---