Venturing into Baitcasting!
by Les Albjerg
(Caldwell, Idaho)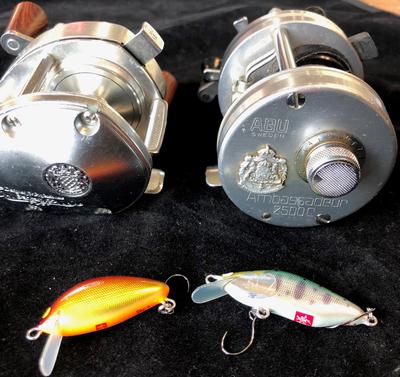 Ambassadeur 2500c reels, WooDream lures
Up until now, I have resisted the temptation to get into fishing with an ultralight baitcasting set-up for stream fishing. One of the things holding me back is my history. My first rod was a bait caster. As a 6 year old, the memories of spending hours untangling the rat's nests after a poor cast leave a memory that is never forgotten. That old Pflueger reel and metal rod is what my first fish was caught with.

Fast forward to now! I have several of the very nice WooDream lures that Chris sells. They have not been fished as much as I like because I just can't cast as accurately as I would like with my spinning outfits. A couple of weeks ago, I took out the lightest weight casting outfit I inherited from my Dad, with 4 pound test line and realized that even with an outfit that was too heavy for such a light lure, I could really place the lure much more accurately as well as stop it on a dime with just my thumb. Thus the desire for a baitcaster was kindled.

With cabin fever, and enjoying YouTube, I was directed to a website that blew me away on several different levels. Since Chris doesn't want embedded URL's in our blog, I will tell you how to get there. Go to YouTube. Type in the Search Bar, "Enjoy Fishing Channel." Check out any of the videos, but I would encourage you to find the one with Calcutta Conquest BFS HG in the title. Yes, it is in Japanese, but the language of fishing is universal. By the way Chris sells the Calcutta Conquest BFS HG when he can get them! Watch the poetry in motion!

I then watched a couple of more of Angler Saito's videos, and he loves the Abu Garcia Ambassadeur 2500c. I have two of them that I got from my Dad! Hey, I have a great reel for stream fishing and I didn't even know it. I also discovered that my Vintage Shimano Bantam 100 is prized for ultra-light bait casting. This reel was new in the box. My Dad never used it! So now I have to get a rod!

Angler Saito, the guy in the videos, got me really pumped. I was having a discussion with Chris, and really wanted a fiberglass rod, but they just aren't available for less than about $700.00. So my next thought was, "I will build one."

I have had the itch to build a rod again for about two years. To make a long story short, when I was in graduate school I built my first steelhead rod and two fly-rods. It was the only way I could afford a quality rod. I had a friend who owned a custom fly shop and made rods. He was overwhelmed with orders and I built about 50 custom fly-rods for him and it was very profitable for both of us! Over the years I have continued to dabble in rod building. I have not had to order stuff for a long time.

So, the long and the short of it is I ordered everything I needed to build a premium rod, and experienced sticker shock! Just the cost of the top of the line guides is over $55.00. Since I have all of the tools and miscellaneous items, I saved a lot. The bottom line is if my time is worth anything, the Tenyru Rayz RZ53UL-BC would have been less expensive! That isn't to say I am not excited about my build! What I am saying is the price of the Tenyru is very reasonable once you price out high quality components.

I am very excited about this build! I am going to get the grip I want. I will be able to use my favorite purple color for my guide wraps! I have several other unique accents that will make it truly a one of a kind rod!

Don't even ask! I am not going into the rod making business. I've been down that rabbit hole and don't care to enter it again! However, I will give updates along the way!