What season is this?
by JJ
(Upstate SC)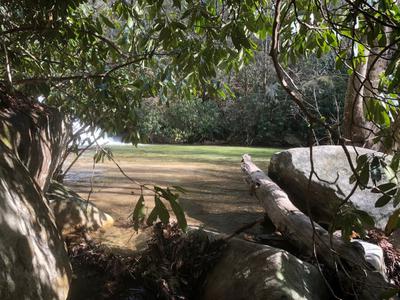 Hidden pool
For the past couple of years, the area that I live in (Southeast US) has been experiencing a springtime warm up in February. It doesn't actually last until spring, in fact it seems as our March thru April period is actually getting cooler. The warmup in February is noticeable, and I was able to get out for a trip last week to take advantage of it.

I was fishing at an elevation of between 2500 and 3000 feet. The air temperature was in the 60's and the water was 52 degrees. Just a week earlier I had taken a water temp of 49 nearby. So a pretty decent warmup following some of the coldest air we had experienced in a while. Believe it or not I was wet wading. I typically hike in at least a couple of miles to my fishing destinations, and prefer to do so in trail runners. My current favorites are Altra Lone Peak 4.0's. They have a roomier toebox that allows me to wear Hanz submersible waterproof socks in place of waders. The socks are thinner than the neoprene bootie found in most waders, so the fit is much better in hiking shoes. I have been wading in trail shoes for a few years now, and find that I prefer it to wearing waders, so the knee high waterproof socks are allowing me to continue that process thru the colder months.

The fishing is always fun, and on this trip the catching was pretty good also. The weather had finally entered a steady pattern, after what seems like months of rain systems continually moving in and out. The water flow has come down a bit, and fish were actively pursuing the minnow plug I was fishing. The fish were rainbows. The minnow was Duo Spearhead Ryuki 50s "Wakasagi". The rod was a 5' Tenryu Rayz Integral. The line was Sunline Troutist Darkness. The water was Southern Appalachian.
Join in and write your own page! It's easy to do. How? Simply click here to return to Your Stories.
---
The hooks are sharp.
The coffee's hot.
The fish are slippery when wet.
---