Daiwa Iprimi 60XUL and 60XUL-4

The Daiwa Iprimi 60XUL and 60XUL-4 are soft Area spinning rods that are designed specifically for fishing in lakes (or streams with minimal current).  They are just ideal for fishing micro spoons, which are the most popular lures for fishing the Areas in Japan.

The "XUL" stands for extra ultra light, and these rods are exactly that. They are rated for lures from .6 g to just 2.5 g (roughly 1/50 to 1/10 ounce) and lines of just 1.5 to 3 lb.
Wait! You mean a 1/8 oz lure and 4 lb line is too much for the rods? Really?
Yes, really.
Take a moment to consider the history of spin fishing, which was often called "Threadlining" or even "Hairlining." Coined in Britain in the 1920s, the term "threadlining" initially meant bait fishing with a light line. What we now think of as ultralight spin fishing was developed in France in the 1930's. In the 50's and 60's spin fishing became popular in the US.
What I find interesting is that back then, there was no such thing as "ultralight" spin fishing. Spin fishing, just regular old spin fishing, was fishing with lines of 3 lb breaking strength or less. Somehow, the definition has changed in the last 50 years. Many people today consider 6 lb line to be "ultralight." You would be hard pressed to find an ultralight rod designed for the US market that is not rated for line up to 6 lb test.
When you consider that virtually all lines made for the US market break well above their stated strength, it turns out that "ultralight" in the US ends up being rods designed for lines that in reality are 8 lb test or even stronger. What the heck happened?  What happened was people wanting stronger lines and stiffer rods. I've seen more than a few comments in internet forums and Facebook groups complaining that US ultralight rods are too whippy.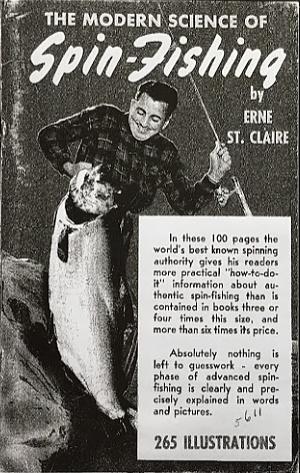 The Modern Science of Spin Fishing
That is a far cry from what Erne St. Claire wrote in his 1961 book The Modern Science of Spin Fishing. He lamented that all commercial spinning rods were way too stiff. He believed that to get a good spinning rod, actually one even suitable for spin fishing, you had to get a custom rod that was made from a fly rod blank. And by the way, in 1961, that would have been a glass fly rod blank.

In 2009, Joe Robinson tried to resurrect threadlining, publishing his book Piscatorial Absurdities. He was introduced to threadlining by no less a figure than Dave Whitlock in 1988. With a small, light, custom made rod, a 3 lb test line and a 1/16 oz jig, Dave lured Joe to the dark side. Over the next twenty years, Joe took up Erne St. Claire's mantle and almost single-handedly promoted spin fishing the way it had been done - with soft rods made from fly rod blanks and lines of 3 lb test or less.
He also introduced Erne St. Clair's snap casts to anglers who had not seen the 1961 book.

By the time he wrote his book, Joe had read everything he could find about spin fishing in the early years. He made a persuasive case for fishing with light, flexible rods and light lines. His book, and his followers, caught the eye of Temple Fork Outfitters. To provide new Threadliners with an appropriate rod so they didn't have to build one themselves or hire a custom builder to make one for them, TFO introduced a Gary Loomis Signature Fly/Spin rod. I have no idea how many of the rods TFO sold, but now, ten years later, the rod is no longer offered.
What I found a little surprising is that the TFO Spin/Fly rod, supposedly developed for Joe Robinson's approach to spin fishing, didn't really adhere to the way Joe Robinson actually fished. In his book, Joe Robinson recommended fishing with 6X, 7X or even 8X tippet material (which pretty much ranges from 3.5 lb down to 1.8 lb test). The TFO rod, though, was rated for line up to 6 lb test (which for virtually all spinning line available in the US really means at least 8 lb breaking strength).

I think what probably happened is that TFO knew the market and knew that the American spin fishing community was not going to buy a rod rated for line no stronger than an honest 3 lb test (by which I mean a line that actually breaks at 3 lb).
JDM Area Rods
I guess I should have written that TFO knew the US market. There are more than a few Japanese rods rated for line no stronger than 3 lb (and Japanese 3 lb line breaks at 3 lb). Most are designed for fishing in areas. "Areas" are private, pay-to-fish lakes that are heavily stocked and heavily pressured. Small lures and extremely thin lines work better for heavily pressured fish. To protect thin lines, the rods have to be soft. Because there is no current to fight and there are no snags to keep the fish away from, there is no need for heavy lines or stiff rods.
For anglers who are interested in following Joe Robinson's approach to spin fishing and learning Erne St. Clair's "snap casts," and who want to fish with a rod actually designed for the 3 lb line that St. Clair and Robinson both recommended, JDM Area spinning rods are the way to go. Perhaps the only way to go if you don't want to make your own from a fly rod blank or try to find a custom rod builder to make one for you. If you want an off-the-shelf rod, I think a JDM Area trout rod is only way to get a rod specifically designed for fishing 3 lb line and 1/16 oz lures.

Areas are quite popular in Japan. Area rods are quite popular, too. You could spend up to $800 for an Area spinning rod (and I could get you one of those rods if you wish).
Daiwa Iprimi 60XUL and 60XUL-4

For anglers on a budget who want a JDM Area rod, the Daiwa Iprimi 60XUL and 60XUL-4 are worth a serious look.
60XUL

60XUL-4
The Daiwa Iprimi 60XUL and 60XUL-4 are soft, full flex rods - which is exactly the action that Erne St. Clair had maintained was critical for executing the snap and wave casts that he developed. According to St. Clair, the casts are more accurate and quicker to execute, and because of the reduced rod motion, are much less likely to scare the fish you are trying to catch.
Because the Daiwa Iprimi 60XUL and 60XUL-4 rods are soft, they are better suited to fishing micro spoons or small spinners than jigs or small jerk baits. You'll detect strikes better with a steady retrieve than with a jigging or twitching retrieve. With micro spoons or small spinners, you can also fish streams as long as the current isn't too strong and the fish aren't too large.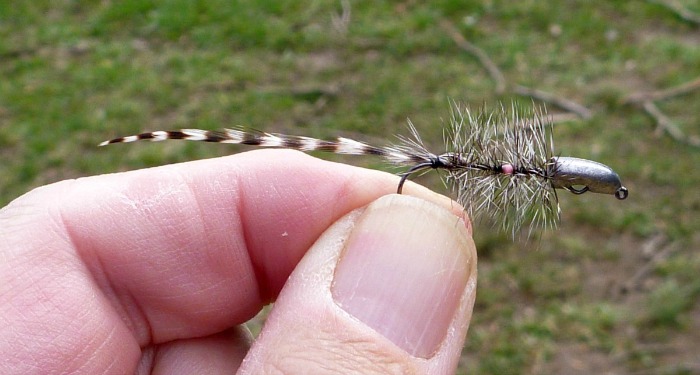 Hand tied stream side
Joe Robinson often fished "flures" which are a cross between flies and lures.
A few  years ago I fished  Bennett Spring State Park in Missouri, which is similar to the Japanese "Areas" in that it is a carefully managed, heavily stocked trout park. Right at the spring is a huge pool, where quite a few trout could be seen swimming around. That section of the park is fly fishing only, but their regulations only specify that a fly must be used, not a fly rod, fly reel and fly line. I sat on a bench at the pool and tied a simple fly on one of the C'ultiva JH-85 .7g jig heads.
Daiwa Iprimi 60XUL-4, trout park rainbow
The hand tied jig / fly / flure worked. Fishing a Daiwa Iprimi 60XUL-4, the .7 g jighead was easy to cast. I kept a tight line on the retrieve and the take was obvious.
The 60XUL-4 was the perfect rod for fishing the trout park. The lure rating, down to .6 g, was just right for the fly I tied on the .7g  (1/40 oz) jighead. The action was soft enough to protect the 2 lb line. Perhaps most important, though, the 4-piece rod fit in my suitcase so I didn't have to check a rod case on the flight ($25 each way adds up fast).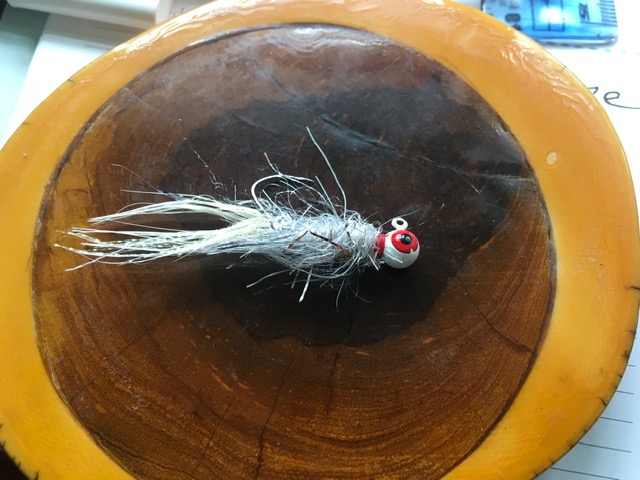 One of Pete L's "Jig Flies"
Pete L has a slightly different take on flures, or "Jig Flies" as he calls them. Two  things are certain: they cast well and they catch fish!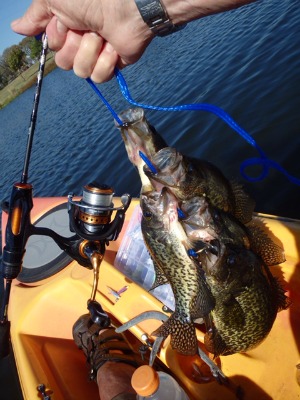 Pete L's Iprimi 60XUL-4 and crappies
The 4-piece rod would also be handy if you backpack into mountain lakes. A few years ago, a couple friends hiked the John Miur Trail. They fished along the way to supplement their diet. By far, most of the fish they caught were in the mountain lakes. A multi-piece spinning rod was the hit of the trip.
Of course, lakes are not just for trout fishing. I am pretty sure that a lot more people fish for sunfish and  crappies than fish for trout in lakes. The Daiwa Iprimi 60XUL and 60XUL-4 are great rods for sunfish and crappies. 
They are rated for the right size lures, and the action is soft enough that you won't rip hooks out of crappies' soft mouths, while giving you all the fun you could want with even modest sunfish.
If you are a fan of soft rods, light lures and light line, take a serious look at the Daiwa Iprimi 60XUL and 60XUL-4.
Model
Type
Tip
Length
Sections
Breakdown  Length
Rod Weight
Line Weight
Lure Weight
Regular Price

Iprimi 60XUL
Area (lake)
Tubular
6'0"
2
37.8"
2.1 oz
1.5 - 3 lb
.6 - 3 g (1/50 - 1/10 oz)
Rod made in Vietnam


---
Shipping
Domestic shipping is $12.50 for three-piece or four-piece rods, via USPS Priority Mail. Domestic shipping for two-piece rods is $15.50, via UPS ground. The shipping charge will be added to your order automatically.
Please note: UPS will not deliver to a PO Box. If you order a two-piece rod please provide a street address rather than a PO Box address.

International shipping is by USPS First Class Mail International if the value of the order is under $400 AND the package is shorter than 24". If the value is over $400 OR the package is longer than 24", shipping is by USPS Priority Mail International. The shipping charge depends on the destination, weight, length and value of the package.
Import Duties and Taxes

International purchases may be subject to import duties and taxes. I cannot keep track of all import regulations in all countries written in all languages. Understanding and paying import duties and taxes is the responsibility of the buyer.
Russia
Finesse-Fishing.com no longer ships to Russia.

UK

Finesse-Fishing.com no longer ships to the UK. The new VAT regulations are too onerous for a one-man shop that rarely ships anything to the UK anyway. I apologize.

---
---
Home > Finesse Spin Fishing > JDM Spinning Rods > Daiwa Iprimi 60XUL

---
The hooks are sharp.
The coffee's hot.
The fish are slippery when wet.
---