Tenryu Rayz Alter
The Tenryu Rayz Alter rods  were designed for fishing Areas (managed pay-to-fish lakes). Rods designed for Areas are softer than rods designed for streams. In the Areas, and lakes in general, anglers don't have to fight the current as well as the fish. The Areas do not have snags (downed trees, logs, etc) that you have to keep the fish out of. The trout in the areas are highly pressured, and smaller lures work better on pressured fish. Smaller lures require lighter lines, and lighter lines require softer rods. 
The Alter rods are softer overall than the Tenryu Rayz, Rayz Integral or Rayz Spectra stream rods (and much softer than the Tenryu Lunakia rods). The rod tip in particular is noticeably softer. The Rayz Alter RZA61L-T and RZA60MLM-T  each have a tubular tip. The Rayz Alter RZA62UL-S has a very flexible solid tip (much like the tip on most tenkara rods and high end Ajing rods). The RZA62UL-S is rated for a slightly lower maximum lure weight and line strength.

The Alter name seems to  be a play on words, combining "alternative" (to native stream rods) and "alter" (as in a change from Tenryu's previous Area rods). The name has an underlying feeling of adult play. Society seems to think that children should play but adults should be serious. Reject that notion! Adults should play also.
That sense fits in well with the Areas in Japan. The fish are stocked, they're not native  (generally rainbows but also browns), and in some areas they're huge. The whole setting isn't natural, it isn't "real" - it's play.
Trout stream in the Wisconsin Driftless.
Wisconsin Brookie from the Driftless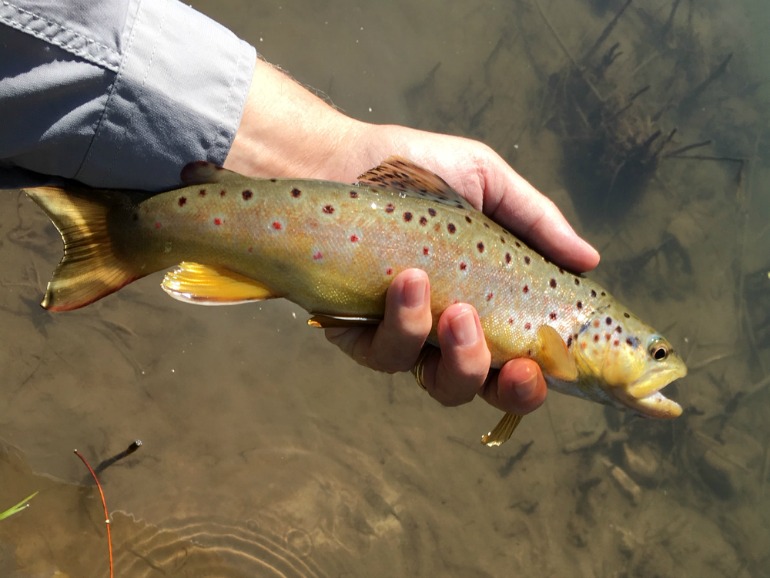 Wisconsin Driftless Brown Trout
Most of Japan is mountainous. Most of the US isn't. Trout fishing in Japan is limited to fairly high gradient mountain streams and the man-made Areas. Trout fishing in the US is not nearly as limited. We have many more natural lakes, and many more tail-waters (with large trout but modest current), and meadow streams similar to the one shown above in the Wisconsin Driftless area that offer wonderful trout fishing.
We have miles and miles of streams that are stocked with 9-11" trout. That is a perfect size for the Tenryu Rayz Alter even if there is a bit of a current.

We also have lots of warm water streams with modest current and modest fish. If you fish in streams were there is room for a 6'1" or 6'2" rod, and where the fish are of modest size, these are just wonderful, fun rods.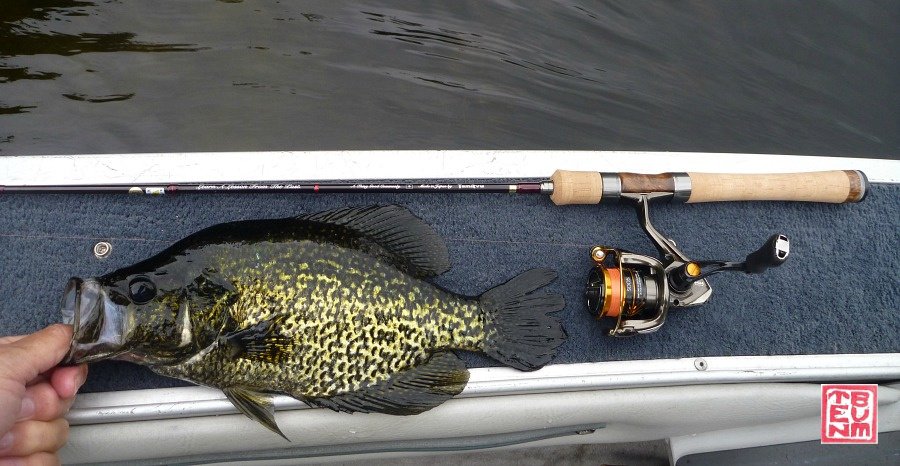 The Tenryu Rayz Alter RZA61L-T is a trout rod but it is a very nice rod for crappies!
Not only that, we have thousands and thousands of lakes with sunfish and crappies. The softer action of the Tenryu Rayz Alter makes it a dandy rod for crappies!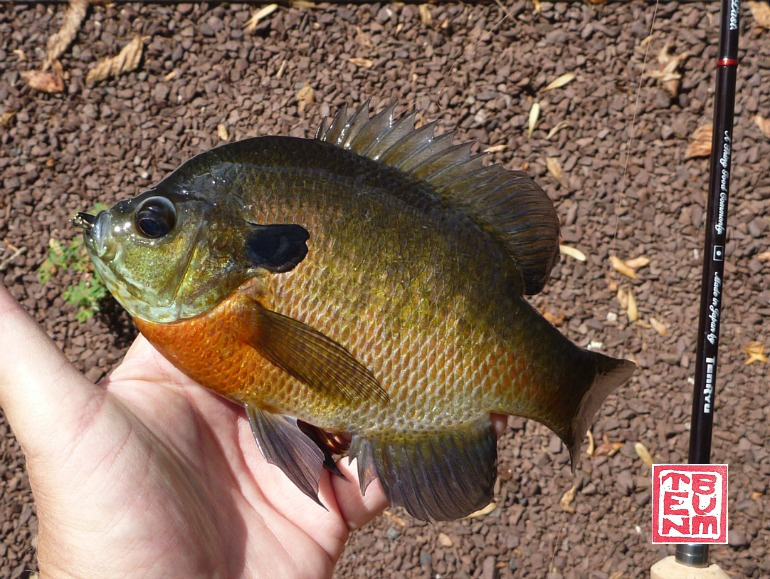 The Tenryu Rayz Alter is ideal for bluegills.
And sunfish?  Almost everywhere in the US that doesn't have trout has sunfish. The Alter is just an ideal rod for sunfish! If you are looking for a high end panfish rod, you won't find a better one.
It seems there is a trend nowadays to use JDM Ajing rods for sunfish. If you are fishing micro jigs I can understand that, but if you enjoy fishing micro spoons like I do, I would recommend a Tenryu Rayz Alter in a heartbeat!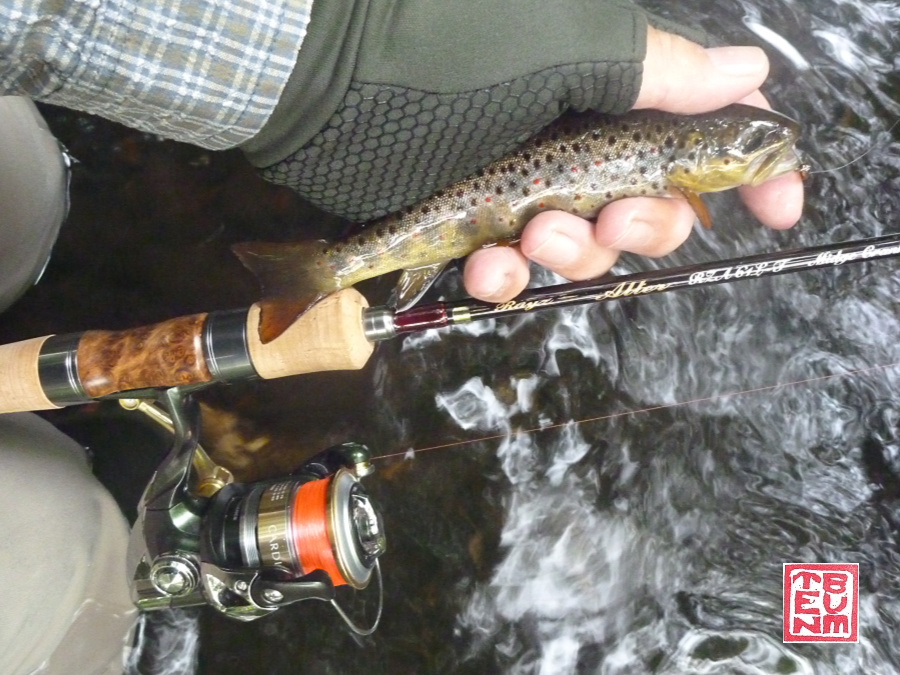 With a micro spoon or small spinner, the Alter is right at home in a stream.
Up until recently, I had just assumed that the reason the JDM rods designed for fishing streams were firmer than the Area rods was because of the current and the snags. I now think the main reason may be the lures that are used. Most stream anglers in Japan fish with heavy sinking minnows, which require a firm rod to give the lures the twitching action that the Japanese anglers want.
However, I recently saw a couple YouTube videos of a Japanese angler fishing mountain streams with an Area rod, using micro spoons and the 2 gram, single hook Smith AR-S spinner, which like the micro spoons, is intended for fishing Areas. With the small lures, a steady retrieve, an upstream cast and modest fish, the angler had absolutely no trouble (and caught a lot of fish).
In 2019, a customer told me that his Tenryu Rayz Alter RZA62UL-S was a great rod for fishing for little trout in the headwaters. I had to try it for myself. He was right! With micro spoons and the small AR-S spinners, my Alter RZA61L-T did just fine in a small stream. I caught lots of fish and had a great day. Trip Report 9-2-19
The three Alter models are a bit different, and it is actually the solid tipped RZA62UL-S that was designed specifically for micro spoons. The RZA61L-T, with it's slightly firmer tubular tip, was designed for small crankbaits (much smaller and lighter than the crankbaits bass anglers use) or those spoons with which you would use a slightly faster retrieve. The RZA60MLM-T is firmer yet, and was designed for small minnow lures. On their website, Tenryu even mentions using the RZA60MLM-T in streams.

The recommended lure weight range for RZA60MLM-T goes up to 7 grams, which is a gram heavier than the "ultralight" Rayz and Rayz integral stream rods and a gram lighter than the "light" Rayz and Rayz Integral  rods. Although the MLM (medium light medium) is a heavier designation than L (light), remember that it is within the context of Area rods, which are generally softer than stream rods. For a stream rod, it would be an LL (between light and ultralight).

To me the RZA60MLM-T feels like a stream rod. It has the firmness you would want for fishing sinking minnows, whether in a lake or a stream. For that matter, if you were looking for one rod with which to fish both lakes and a wide variety of streams, the RZA60MLM-T should be near the top of your list (along with the Rayz RZ632S-L and Rayz Spectra RZS61LL).
Regarding the RZA62UL-S vs RZA61L-T and the lures for which they were optimized I have fished micro spoons and small spinners with my RZA61L-T and it did just fine with them. For small crankbaits or small minnow lures, I do think the RZA61L-T would do better than the RZA62UL-S, which I think really was optimized for the slow steady retrieve you would use with micro spoons or the Smith AR-S 1.5 g and 2g spinners.

If you take your fishing (and your play) seriously, and if you want a still water or slow water rod for fishing micro spoons, small spinners and the smaller minnow lures, and if your emphasis is on the highest quality rather than the lowest price, the Tenryu Rayz Alter is surely the nicest rod you'll find.
Every year a friend and I go to Maine to fish for smallmouth bass. Most of the bass we catch are in the 14-17 inch range. However, I always like to take some time to fish different spots with smaller lures and lighter gear, going after redbreast sunfish and small (8") smallmouth bass. The Alter RZA61L-T or the RZA62UL-S are perfect rods for modest fish. They will cast the .9g Forest Marshal Tournament spoons well, and an 8" smallie puts up a nice fight. On this past year's trip I was thinking how much fun the Alter was with the 8 inchers - and then I hooked one twice that length.


Having fun with 8" smallies - and then this guy shows up!
It was a longer fight, and I had to be well aware how much bend there was in the rod, but the Tenryu Rayz Alter handled it well. As I said, in some of the Areas in Japan, the trout are really quite large. You just need a reel with a good drag and a bit of patience.
This is just a fun rod! Highly recommended.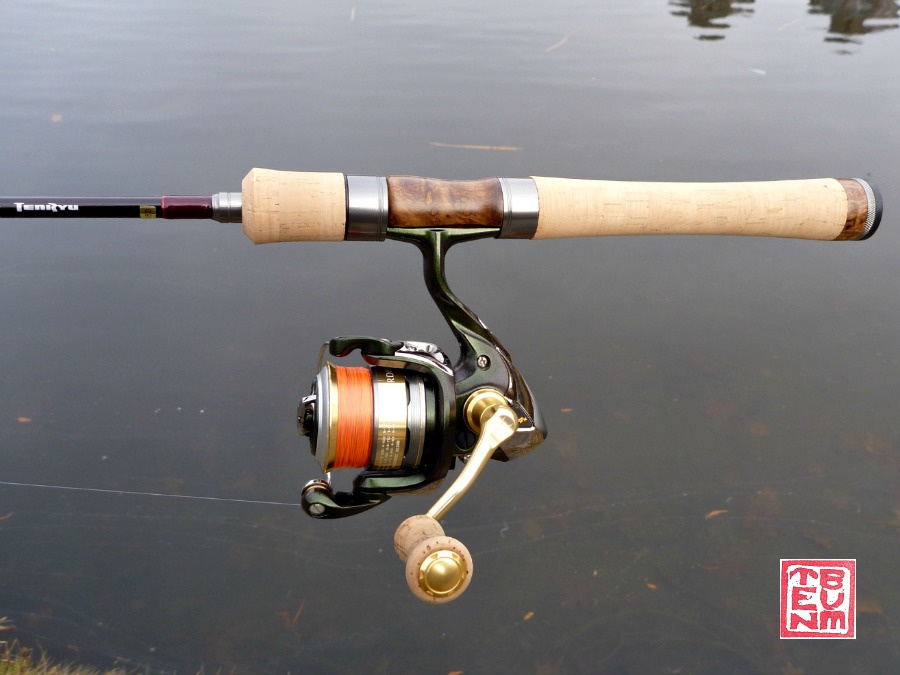 Tenryu Rayz Alter has a select hardwood reel seat and accent, and a premium quality cork grip.
The Tenryu Rayz Alter grip shares features with the Rayz and Rayz Spectra rods. The reel seat rings are like those on the Rayz, while the hardwood burl reel seat and grip cap accent are like those on the Rayz Spectra. As with all the Rayz rods, the cork is top quality.
There has been a trend toward split grips on spinning and baitcasting rods. Some people love 'em, some hate 'em. Tenryu does make some rods with split grips - long salt water rods designed to cast lures long distances, where you really do need the extra leverage of a two handed cast.  Casting ultra light lures with ultra light lines on ultra light rods does not require both hands, though. Tenryu trout rods are old school - one piece grips made from top quality cork.
Rubber ring to prevent scratches.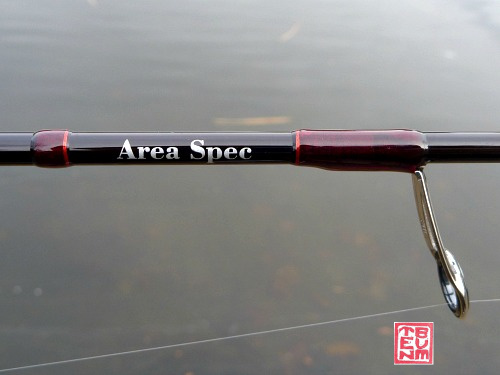 Dark red windings
The grip cap has the raised rubber ring to prevent scratches, the knurled spacer and the hardwood burl accent piece like those on the Rayz Spectra. The guides are titanium K guides with SiC inserts.  Although the first guide is pretty tall, it is just short enough to fit in the Long Rod Case, (RZA61L-T and RZA62UL-S only) as do all the Tenryu Rayz and Rayz Spectra spinning rods that are 6'3" or less).
Each of the rod models in the Tenryu Rayz series of rods has it's own signature color (and not just for the wraps - in good light you can see that the blank is colored as well). The Rayz rods are green, the Rayz Integral are blue, the Rayz Spectra is purple and the Rayz Alter is red. The colors are subtle but distinct.
Tenryu Rayz Alter

Model
Type
Tip
Length
Sections
Breakdown
 Length
Rod Weight
Line Weight
Lure Weight
Price

RZA60MLM-T
Area (lake)
Tubular
6'0"
2

37"
2.6 oz
2 - 6 lb
0-7g (0-1/4oz)
$395
Made in Japan

RZA61L-T
Area (lake)
Tubular
6'1"
2

37 9/16"
2.5 oz
1 - 5 lb
0-5g (0-3/16oz)
$410
Made in Japan

RZA62UL-S
Area (lake)
Solid
6'2"
2

38 1/2"
2.6 oz
1 - 4 lb
0-4g (0-1/8oz)
$415
Made in Japan
Tenryu lists the lure weight as almost zero or approaching zero. On my first time out with the Tenryu Rayz Alter RZA61L-T I fished the Daiwa Presso Vega .4g and .8g spoons. I have to say I was able to cast the .8g spoons a lot better than the .4g spoons! I suspect the .4g spoons would have cast better if I'd had 1 lb test line, but that may be a bit extreme. Personally, I think the 2 lb Sunline Troutist Area Meister or Troutist Darkness is plenty light enough.
The Vega spoons have been discontinued, but the .9g Forest Marshal Tournament spoons or the Daiwa Eve 1.2g spoons cast nicely.  Actually, nearly all the micro spoons do very nicely with both of the Tenryu Rayz Alter rods. The lighter spinners, like the Smith AR-S 1.5 and 2g, Niakis 3g and Palms 2.6g spinners will work well also. Heavy sinking minnows are better fished with the RZA60MLM-T or the Tenryu stream rods (Spectra, Rayz and Rayz Integral).

---
Shipping
Domestic shipping is $10 via USPS Priority Mail (2-3 day delivery).
Please note: All packages are shipped via USPS. If you have a PO Box, please list ONLY the PO Box in your address, not the PO Box and your street address.
The charge for international shipping depends on the destination country, the weight of the package, the overall length of the package and the value of the package. Packages under 24" long and under $400 in value will go via USPS First Class International. Packages over 24" or over $400 will go via USPS Priority Mail International. The International shipping charge will be calculated at checkout.

Import Duties and Taxes

International purchases may be subject to import duties and taxes. I cannot keep track of all import regulations in all countries written in all languages. Understanding and paying import duties and taxes is the responsibility of the buyer.
Finesse-Fishing.com no longer ships to the UK. The new VAT regulations are too onerous for a one-man shop that rarely ships anything to the UK anyway. I apologize.
---
Home > Finesse Spin Fishing > JDM Spinning Rods > Tenryu Rayz Alter

---
The hooks are sharp.
The coffee's hot.
The fish are slippery when wet.
---