Daiwa Presso ST
The Daiwa Presso ST 53XUL-4 is a rod I have awaited eagerly. I first learned in August 2020 that Daiwa was planning to produce it. I ordered one immediately. It came in December, right before a blizzard blew in. I've had the Presso ST 56XUL in the shop for a while now, but it is the 53XUL-4 that has me excited.

The Presso ST series is at the core of Daiwa's rods designed for fishing Areas. In Japan, "Areas" are heavily stocked, private pay-to-fish ponds. Some Areas also have stocked streams, which tend to be a series of large pools separated by rock dams. With minimal current and no woody debris, they are a lot closer to ponds than to a freestone stream.

Rods designed for Areas have softer actions than those designed for fishing native streams. Anglers don't have to fight the current as well as the fish, and they don't have to control fish quickly to keep them out of snags. Additionally, most lure fishing in Japanese streams is with heavy sinking minnow lures, while most anglers who fish in the Areas use micro spoons. You don't need firm, fast action rods for fishing in ponds, and certainly not for fishing with micro spoons.

I've carried the Daiwa Iprimi 56XXUL-S Area rod in the shop for several years now. When I first ordered it, it was the shortest Area rod I knew of. It has sold well and has developed a following among those seeking modest fish, whether little wild trout in the headwaters, micros in warm water streams or sunnies in the pond in the town park. (Lately, I have been unable to get the Iprimi 56XXUL-S and I fear it may have been discontinued.)

The Presso ST 56XUL is a little firmer and a little faster than the Iprimi 56XXUL-S. It has a tubular tip rather than a solid tip. It comes with a hardwood reel seat and a hard foam grip rather than a skeleton grip. The line and lure ratings are the same for both rods, at 1.5-3lb lines and .4-3g lures. All in all, the Presso ST is a much nicer rod. I think anglers other than those wanting the softest possible rod for micro fishing would prefer the Presso ST 56XUL or 53XUL-4.
This write up concentrates on the 4-piece rod. Les Albjerg has written a "Your Stories" article on the 2-piece Presso ST 56XUL.
I'd have to say I'm more excited about the 5'3" 4-piece 53XUL-4.  While it has the same line and lure ratings as the 2-piece Presso ST 56XUL, the action feels a little faster than the 56XUL and quite a bit faster than the Iprimi 56XXUL-S.
The Presso ST 53XUL-4 feels lighter, quicker and more responsive than the Iprimi 60XUL-4. While both the Presso ST 53XUL-4 and the Iprimi 60XUL-4 are 4-piece rods that backpackers will find very convenient, I think the 6' Iprimi would do best in lakes, while the 5'3" Presso ST would be the ideal spinning rod for backpacking into little headwaters streams.
Comparing the 4-piece Daiwa Presso ST 53XUL-4 to the 4-piece Tenryu Rayz Integral RZI50UL-4, there are some substantial differences. The Tenryu comes with a cork grip, while the Daiwa has a foam grip. The Tenryu comes with stainless K guides with SiC inserts. Daiwa doesn't even mention the guides. The Tenryu also comes with a much higher price tag. Of course, the Tenryu is made in Japan, whereas the Daiwa is made in China. However - and for some anglers this will be a huge "however" - the Daiwa Presso ST 53XUL-4 has the action of an Area rod. It was designed specifically for light lines and light lures. 
While I have caught 20" trout with the Tenryu, to me the Daiwa Presso ST 53XUL-4 just screams small wild fish in small wild streams. It is not the rod I would take if I expected to catch fish over about 16", but you can bet it is the rod I would take if I wanted to fish tiny lures in tiny streams and didn't expect to catch anything over about 10". In a stream with modest current and free of snags, I'm sure it could handle fish larger than that, though.
The point is that if I expected substantially larger fish I would take a different rod. It's all about maximizing the fun factor. If you know you are going to be catching small fish, fish the rod that's the most fun with small fish. (Reminds me of a panfish rod introduced a few years ago by a well-known American company - rated for 6 lb line. Have you ever caught a 6 lb panfish? Neither have I.)
And speaking of fishing a different rod, most of the Presso ST models are 6' or a bit longer. However, to me the unique thing about the Presso ST rods is that there are 5'6" and 5'3" models. For a 6' or 6'2" Area rod, I would choose a Tenryu without hesitation, but Tenryu doesn't make 5'6" or 5'3" Area rods.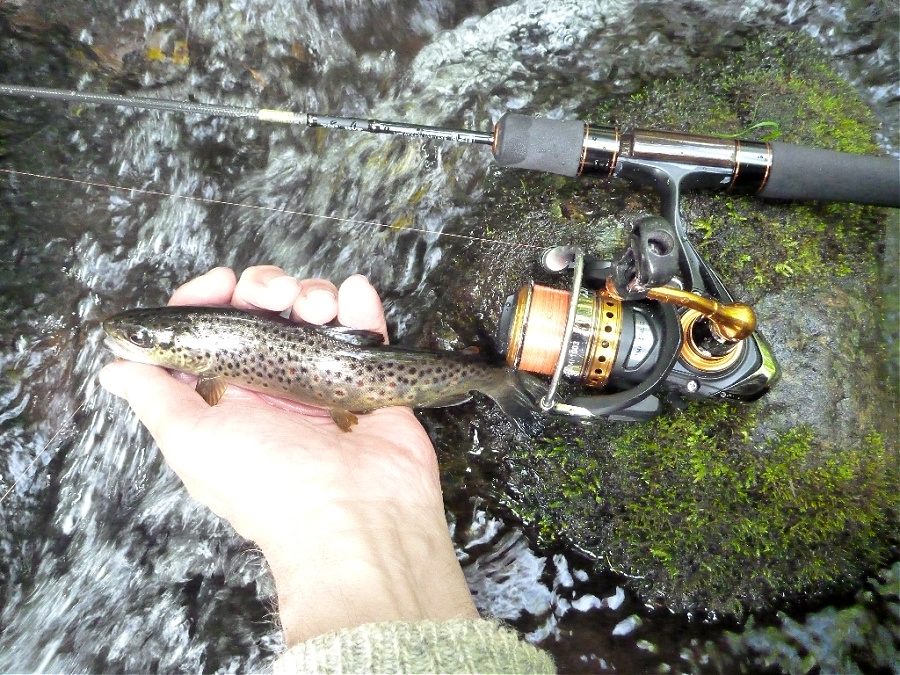 I was able get out once with the Presso ST 56XUL, and once with the Presso ST 53XUL-4. I enjoyed both immensely. I fished the 56XUL with Sunline Area Meister 2 lb line (above) and Sunline Troutist Wild 2.5 lb line (below). I fished Smith AR-S single hook 2g spinners and Daiwa Presso Eve 1.2g spoons. For light lines and light lures it is really a very nice rod.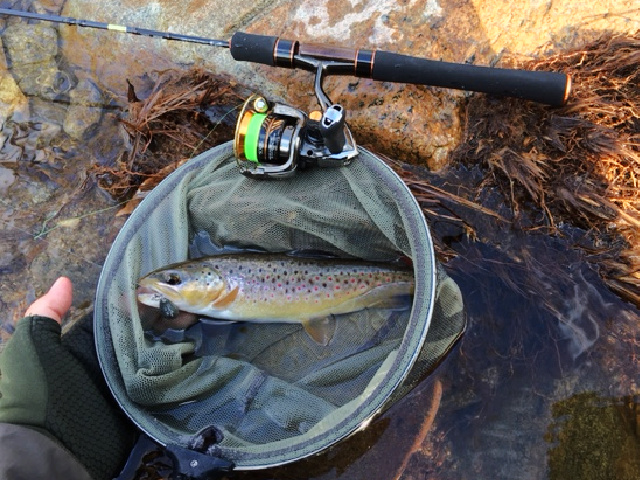 The day I got out with the Presso ST 53XUL-4 (above) was just after several days of rain. The stream was high and off color. The current was much faster than normal for that stream. Although I did try a .6 ounce Forest Chaser and .9 ounce Forest Marshal Tournament, and found that the rod could cast them as far as I would want on a small stream, they were too light to get down to where the fish were.
I spent most of the day fishing a 3 gram Daiwa Silver Creek Spinner (silver, because that stream as lots of fallfish, and a very young fallfish is very silvery). The combination worked surprisingly well. Surprising only because I had a "many" day in early January, which for me definitely was a first. Normally in the winter, I catch one or at most two fish. The 3 gram lure did not feel like it was maxing out the rod.
For heavier lures or bigger fish I would choose a different rod, but for small lures in a small stream after small fish, this is the rod I would want to use.

For the Japanese, a 4-piece Area rod is not a backpacking rod, it's a public transportation rod. A 5'3" rod is not a rod designed for small streams, it's a rod designed for small anglers. Japanese backpackers would not carry an Area rod. Anglers backpack into the rugged Japanese mountains to catch large trout, not small ones. Catch and release is not common there, and larger fish, larger wild fish, exist only where access is very difficult. Here in the US, though, backpacking into the headwaters generally yields pristine streams but small trout. Some of the high mountain lakes hold large fish, but large fish in lakes are pretty much what Area rods are all about.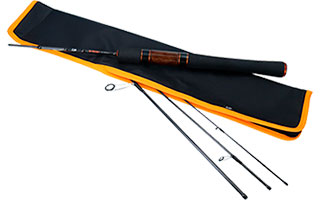 Soft case included.
I think the Daiwa Presso ST 53XUL-4 will fill a very different need in the US than it does in Japan. I am sure very few Japanese anglers fish native streams with Area rods. Most mountain streams in Japan have high gradients and fast currents.
Here, though, there are many small streams that do not have fast currents. I think Area rods do very nicely in low-gradient streams that have small wild fish or that are stocked with 8-10" fish, which is the size that NY state stocks. A short 4-piece rod Area rod would be absolutely perfect for several of the streams I fish.

It may well be that spin fishermen in the US do not yet realize they need a 4-piece rod limited to line no stronger than an honest 3 lbs and lures no heavier than 3 grams (which is a bit less than 1/8 oz). However, to the extent that spin fishermen fish small streams, particularly small streams they need to hike to, small streams in which the king of the stream probably isn't over about 10", then they need a rod like the Daiwa Presso ST 53XUL-4.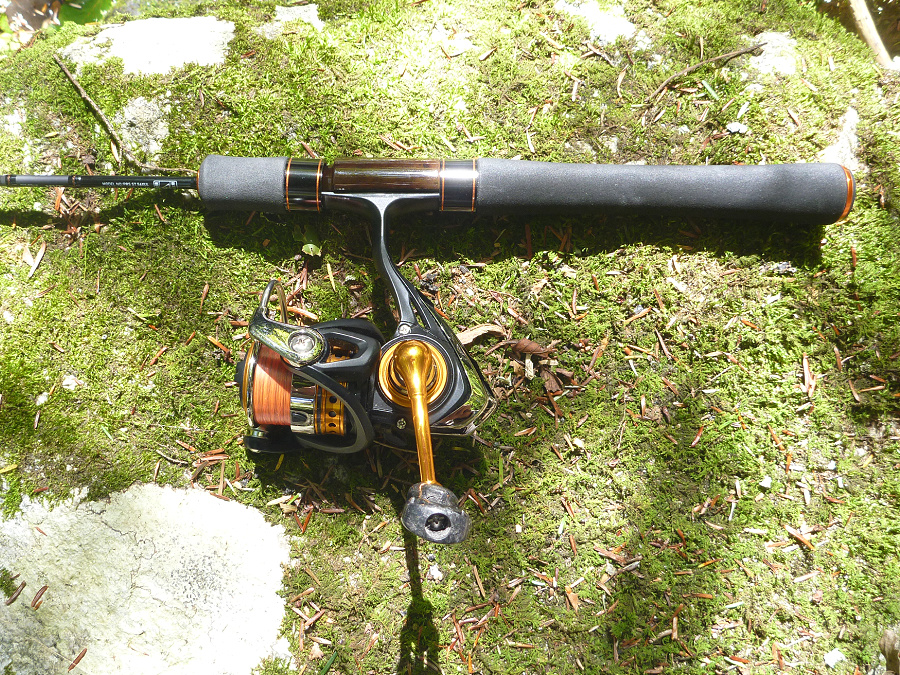 "Need" might be a little too strong a word (but only a little). However, I think this is as close to the ideal small stream rod as I have yet seen. I knew I wanted one long before I learned Daiwa was going to make one.
Daiwa Presso ST

Model
Type
Tip
Length
Sections
Breakdown
        Length
Rod Weight
Line Weight
Lure Weight
Price
Presso ST 56XUL
Area (lake)
Tubular
5'6"
2

34.25"
2.2 oz
1.5 - 3 lb
1/70 - 1/10oz (.4 - 3g)
$245
Made in China
Presso ST 53XUL-4
Area (lake)
Tubular
5'3"
4

17.5"
2.2 oz
1.5 - 3 lb
1/70 - 1/10oz (.4 - 3g)
$275
Made in China
---
Shipping
Domestic shipping is $10 via USPS Priority Mail (2-3 day delivery).
Please note: All packages are shipped via USPS. If you have a PO Box, please list ONLY the PO Box in your address, not the PO Box and your street address.
The charge for international shipping depends on the destination country, the weight of the package, the overall length of the package and the value of the package. Packages under 24" long and under $400 in value will go via USPS First Class International. Packages over 24" or over $400 will go via USPS Priority Mail International. The International shipping charge will be calculated at checkout.

Import Duties and Taxes

International purchases may be subject to import duties and taxes. I cannot keep track of all import regulations in all countries written in all languages. Understanding and paying import duties and taxes is the responsibility of the buyer.
Finesse-Fishing.com no longer ships to the UK. The new VAT regulations are too onerous for a one-man shop that rarely ships anything to the UK anyway. I apologize.
---
Home > Finesse Spin Fishing > JDM Spinning Rods > Daiwa Presso ST

---
The hooks are sharp.
The coffee's hot.
The fish are slippery when wet.
---