Trip Report - 10-14-17

Very recently I received two Area Bum rods from Daiwa, the 4-piece 60XUL-4 and the extra, extra ultralight 56XXUL-S. On Sunday I took the 60XUL-4 out for a spin.
We don't have many pay-to-fish lakes in the US, but we have lots of lakes and untold miles of streams that are stocked with trout - as are the "Areas" in Japan. Most probably aren't stocked as heavily, or with fish that are quite as large, but then most aren't quite as pressured either.
The spinning rods designed for Areas are softer and more full flex than the rods designed for use in rivers, where currents and snags put a premium on quickly controlling the fish. In the Areas, which see lots of fishing pressure, anglers have gone to smaller lures and thinner lines - and consequently, softer rods capable of casting light lures and protecting light lines.
The Daiwa "Area Bum" rods are their middle range of rods designed for fishing Areas - nicer (and more expensive) than the Iprimi rods but not as nice (or as expensive) as the Presso series. It is truly unfortunate that Daiwa chose to use the Presso name for a series of relatively inexpensive rods designed for the US market. The rods are absolutely not the same! That's a story for another day, though.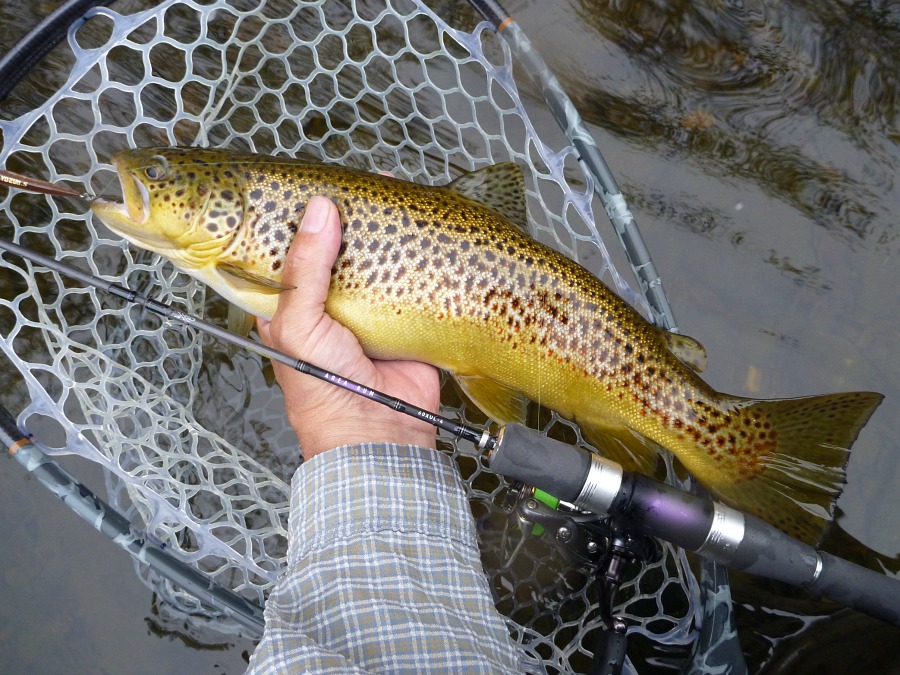 Daiwa Area Bum 60XUL-4 rod, Daiwa Luvias 1003 reel, Sunline Troutist Wild 2.5lb line, Yo-Zuri Pins Minnow.
Although the Area Bum rods are relatively soft, full flex rods designed for light lines (3lb max), they are quite capable of landing very nice fish as long as you don't have to battle the current as well as the fish (and as long as you have a reel with a nice drag, like the Daiwa Luvias 1003). For anglers who prefer the feel of a more standard spinning rod grip to the shaped minimalist grip used on Daiwa's Iprimi rods, the Area Bum would be a great choice for fishing lakes or rivers with gentle current.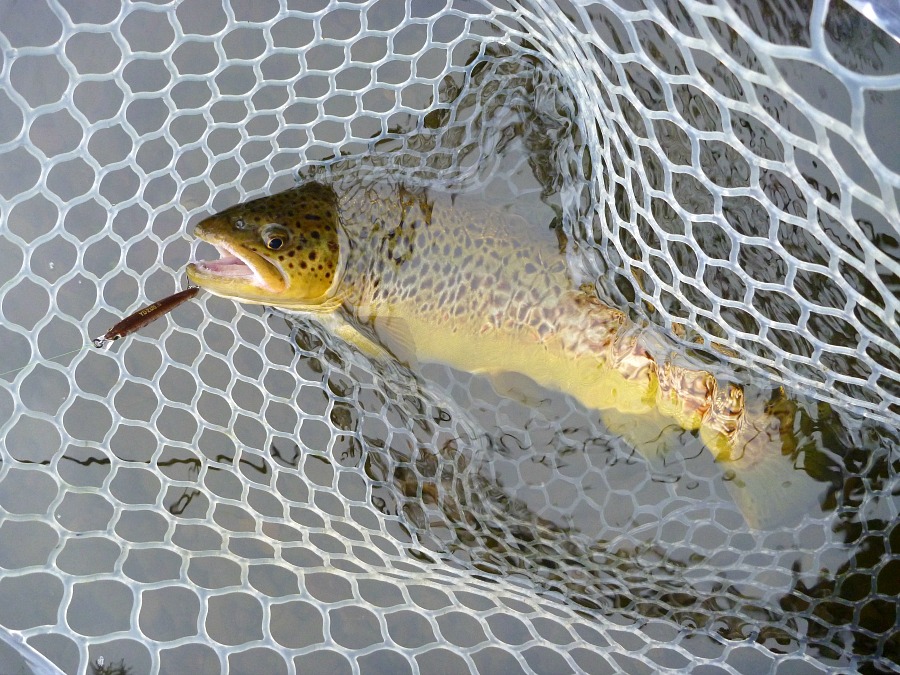 Yo-Zuri Pins Minnow (single hook)
Sunday was also my fist chance to use the single hook version of the Yo-Zuri Pins Minnow. Duel, which makes the Yo-Zuri lures, has sadly been discontinued the singler hook version, but it is easy enough to remove the front treble and replace the rear treble.  The Yo-Zuri 50 Pins Minnows are just 2" long and weigh just 2 grams (about 1/16 oz). The Area Bum rod had no problem casting the light lure. Actually, the Area Bum 60XUL-4 is rated for lures as light as .6 gram, so it should do quite well with either the Daiwa Presso Vega spoons (.8g) or the lightest Owner JH-85 jig heads with the 1.3" Owner Pin Minnow, which together weigh one gram. For this trip I just used the Yo-Zuri Pins Minnow with the rod, though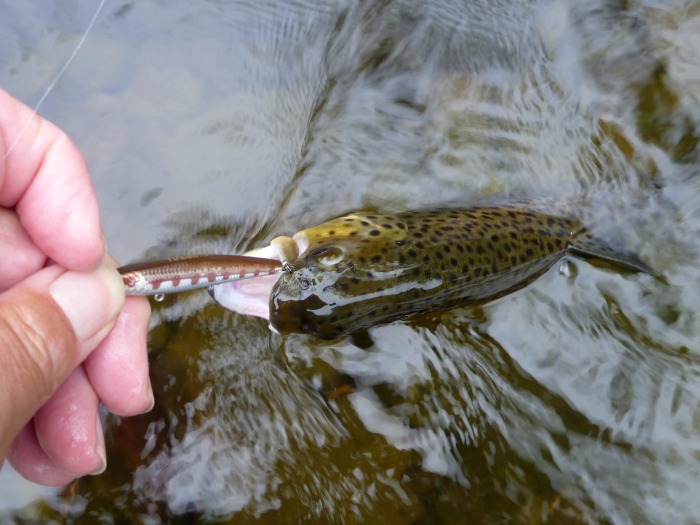 Yo-Zuri Pins Minnow (single hook)
Sunday was my second time out with the Daiwa Wise Stream 45ULB-3 baitcaster and SS Air reel. With light line (Varivas Bait Finesse Nylon 2.5lb) I was able to cast the 1/16 oz Yo-Zuri Pins Minnow (single hook). Not very far, to be sure, but far enough to catch fish!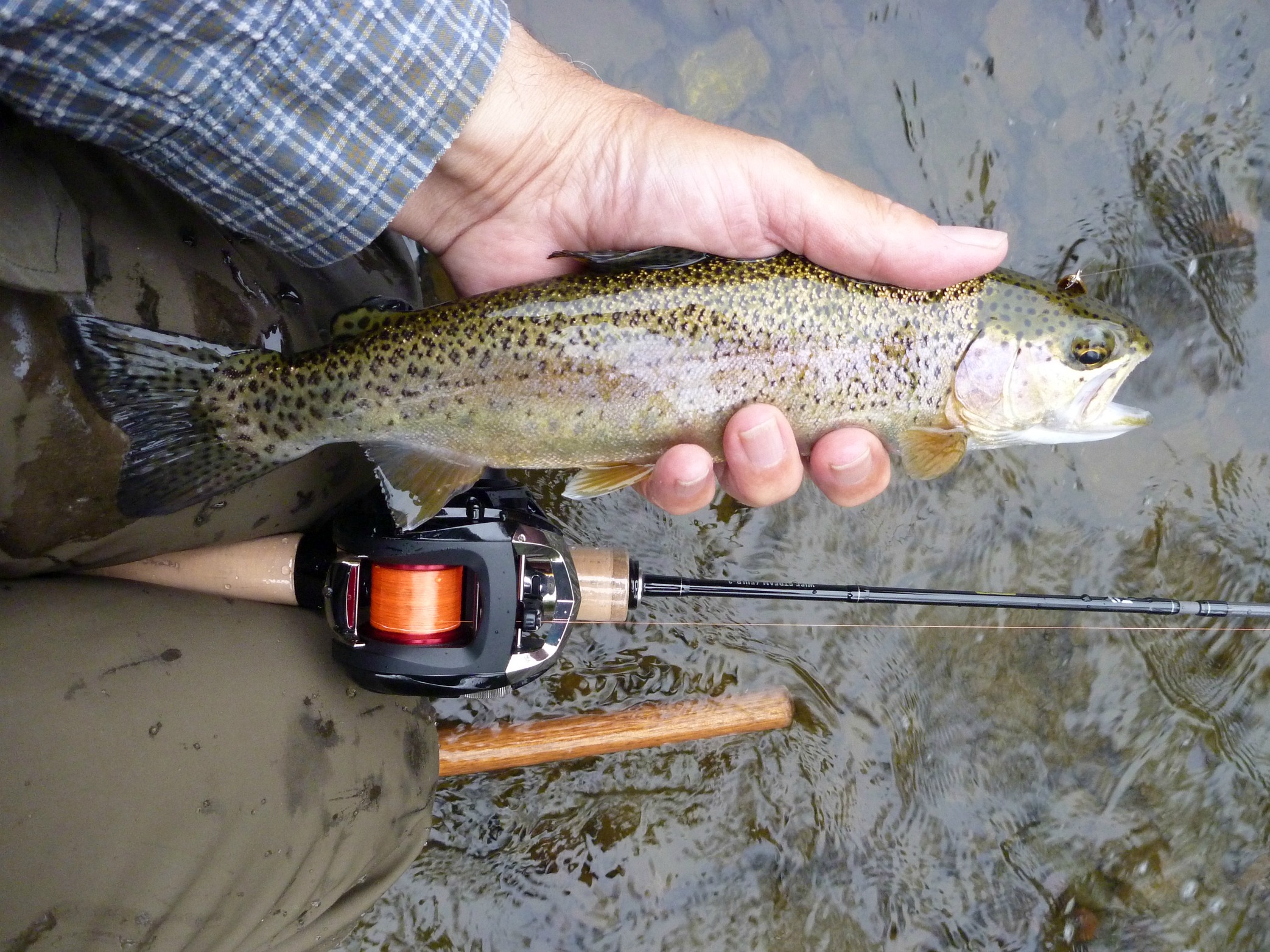 Daiwa Wise Stream 45ULB-3 rod, Daiwa SS Air reel, Varivas 2.5lb Bait Finesse Nylon line, Daiwa Crusader 2.5g spoon
I had found a "honey hole" where a short section of riffles dumped into a deep pool alongside a downed tree. Casting Daiwa Crusader 2.5g spoons (which cast much better than the Pins Minnow because they are so much denser even though they are just .5g heavier) I was able to catch quite a few fish in that one pool. I didn't count, but it was easily over five fish. I am continually impressed by how well the Crusader spoons work.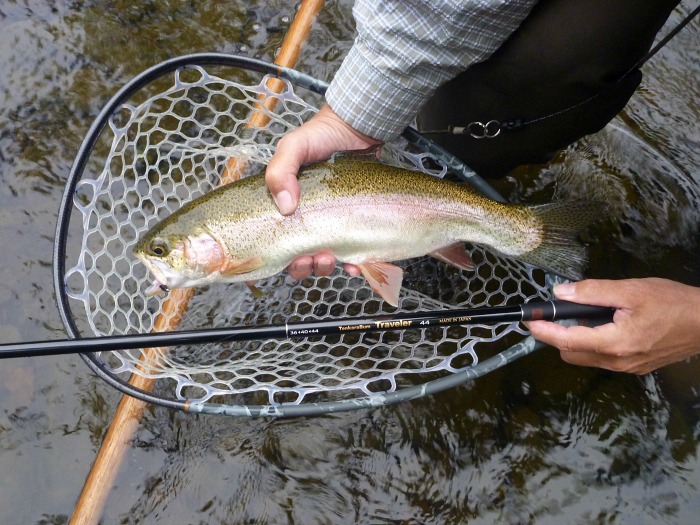 Suntech TenkaraBum Traveler 44 rod, Sanyo Valcan size 2.5 line, Black Killer Bugger size 12 fly
I don't write much about tenkara or keiryu fishing on the Finesse-Fishing site (the TenkaraBum.com site has much more coverage), but if you are fishing with a fly, a tenkara rod or keiryu rod is capable of much greater finesse than you can achieve with a standard fly rod. I ended the day fishing with the new TenkaraBum Traveler 44, which is a keiryu rod that is adjustable for length (you can fish it as a 11'10", 13'2", 14'4" rod). Fishing the largest, deepest pool on the stream with a bead head Black Killer Bugger yielded the nicest fish of the day.

---
The hooks are sharp.
The coffee's hot.
The fish are slippery when wet.
---