Trout Baitcasting Rods

Trout baitcasting rods are an outgrowth of the Bait Finesse System (BFS), which allowed bass anglers to cast light lures accurately with baitcasters. It did not take long for Japanese anglers to adopt BFS reels for trout fishing, and rod manufacturers were not far behind that. There are now a number of excellent trout baitcasting rods that can handle light lines and light lures.
To reiterate a point made on the BFS page, purists consider BFS to be specifically a bass fishing method. BFS reels, for example the Shimano Calcutta Conquest BFS, can be used quite effectively for trout. BFS rods, though, - rods that have BFS written on the rod - are bass rods and will be too stiff for trout fishing. The Japanese companies who make baitcasters for trout fishing call them "trout" rods, not BFS rods. (Trout rods are broken down into spinning and bait, or S and B or BC.) Thus, while you can refer to all the baitcasting reels on this site as BFS reels, to be precise, the rods on this site are trout baitcasting rods, not BFS rods.

As with spinning rods, JDM baitcasting rods for trout can be divided into rods for stocked trout in Areas (managed pay-to-fish ponds) and wild (native) trout in mountain streams. In a sense, the two different rod classes illustrate the two different sides of the finesse coin - micro lures and ultra light lines in the Areas, and extremely accurate casting in the mountain streams.


There will be a gap. It is supposed to be like that.
For any of the rods sold on Finesse-Fishing.com, when you put the sections together there will be a gap. It is supposed to be like that. Please don't force it.

Trout Baitcasting Rods - Wild Trout
---
Shimano
Shimano makes the Cardiff NX rod for wild trout. For anglers who love to fish the little blue lines, the Cardiff baitcaster comes in a convenient 4'8" length. Even better, it is a 4-piece rod so it will fit in or on a backpack rather than towering over your head as you hike in and out.
Model
Type
Length
Sections
Breakdown
       Length
Rod Weight
Line Weight
Lure Weight


Cardiff NX B48UL-4
Wild (stream)
4'8"
4

15 5/8"
2.7 oz
2 - 6 lb
1 - 7 g (1/32 - 1/4 oz)
Made in Indonesia

---
Tenryu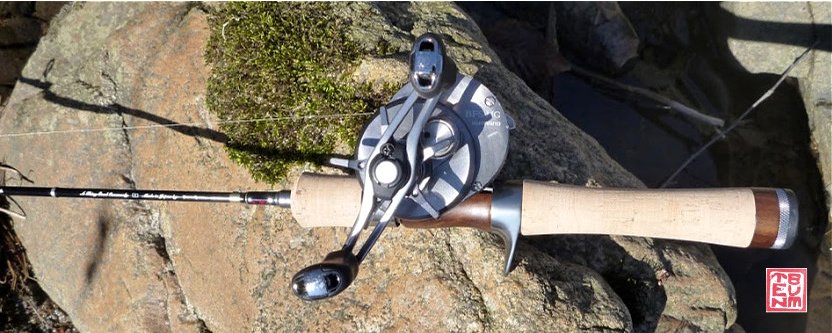 Tenryu Rayz RZ4102B-UL (reel not included)
The Tenryu Rayz baitcasting rods are just beautiful rods, and to my eye are even nicer than their spinning rods. If there was ever a rod that just cried out for the Shimano Calucutta Conquest BFS reel, this is the rod that does!
Tenryu indicates that the ultralight rod was optimized for 3 gram spoons and spinners, although it is rated for lures up to 6 grams. I had kept one of the earlier models (RZ53UL-BC) for myself, and can attest that it worked very nicely with 2.5 and 3 gram spoons, but was not at all overburdened with 5g sinking minnow plugs.
Model
Type
Length
Sections
Breakdown Length
Rod Weight
Line Weight
Lure Weight
Price
RZ4102B-L - USED
Wild (stream)
4'10"
2
30"
2.9 oz
Max 4 lb
Max 6 g (just under 1/4 oz)
$300 ($465 when new)
Made in Japan
---
Shipping
Domestic shipping is $12.50 for three-piece or four-piece rods, via USPS Priority Mail. Domestic shipping for two-piece rods is $15.50, via UPS ground. The shipping charge will be added to your order automatically.
Please note: UPS will not deliver to a PO Box. If you order a two-piece rod please provide a street address rather than a PO Box address.

International shipping is by USPS First Class Mail International if the value of the order is under $400 AND the package is shorter than 24". If the value is over $400 OR the package is longer than 24", shipping is by USPS Priority Mail International. The shipping charge depends on the destination, weight, length and value of the package.
Import Duties and Taxes

International purchases may be subject to import duties and taxes. I cannot keep track of all import regulations in all countries written in all languages. Understanding and paying import duties and taxes is the responsibility of the buyer.
Russia
Finesse-Fishing.com no longer ships to Russia.

UK

Finesse-Fishing.com no longer ships to the UK. The new VAT regulations are too onerous for a one-man shop that rarely ships anything to the UK anyway. I apologize.

---
---
The hooks are sharp.
The coffee's hot.
The fish are slippery when wet.
---