Trout Baitcasting Rods

Trout baitcasting rods are an outgrowth of the Bait Finesse System (BFS), which allowed bass anglers to cast light lures accurately with baitcasters. It did not take long for Japanese anglers to adopt BFS reels for trout fishing, and rod manufacturers were not far behind that. There are now a number of excellent trout baitcasting rods that can handle light lines and light lures.
To reiterate a point made on the BFS page, purists consider BFS to be specifically a bass fishing method. BFS reels, for example the Shimano Calcutta Conquest BFS, can be used quite effectively for trout. BFS rods, though, - rods that have BFS written on the rod - are bass rods and will be too stiff for trout fishing. The Japanese companies who make baitcasters for trout fishing call them "trout" rods, not BFS rods. (Trout rods are broken down into spinning and bait, or S and BC.) Thus, while you can refer to all the baitcasting reels on this site as BFS reels, to be precise, the rods on this site are trout baitcasting rods, not BFS rods.

As with spinning rods, JDM baitcasting rods for trout can be divided into rods for stocked trout in Areas (managed pay-to-fish ponds) and wild (native) trout in mountain streams. In a sense, the two different rod classes illustrate the two different sides of the finesse coin - micro lures and ultra light lines in the Areas, and extremely accurate casting in the mountain streams.


There will be a gap. It is supposed to be like that.
For any of the rods sold on Finesse-Fishing.com, when you put the sections together there will be a gap. It is supposed to be like that. Please don't force it.

Trout Baitcasting Rods - Wild Trout
Tenryu
Wild trout rods offer a wide range of rod lengths, from rods under 5' designed for smaller mountain streams up to rods over 8' long for big fish in wide rivers. At least for now, Finesse-Fishing.com will concentrate on the shorter models for smaller streams.
Daiwa and Shimano offer baitcasting rods for trout but I have to admit I am drawn to the Tenryu Rayz models. Tenryu is a name not well known in the US, at least not yet, but their rods are well known in Europe, and of course, in Japan. I started importing their tenkara rods a few years ago and have been very impressed with the quality. Not only are the blanks and actions excellent, the fit and finish are absolutely unsurpassed.
Tenryu Rayz RZ542B-L
The Rayz RZ4102B-UL and RZ542B-L, newly introduced in 2020, are upgrades to the Rayz models pictured below. The new rods are a little firmer, a little faster, and few inches shorter than the previous models. I loved my RZ53UL-BC but I can tell the new RZ4102B-UL is a lot nicer.

Tenryu is a small company and they have only one production run per year for their trout rods. I try to forecast demand for the entire year, but if (when) I run out of stock it may be months before I can get more. Each year I've had the Tenryu baitcasters, I've run out before the end of the year. This year, I've ordered more than ever before, including their new, top-of-the-line Rayz Spectra RZS51LL-BC. The Tenryu LL designation is between L and UL.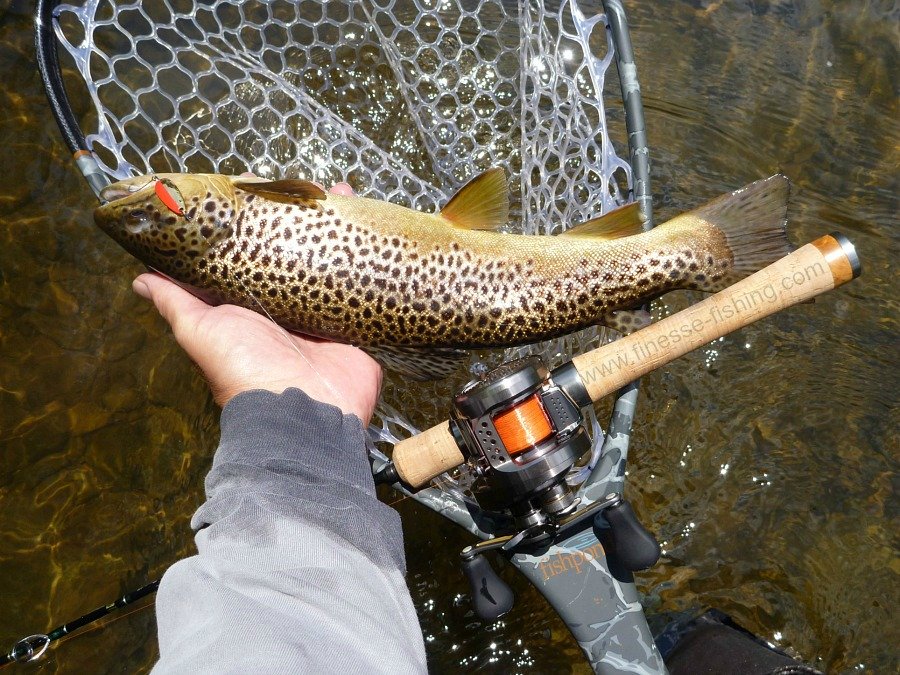 Tenryu RZ53UL-BC, Calcutta Conquest BFS HG reel, 2.5g Daiwa Crusader spoon
Tenryu's trout baitcasting rods are rated for a wide range of lure weights, 1 - 6 g  (1/32 - 1/5 oz) for the RZ4102B-UL,  2 - 8 g (1/16 - 1/4 oz) for the RZ542B-L and 1 - 8 g for the RZS51LL-BC. That is both as light and as heavy as you are likely going to want to use for either trout or panfish.Their light and ultralight baitcasters are probably the nicest you will find anywhere.

Tenryu Rayz RZ53UL-BC, Shimano Aldebaran BFS XG, 18" smallmouth bass.
And although they are trout rods, even the UL rods can handle modest bass. Their 7'1" MLM (medium light medium and 7'5" M rods, designed for Japanese sea-run trout and salmon, would be ideal for our steelhead and lake run browns.
Click here for more information about the Tenryu Baitcasters.

---
Shimano
Shimano makes Cardiff Native Special rods for wild trout. For anglers who love to fish the little blue lines, the Cardiff baitcasters come in 4'2" and 4'7" lengths. Even better, they are 3-piece rods so they will fit in or on a backpack rather than towering over your head as you hike in and out.
Before Shimano released the 3-piece Cardiff Native Series rods, my "go to" backpacking baitcaster was the Daiwa Wise Stream ULB-3. The Cardiff rods are a bit softer, making them a better choice for fishing smaller lures.

Either of the Cardiff trout baitcasting rods will do very nicely when matched with one of the Shimano BFS reels.
Shimano's CI4+ "fighting grip" is a proprietary carbon reinforced resin that is lighter and stronger than conventional resin.
Model
Type
Length
Sections
Breakdown
       Length
Rod Weight
Line Weight
Lure Weight
Price
Cardiff NS B42UL-3
Wild (stream)
4'2"
3

18"
2.6 oz
2 - 6 lb
1 - 7g  (1/32 - 1/4 oz)
$385


Cardiff NS B47UL-3
Wild (stream)
4'7"
3

19.7"
2.7 oz
2 - 6 lb
1 - 7g  (1/32 - 1/4 oz)
$390


---
Daiwa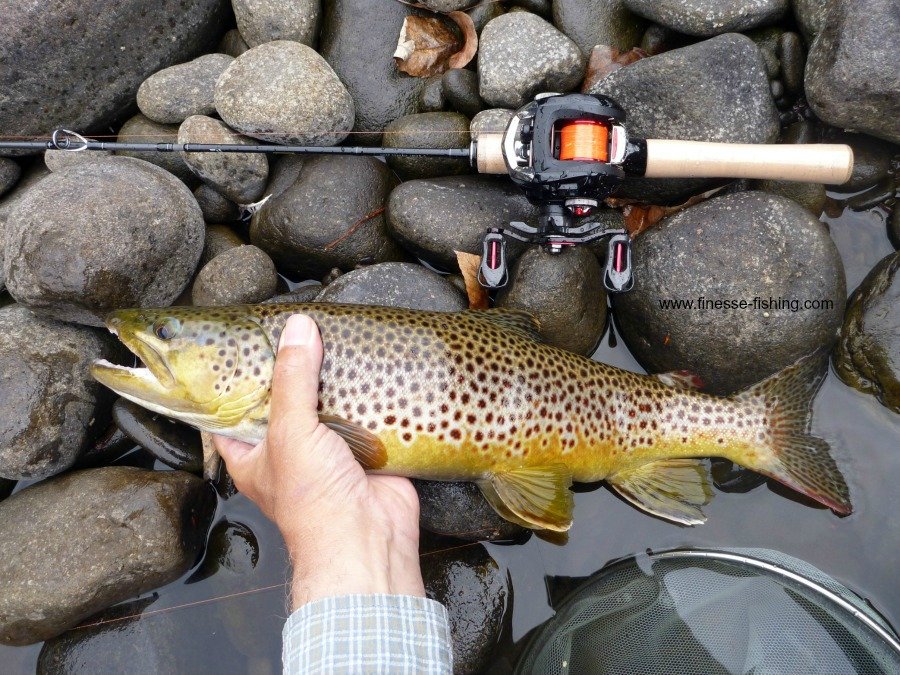 Daiwa Wise Stream 45ULB-3, Daiwa SS Air 8.1L
Daiwa's Wise Stream 45ULB-3 is another 3-piece ultralight baitcaster that packs down easily. The Wise Stream rods are a bit stiffer than the Cardiff rods, so if the streams you hike to hold 20 inch browns, it may be the rod you want. If you want a longer rod for wider streams and slightly heavier lures, consider the Wise Stream 62LB-3

Model
Type
Length
Sections
Breakdown
       Length
Rod Weight
Line Weight
Lure Weight
Price
45 ULB-3
Wild (stream)
4'5"
3

19 1/4"
2.5 oz
2 - 6 lb
1.5-7g (1/16-1/4oz)
$215
Made in Vietnam
---
Shipping
Domestic shipping is $10 via USPS Priority Mail (2-3 day delivery).
Please note: All packages are shipped via USPS. If you have a PO Box, please list ONLY the PO Box in your address, not the PO Box and your street address.
The charge for international shipping depends on the destination country, the weight of the package, the overall length of the package and the value of the package. Packages under 24" long and under $400 in value will go via USPS First Class International. Packages over 24" or over $400 will go via USPS Priority Mail International. The International shipping charge will be calculated at checkout.

Import Duties and Taxes

International purchases may be subject to import duties and taxes. I cannot keep track of all import regulations in all countries written in all languages. Understanding and paying import duties and taxes is the responsibility of the buyer.
Finesse-Fishing.com no longer ships to the UK. The new VAT regulations are too onerous for a one-man shop that rarely ships anything to the UK anyway. I apologize.
---
The hooks are sharp.
The coffee's hot.
The fish are slippery when wet.
---