Tenryu Rayz Baitcasting Rods
The Tenryu Rayz baitcasting rods are just beautiful rods, and to my eye are even nicer than their spinning rods. If there was ever a rod that just cried out for the Shimano Calucutta Conquest BFS reel, this is the rod that does!
The Tenryu Rayz baitcasting rods were redesigned for the 2020 model year. The new Rayz models are a step closer to the premium Spectra rods. The blanks are both firmer and faster than the original Rayz rods, which has made the rods more accurate. The carbon/glass percentage has been changed, with most of the old Rayz rods being 85% carbon and 15% glass and the new Rayz rods being 92 to 96% carbon, depending on the model.
2020 RZ542B-L (top)
2019 RZ56L-BC (bottom)
The new Tenryu Rayz baitcasting rods are shorter than the comparable original Rayz models. The "Light" rod for 2020 is 5'4" compared to 5'6" in the original Rayz. As the photo above illustrates, most of the length reduction is in the grip behind the reel seat. You don't need a two-handed grip to cast a 5'4" rod, so you don't need much length behind the reel seat.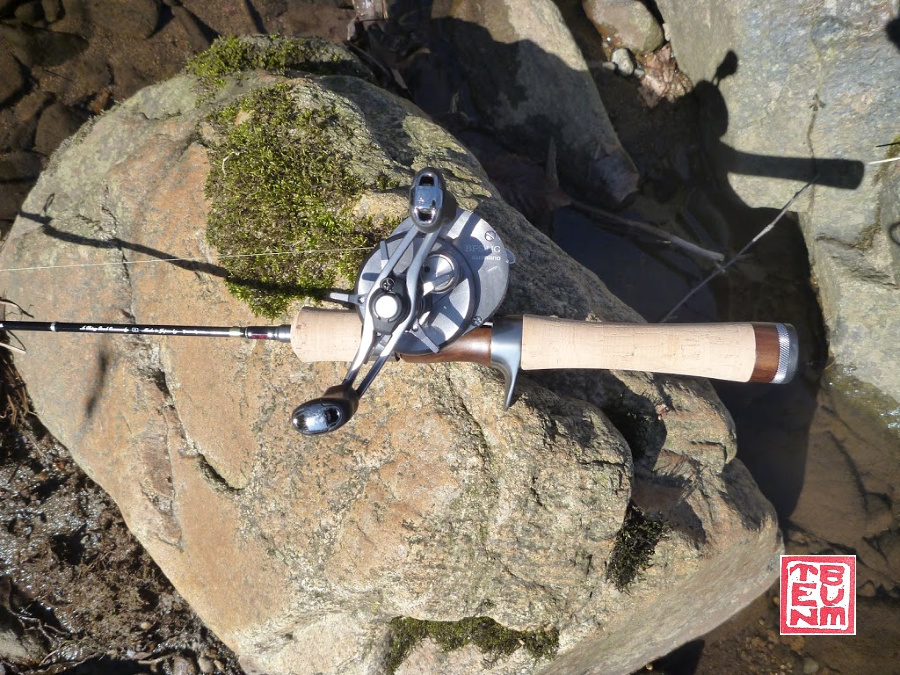 2020 Tenryu Rayz RZ4102B-UL
The Ultralight rod for 2020 is 4'10", five inches shorter than last year's model. I think that will be welcomed by small stream anglers. It has the same shorter grip as the Light rod, but the business end is a few inches shorter also, which will make the rod a bit more convenient for narrow streams and for underhand flip casts.
Tenryu Rayz RZ53UL-BC
Calcutta Conquest BFS HG

Tenryu Rayz RZ53UL-BC
Aldebaran BFS XG

Tenryu Rayz RZ53UL-BC
Calcutta Conquest BFS HG

Tenryu Rayz RZ53UL-BC
Alphas Air Stream Custom
The rod specs for the Ultralight and Light rods are unchanged from last year. As the photos above show, last year's Ultralight rods were not limited to tiny trout!
For the  new models, though, Tenryu gives a bit more information, suggesting that the Ultralight rod was optimized for 3 gram spoons and spinners, while the Light rod was optimized for sinking minnow plugs up to 5 grams or spoons up to 8 grams. I had kept an RZ53UL-BC for myself, and can attest that it worked very nicely with 2.5 and 3 gram spoons, but was not at all overburdened with 4.5g sinking minnow plugs.
I think I would key on the 4.5g weight to determine whether to get the UL or L rod. If you fish with lures of 4.5g and under, get the UL. If over 4.5g get the L.

For bigger water and bigger fish, there is also a 7'1" Medium Light Medium (between Light and Medium) optimized for 7 cm minnow plugs up to 10 grams, and spoons up to 14 grams.

Tenryu Rayz RZ542B-L
Model
Type
Length
Sections
Breakdown
Length
Rod Weight
Line Weight
Lure Weight


RZ4102B-UL
Wild (stream)
4'10"
2

30"
2.9 oz
Max 4 lb
Max 6 g (just under 1/4 oz)
Made in Japan
RZ542B-L
Wild (stream)
5'4"
2

33"
3.1 oz
Max 6 lb
Max 8g (just over 1/4 oz)
Made in Japan
---
---
Tenryu Rayz Spectra RZS51LL-BC

Tenryu Rayz Spectra RZS51LL-BC
Tenryu has introduced a baitcaster to its line of super premium Spectra rods. (They are named "Rayz Spectra," but for the sake of simplicity, I will just call them "Spectra.") Built on the same blank as the widely acclaimed RZS51LL spinning rod, the Spectra baitcaster provides the same action and precision to BFS fans. The LL stands for Light Light, which is between Light and Ultralight.

I have not fished the new rod. Tenryu rods have shrink wrap over their reel seats so I can't even make a few casts in the park unless I decide to keep the rod for myself and remove the shrink wrap. I had already decided to keep one of the Rayz RZ4102B-UL rods, and while I'd like to have both I can't really justify it.
Tenryu Spectra and Shimano Calcutta Conquest. What a great combination!
To get a sense of what the Spectra baitcaster would be like, I did put one of my BFS reels on my RZS51LL spinning rod. Wow! What a nice rod. I have since gotten confirmation from a guy who may be as crazy as I am (he did the same with his Spectra spinning rod). He then ordered the Spectra baitcaster and confirmed that it is indeed as good as I thought it would be..."the accuracy is amazing and so smooth."
Tenryu says that the Spectra RZ51LL-BC is a rod for experts. It is just a little bit stiffer and just a little bit faster than the 2020 Rayz models. The rod's designer told me that with the Rayz models it was a little easier to feel just when to release the lure but the Spectra would deliver more accuracy. For expert anglers fishing mountain stream bait finesse, accuracy is key.
UPDATE: Having fished with the Spectra RZS51LL-BC and the Rayz RZ4102B-UL back to back (Trip Report 5-12-21) I decided to buy the Spectra and sell the Rayz. The primary reason for the decision is that the Spectra spinning rod and baitcaster are built on the same blank, so the familiarity with the "feel" when casting one would transfer to the "feel" of casting the other. In my hands, the Rayz is better than the Spectra at fishing very light lures, but to be brutally honest about it, the Spectra spinning rod is much better at light lures than the Rayz baitcaster. For light lures, I'll use the Spectra spinning rod and for heavier lures I'll use the Spectra baitcaster.
Model
Type
Length
Sections
Breakdown Length
Rod Weight
Line Weight
Lure Weight


RZS51LL-BC
Wild (stream)
5'1"
2
31 1/4"
2.5 oz
1 - 5 lb
1 - 8 g (about 1/32 - 1/4 oz)
Made in Japan
---
---
Tenryu Rayz Integral RZI484B-UL

For years, literally, I asked Tenryu to make a baitcaster using the 4-piece Rayz Integral RZI50UL spinning rod blank. I knew they were working on one but they never did release it.
However, to my surprise and delight, in 2023 they introduced a 4-piece baitcaster and a new 4-piece spinning rod built on the same, newly designed 4' 8" blank. In my last rod purchase from Tenryu (I really am retiring, I promise) I ordered one of each. I haven't fished either one yet (it's a long story which will have to wait for another time). It is a bittersweet development. I wish it had been earlier because I knew they would sell well, but I am so glad that it did in fact happen.


Tenryu Rayz Integral RZI484B-UL
The previous 4-piece RZI50UL-4 spinning rod, introduced in 2015, was softer than the 2-piece Rayz RZ53UL. I loved it for that reason in addition to the convenience of carrying a 4-piece rod in the woods rather than a 2-piece rod, which attached to my backpack would get caught in low overhead branches and the vines that cross some of the streamside trails in NY, which can be little more than deer trails.
The new model has ultra-low modulus carbon in the tip and 2nd sections, providing more flexibility to allow "casting with minimal motion." The description of the RZI484S-UL, the Ultralight spinning model, says the ultra-low modulus sections allow "snap casting" (maybe they've been reading my website). I am pretty sure that means it is more flexible than their current Rayz RZ4102B-UL.

The description also indicates that the Ultralight rods can handle lightweight plugs around 3g, spoons and spinners. It is hard to find plugs lighter than 3g anyway, but I am confident that the rods will handle spinners and spoons lighter than 3g!

Model
Type
Length
Sections
Breakdown
Length
Rod Weight
Line Weight
Lure Weight
RZI484B-UL
Wild (stream)
4'8"
4

15 1/4"
2.9 oz
Max 4 lb
Max 6 g (just under 1/4 oz)
Made in Japan
RZI484B-L
Wild (stream)
4'8"
4

15 1/4"
3.1 oz
Max 4 lb
Max 8g ( just over 1/4 oz)
Made in Japan
---
One last point - when you put the two sections together there will be a gap as shown in the photo below. That is normal. Don't force it.


There is supposed to be a gap. Don't force it.
---
Finesse-Fishing Home > Bait Finesse System > Tenryu Baitcasting Rods

---
The hooks are sharp.
The coffee's hot.
The fish are slippery when wet.
---