Daiwa Presso Vega Spoons
Update: Daiwa has discontinued the Vega spoons.
To replace the Daiwa Vega .4g spoons I have gotten in some .5g Blinde Flanker spoons from a small Japanese company called Rodio-craft. They are a little smaller than the Vega spoons but the metal is thicker. With the smaller size but slightly greater weight, they will fish a little deeper. Initial reports (and the number of repeat purchases) suggest that they work very well. Buy Blinde Flanker spoons.

---
The Daiwa Presso Vega spoons are tiny - less than 7/8 of an inch long. They come in three different weights: light, really light, and seriously light (actually, .8, .6 and .4 grams). They are all the same length and width - the heavier ones are stamped from slightly thicker metal. Most of the spinning rods I carry are rated for lures down to 1/32 oz, which is just barely heavier than .8 gram.  The Daiwa Iprimi 56XXUL-S is rated down to .4 gram, which is what first attracted me to the Vega spoons. The Shimano Soare CI4+ Ajing S408UL-S and Shimano Cardiff Exlead AT S57SUL/R-GS are also rated for lures as light as .4 gram, while the Tenryu RZA61L-T and RZA62UL-S are rated down to "almost zero."
The Daiwa rods are also rated for line as light as 1.5 lb, while the Shimano and Tenryu rods are rated for 1 lb line. The lightest lines I carry are the 2 lb Sunline Area Meister or 2 lb Sunline Darkness will work well enough for the .8g spoons. Casting distance with the .4g spoons is disappointing even with 2 lb line, though. I have since found that the .4g spoons cast very well with tenkara rods and would certainly cast well with fly rods.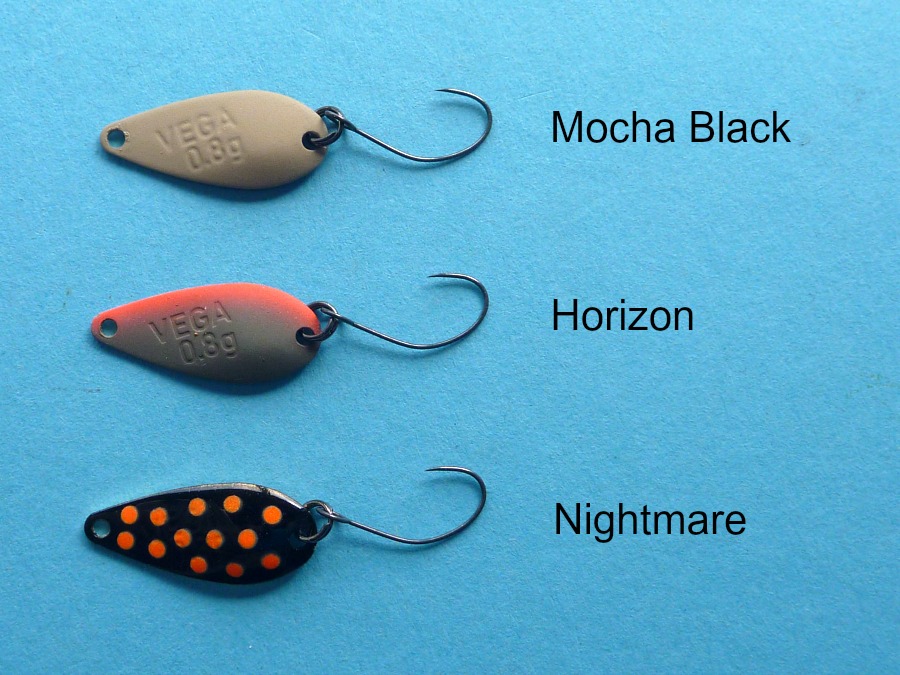 Intended for "area" fishing, the Daiwa Presso Vega spoons come with single barbless hooks.
The first time I used the Daiwa Presso Vega .8g spoons was with a 56XXUL-S and a Daiwa Iprimi 1003 reel spooled with 3# line. Before long, I respooled with 2# line, which I had brought with me just in case. I'm not at all good at judging the distance of a cast out into a lake. That said, I judged the distance with 3# line as "disappointing." With 2# line, I judged the distance as "adequate."
I shouldn't complain. I caught fish. "Adequate" really is adequate!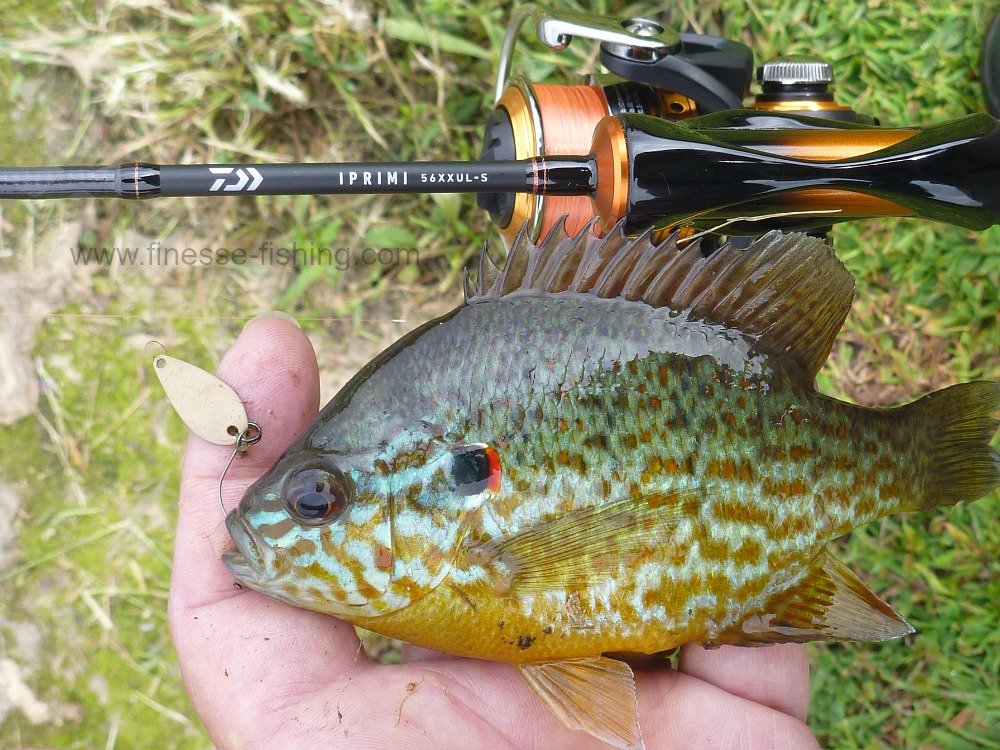 Daiwa Iprimi 56XXUL-S and pumpkinseed caught with a Daiwa Presso Vega "Mocha Black" spoon.
The front of the spoon is mocha, the back side is black.
After a while, Coach and I moved to a different spot, fishing a pretty small pond in an office park.  For this second pond I switched to a Tenryu Rayz Integral RZI50UL and a Shimano reel spooled with 3# line. There was an island that was close enough to one shore to give a better estimate of distance. In this smaller pond, and particularly between the shore and the island, the distance with the 3# line was adequate. I don't think the rod cast it any further, I think the smaller size of the pond changed my impression of what was adequate. A cast that might be disappointing on a pond might even be too long if you are fishing in a relatively small stream,  landing in the bushes on the far bank.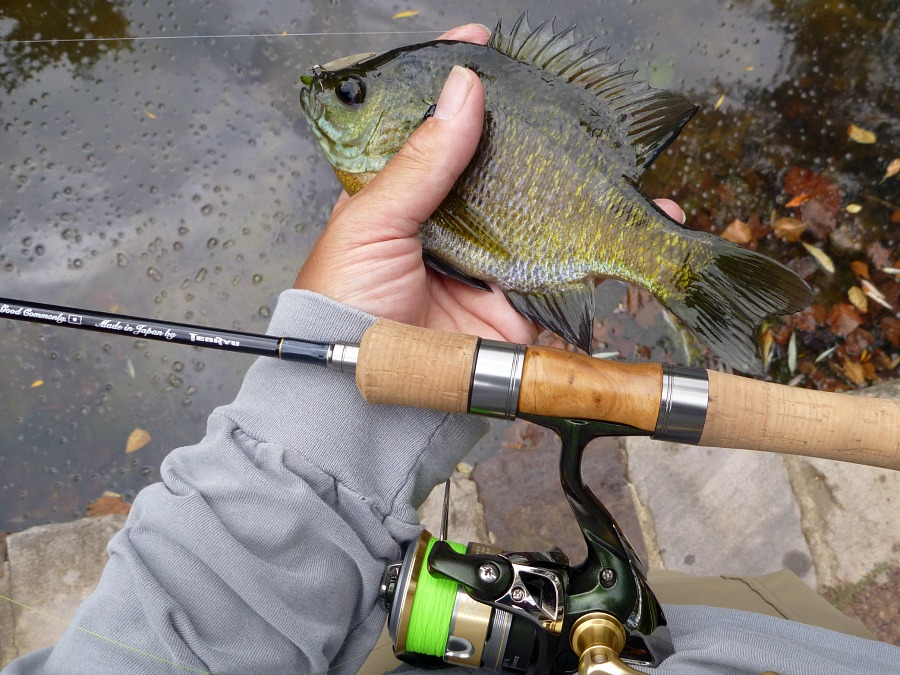 Tenryu Rayz RZ5OUL and Shimano Cardiff CI4+ C2000HGS.
Coach had said the bite had been disappointing for some time, so I didn't have high hopes for the day. I certainly did not expect a "many" day (based on the primitive counting system that consists of only four "numbers" - one, two, a few and many). Since I don't carry a clicker fish counter and I always lose track once I catch more than "a few", the simple counting system works for me.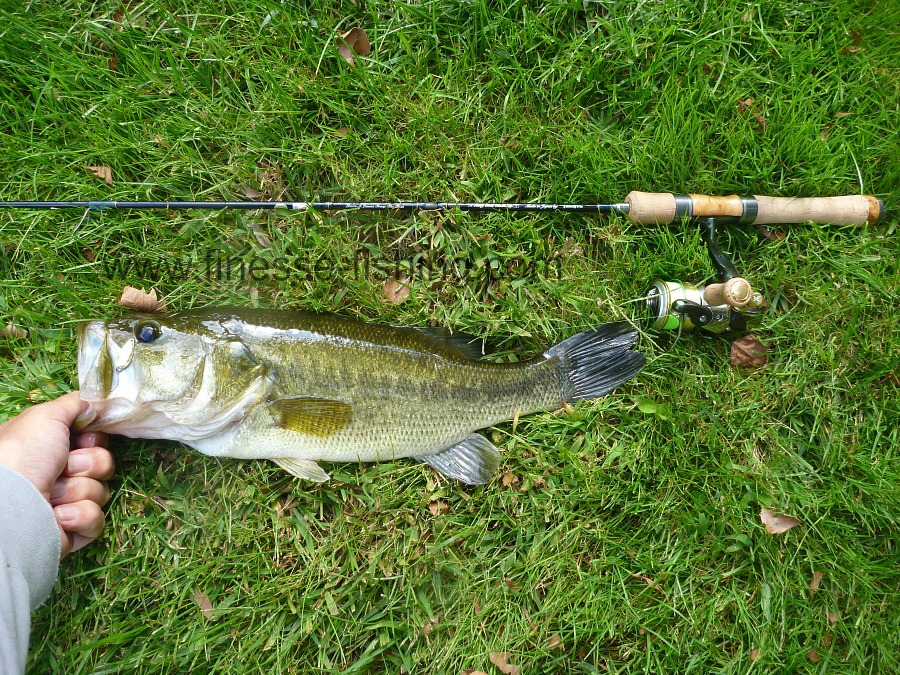 The largest fish of the day took a Presso Vega "Nightmare" spoon as soon as it hit the water.
As it turned out, it was a "many" day several times over. They weren't all bluegills but it was a bit surprising how much more aggressive the bluegills were towards the Vega spoons than they had been to the Crusader spoons, which are about 1/4" longer and 1/16" wider. They tended to just follow the Crusader spoons, while they slashed at the Vega spoons from the side and from below, as well as chasing them down from behind. One advantage to the Presso Vega spoons, at least with respect to bluegills, is that the spoon will wobble at a very slow retrieve, which the bluegills definitely preferred.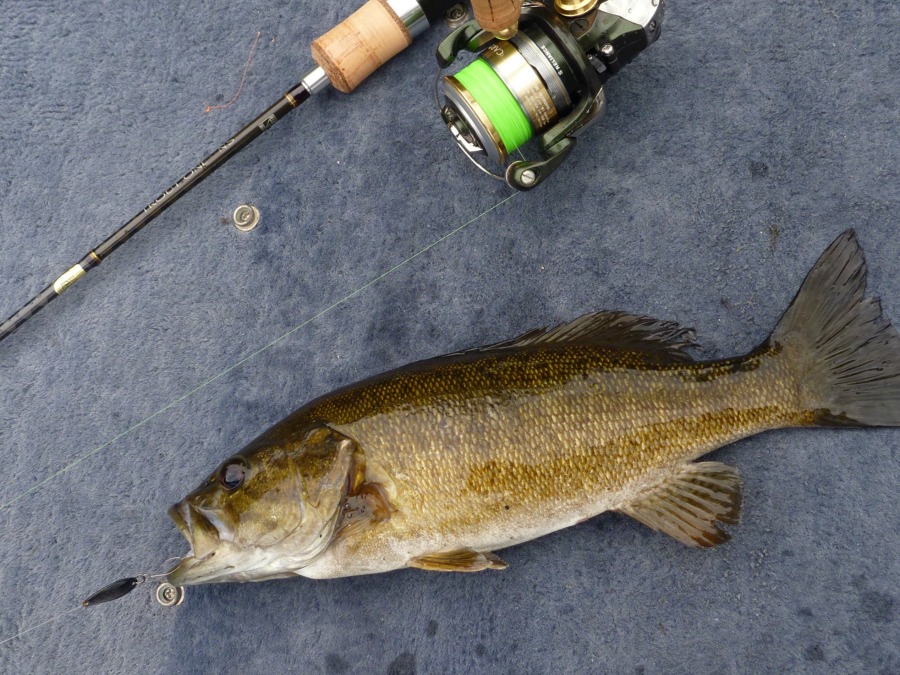 Smallmouths take the Vega spoons, too!
On a trip to Maine for smallmouth bass, I discovered (again) that a slow speed retrieve is preferred. After pretty poor results initially, I finally slowed the retrieve to the point where the spoon just barely wobbled. When subtle twitches are added with the rod tip, the spoon still has plenty of action but it still fishes very slowly  (and doesn't spin at all, causing no line twist.)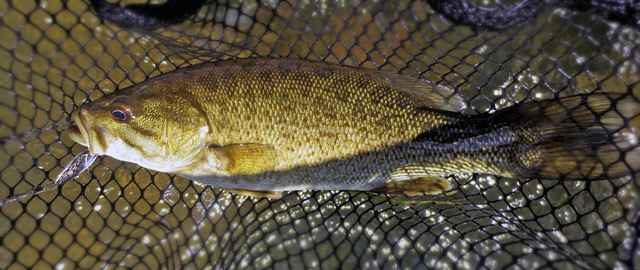 River smallie caught on Vega spoon. Robert L photo.
Robert L, who specializes in fishing for river smallies, reports that the 8 inchers will attack the .8g Vega spoons, but the 16 to 20 inchers just ignore them. Eight inch smallmouth bass, plus the creek chubs and rock bass he also caught will give you a lot of fun on a rod like the Daiwa Iprimi 56XXUL-S,  with which you probably don't want to fight a 20 inch smallie in current anyway! It's all about matching the rod, and the lure, to the fish you are after.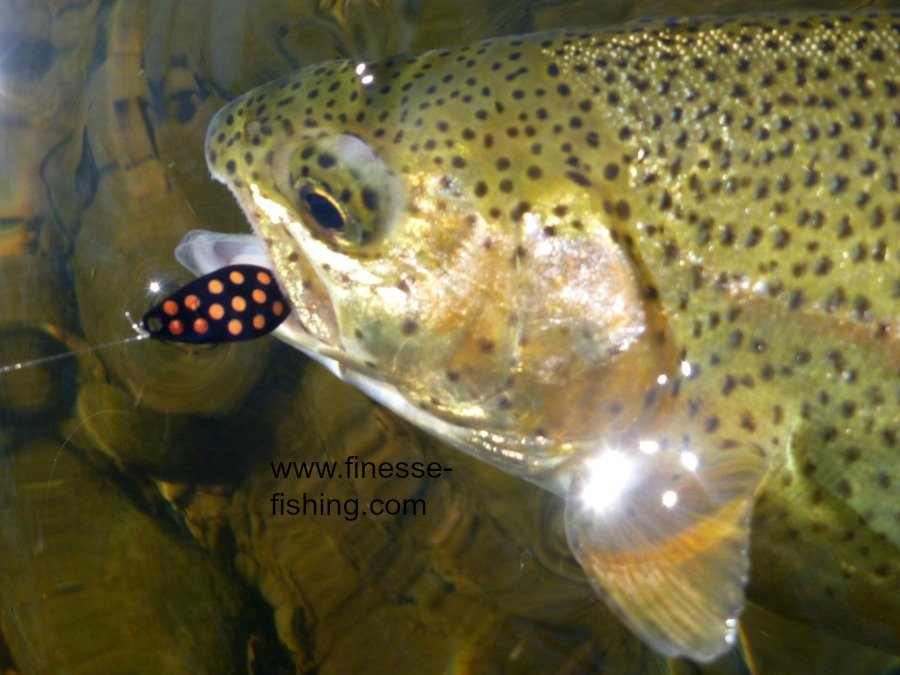 Vega spoons worked better than I had expected given their small size
Although I had initially purchased the Daiwa Presso Vega spoons for trout, I first used them on a warm water pond, where they worked quite well for bluegills. When I first tried them on a stream that with stocked trout, I found they worked well, certainly better than I had expected given their small size.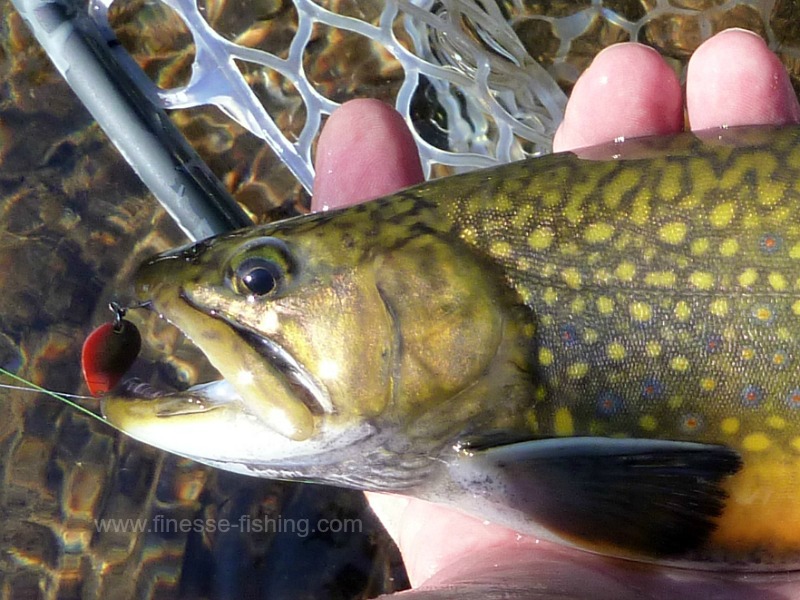 The brookies wouldn't leave the Vega spoons alone
Although most brookies in the east are pretty small, some pretty nice ones had been stocked in this particular stream. It turned out they wouldn't leave the little spoons alone, with several of them often chasing and attacking it at the same time.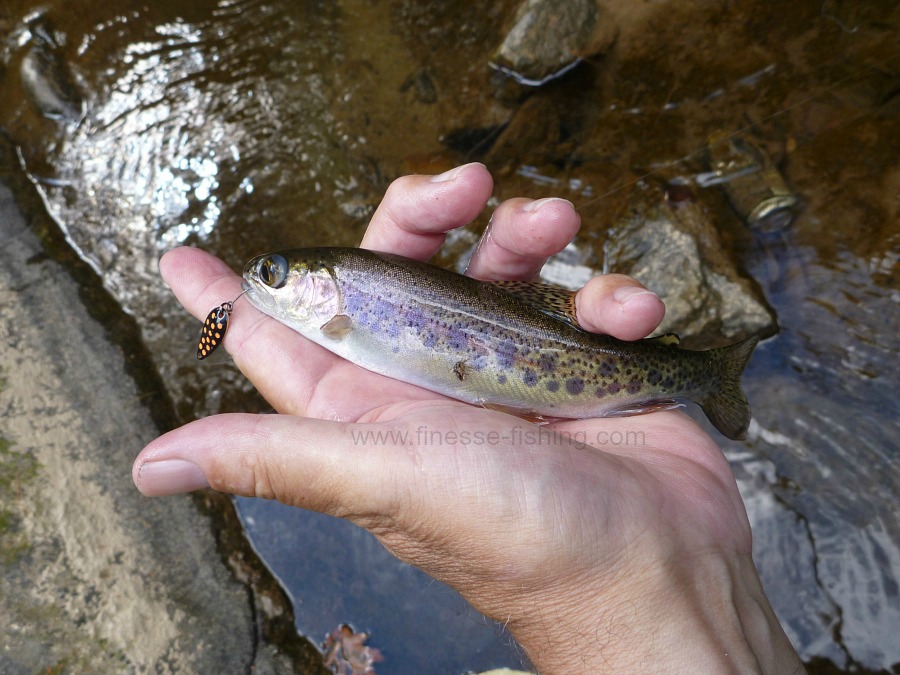 Small streams, small trout, small spoons!
Daiwa Presso Vega Spoons also proved to be effective for the little wild trout that I had thought would be the primary targets. Small streams, small trout, small spoons. This little wild Virginia rainbow just nailed it.
Vega .4g Spoons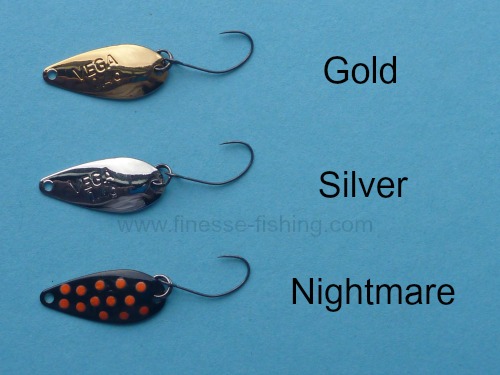 Daiwa Presso Vega Spoons
Actually, now that I have some of the .4g Vega spoons in stock (a few of which are shown above), I can admit the little wild Virginia rainbow  was caught with a TenkaraBum Traveler 39 keiryu rod rather than a spinning rod. The rod could cast the .8g spoon, but it was a bit jerky.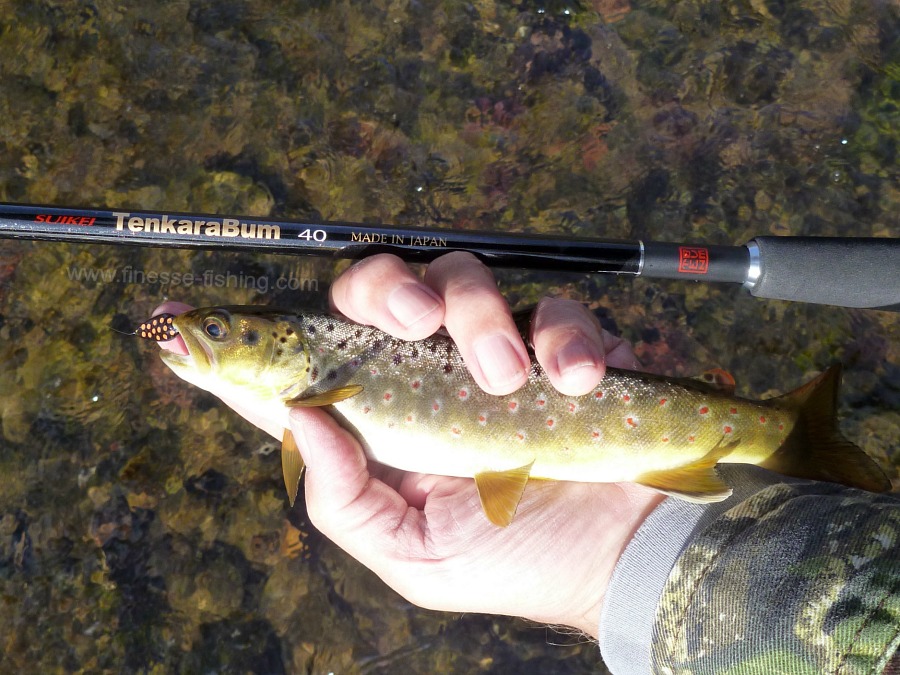 The .4g Vega spoons cast nicely with a tenkara rod
The .4g spoons cast much better than the .8g spoons when using a tenkara or keiryu rod. Using size 3.5 level fluorocarbon line they weren't particularly jerky. A size 4 line would smooth out the cast even more. I don't think the weight of the tenkara line is critical, though. On my last time out I used size 2.5 Sanyo Valcan line, which cast the .4g spoon just fine and was also stealthier than the hi-vis line. You will feel the strike, so line visibility is not an issue.

I am sure the .4g Daiwa Presso Vega spoons will also work very nicely as fly rod spoons, which used to exist and with which my father and I once had a banner day on the Frying Pan River in Colorado. Consider them an alternative to a streamer - a more effective alternative to a streamer!

I have caught trout with one of the .4g spoons on an ultralight spinning rod. However, for use with a spinning rod, even an extra extra ultralight like the Daiwa Iprimi or Daiwa Area Bum, I would recommend the .8g spoons instead. They are exactly the same size and .8g is easier to cast than .4g.
The real beauty of the Daiwa Presso Vega .4g spoons is that they are light enough to cast with a fly rod or tenkara rod. For that they actually work very nicely indeed - almost like a secret weapon. How many fly fishermen have a few streamers in their box. These work better than streamers! The wobble and flash just can't be duplicated with fur and feathers, or mylar and krystal flash for that matter.
And I have to say, it is truly surprising that large - or even very large - fish will take such a small spoon. The photo below is of a fish caught with a TenkaraBum 36 and a Vega 4g Nightmare spoon. Please look at the photo below very carefully. If you look closely you can see the Vega spoon that hooked the fish. Please keep in mind that the spoon is very nearly an inch long.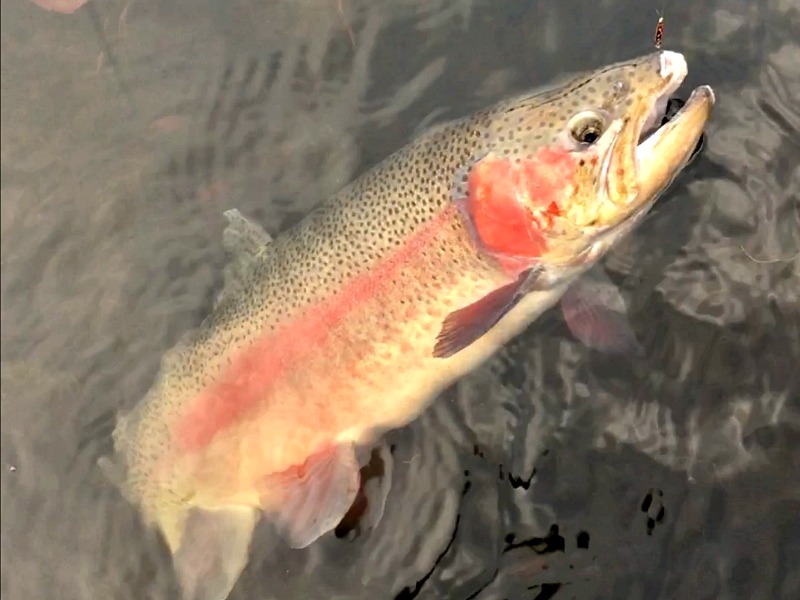 Small spoon, big fish!
Those Hooks are Sharp!

One last thought: It is a good thing the hooks are barbless because they are SERIOUSLY SHARP!
Be careful. Be very, very careful.
Every silver lining has a cloud, though, and that amazingly sharp hook is very light wire. It is intended for fishing in lakes (no current to fight) with ultralight lines (1.5-3#) and ultralight spinning rods and reels with the drag set light to protect the light lines. I have broken one of the hooks as a nice fish flipped just as I grabbed the hook with my clamps, and I have had one report of the hook straightening on a big fish. One angler who has been catching a very impressive number of very impressive fish, in current, with a keiryu rod (no reel, so no drag and no way for fish to take line) has reported multiple instances of broken hooks. He still loves the spoons but will replace the light wire hooks in the future. I have not had any complaints at all about the replacement Cultiva SBL-35 single barbless hooks (size 8 for the Vega spoons.) If you are getting hooks to replace the Vega hooks, do not get the Presso "Speed Hook," which is the same hook that the Vega spoons already come with.
Light wire hooks are fine if you are fishing with a reel that has a good drag. They are not so good with fixed line rods.

---
The hooks are sharp.
The coffee's hot.
The fish are slippery when wet.
---