Some shipments are still delayed, both domestic and international. If you are planning a trip, please order well in advance.

---
Suntech Tenkara Rods

Suntech Tenkara Rods are unique. They were designed for both the Japanese domestic market and for the US market. The Suntech TenkaraBum 36 is the first tenkara rod designed by an American tenkara angler in collaboration with a Japanese rod company.
Suntech is a small Japanese company for whom quality is paramount. In Japan they are  known primarily for their Ayu rods, which can be over 30 feet long and cost over $2000, and for their excellent Keiryu rods. In the US, where there are no Ayu, they probably are are best known for their almost unbelievably light and sensitive Kurenai HM30R seiryu rod.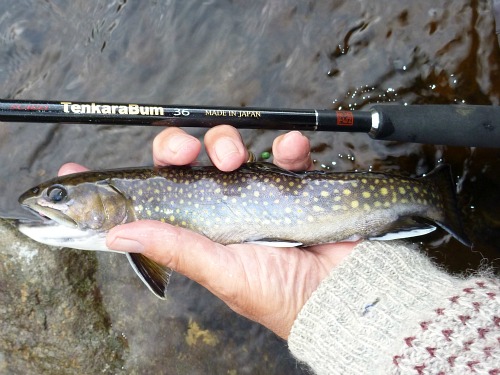 Even modest trout are fun with the TenkaraBum 36.
The TenkaraBum 36 has a faster action than other JDM tenkara rods. The design goal was to create a rod for the way American tenkara anglers fish, which is often with bead head nymphs. To get good hook sets when fishing weighted nymphs in deeper water or faster current, a rod needs a firmer midsection than most tenkara rods. To allow the rod to still cast a light tenkara line well, slightly softer tip sections were required.
The resulting design works very nicely, as the rod casts a size 2.5 tenkara line well and fishes weighted nymphs well. The softer tip sections make the rod fun with smaller fish, and the firmer mid section allows larger fish to be brought to hand quickly.

Nice rainbow trout caught with TenkaraBum 36.
The rod does want a slightly quicker stroke on the forward cast, but the result is a tighter loop, greater ability to cast into a breeze and greater accuracy. It does make one wonder why other tenkara rods are soft and full flex. Perhaps it is a holdover from the days of bamboo rods. Perhaps that is how tenkara rods are "supposed" to feel, but there do seem to be persuasive arguments for a faster action.
About a year after the introduction of the TenkaraBum 36, Suntech has released the TenkaraBum 33 and TenkaraBum 40. As far as I know, all the other Japanese tenkara rod companies make longer or shorter rods by just adding or subracting a section of the same blank. The Suntech tenkara rods are different, with the TenkaraBum 33 and TenkaraBum 40 built on different blanks. That is not the cheapest way to do it, but it is the only way that allows each rod to be optimised for its specific design goals.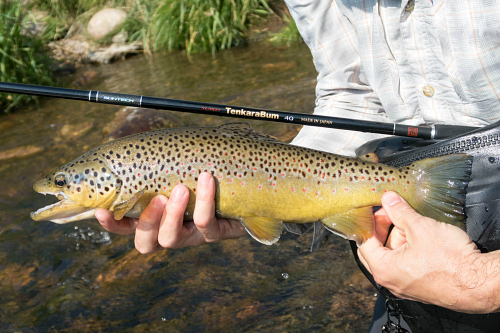 TenkaraBum 40 with nice brown trout.
The Tenkarabum 40 has the same number of section as the 36. Longer sections produce a smoother, lighter rod, and the TenkaraBum 40 feels very much like the TenkaraBum 36, rather than the normal outcome, which is a rod that feels stiffer, heavier and noticeably more tip heavy.
Athough tenkara in Japan is a method for fishing unweighted wet flies, anglers in the US often use tenkara rods for fishing bead head nymphs. The TenkaraBum 40 has proven itself to be an ideal rod for "Tactical Nymphing," fishing lightly weighted nymphs with a light line to get the most natural drifts possible. The TenkarkaBum 40's slightly firmer midsection gives more positive hook sets than most tenkara rods when fishing deeper in the water column.

Seventeen inch rainbow caught in a narrow stream with the TenkaraBum 33.
The TenkaraBum 33 is intended for smaller streams that might have fish too large for the very light Suntech Kurenai rods. Tom Davis, who writes the very well respected Teton Tenkara blog, catches surprisingly large fish in the surprisingly small high gradient streams he fishes in his native Idaho. Suntech has the small stream, modest fish market down with its Kurenai rods. The fish Tom catches would tie those rods in knots.
In smaller, high gradient streams, you need to control the fish quickly or it will get below you, where rocks or snags can rob you of your catch. The TenkaraBum 33 has the backbone necessary to establish control quickly.
The firmer tone also makes the rod a better choice for anglers who fish heavier nymphs or heavier lines.

The Suntech tenkara rods are not just like all the other Japanese tenkara rods. JDM quality and American design input? That's a combination that works for American tenkara anglers!

Shop for Suntech TenkaraBum Tenkara Rods

---
The hooks are sharp.
The coffee's hot.
The fish are slippery when wet.
---