Trip Report 4-30-17

Sunday was another multi-method day, with a little tenkara, a little keiryu and a little spin fishing. Just like last time, I caught more fish with the spinning rod than the other two methods combined.
I had wanted to see if last week's results favoring casting downstream and retrieving back upstream through eddies and up along current seams would hold in a much larger stream (500 cfs vs about 55 cfs). The nature of the stream proved to be so different that the same features were not present - no eddies at all and virtually no clearly defined current seams.
The first stop was a deep hole just in front of a big bend in the stream. I started with a Suntech keiryu rod that I had gotten into the shop some time ago but had not yet fished. On a different stream I would have used a worm, but this particular stream is artificials only, so I used a Squirmito (essentially a rubber worm for trout). It took a few drifts to get my markers set for the right depth (much deeper than I had initially expected), but once I felt the split shot just ticking the bottom I got a solid take within just a few casts. I wish I could show you a photo of the fish, but it broke my 5X (4.7#) tippet on it's first run.
Field Master Suguru Long keiryu rod
I did manage to put two smaller fish in the net, though.
After a while with no more hits, I moved on downstream and switched to a TenkaraBum 40 tenkara rod and a Minimal Dace fly. I had thought I might be able to mimic last weekend's ajing jig success with a bucktail but it was not to be. I think to some extent, the lack of similar stream features may have limited the success, but perhaps more important was that a streamer or bucktail fly just cannot mimic the C'ultiva JH-85 jig head, which is specifically designed to produce a side to side darting action.
After covering quite a bit of water without a fish to show for it, I moved to a third spot, a long riffle that has yielded fish for me in the past (including on a Minimal Dace). I first fished the riffle with the Minimal Dace, working my way downstream. I got two hits but neither connected. The fly was just under the surface, so I saw both hits. One fish was really pretty small. The second was a nicer fish but it would not come back a second time.

I then went back to the top of the riffle and fished it again with a spinning rod, C'ultiva JH-85 1.7g jig head and a C'ultiva chartreuse Micro Worm. With that combo, I got a couple bumps but also caught the brown trout shown in the photo below.

Tenryu Rayz RZ53UL rod
I've never seen a brown trout with markings like that before. The photo doesn't do it justice. It was really quite striking.
Upon getting to the bottom of the riffle, I went back to the top and fished the same stretch for a third time, but this time with a Yo-Zuri Pins Minnow. The stream was wide enough (and featureless enough) that I cast straight across and retrieved as the lure swung downstream, with the final perhaps quarter of the retrieve nearly straight upstream in relatively quiet water.
Fishing the same water I had just fished twice before, once with a bucktail (no fish) and once with a jig and Micro Worm (one fish), the Yo-Zuri Pins Minnow yielded three fish (not one of which was hooked on the upstream portion of the retrieve). I looked to see if I could import the Pins Minnow (even though it is already readily available here in the US), and was surprised to learn that Yo-Zuri does not sell the Pins Minnow in Japan. I will redouble my efforts to find a JDM minnow lure to import.
In addition to being "artificials only" the stream requires single barbless hooks for spinning lures. I removed the Pins Minnow's front treble hook and replaced the rear treble with a C'ultiva SBL-55. I was quite pleased with how well the replacement hooked and held - and then, once the fish was in the net, came free easily. I'm not sure I'll ever fish treble hooks again.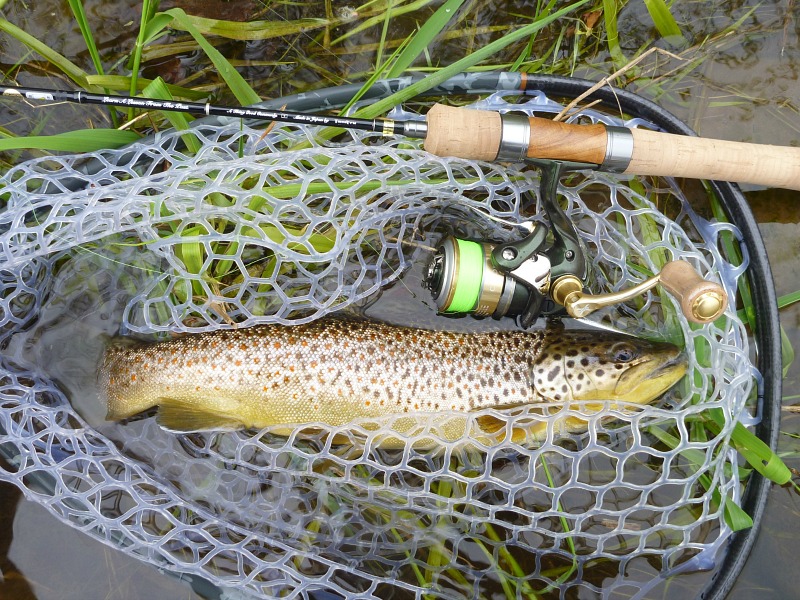 Shimano Cardiff CI4+ C2000HGS reel
The first fish on the minnow lure was a nice brown (above photo), followed by a rainbow of about the same size. Towards the bottom of the riffle I caught a second rainbow. This last fish, like a couple from last weekend, came out of the depths to nail the lure when I only had about four feet of line beyond my rod tip. That is about as exciting as a strike gets. The fish seemingly comes from nowhere, grabs the lure, and then starts jumping - all with only a few feet of line out. That just doesn't happen quite the same way when fly fishing or tenkara fishing or keiryu fishing.
It's exciting when they take the lure right at your feet.
It will definitely keep you coming back for more!
---
The hooks are sharp.
The coffee's hot.
The fish are slippery when wet.
---