Finesse Spinning Reels Shop

Daiwa
Luvias 2004
Model - Luvias 1003
Gear ratio - 4.8
Retrieve per turn - 60 cm (24 in)
Drag Maximum - 2.0 kg (4.4 lb)
Weight - 175 g (6.2 oz)
Line capacity
    Nylon 2 lb - 150 m (164 yds)
              3 lb - 100 m (109 yds)
Handle length -40 mm (1.6 in)
Bearings - 8/1
Made in Japan

Luvias 1003 - $285
Model - Luvias 2506H
Gear ratio - 5.6
Retrieve per turn - 84 cm (33 in)
Drag Maximum - 3.0 kg (6.6 lb)
Weight - 200 g (7.0 oz)
Line capacity
    Nylon 4 lb - 170 m (186 yds)
              6 lb - 100 m (109 yds)
Handle length - 55 mm (2.2 in)
Bearings - 8/1
Made in Japan

Luvias 2506H - $285
Iprimi 1003
Model - Iprimi 1003
Gear ratio - 4.8
Retrieve per turn - 60 cm (24 in)
Drag (maximum) - 2.0 kg (4.4 lb)
Weight -210 g (7.4 oz)
Line capacity
    Nylon 2 lb - 150 m (164 yds)
              3 lb - 100 m (109 yds)
    Braid (Japanese line size)
              .3 - 120 m (131 yds)
              .4 - 100 m (109 yds)
Handle length - 45 mm (1.8 in)
Bearings - 6/1
Made in Vietnam

Iprimi 1003 - $180
Model - Iprimi 2004
Gear ratio - 4.8
Retrieve per turn - 64 cm (25 in)
Drag (maximum) - 2.0 kg (4.4 lb)
Weight - 210 g (7.4 oz)
Line capacity
    Nylon 3 lb - 140 m (153 yds)
              4 lb - 100 m (109 yds)
    Braid (Japanese line size)
              .4 - 120 m (131 yds)
              .6 - 100 m (109 yds)
Handle length - 45 mm (1.8 in)
Bearings - 6/1
Made in Vietnam

---
Shimano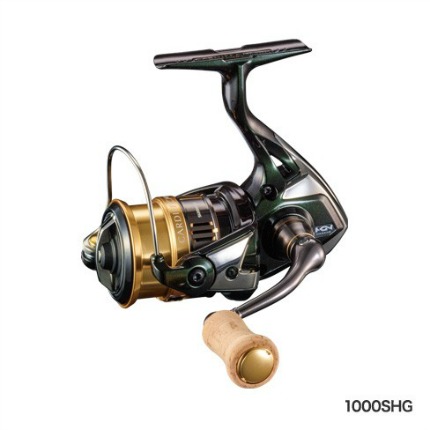 Cardiff CI4+ 1000SHG
Gear ratio - 6
Retrieve per handle turn - 79 cm (31 in)
Drag
    Practical - 1.0 kg (2.2 lb)
    Maximum - 3.0 kg (6.6 lb)
Weight - 170 g (6.0 oz)
Line capacity
    Nylon 2.5 lb - 140 m (153 yds)
               3 lb -     100 m (109 yds)
               4 lb -       90 m (98 yds)
    Fluorocarbon
              2 lb - 170 m (186 yds)
              3 lb -   95 m (104 yds)
              4 lb -   75 m (82 yds)
    Braid (Japanese line size)
             .3  - 140 m (153 yds)
             .8  - 100 m (109 yds)
             1  -    80 m (87 yds)
Handle length 45 mm (1.8 in)
Bearings - 9/1
Made in Malaysia
---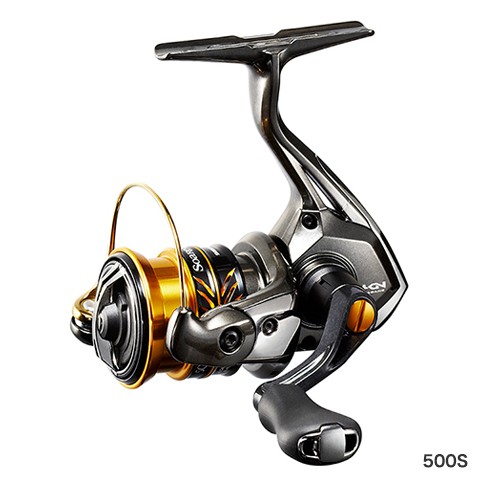 Soare CI4+ 500S
Gear ratio - 5.6
Retrieve per handle turn - 69 cm (27 in)
Drag
    Practical - 2.0 kg (4.4 lb)
    Maximum - 3.0 kg (6.6 lb)
Weight - 140 g (4.9 oz)
Line capacity
    Nylon 2 lb - 115 m 126 yds)
              2.5 lb - 100 m (109 yds)
              3 lb - 70 m (76.5 yds)
    Fluorocarbon
              2 lb - 90 m (98.5 yds)
              2.5 lb - 80 m (87.5 yds)
              3 lb - 65 m (71 yds)
    Braid (Japanese line size)
              .3 - 140 m (164 yds)
              .4 - 100 m (109 yds)
              .6 - 80 m (87.5 yds)
Handle Length 35 mm (1.4 in)
Bearings - 8/1
Made in Malaysia

Shimano Soare CI4+ 500S - $300
---
Shipping
Shipping to US addresses is via USPS Priority mail. Shipping to other countries is via USPS International First Class Mail.
The $10 shipping/handling charge will be added to your order automatically.
If the total value of the order is more than $400 (not counting the postage) the package must be sent via Priority Mail, which is more expensive. I will send a PayPal invoice if additional postage is required.

Payment
Payment is processed by PayPal but you do not need a PayPal account. You can use your credit card.
Finesse-Fishing.com is a TenkaraBum LLC website. Payments will show on your statement as TenkaraBum.
---
Warning:
The hooks are sharp.
The coffee's hot.
The fish are slippery when wet.
---