Finesse Spinning Reels Shop

---
Shimano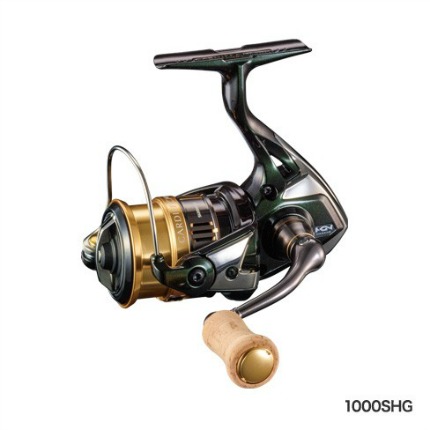 Cardiff CI4+ 1000SHG
Gear ratio - 6
Retrieve per handle turn - 79 cm (31 in)
Drag
    Practical - 1.0 kg (2.2 lb)
    Maximum - 3.0 kg (6.6 lb)
Weight - 170 g (6.0 oz)
Line capacity
    Nylon 2.5 lb - 140 m (153 yds)
               3 lb -     100 m (109 yds)
               4 lb -       90 m (98 yds)
    Fluorocarbon
              2 lb - 170 m (186 yds)
              3 lb -   95 m (104 yds)
              4 lb -   75 m (82 yds)
    Braid (Japanese line size)
             .3  - 140 m (153 yds)
             .8  - 100 m (109 yds)
             1  -    80 m (87 yds)
Handle length 45 mm (1.8 in)
Bearings - 9/1
Price - $340

Made in Malaysia
Please note: for this reel the antireverse cannot be switched off.

Shimano Cardiff CI4+ 1000SHG
---
Shipping
Domestic shipping for three-piece or four-piece rods is by USPS Priority Mail. Domestic shipping for two-piece rods is by UPS ground. The $10 charge will be added to your order automatically.
Please note: UPS will not deliver to a PO Box. If you order a two-piece rod please provide a street address rather than a PO Box address.

International shipping is by USPS First Class Mail International if the value of the order is under $400 AND the package is shorter than 24". If the value is over $400 OR the package is longer than 24", shipping is by USPS Priority Mail International. The shipping charge depends on the destination, weight, length and value of the package.
Import Duties and Taxes

International shipments are taking weeks longer than normal and tracking does not seem to be working.

International purchases may be subject to import duties and taxes. I cannot keep track of all import regulations in all countries written in all languages. Understanding and paying import duties and taxes is the responsibility of the buyer.
Russia
Finesse-Fishing.com no longer ships to Russia.

UK

Finesse-Fishing.com no longer ships to the UK. The new VAT regulations are too onerous for a one-man shop that rarely ships anything to the UK anyway. I apologize.

Australia

The USPS has suspended all shipments to Australia. There are two alternatives. One is the same price as the USPS had been (as calculated at checkout) but may take 3-4 weeks. The other is UPS, which is considerably faster (1 week), but also considerably more expensive. If you want the faster, UPS shipment, I will send an invoice for the required amount.

---
---
The hooks are sharp.
The coffee's hot.
The fish are slippery when wet.
---