BFS Reels Shop

Shimano Calcutta Conquest BFS HG

Shimano Calcutta Conquest BFS HG
Finesse Tune Brake system blends the best aspects of both magnetic and centrifugal brakes.
Shimano's lightest spool at just 7.2g (excluding bearings).
Micro-module gears offer extreme precision and high cranking power.

Round aluminum body gives very solid feel. Small size for comfortable palming.

6.8:1 gear ratio

Approved for salt water

Drop dead sexy looks
 Made in Japan

Model
cm/rotation
Gear ratio
Weight
Max drag
Spool
  Capacity
  Diameter
Bearings
  Ball/Roller
Price

Left
68
6.8
7 oz
8.8 lb

8lb/49.2yds
1.26"

12/1
$515


Right
68
6.8
7 oz
8.8 lb

8lb/49.2yds
1.26"

12/1
$515
---
Shimano Adlebaran BFS XG

Shimano Aldebaran BFS XG Left
Shimano's lightest bait reel at just 130 g.
Shimano's lightest spool at just 7.2g (excluding bearings).
Finesse Tune Brake system blends the best aspects of both magnetic and centrifugal brakes.
Designed to maximize pitching performance with lightweight lures. The low casting trajectory is equally important when fishing streams.

8:1 gear ratio
Approved for salt water
Made in Japan

Model
cm/rotation
Gear ratio
Weight
Max drag
Spool
  Capacity
  Diameter
Bearings
  Ball/Roller
Price

Left
80
8.0
4.6 oz
7.7 lb

8lb/49.2yds
1.26"

9/1
$425


Right
80
8.0
4.6 oz
7.7 lb

8lb/49.2yds
1.26"

9/1
$425

---
Shimano Scorpion BFS XG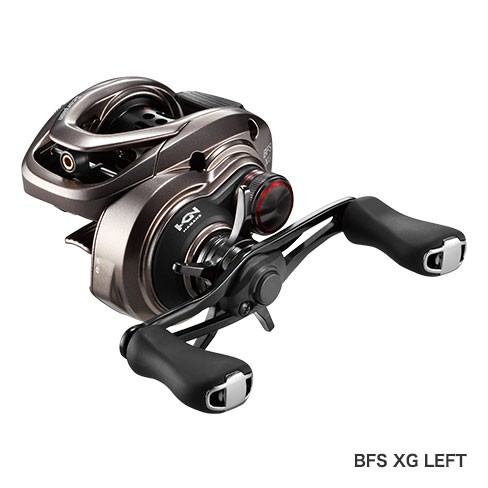 Shimano Scorpion BFS XG Left
Spool weight 8.9g (excluding bearings).
Finesse Tune Brake system blends the best aspects of both magnetic and centrifugal brakes.
Designed to maximize pitching performance with lightweight lures. The low casting trajectory is equally important when fishing streams.
Approved for salt water.

8.2:1 gear ratio
Made in Malaysia

Model
cm/rotation
Gear ratio
Weight
Max drag
Spool
  Capacity
  Diameter
Bearings
  Ball/Roller
Price

Left
82
8.2
5.6 oz
7.7 lb

8lb/49.2yds
1.26"

7/1
$320

Right
82
8.2
5.6 oz
7.7 lb

8lb/49.2 yds
1.26"

7/1
$320
---
Daiwa SS Air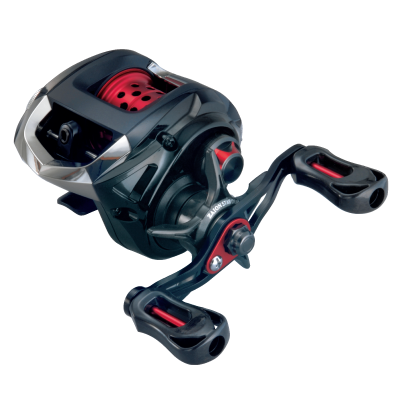 Daiwa SS Air 8.1L
Light 145 g. total weight.

Spool weight just 6.9 grams.

Air Brake System.

Easy to adjust for both pitching and casting, including upstream casts for "trout finesse game."

8.1:1 gear ratio
Fresh water only
Made in Japan

Model
cm/rotation
Gear ratio
Weight
Max drag
Spool
  Capacity
Recommend
   Line
Spool
  Diameter
Bearings
    Ball/Roller
Price

8.1L (Left)
81 cm
8.1
5.1 oz
8.8 lb

8lb/54.6yds
6 - 14 lb
(no braid)

1.26"

9/1
$430
Freshwater only


8.1R (Right)
81 cm
8.1
5.1 oz
8.8 lb

8lb/54.6yds
6 - 14 lb
(no braid)

1.26"

9/1
$430
Freshwater only

---
Daiwa Alphas Air

Daiwa Alphas Air 7.2R
Light 165 g. total weight.

Spool weight 9.7 grams.

Air Brake System.

Easy to adjust for both pitching and casting, including upstream casts for Mountain Stream Bait Finesse

7.2:1 gear ratio
Fresh or salt water

Made in Japan
Model
cm/rotation
Gear ratio
Weight
Max drag
Spool
  Capacity
Recommend
  Line
Spool
  Diameter
Bearings
   Ball/Roller
Price

7.2L (Left)
71 cm
7.2
5.8 oz
8.8 lb

8lb/54.6yds

6 - 12 lb

1.26"

6/1
$340


7.2R (Right)
71 cm
7.2
5.8 oz
8.8 lb

8lb/54.6yds

6 - 12 lb

1.26"

6/1
$340

---
Daiwa Alphas Air Stream Custom
Alphas Air Stream Custom 7.2R
Designed for mountain stream bait finesse

Light 165 g. total weight.

Spool weight 9.2 grams.

Fixed Induction Brake System.

7.2:1 gear ratio
Fresh water only

Made in Japan
Model
cm/rotation
Gear ratio
Weight
Max drag
Spool
   Capacity



Recommend
  line


Spool
  Diameter
Bearings
    Ball/Roller
Price

7.2L (Left)
69 cm
7.2
5.8 oz
8.8 lb

44yds / 6 lb
Japanese line
or 4 lb US
line 
6 - 8 lb
Japanese line
or 4 - 6 lb US
line

1.22"

6/1
$325

7.2L (Right)
69 cm
7.2
5.8 oz
8.8 lb

44yds / 6 lb
Japanese line
or 4 lb US
line 
6 - 8 lb
Japanese line
or 4 - 6 lb US
line

1.22"

6/1
$325
---
Shipping
Shipping to US addresses is via USPS Priority mail. The $10 shipping/handling charge will be added to your order automatically.

Payment
Payment is processed by PayPal but you do not need a PayPal account. You can use your credit card.
Finesse-Fishing.com is a TenkaraBum LLC website. Payments will show on your statement as TenkaraBum.
---
Warning:
The hooks are sharp.
The coffee's hot.
The fish are slippery when wet.
---