Tenryu Rayz Spinning Rods

The Tenryu Rayz spinning rods for are the nicest rods for stream fishing I have ever seen. They are well balanced, have great actions and the "fit and finish" is unsurpassed. Tenryu is a small Japanese company that is not well known in the US - at least not yet. It will certainly become better known as more trout anglers look to Japan for JDM spinning rods. I have been importing Tenryu tenkara rods for a while now, and they are absolutely top quality.
The Rayz series have titanium frame K guides with SiC rings. The dark green blanks are slim, lightweight and parabolic.

When you put the sections together, there will be a gap. That is normal. Don't force them.

RZ39LL
The RZ39LL is the Bosagawa model, named for the Bosa River, which is very narrow and has dense foliage lining the banks. A short rod is absolutely necessary to fish it. The design goal for this model was a rod that allowed quick pinpoint casts, often sidearm or underhand as conditions required. The rod was designed to cast small plugs in a wide range of weights, and to have sufficient power in the butt section to handle 12" trout despite having a very short, very slim blank. The LL designation is between light and ultralight.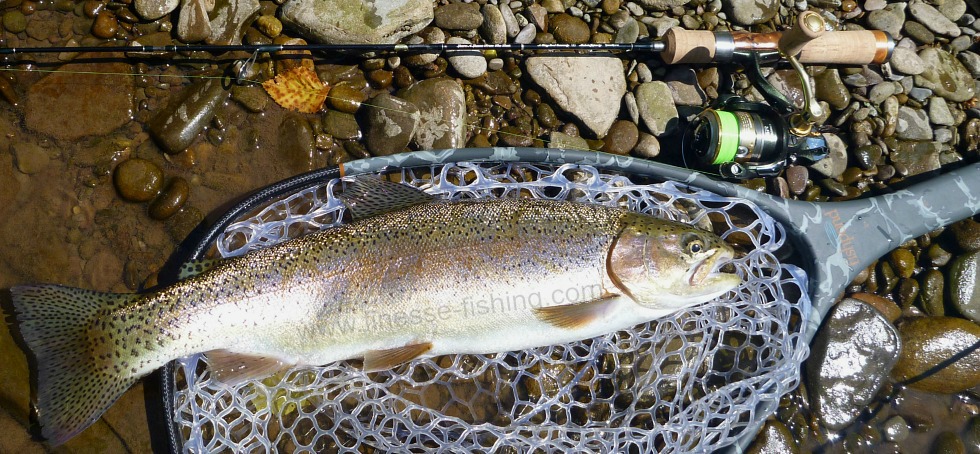 Even though I see the Tenryu Rayz RZ39LL as a small stream trout rod, with the average fish being perhaps a 6" brookie or an 8" brown, if you happen to hook a much larger than expected fish, the rod can handle it. The Tenryu catalog says the rod is capable of handling 12 inch trout. I can tell you that the rod handled the 20" trout shown above with no problem whatsoever. You do need a reel with a good drag, but the rod can handle any fish you'll hook in a stream small enough that you would want to fish a 3'9" rod!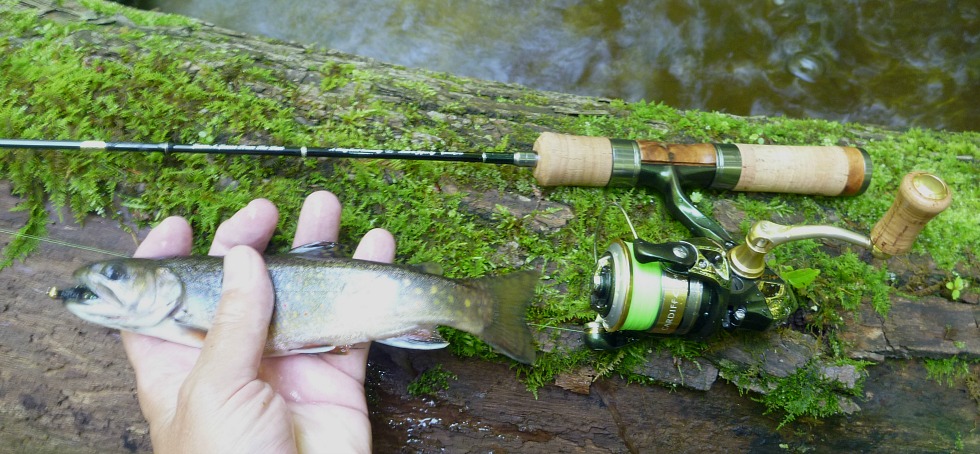 However, the rod is still a lot of fun with a smaller fish. A friend I fish with from time to time specializes in following the "thin blue lines" for little wild brook trout. This rod would be ideal for that! It is rated for lures as light as 1 gram, which would include the .7g C'ultiva JH85 jig head with the 1.3" Pinworm which together weigh exactly 1 gram and which I found out (Trip Report 4-22-17) the trout love! It would also include those tiny fly rod spoons and Colorado spinners. It turns out that with a light line, the rod can cast a bead head woolly bugger, which weighs considerably less than a gram. You cannot cast far, but on a small stream you can cast far enough. That's what took this brookie.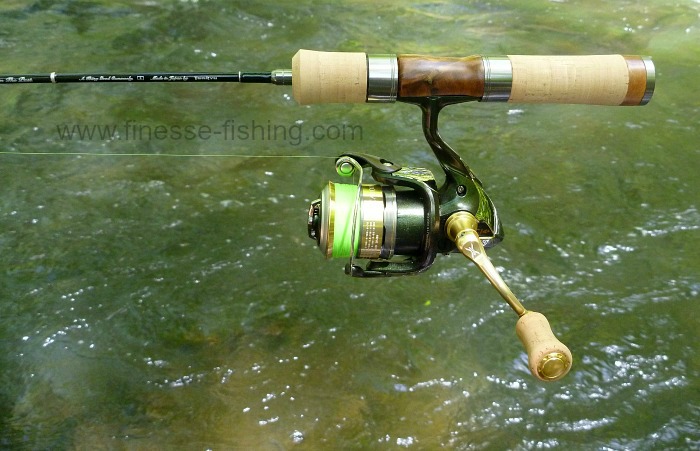 Tenryu Rayz RXZ39LL with Shimano Cardiff CI4+ C2000HGS
I have to say that I am very, very impressed with the Tenryu Rayz RZ39LL. This is going to be my small stream rod! There are a few things going for it. 1). The short length makes it easy to cast even in very close quarters. 2). The broken down length is short enough to fit in one of the Medium Rod Cases I offer on the TenkaraBum.com website - making it almost as convenient to carry when backpacking as the four-piece Tenryu Rayz Integral rods. 3). It can cast lures as light as 1 gram, the same as the RZ53UL-4). It can cast as far as you would need to cast on a small stream. On a river you might want greater casting distance, but on a river you would have room for a longer rod. The RZ39LL is a small stream rod, but for that it is just ideal!
I liked the rod well enough that I placed a second order -  for every single one Tenryu had in stock!
For a longer write-up, please see my  Tenryu Rayz RZ39LL page on TenkaraBum.com.

RZ53UL
The RZ53UL is the Twitchin' model, intended for the headwaters and smaller streams. The design goal was completely opposite to the general move toward heavier lures. This is a model for lightweight lures! It is not a soft rod, though and will drive pinpoint casts. The rod is supple enough to permit the use of 1 lb test lines, but according to Tenryu the butt is firm enough for 12" trout.

Tenryu Rayz RZ53UL
After the first day on the stream, though, I was convinced that Tenryu is being modest. I have no doubt whatsoever that if you are not battling swift current as well as the fish, landing 16-18" trout will not be an issue. The largest fish I have caught to date were only a bit over 14", but they  were not even close to the rod's limit!
Tenryu is correct about the rod being capable of casting light lures. The 1 gram ajing jighead (above photo) cast beautifully and was well suited to the small wild trout stream.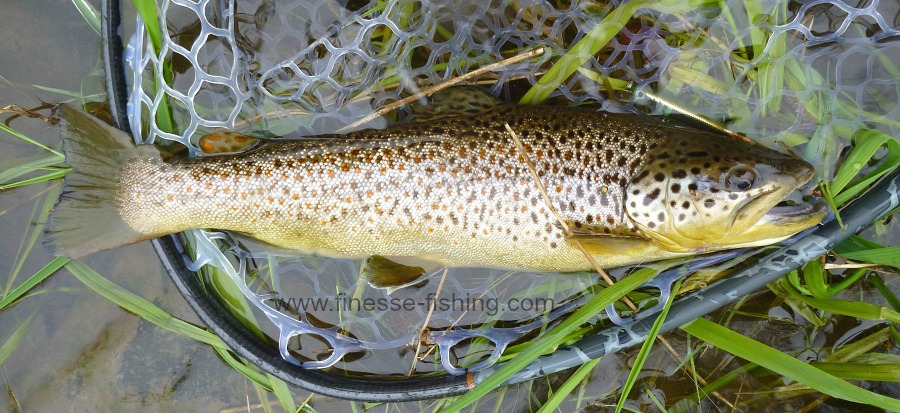 Although the rod will cast a 1 gram jig head, it will also very easily cast a  4 or 5 gram minnow lure like the Yo-Zuri Pins Minnow that caught this brown.
I recently received a question regarding the balance of the RZ53UL with the Shimano Cardiff CI4+ C2000HGS reel that I used. The photo below shows the balance point.
I also received a question about the reel seat. The photo below shows how beefy the metal threads are. The reel is held absolutely immobile.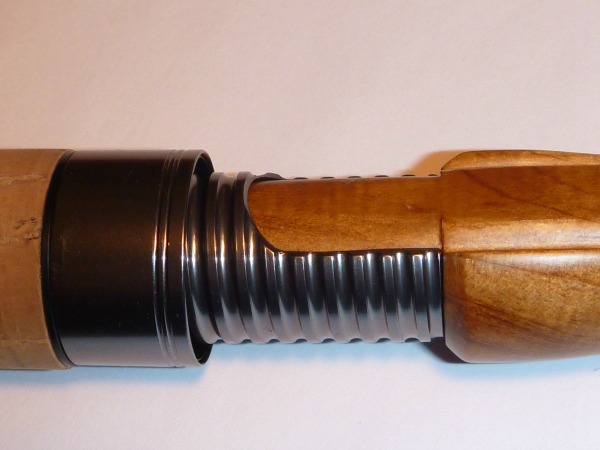 Tenryu Rayz RZ56L
RZ56L
The RZ56L is the Jerkin' model, designed for the full length of mountain streams. In contrast to the RZ53UL, the design is for heavy plugs, deep divers and heavy spoons.  It is a slim rod with a strong blank. You can easily feel the lure weight and make accurate casts.

Model
Type
Length
Sections
Breakdown Length
Rod Weight
Line Weight
Lure Weight

RZ39LL
Wild (stream)
3'9"
2
23 1/4"
1.8 oz
1 - 5 lb
1/32 - 1/4 oz

RZ53UL
Wild (stream)
5'3"
2
32 1/4"
2.2 oz
1 - 4 lb
1/32 - 3/16 oz

RZ56L
Wild (stream)
5'6"
2
33 7/8"
2.4 oz
3 - 6 lb
1/16 - 1/4 oz

Tenryu Rayz Integral

The Rayz Integral spinning rods take the excellent Rayz blanks and turn them into the best backpacking and travel rods you will find.

Tenryu Rayz Integral RZI50UL-4
RZI50UL-4
The RZI50UL-4 is the Rayz Integral Twitchin' model. It is a pack rod that is designed for light lures in the headwaters. The action will give you a lively fight with headwaters fish, but there is enough power in the butt section to handle the occasional surprisingly large fish.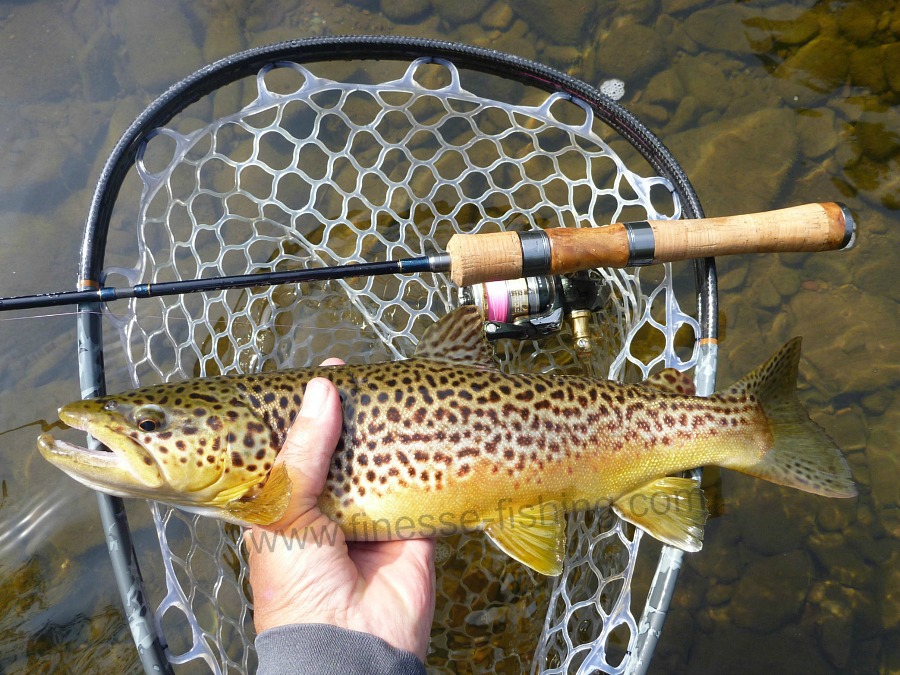 Tenryu Rayz RZI50UL-4 and brown trout.
Matched with a reel that has a good drag, you can catch very nice fish with the Tenryu Rayz Integral RZI50UL-4!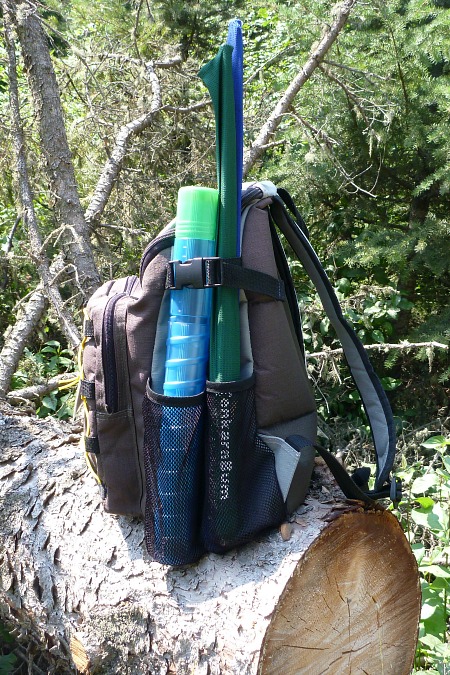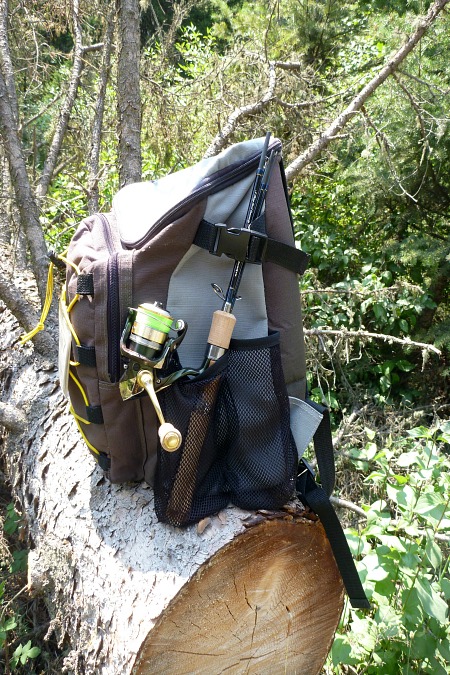 What is even better is that the rod breaks down to such a short length it is easy to take it to where the very nice fish are! The rod will easily fit in the Medium Rod Case, the light weight, inexpensive blue plastic case shown at left, and will also fit in the rod holders or water bottle holders on the sides of many packs. For that matter, it will fit completely inside even modest daypacks.
I have learned over the last few years how many backpackers are drawn to tenkara rods because they are so convenient to carry anywhere. The photo on the left shows that the Tenryu Rayz Integral rods are if anything, more convenient to carry than tenkara rods! Granted, you do have to carry a reel, but for people who prefer spin fishing to fly fishing, the short, easy to pack RZI50UL-4 or RZI50L-4 make backpacking (or bike-packing) with a spinning rod a breeze.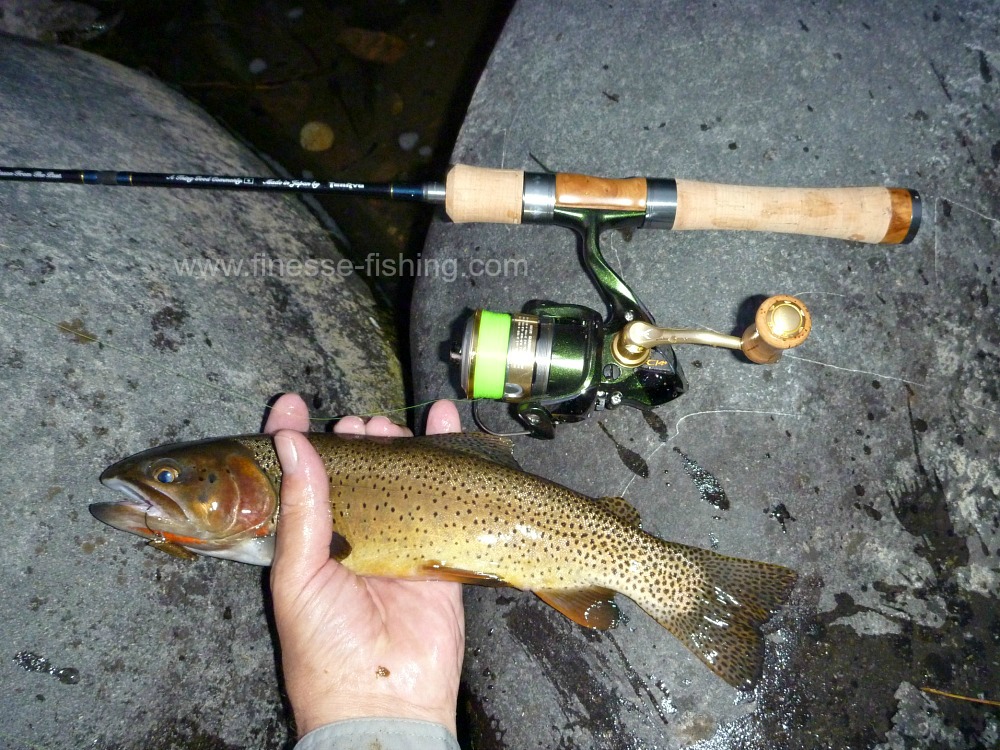 Tenryu Rayz Integral RZI50UL-4 and Yellowstone cutthroat trout.
RZI50L-4
The RZI50L-4 is the Rayz Integral Jerkin' model. The design goal was for a backpacking rod that you can use anywhere, with heavier plugs and deep divers and slightly heavier line. The moderate action yields pinpoint accuracy.

Kyle R sent in the photo above and a note to go with it: "I was at Yellowstone last week. After being skunked on the fly and snowed out of the rivers, I decided to go fish Yellowstone lake with my Rayz Integral RZI50L-4. Using 1/4oz Kastmasters and Daredevil spoons I was wade casting out into the lake. Hooked a 22" Cutthroat that put up a good fight, but the rod handled him perfectly. Fought him for about 5 minutes, letting the drag on my reel wear him down. I was using a firetiger Kastmaster.
 He was the only one I caught that day due to the weather. The next day however using a red and white Daredevil, I hooked a 30" Cutthroat. Talk about a ass wooping. I think it had taken me about 15 minutes to land him, just smoking my arms and bending that rod in half. Seriously thought my drag system was going to burn out, that being my first time having a screaming reel. Unfortunately I do not have a picture due to my phone being buried under my waders and not wanting to stress the fish more for a pic. Again, last fish of the day due to the weather. 

 My last day I hiked up to Trout lake, which is the clearest lake I have seen. Using a 1/8oz Brown Trout Kastmaster I hooked a 16"-18" Cutthroat. He put up a good fight, but I managed manipulate him to a clearing in the weeds rather easily. 
 The rod is great! Handled all of those fish without a single issue, and it could cast spoons far enough to fish the edge of the large lakes. Definitely sold on it's ability and how far it can punch above it's weight class. Seriously, that rod saved my trip, cause I was not catching a damn thing on the fly."
Model
Type
Length
Sections
Breakdown Length
Rod Weight
Line Weight
Lure Weight
RZI50UL-4
Wild (stream)
5'0"
4
16 1/8"
2.3 oz
1 - 4 lb
1/32 - 1/4 oz
RZI50L-4
Wild (stream)
5'0"
4
16 1/8"
2.3 oz
3 - 6 lb
1/16 - 1/4 oz
The Tenryu Rayz Integral rods have stainless K guides with SiC rings. The dark blue blanks share the Rayz heritage. The four piece blanks make them excellent choices for backpacking or travel.
Tenryu Rayz Spectra

As nice as the Tenryu Rayz spinning rods are, the Tenryu Rayz Spectra is on another level. Tenryu says the parabolic action of the blank was inherited from the Rayz series, but if you pick up both and wiggle them one after another, you can tell in an instant that they are not the same. The Spectra uses carbon nanotube technology in the butt section of the 2-piece rod. That allowed Tenryu to make the blank stronger without adding any weight.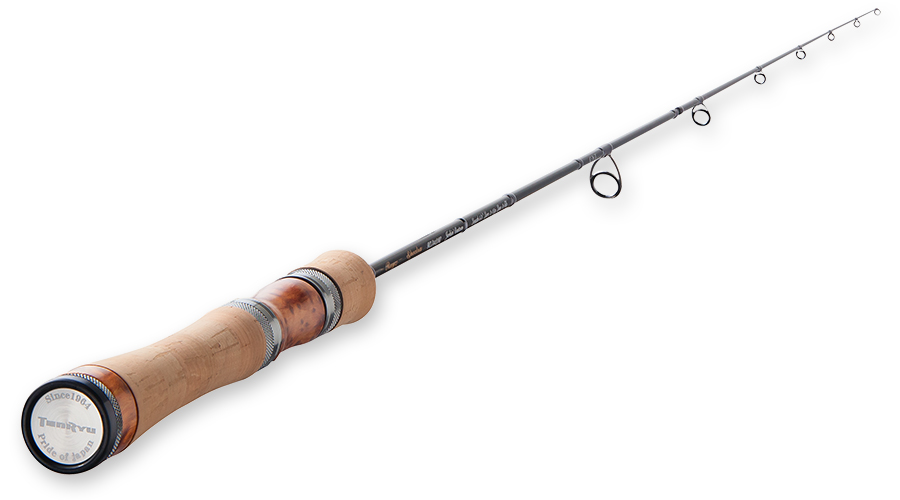 Like the Rayz rods, the guides are titanium frame K guides. Unlike the Rayz rods, the inserts are Torzite rather than SiC. They are thinner and lighter.

A couple other nice features not found on the Rayz or Rayz Integral rods are the built in hook keeper, which keeps you from sticking a hook the guides or the grip (or your hand); and the alignment dots, which let you alignment the sections perfectly as soon as you put them together.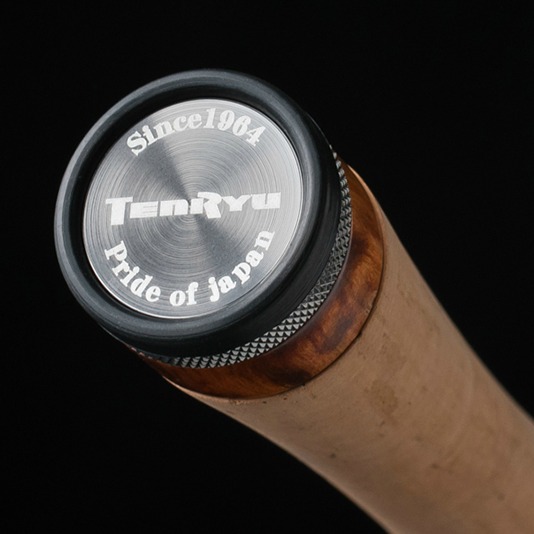 The end cap is protected from scratches by a raised rubber ring. The grip is almost a work of art, with high quality cork, a beautifully patterned hardwood burl reel seat and end cap accent piece, and knurled rings which look nice in addition to being quite functional.
The rod doesn't just look great, though, it feels great when you put a reel on it and make your first cast. This is a "Wow!" rod.

Model
Type
Length
Sections
Breakdown Length
Rod Weight
Line Weight
Lure Weight

RZS51LL
Wild (stream)
5'1"
2
31 1/4"
2.3 oz
1 - 5 lb
1/32 - 1/4 oz
Tenryu Rayz Alter

The Tenryu Rayz Alter rods are new this year. The Tenryu company blog has had a series of entries about the new rods, starting from their initial product announcement last July. As anyone who must rely on Google translations knows, written Japanese does not translate easily or well into English. At best, you can get a rough sense of the author's intentions. 
What I took from the blog posts was that the Alter - a play on words in a sense combining "alternative" (to native stream rods) and "alter" (as in a change from Tenryu's previous Area rods) - has an underlying feeling of adult play. Society seems to think that children should play but adults should be serious. Reject that notion! Adults should play also.
In Japan, trout streams are closed to fishing in the winter but the Areas (managed pay-to-fish lakes) are open. Anglers who want to fish when the streams are close fish the Areas. The fish are stocked, they're not native to Japan (generally rainbows but also browns), and they are often huge. The whole setting isn't natural, it isn't "real" - it's play.
Rods designed for fishing Areas are softer than the stream rods. In the Areas, and lakes in general, anglers don't have to fight the current as well as the fish. The Areas do not have snags (downed trees, logs, etc) that you have to keep the fish out of. The softer rods maximize the play, but also allow you to fish smaller, lighter lures. The trout in the areas are highly pressured, and smaller lures work better on pressured fish.
The Tenryu Rayz Alter is softer overall than the Rayz, Rayz Integral or Rayz Spectra stream rods. The rod tip in particular is noticeably softer. The Rayz Alter RZA61L-T has a tubular tip and the Rayz Alter RZA62UL-S has a very flexible solid tip (much like the tip on most tenkara rods).
I started this page saying that the Tenryu Rayz spinning rods for are the nicest rods for stream fishing I have ever seen. The Tenryu Rayz Alter rods are just as nice (if not nicer). Although they are designed for fishing lakes, they will also do well in streams with relatively slow current.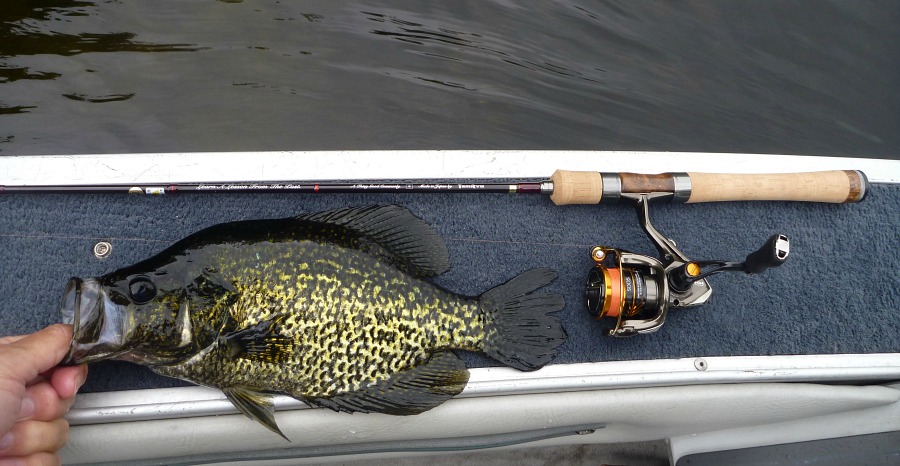 The Tenryu Rayz Alter RZA61L-T is a trout rod but it is a very nice rod for crappies!
Most of Japan is mountainous. Most of the US isn't. Trout fishing in Japan is limited to fairly high gradient mountain streams and the man-made Areas. Trout fishing in the US is not nearly as limited. We have many more natural lakes, and many more tailwaters (with large trout but modest current), and meadow streams that offer wonderful trout fishing. We also have lots of warm water streams with little current and little (and not so little) fish. Any place where you don't have to fight the current, a rod like the Tenryu Rayz Alter would offer an awful lot of fun.

Not only that, we have thousands and thousands of lakes with sunfish and crappies. The softer action of the Tenryu Rayz Alter makes it a dandy rod for crappies!
If you take your fishing (and your play) seriously, and want a rod for which the emphasis is clearly on the highest quality rather than the lowest price, the Tenryu Rayz Alter is surely the nicest rod you'll find.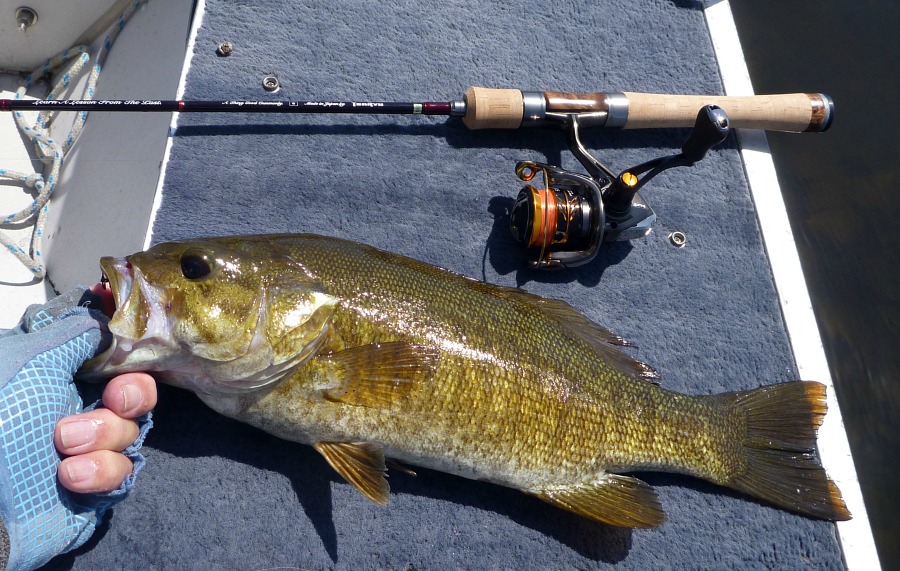 Tenryu Rayz Alter RZA61L-T and smallmouth bass.
The smallmouth bass shown above is not the fish Tenryu had in mind when they designed the Tenryu Rayz Alter, but the rod handled it with no problem. Like the Areas in Japan, the Maine lakes I fish are pretty free of obstructions so as long as you have a reel with a good drag you can subdue a very nice fish.

Tenryu Rayz Alter RZA61L-T rod, Shimano Soare CI4+ 500S reel and Sunline Troutist Area Meister 2 lb line.
The Tenryu Rayz Alter grip shares features with the Rayz and Rayz Spectra rods. The reel seat rings are like those on the Rayz, while the hardwood burl reel seat and grip cap accent are like those on the Rayz Spectra. As with all the Rayz rods, the cork is top quality.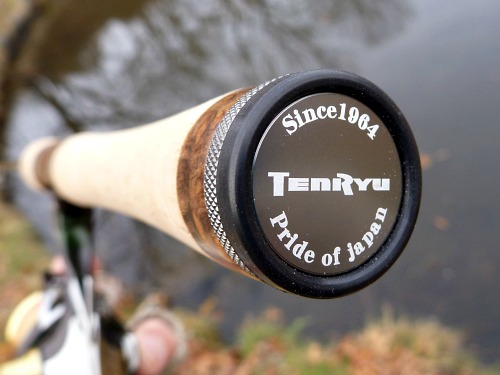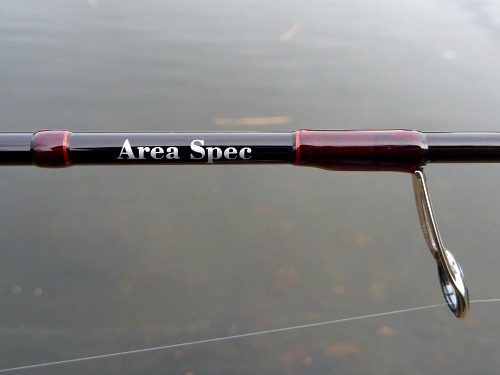 The grip cap has the raised rubber ring to prevent scratches, the knurled spacer and the hardwood burl accent piece like those on the Rayz Spectra. The guides are titanium K guides with SiC inserts.  Although the first guide is pretty tall, it is just short enough to fit in the Long Rod Case (as do all the Tenryu Rayz and Rayz Spectra spinning rods).
Each of the rod models in the Tenryu Rayz series of rods has it's own signature color for the wraps. The Rayz rods are green, the Rayz Integral are blue, the Rayz Spectra is purple and the Rayz Alter is red. The colors are subtle but distinct.
Model
Type
Length
Sections
Breakdown Length
Rod Weight
Line Weight
Lure Weight

RZA61L-T
Area (lake)
6'1"
2
37 9/16"
2.5 oz
1 - 5 lb
0* - 3/16 oz (0 - 5 g)


RZA62UL-S
Area (lake)
6'2"
2
38 1/2"
2.6 oz
1 - 4 lb
0* to 1/8 oz (0 - 4 g)

*Tenryu lists the lure weight as almost zero or approaching zero. On my first time out with the Tenryu Rayz Alter RZA61L-T I fished the Daiwa Presso Vega .4g and .8g spoons. I have to say the .8g spoons cast a lot better than the .4g spoons! I suspect the .4g spoons would have cast better if I'd had 1 lb test line, but that may be a bit extreme. Personally, I think the 2 lb Sunline Troutist Area Meister or Troutist Darkness is plenty light enough, and the .8g Vega spoons are exactly the same size as the .4g spoons. I think I will reserve the .4g spoons for fly rods or tenkara rods. With spinning rods I'll fish spoons that are .8g and heavier. The Daiwa Adam, Lupin and Crusader spoons will also work quite nicely with the Tenryu Rayz Alter.

Shop for Tenryu Rayz spinning rods