Tenryu Rayz Spinning Rods

The Tenryu Rayz spinning rods are the nicest rods for stream fishing I have ever seen (except for perhaps the Tenryu Rayz Spectra). They are well balanced, have great actions and the "fit and finish" is unsurpassed. Tenryu is a small family company in Japan that is not well known in the US - at least not yet. It will certainly become better known as more trout anglers look to Japan for JDM spinning rods. I have been importing Tenryu rods for a while now, and they are absolutely top quality.
The Rayz series have titanium frame K guides with SiC rings. The blanks are slim, lightweight and parabolic. They are a deep, dark green (so dark that you'll need good sunlight to see that they aren't black).


Tenryu Rayz RZ56L
RZ53UL - RZ56L
 The RZ53UL is intended for smaller streams and lightweight lures. It is not a soft rod, though and will drive pinpoint casts. The rod is supple enough that you could use lures down to 1 gram and lines down to 1 lb test if you wanted to, but according to Tenryu the butt is firm enough for 12" trout. (Tenryu is being modest. The rod is much more capable than that!)

The RZ56L is designed for the full length of mountain streams. In contrast to the RZ53UL, the design is for heavy plugs, deep divers and heavy spoons.  It is a slim rod with a strong blank. You can feel the lure weight  easily and make accurate casts.
I think the RZ53UL is fine for fishing a variety of lures up to 4.5 or 5g sinking minnow plugs and lines up to 4 lb test. If you fish heavier lures or 6 lb lines, I would recommend the RZ56L instead.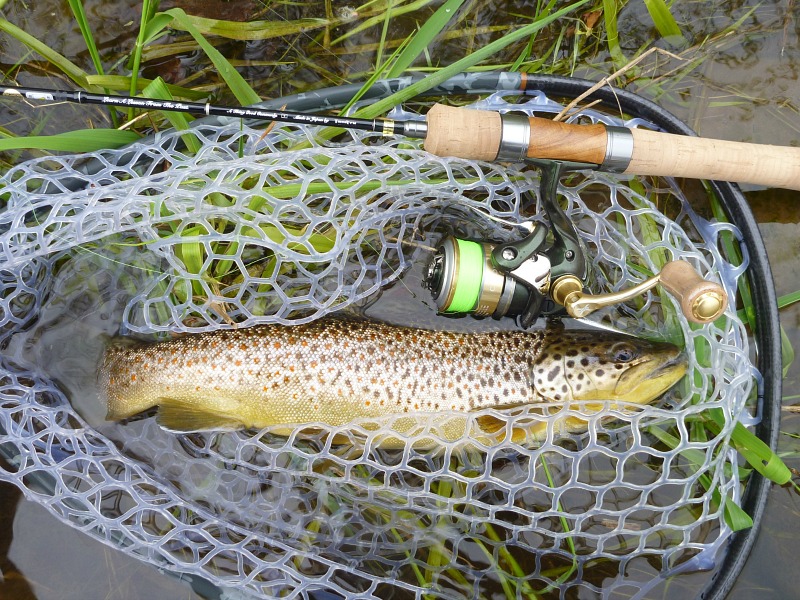 Day 1
After the first day on the stream, I was convinced that Tenryu is being overly modest when it says 12" trout. I have no doubt whatsoever that if you are not battling swift current as well as the fish, landing substantially larger trout will not be an issue. The first day's fish was only a bit over 14", but it wasn't even close to the rod's limit! With other Tenryu spinning rods, for which they also say 12" trout, I have landed 20 and 22 inchers!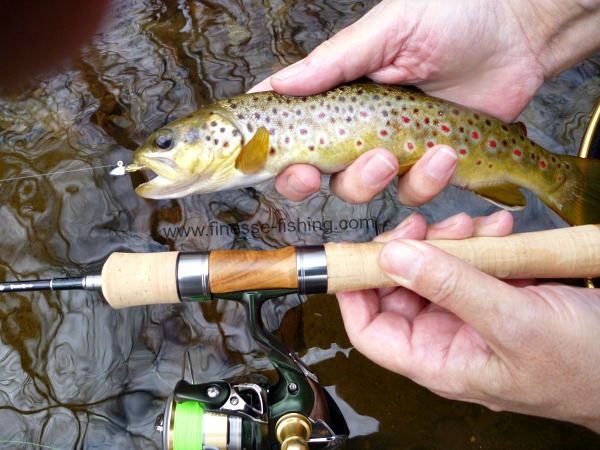 Tenryu Rayz RZ53UL
Tenryu is correct about the RZ53UL being capable of casting light lures, though. The 1 gram ajing jighead (above photo) cast beautifully and was well suited to the small wild trout stream.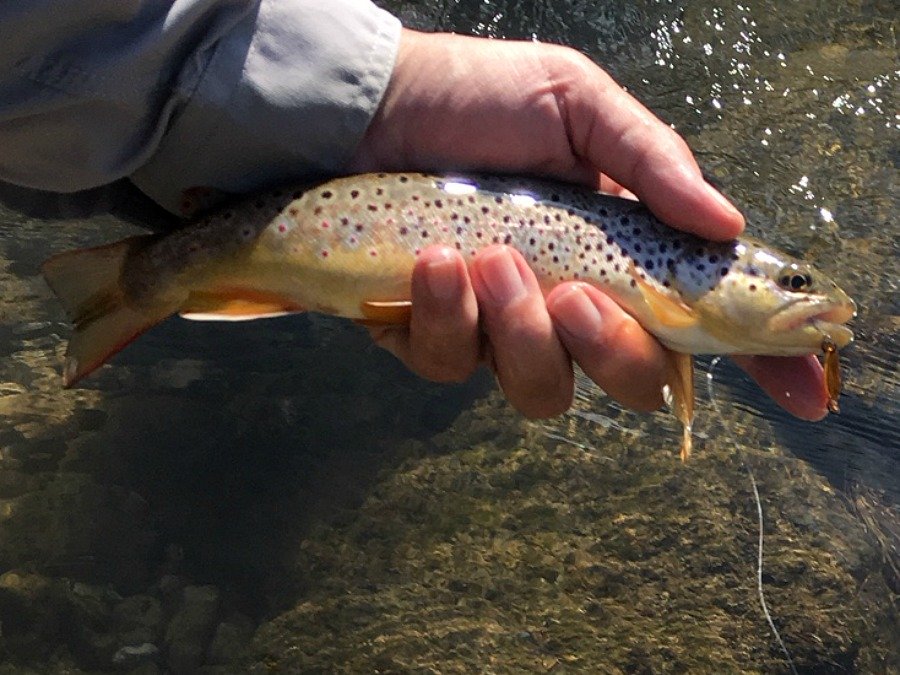 1.2g micro spoons cast well and catch fish.
Micro spoons like the 1.2g Daiwa Lupin above (since discontinued) also cast very nicely (and catch fish!). Of course, the 5g Shimano Slim Swimmer spoons cast well too. Like bullets, actually.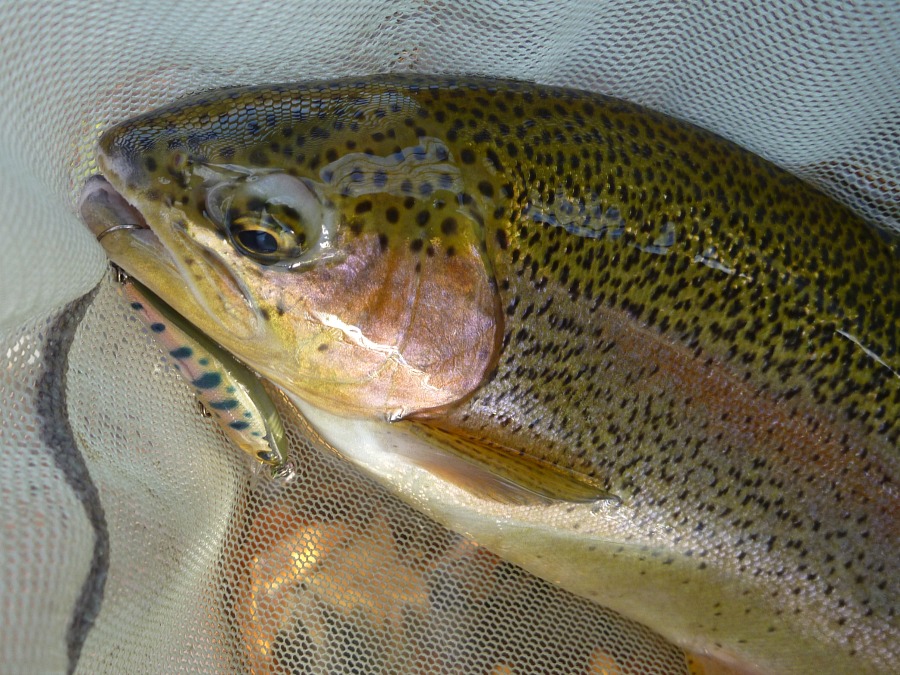 4.5g sinking minnow with single hook.
The 4.5g Daiwa Silver Creek Minnow 50S, which is one of the lures that Japanese anglers prefer for stream fishing, works very nicely indeed. It is well within the recommended lure weight range for either of the rods, and it is a very effective lure. The rod tip is well designed for giving the minnows a twitching, darting action.
I always replace the treble hooks with single hooks (and generally just remove the front treble hook, and replace the rear treble with a single.).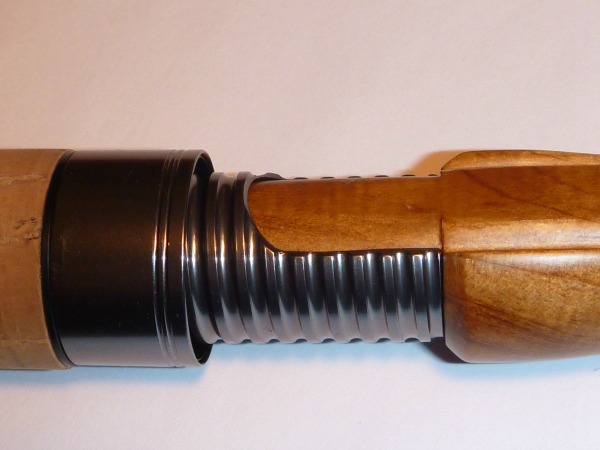 Hardwood and metal reel seat.
I often tell people that the Tenryu Rayz spinning rods are in another league compared to the spinning rods available in the US. The fit and finish are excellent, and the components are absolutely top notch. The reel seats on Tenryu Rayz (and on the Rayz Alter, Rayz Integral and Rayz Spectra) are hardwood and metal - no cheap plastic parts on these rods! Tighten until snug. Do not over-tighten.

RZ65ML - RZ68LML - RZ75ML

Tenryu also makes longer rods for larger rivers and larger fish. I have not fished with them. I am a small stream guy and the rods all have shrink wrap over the reel seats, so it isn't practical to make even a few test casts in the park.
I can tell you that the quality is just as good as on their small stream rods. One of the guys who bought an RZ68LML said he thought it was the perfect power for the fish he normally catches (12-18"), and works nicely for deep, fast runs where his UL rod didn't have enough backbone to get good hook sets.
The RZ65ML and RZ75ML are firmer rods, rated for lines up to 8 lb and lures up to 12g for the RZ65ML and 18g for the RZ75ML. In Japan they are used in big rivers for big fish, up to and including sea-run salmon.

Tenryu Rays Spinning Rods - Specs
Model                             RZ53UL
Type                               Wild (stream)
Length                            5'3"
Sections                         2
Breakdown Length      32 1/4"
Rod Weight                   2.2 oz
Line Weight                   1 - 4 lb
Lure Weight                  1-6 g
                                        (1/32 - 3/16 oz)


RZ56L
Wild (stream)
5'6"
2
33 7/8"
2.4 oz
3 - 6 lb
2-8 g
(1/16-1/4 oz)

Model                             RZ65ML
Type                               Wild (stream)
Length                            6'5"
Sections                         2
Breakdown Length      39 1/2"
Rod Weight                   3.1 oz
Line Weight                   3 - 8 lb
Lure Weight                  3 -12 g
                                        (1/10 - 7/16 oz)

RZ68LML
Wild (stream)
6'8"
2
41"
2.9 oz
3 - 5 lb
2 -10 g
(1/16 - 3/8 oz)

RZ75ML
Wild (stream)
7'5"
2
45 1/2"
3.4 oz
3 - 8 lb
3 -18 g
(1/10 - 5/8 oz)

When you put the sections together, there will be a gap.
When you put the sections together, there will be a gap. That is normal. Don't force them.

The Tenryu Rayz spinning rods set the standard for small stream trout rods. The rods produced by US companies don't even come close to equaling the quality of the Tenryu rods. Even among Japanese rods, I would choose Tenryu. I've seen rods from Daiwa, Shimano, Smith and Anglo&Co. I'll take Tenryu!
Tenryu has redesigned the entire Rayz lineup for 2020.  Some of the original Rayz rods remain in stock and are now 20-25% off.

Shop for Tenryu Rayz spinning rods
---
Warning:
The hooks are sharp.
The coffee's hot.
The fish are slippery when wet.
---