Covid-19 Announcement
Some shipments are still delayed, both domestic and international. If you are planning a trip, please order well in advance.

---
Tenryu Rayz Spinning Rods

The Tenryu Rayz spinning rods are the nicest rods for stream fishing I have ever seen (aside from the Tenryu Rayz Spectra). They are well balanced, have great actions and the "fit and finish" is unsurpassed. Tenryu is a small family company in Japan that is not well known in the US - at least not yet. It will certainly become better known as more trout anglers look to Japan for JDM spinning rods. I have been importing Tenryu rods for a while now, and they are absolutely top quality.
Completely Redesigned for 2020
The Tenryu Rayz spinning rods were completely redesigned for 2020. The new Rayz models are a step closer to the premium Spectra rods. The blanks are both firmer and faster than the original Rayz rods, which has made the rods more accurate. The carbon/glass percentage has been changed, with most of the old Rayz rods being 85% carbon and 15% glass and the new Rayz rods being 92 to 96% carbon, depending on the model.
The one thing above all else that American anglers marvel at when watching Japanese lure fishing videos on YouTube is the pinpoint casting. Lightly dropping a lure deep into a bank eddy doesn't scare the fish you wish to catch on the retrieve.
Pinpoint accuracy is critical for stream fishing, and the new Rayz delivers.
| | |
| --- | --- |
| Fuji KL-H titanium guides with SiC inserts | Rubber ring protects the grip cap |
The 2020 Tenryu Rayz spinning rods feature the Fuji KR concept guide system. The KL-H titanium frame guides with SiC inserts are taller, more aggressively angled and have smaller rings than the reduction guides on the original Rayz series. The coils of line coming off the reel are straightened out more quickly, causing less resistance as the line streams through the guides. That produces longer, more accurate casts. The running guides are smaller, which means they are lighter and produce less inertia when casting. The lighter guide train also makes the rods more sensitive.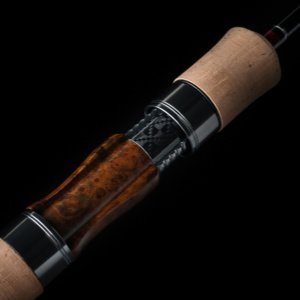 Nishijin weave, select hardwood, premium cork
Tenryu's support of traditional Japanese crafts is embodied in the Nishijin weave incorporated into the reel seat. It is small and subtle, but it is built into the heart of the Tenryu Rayz spinning rods.

The reel seat spacer is select hardwood, each with its own unique grain pattern.
The grip itself is premium cork. For the RZ410S-UL, the length of the grip behind the reel seat is quite short - the same length as on the original Rayz RZ39LL. This makes underhand flip casts much easier as it allows the wrist a much greater range of motion.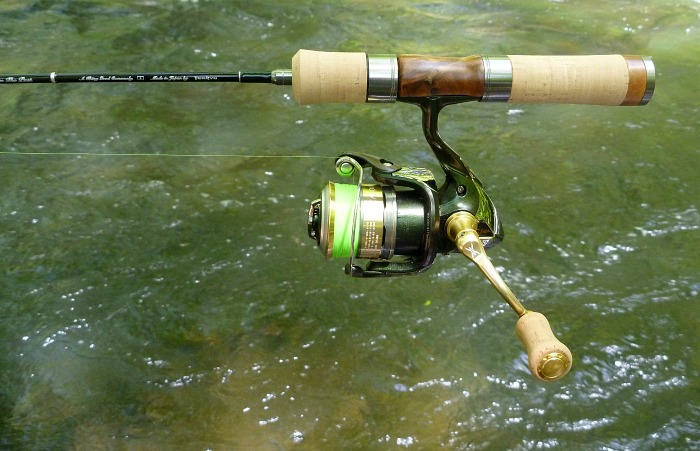 The Tenryu Rayz RZ4102S-UL grip is the same as the RZ39LL shown above.
The rod lengths for the Tenryu Rayz spinning rods have been changed for 2020. The extremely short RZ39LL has been discontinued, and the UL and L models have been shortened. The RZ4102S-UL is 5 inches shorter than the original Rayz RZ53UL. It is short enough for the headwaters streams, yet long enough to use when you need subtle presentations of lighter lures on larger streams.
Model
Type
Length
Sections
Breakdown
       Length
Rod Weight
Line Weight
Lure Weight
Price

RZ4102S-UL
Wild (stream)
4'10"
2

30"
2.6 oz
Max 4 lb
Max 6 g (about 3/16 oz)
$365
Made in Japan

RZ542S-L
Wild (stream)
5'4"
2

33"
2.8 oz
Max 6 lb
Max 8 g (about 1/4 oz)
$390
Made in Japan
---
Tenryu has added a 6'3" Light model, which I think I'll need to order more of now that I've seen it. There are lots of rivers in the US that are wide enough that you'd want a rod longer than 5'4", but which you'd still want to finesse with 4 to 6 lb line and 4.5 to 7 g lures. If you want one rod for both streams and lakes, the new Rayz RZ632S-L may be just the rod.

Tenryu Rayz RZ632S-L
Model
Type
Length
Sections
Breakdown
       Length
Rod Weight
Line Weight
Lure Weight
Price

RZ632S-L
Wild (stream)
6'3"
2

38 3/4"
3.2 oz
Max 6 lb
Max 8 g (about 1/4 oz)
$410
Made in Japan
---
For even larger rivers and bigger fish, 6'10" and 7'7" rods round out the series.
Model
Type
Length
Sections
Breakdown
       Length
Rod Weight
Line Weight
Lure Weight
Price

RZ6102S-LML*
Wild (stream)
6'10"
2

42 1/8"
3.7 oz
Max 6 lb
Max 12 g (about 7/16 oz)
$420
Made in Japan

RZ772S-ML*
Wild (stream)
7'7"
2

46 1/2"
4.1 oz
Max 8 lb
Max 18 g (about 5/8 oz)
$455
Made in Japan
In business school, I remember studying the Japanese concept of "kaizen," which is generally translated as "continuous improvement." On the home page, I mentioned that the Japanese have a different philosophy than Americans with respect to price and quality. They also have a different philosophy with respect change. "If it ain't broke, don't fix it" would never fly in Japan. There it would be more like "It ain't broke, but make it better." Tenryu Rayz spinning rods were already excellent. Now they're even better.
---
Original Tenryu Rayz Spinning Rods - Now on Sale

---
RZ53UL - RZ56L
 The RZ53UL is intended for smaller streams and lightweight lures. It is not a soft rod, though and will drive pinpoint casts. The rod is supple enough that you could use lures down to 1 gram and lines down to 1 lb test if you wanted to, but according to Tenryu the butt is firm enough for 12" trout. (Tenryu is being modest. The rod is much more capable than that!)

The RZ56L is designed for the full length of mountain streams. In contrast to the RZ53UL, the design is for heavy plugs, deep divers and heavy spoons.  It is a slim rod with a strong blank. You can feel the lure weight  easily and make accurate casts.
I think the RZ53UL is fine for fishing a variety of lures up to 4.5 or 5g sinking minnow plugs and lines up to 4 lb test. If you fish heavier lures or 6 lb lines, I would recommend the RZ56L instead.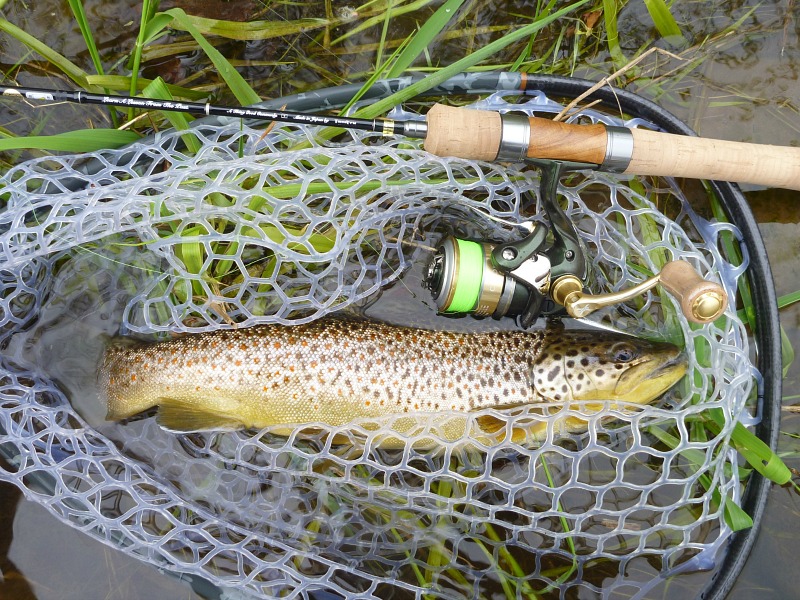 Day 1
After the first day on the stream, I was convinced that Tenryu is being overly modest when it says 12" trout. I have no doubt whatsoever that if you are not battling swift current as well as the fish, landing substantially larger trout will not be an issue. The first day's fish was only a bit over 14", but it wasn't even close to the rod's limit! With other Tenryu Rayz spinning rods, for which they also say 12" trout, I have landed 20 and 22 inchers!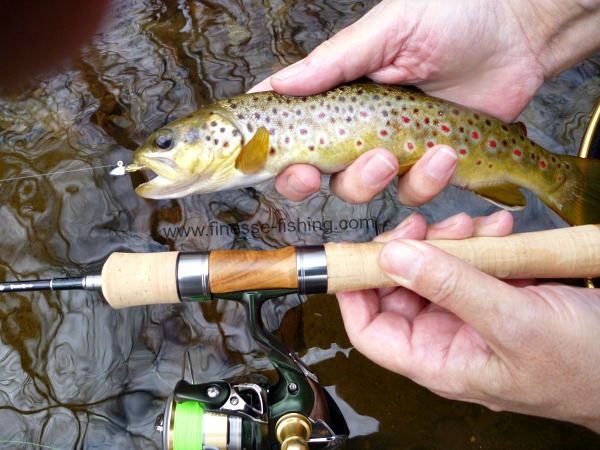 Tenryu Rayz RZ53UL
Tenryu is correct about the RZ53UL being capable of casting light lures, though. The 1 gram ajing jighead (above photo) cast beautifully and was well suited to the small wild trout stream.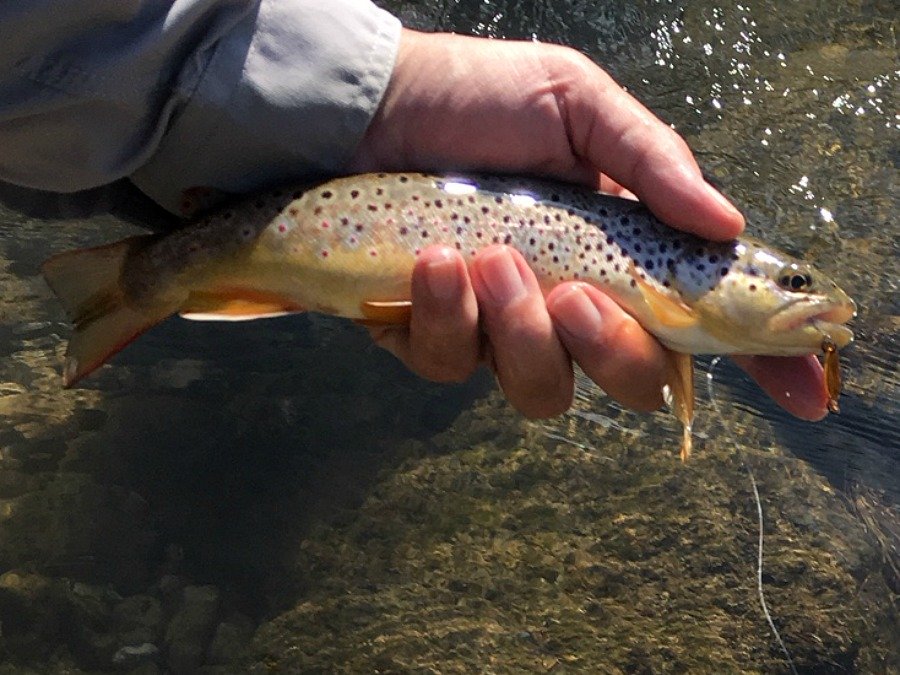 1.2g micro spoons cast well and catch fish.
Micro spoons like the 1.2g Daiwa Presso Eve also cast very nicely (and catch fish!). Of course, the 5g Shimano Slim Swimmer spoons cast well too. Like bullets, actually.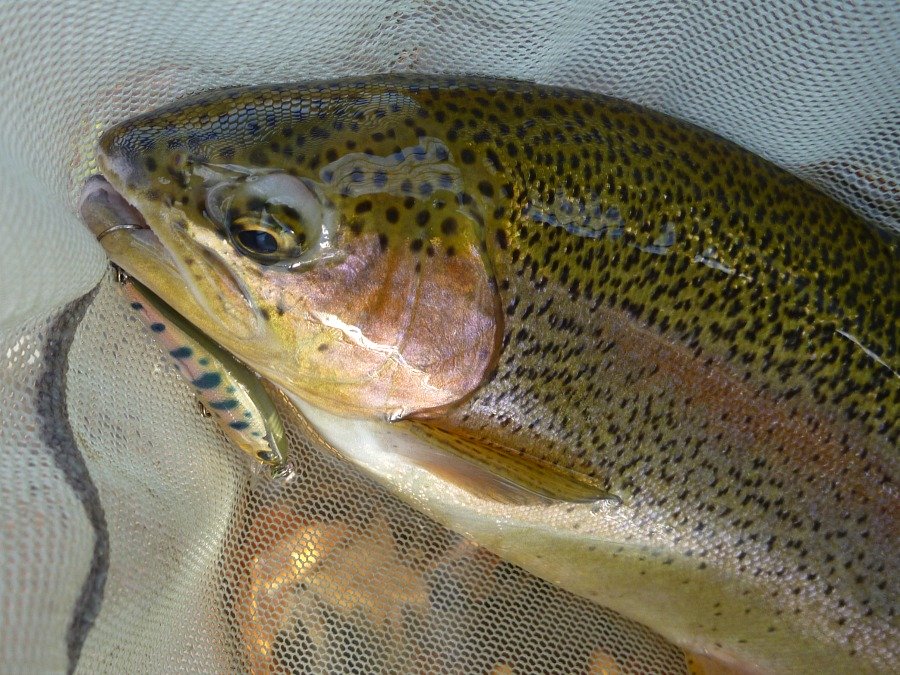 4.5g sinking minnow with single hook.
The 4.5g Daiwa Silver Creek Minnow 50S, which is one of the lures that Japanese anglers prefer for stream fishing, works very nicely indeed. It is well within the recommended lure weight range for either of the rods, and it is a very effective lure. The rod tip is well designed for giving the minnows a twitching, darting action.
I always replace the treble hooks with single hooks (and generally just remove the front treble hook, and replace the rear treble with a single.).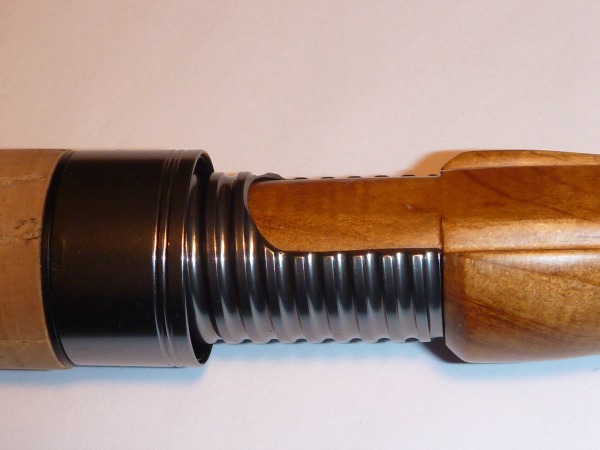 Hardwood and metal reel seat.
I often tell people that the Tenryu Rayz spinning rods are in another league compared to the spinning rods available in the US. The fit and finish are excellent, and the components are absolutely top notch. The reel seats on Tenryu Rayz (and on the Rayz Alter, Rayz Integral and Rayz Spectra) are hardwood and metal - no cheap plastic parts on these rods! Tighten until just snug. Do not over-tighten!

Tenryu Rayz RZ56L
Model
Type
Tip
Length
Sections
Breakdown
       Length
Rod Weight
Line Weight
Lure Weight
Price

RZ53UL
Native (stream)
Tubular
5'3"
2

32 1/4"
2.2 oz
1 - 4 lb
1/32 - 3/16 oz (1 - 6g)
Originally $330
Now 25% off .. $247.50
Made in Japan

RZ56L
Native (stream)
Tubular
5'6"
2

33 7/8"
2.4 oz
3 - 6 lb
1/16 - 1/4 oz (2 - 8g)
Originally $340
Now 25% off .. $255
Made in Japan
---

When you put the sections together, there will be a gap.
When you put the sections together, there will be a gap. That is normal. Don't force them.

The Tenryu Rayz spinning rods set the standard for small stream trout rods. The rods produced by US companies don't even come close to equaling the quality of the Tenryu rods. Even among Japanese rods, I would choose Tenryu. I've seen rods from Daiwa, Shimano, Smith and Anglo&Co. I'll take Tenryu!
---
Shipping
Domestic shipping is $10 via USPS Priority Mail (2-3 day delivery).
Please note: All packages are shipped via USPS. If you have a PO Box, please list ONLY the PO Box in your address, not the PO Box and your street address.
If you live in an apartment, please put the apartment number on the same line in the order form as the your street address, for example
John Doe
123 Main St Apt 4
Yourtown, XX 12345
Just leave the second line blank! Please! It takes you more time to put something in it and it takes me more time to take it back out. If you need it for a business name, use it. Otherwise, please leave it blank. No dashes no nothing.
The charge for international shipping depends on the destination country, the weight of the package, the overall length of the package and the value of the package. Packages under 24" long and under $400 in value will go via USPS First Class International. Packages over 24" or over $400 will go via USPS Priority Mail International. The International shipping charge will be calculated at checkout.

Domestic shipping for the RZ6102S-LML, RZ772S-ML or RZ75ML is $20.

---
Warning:
The hooks are sharp.
The coffee's hot.
The fish are slippery when wet.
---