Tenryu Rayz Spinning Rods

The Tenryu Rayz spinning rods are the nicest rods for stream fishing I have ever seen (or at least they were before I saw the Tenryu Rayz Spectra). They are well balanced, have great actions and the "fit and finish" is unsurpassed. Tenryu is a small Japanese company that is not well known in the US - at least not yet. It will certainly become better known as more trout anglers look to Japan for JDM spinning rods. I have been importing Tenryu tenkara rods for a while now, and they are absolutely top quality.
The Rayz series have titanium frame K guides with SiC rings. The dark green blanks are slim, lightweight and parabolic.


When you put the sections together, there will be a gap.
When you put the sections together, there will be a gap. That is normal. Don't force them.

RZ39LL
The RZ39LL is for the headwaters  and for streams that are narrow and choked with brush.  The design goal for this model was a rod that allowed quick pinpoint casts, often sidearm or underhand as conditions required. The rod was designed to cast small plugs in a wide range of weights, and to have sufficient power in the butt section to handle 12" trout despite having a very short, very slim blank. The LL designation is between light and ultralight.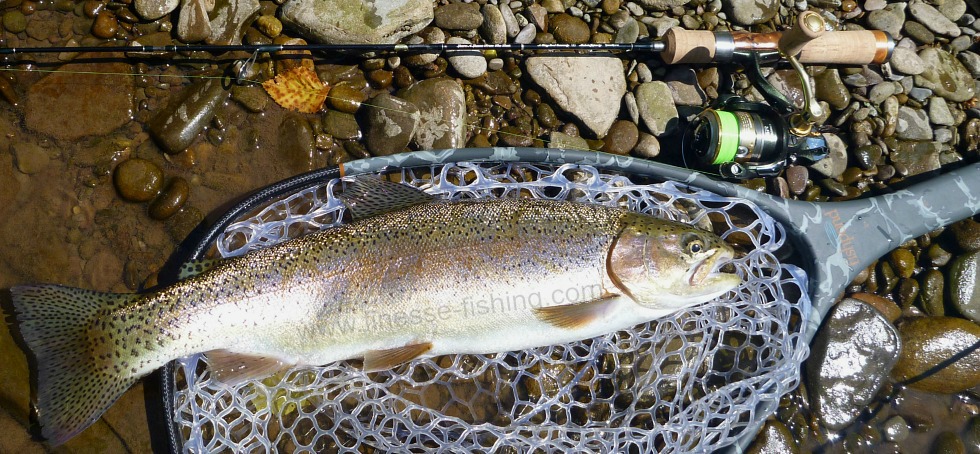 Tenryu Rayz RZ39LL
Even though I see the Tenryu Rayz RZ39LL as a small stream trout rod, with the average fish being perhaps a 6" brookie or an 8" brown, if you happen to hook a much larger than expected fish, the rod can handle it. The Tenryu catalog says the rod is capable of handling 12 inch trout. I can tell you that the rod handled the 20" trout shown above with no problem whatsoever. You do need a reel with a good drag, but the rod can handle any fish you'll hook in a stream small enough that you would want to fish a 3'9" rod!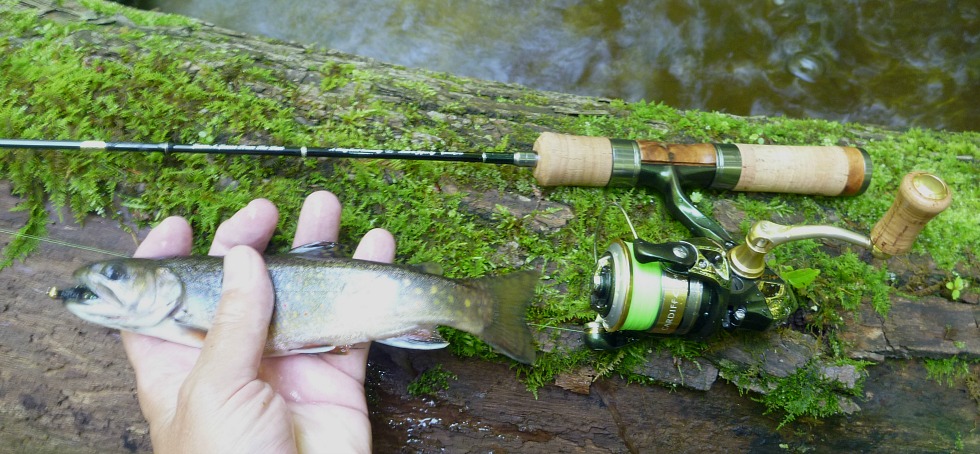 Tenryu Rayz RZ39LL, brookie and bead head bugger.
However, the rod is still a lot of fun with a smaller fish. A friend I fish with from time to time specializes in following the "thin blue lines" for little wild brook trout. This rod would be ideal for that! It is rated for lures as light as 1 gram.  It turns out that with a light line, the rod can cast a bead head woolly bugger, which weighs considerably less than a gram. You cannot cast far, but on a small stream you can cast far enough. That's what took this brookie.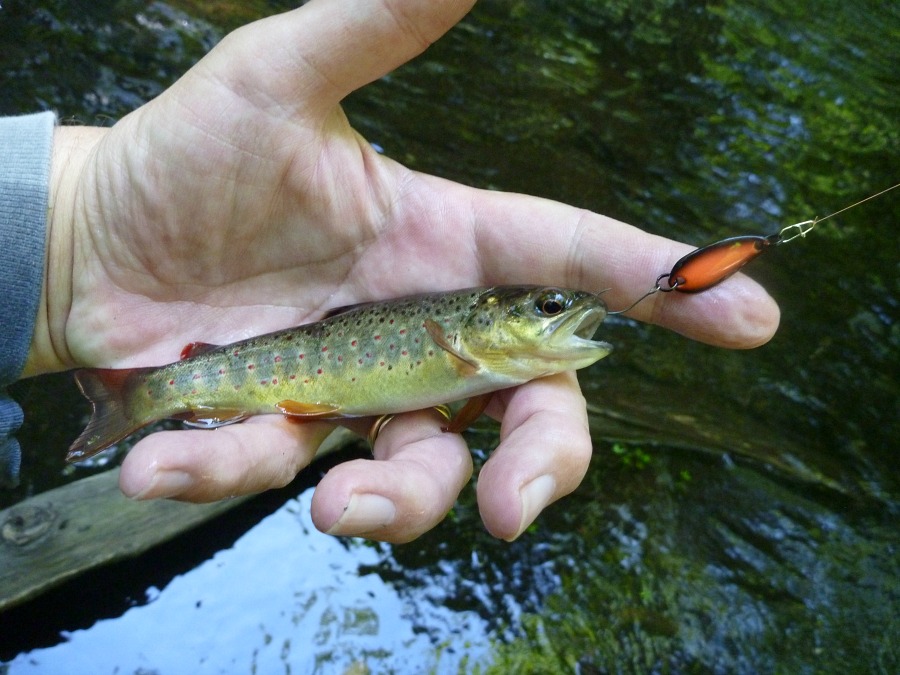 Little brown trout caught with 1.2g micro spoon.
For lures, the 1 gram weight would include the .7g C'ultiva JH85 jig head with the 1.3" Pinworm which together weigh exactly 1 gram and which I found out (Trip Report 4-22-17) the trout love! It would also include the 1.2 gram Daiwa Lupin spoons, which I think trout love even more than the micro jigs!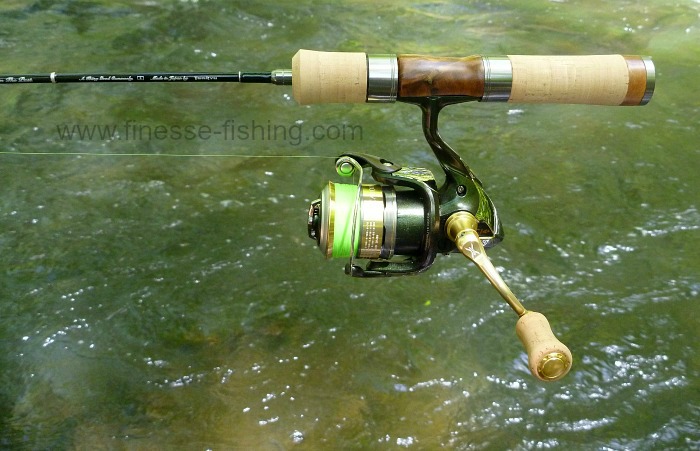 Tenryu Rayz RZ39LL with Shimano Cardiff CI4+ C2000HGS
I have to say that I am very, very impressed with the Tenryu Rayz RZ39LL. This is going to be my small stream rod! There are a few things going for it. 1). The short length makes it easy to cast even in very close quarters. 2). The broken down length is short enough to fit in one of the Medium Rod Cases I offer on the TenkaraBum.com website - making it almost as convenient to carry when backpacking as the four-piece Tenryu Rayz Integral rods. 3). It can cast lures as light as 1 gram, the same as the RZ53UL. 4). It can cast as far as you would need to cast on a small stream. On a river you might want greater casting distance, but on a river you would have room for a longer rod. The RZ39LL is a small stream rod, but for that it is just ideal!
I liked the rod well enough that I placed a second order -  for every single one Tenryu had in stock!
For a longer write-up, please see my  Tenryu Rayz RZ39LL page on TenkaraBum.com.

RZ53UL
The RZ53UL is intended for smaller streams and lightweight lures. It is not a soft rod, though and will drive pinpoint casts. The rod is supple enough to permit the use of 1 lb test lines, but according to Tenryu the butt is firm enough for 12" trout.

Tenryu Rayz RZ53UL
After the first day on the stream, though, I was convinced that Tenryu is being modest. I have no doubt whatsoever that if you are not battling swift current as well as the fish, landing 16-18" trout will not be an issue. The largest fish I have caught to date were only a bit over 14", but they  were not even close to the rod's limit!
Tenryu is correct about the rod being capable of casting light lures. The 1 gram ajing jighead (above photo) cast beautifully and was well suited to the small wild trout stream.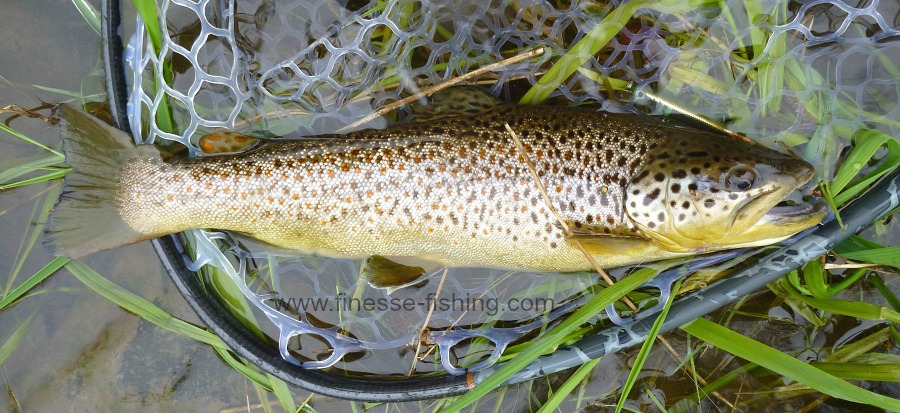 Brown trout caught with RZ53UL and Pins Minnow.
Although the rod will cast a 1 gram jig head, it will also very easily cast a  4 or 5 gram minnow lure like the Yo-Zuri Pins Minnow that caught this brown.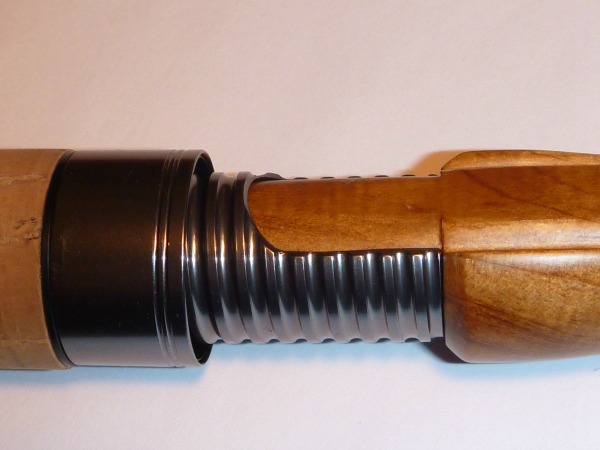 Hardwood and metal reel seat.
The reel seats on Tenryu Rayz (and on the Rayz Alter, Rayz Integral and Rayz Spectra) are hardwood and metal - no cheap plastic parts on these rods! Do not over-tighten.


Tenryu Rayz RZ56L
RZ56L
The RZ56L is designed for the full length of mountain streams. In contrast to the RZ53UL, the design is for heavy plugs, deep divers and heavy spoons.  It is a slim rod with a strong blank. You can easily feel the lure weight and make accurate casts.
If you generally fish with lures of 1/8 oz or more, I would suggest the RZ56L rather than the RZ53UL.

Model                             RZ39LL
Type                               Wild (stream)
Length                            3'9"
Sections                         2
Breakdown Length      23 1/4"
Rod Weight                   1.8 oz
Line Weight                   1 - 5 lb
Lure Weight                  1/32 - 1/4 oz

Model                             RZ53UL
Type                               Wild (stream)
Length                            5'3"
Sections                         2
Breakdown Length      32 1/4"
Rod Weight                   2.2 oz
Line Weight                   1 - 4 lb
Lure Weight                  1/32 - 3/16 oz

Model                             RZ56L
Type                               Wild (stream)
Length                            5'6"
Sections                         2
Breakdown Length      33 7/8"
Rod Weight                   2.4 oz
Line Weight                   3 - 6 lb
Lure Weight                  1/16 - 1/4 oz

The Tenryu Rayz spinning rods set the standard for small stream trout rods. The rods produced by US companies don't even come close to equaling the quality of the Tenryu rods.

Shop for Tenryu Rayz spinning rods
---
I will be away from Tuesday, Oct 15 through Monday, Oct 21. Shipments will resume on Oct 22. Orders can be placed while I am away. After I return they will be processed in the sequence they were received.
---
---
Warning:
The hooks are sharp.
The coffee's hot.
The fish are slippery when wet.
---