Tenkara Line

---
Nissin Oni Line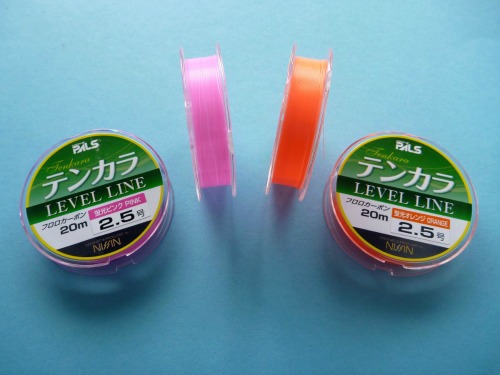 Nissin Oni Line, pink and orange
Fluorocarbon level line designed in conjunction with Masami Sakakibara (Tenkara no Oni) 20 meters - $18

Pink size 2.5
---
Pink size 3
---
Pink size 3.5
---
Pink size 4
---
Pink size 4.5
---
Orange size 2.5
---
Orange size 3
---
Orange size 3.5
---
Orange size 4
---
Orange size 4.5
---
---
Fujino White Line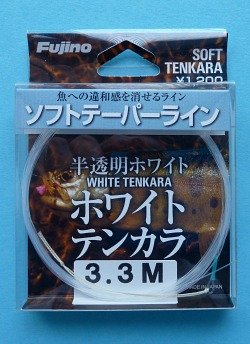 Tapered Nylon - $15
Fujino White Line 3.0m
---
Fujino White Line 3.3m
---
Fujino White Line 3.6m
---
Fujino White Line 4.0m
---
Shipping
Domestic shipping is by USPS First Class Mail (unless ordered along with a rod). The $4 charge will be added to your order automatically.
Please note: All packages are shipped via USPS. If you have a PO Box, please list ONLY the PO Box in your address, not the PO Box and your street address.
International shipping is by USPS First Class Mail International (unless the entire order is over $400 or the order requires a box longer than 24". The shipping charge depends on the destination and the weight, length and value of the package.
Import Duties and Taxes

International purchases may be subject to import duties and taxes. I cannot keep track of all import regulations in all countries written in all languages. Understanding and paying import duties and taxes is the responsibility of the buyer.
UK

Finesse-Fishing.com no longer ships to the UK. The new VAT regulations are too onerous for a one-man shop that rarely ships anything to the UK anyway. I apologize.

Australia

The US Postal Service has suspended all shipments to Australia. There are two alternatives. One is the same price as the USPS had been (as calculated at checkout) but may take 3-4 weeks. The other is UPS, which is considerably faster (3-5 days), but also considerably more expensive. If you want the faster, UPS shipment, I will send an invoice for the required amount.

Canada

Canadian buyers have the option to prepay import duty and VAT (which also eliminates the CAN$9.96 Canada Post charge for collecting the import duty and VAT). The prepayment option costs a flat US$6.95, which can yield a substantial savings for larger purchases. This option is available only for First Class International postage (package length 24" or less, package value less than $400US).

Prepaid Canadian Import Duty and Tax - US$6.95

THIS BUTTON IS FOR CANADIAN RESIDENTS ONLY!

---
---
The hooks are sharp.
The coffee's hot.
The fish are slippery when wet.
---