Tenryu Rayz Integral
The Tenryu Rayz Integral spinning rods take the excellent Rayz blanks and turn them into the best backpacking and travel rods you will find.

Tenryu Rayz Integral RZI50UL-4
The rods breaks down to such a short length it is easy to take them with you wherever you go. (Go to where the fish are!)
Tenryu Rayz Integral RZI50UL-4 and Yellowstone Cutthroat
In 2017 I went to Livingston MT to give a presentation to the International Federation of Fly Fishers. While there I took advantage of some free time after the sessions to do a little spin fishing. I didn't want to pass up the chance to catch fish like the Yellowstone Cutthroat shown above. The Tenryu Rayz Integral four-piece rod was easy to pack in my suitcase. Taking a 2-piece rod would have required checking a second bag.
Although the rod will easily fit in the Medium Rod Case, the light weight, inexpensive blue plastic case shown below left, I have ordered Tenryu rod cases and socks, which are stronger and more appropriate for a premium rod like the RZI50L-4 or RZI50UL-4. Both of the Tenryu Rayz Intergral 50 rods also fit in the rod holders or water bottle holders on the sides of many packs. For that matter, they will fit completely inside even modest daypacks.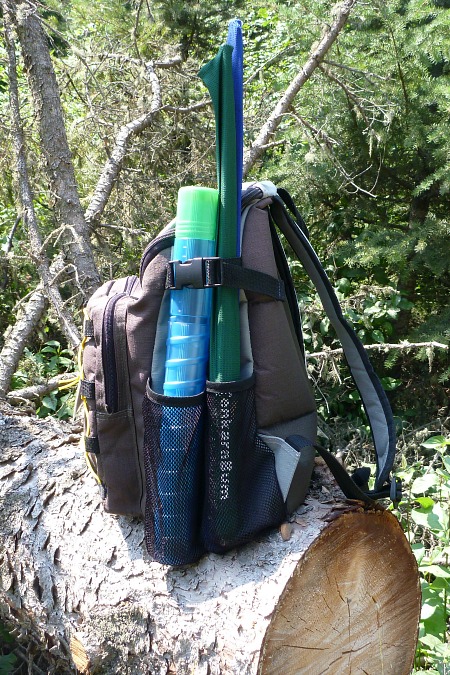 RZI50UL-4 in Medium Rod Case
RZI50UL-4 with backpack
I have learned over the last few years how many backpackers are drawn to tenkara rods because they are so convenient to carry anywhere. The photo on the left shows that the Tenryu Rayz Integral rods are, if anything, even more convenient to carry than tenkara rods! Granted, you do have to carry a reel, but for people who prefer spin fishing to fly fishing, the short, easy to pack RZI50UL-4 or RZI50L-4 make backpacking (or bike-packing) with a spinning rod a breeze.
A couple years ago a friend hiked the John Muir Trail. He's an avid tenkara angler, so he took a couple tenkara rods with him. The guy he went with also took a tenkara rod, but in addition, he took a multi-piece spinning rod. The spinning rod was the hit of the trip. By far, most of the fish they caught were caught in the lakes. By far, most of the fish they caught in the lakes were caught with the spinning rod. My friend the avid tenkara angler bought a Tenryu Rayz Integral RZI50UL-4 spinning rod right after he got back!
Not long ago, a customer bought a very nice rod from me and a Medium Rod Case to pack it in. After he received his order, he wrote in to say the rod was beautiful but the case was butt-ugly. The John Muir Trail hiker also balked at the thought of carrying his nice new Tenryu Rayz Integral spinning rod in a cheap plastic case. He implored me to find a better case for the rod - hopefully with a divided rod sock to keep the sections from rubbing together.
Well, it turns out that Tenryu has a case that  fits the rod perfectly! It even comes with a divided rod sock. The sock is divided into six sections rather than four because the sock and case were made for one of Tenryu's 6-piece Packer fly rods. I wouldn't let a little thing like that stop me, though.  I bought enough socks and cases to include one with every Tenryu Rayz Integral left in stock.
The Tenryu Rayz Integral RZI50UL-4 and RZI50L-4 now come with a divided cloth sock and hard case (at least, if you get them from Finesse-Fishing.com they do).

Tenryu Rayz Integral rod sock

Tenryu Rayz Integral rod case

Tenryu Rayz Integral rod sock

Tenryu Rayz Integral rod case
RZI50UL-4
The RZI50UL-4 is the Rayz Integral Twitchin' model. It is a pack rod designed for light lures in the headwaters. The action will give you a lively fight with headwaters fish, but there is enough power in the butt section to handle the occasional surprisingly large fish.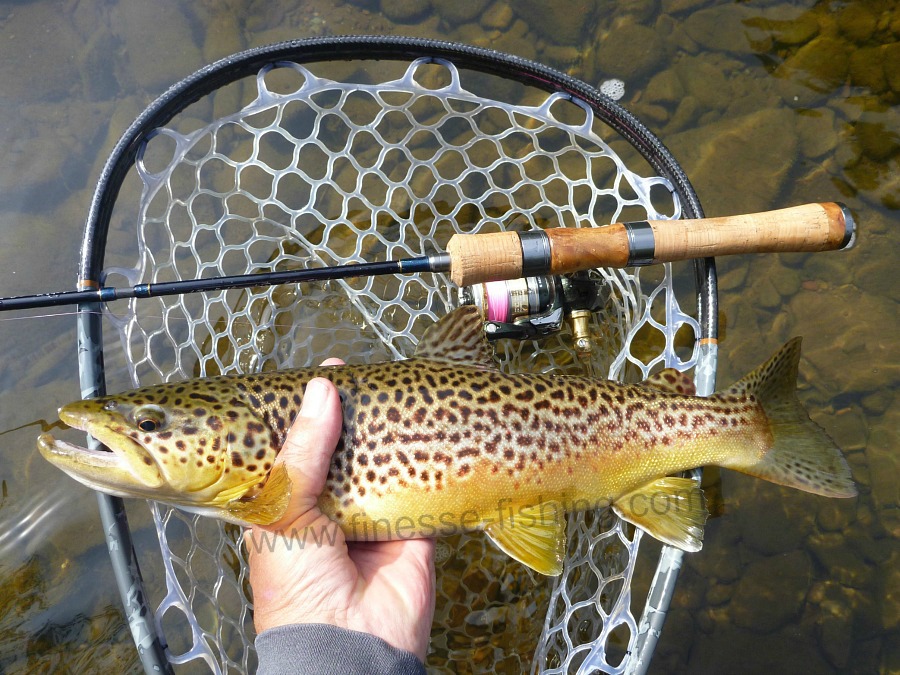 Tenryu Rayz Integral RZIUL-4 with brown trout
If your backpacking or travels take you to waters where the fish are larger than those you find in the headwaters, that is not a problem. Matched with a reel that has a good drag, you can catch very nice fish with the Tenryu Rayz Integral RZI50UL-4!
RZI50L-4
The RZI50L-4 is the Rayz Integral Jerkin' model. The design goal was for a backpacking rod that you can use anywhere, with heavier plugs and deep divers and slightly heavier line. The moderate action yields pinpoint accuracy.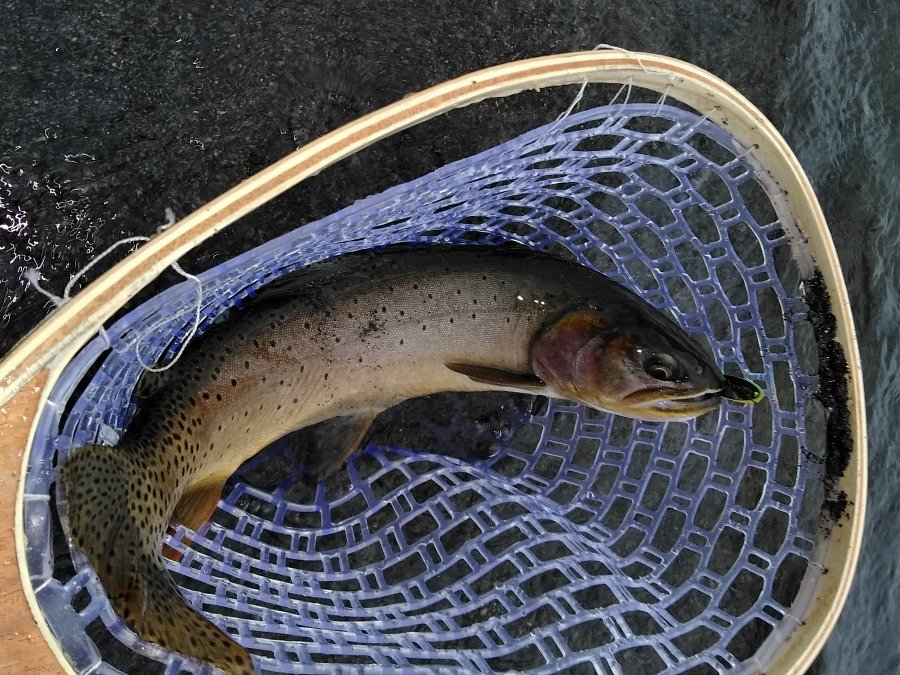 Yellowstone Cutthroat caught with RZI50L-4
Kyle R sent in the photo above and a note to go with it: "I was at Yellowstone last week. After being skunked on the fly and snowed out of the rivers, I decided to go fish Yellowstone lake with my Rayz Integral RZI50L-4. Using 1/4oz Kastmasters and Daredevil spoons I was wade casting out into the lake. Hooked a 22" Cutthroat that put up a good fight, but the rod handled him perfectly. Fought him for about 5 minutes, letting the drag on my reel wear him down. I was using a firetiger Kastmaster.
 He was the only one I caught that day due to the weather. The next day however using a red and white Daredevil, I hooked a huge Cutthroat. Talk about a ass wooping. I think it had taken me about 15 minutes to land him, just smoking my arms and bending that rod in half. Seriously thought my drag system was going to burn out, that being my first time having a screaming reel. Unfortunately I do not have a picture due to my phone being buried under my waders and not wanting to stress the fish more for a pic. Again, last fish of the day due to the weather. 

 My last day I hiked up to Trout lake, which is the clearest lake I have seen. Using a 1/8oz Brown Trout Kastmaster I hooked a 16"-18" Cutthroat. He put up a good fight, but I managed manipulate him to a clearing in the weeds rather easily. 
 The rod is great! Handled all of those fish without a single issue, and it could cast spoons far enough to fish the edge of the large lakes. Definitely sold on it's ability and how far it can punch above it's weight class. Seriously, that rod saved my trip, cause I was not catching a damn thing on the fly."
Tenryu Rayz Integral stats
Model                        RZI50UL-4         RZI50L-4
Type                        Wild (stream)    Wild (stream)
Length                           5'0"                    5'0"
Sections                         4                         4
Breakdown Length   16 1/8"              16 1/8"
Rod Weight                 2.3 oz                 2.3 oz
Line Weight                 1 - 4 lb                3 - 6 lb
Lure Weight             1/32 - 1/5 oz    1/16 - 1/4 oz
The Tenryu Rayz Integral rods have stainless K guides with SiC rings. The dark blue blanks share the Rayz heritage. The four-piece blanks make them excellent choices for backpacking or travel.
Shop for Tenryu Rayz Integral rods here.

---
Warning:
The hooks are sharp.
The coffee's hot.
The fish are slippery when wet.
---