Smith Niakis

Some months ago I got a nice compliment on the site from a truly international angler who has fished all over the world. However, he said that he didn't understand why I didn't stock the Smith Niakis spinner. I replied that I had a bias against spinners because they cause line twist. He said the Niakis doesn't. In his words they "genuinely don't twist line and are lethal on panfish, bass, trout you name it. Clever design, built in power swivel and offset bodies. These Smith spinners are the real deal, fished them lots on mono, no line twist."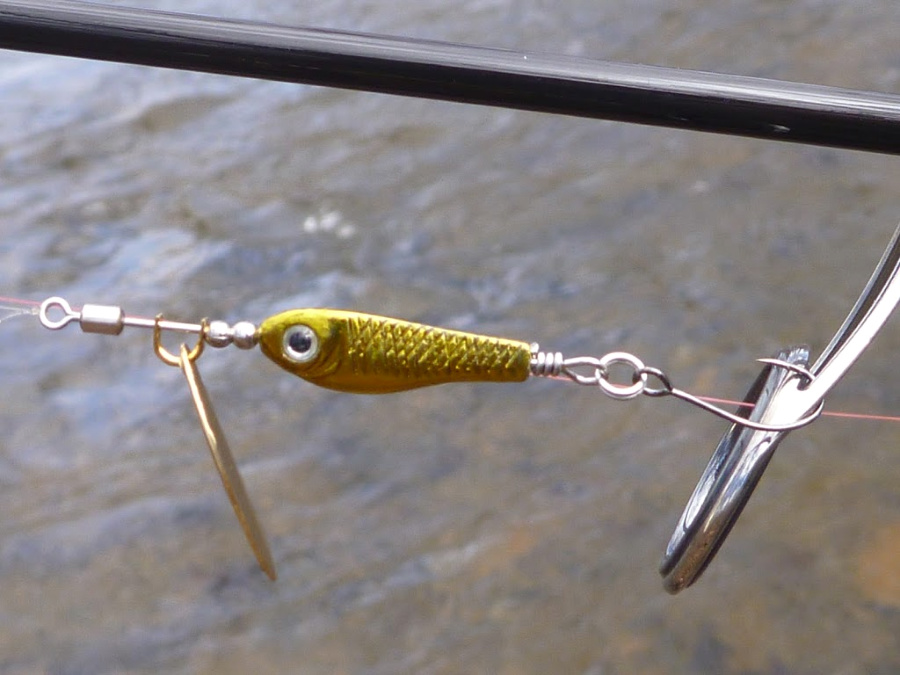 Smith Niakis 3 gram gold spinner
The Smith Niakis is obviously not the same design as the Palms SpinWalk Clevis but both share several design elements that I believe set them apart from the spinners that are readily available here in the US.

Built-in swivel to reduce line twist
Stirrup rather than folded clevis (spins more easily)
Single hook (micro-barb), split ring attachment
It is very rare to see a split ring to attach the hook on a spinner but it is valuable for two reasons. First, it allows you to change the hook if it gets bent, broken or dull. Second, it acts like a universal joint and greatly reduces  the chance that a twisting trout can get leverage to twist the hook out.

The Smith Niakis comes in more weights and colors than I could possibly stock. I'll start with the a few spinners in the 3 gram weight (just over 1/10 oz). The 3g Niakis comes with a size 1 blade and a size 8 Gamakatsu hook. The 6g Niakis comes with a size 6 Gamakatsu hook. The Niakis also comes very highly recommended.

---
---
---
Shipping
Domestic shipping is by USPS First Class Mail (unless ordered along with a rod). The $4 charge will be added to your order automatically.
Please note: All packages are shipped via USPS. If you have a PO Box, please list ONLY the PO Box in your address, not the PO Box and your street address.
International shipping is by USPS First Class Mail International (unless the entire order is over $400 or the order requires a box longer than 24". The shipping charge depends on the destination and the weight, length and value of the package.
Import Duties and Taxes

International shipments are taking weeks longer than normal and tracking does not seem to be working.
International purchases may be subject to import duties and taxes. I cannot keep track of all import regulations in all countries written in all languages. Understanding and paying import duties and taxes is the responsibility of the buyer.
Russia
Finesse-Fishing.com no longer ships to Russia.

UK

Finesse-Fishing.com no longer ships to the UK. The new VAT regulations are too onerous for a one-man shop that rarely ships anything to the UK anyway. I apologize.

Australia and New Zealand

The US Postal Service has suspended all shipments to Australia and New Zealand. There are two alternatives. One is the same price as the USPS had been (as calculated at checkout) but may take 3-4 weeks. The other is UPS, which is considerably faster (3-5 days), but also considerably more expensive. If you want the faster, UPS shipment, I will send an invoice for the required amount.

---
---
The hooks are sharp.
The coffee's hot.
The fish are slippery when wet.
---