Micro Spoons
---
Micro Spoons are surprisingly effective for trout and panfish (both sunfish and crappies). I have caught bass, fallfish and creek chubs with them as well. If you haven't yet tried them, get some. I think you will be very pleasantly surprised.
There is no definitive industry standard for what would be considered a "micro spoon." I know of one company that calls their 1/8 oz spoons "micro spoons." Most of  the spoons sold here on Finesse-Fishing.com are 1/8 oz or less, so most would be micro spoons under that definition. One eighth ounce is about 3.5 grams. I've never considered the 3.5, or 3, or even most of the 2.5 gram spoons I sell to be micro spoons. I'd always thought micro spoons were smaller.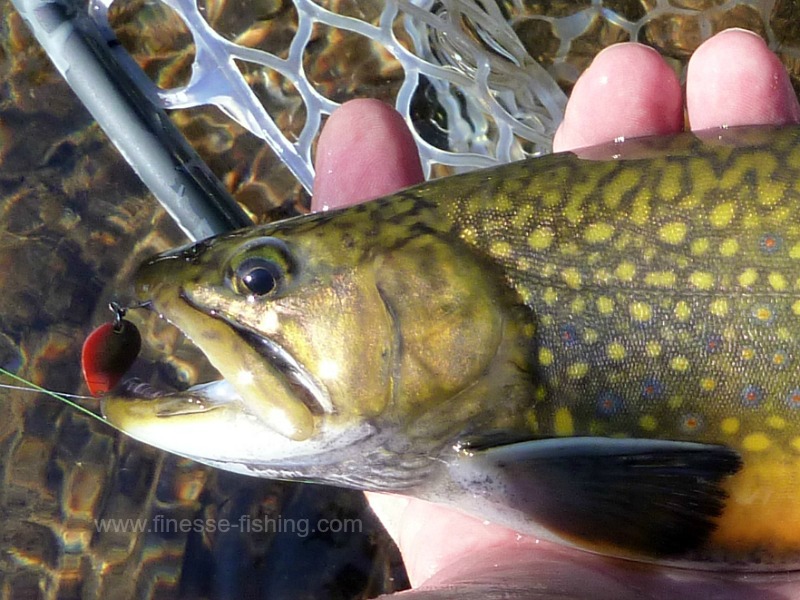 Nice brookie caught with .8g (1/35th oz) spoon
Personally, I would have chosen 1/16 oz (about 1.8 grams) rather than 1/8 oz as the upper weight limit for a micro spoon. The 1/8 oz spoons are extremely productive for trout, but so are much smaller spoons. I have found spoons of 1/16 oz or less to be just as effective for trout and a lot more effective for crappies and sunfish. For sunfish in particular, smaller is better.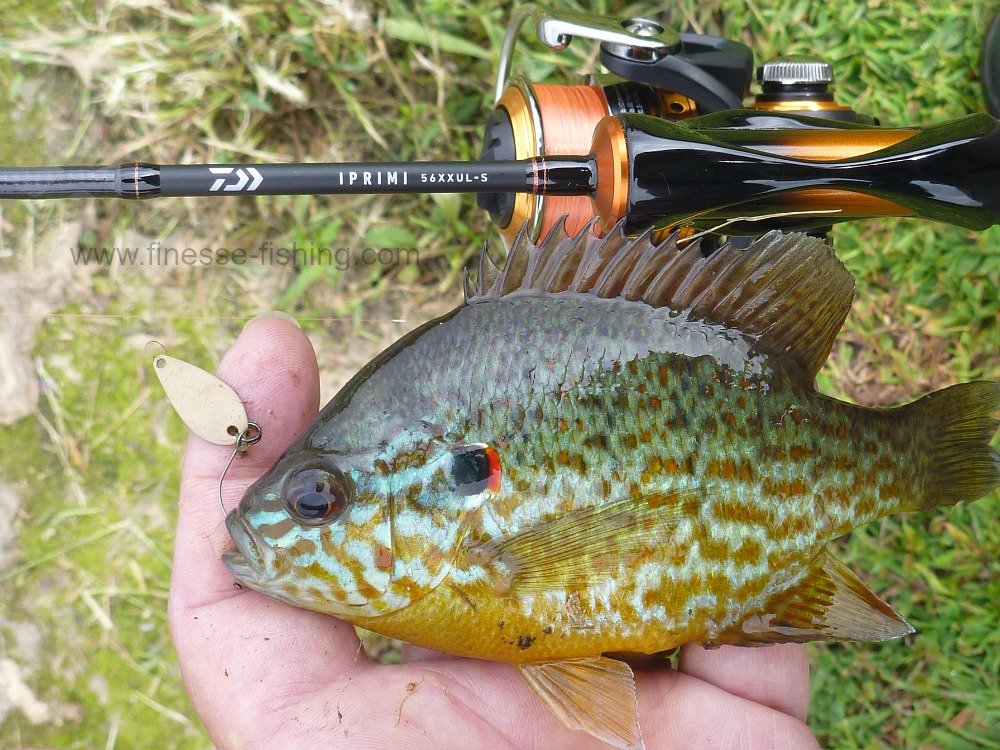 Pumpkinseed caught with .8g spoon
There aren't many spoons that weigh just 1/16 oz in the US, but they are common in Japan, where micro spoons are the most popular lure for fishing in Areas (private pay-to-fish lakes). Although we have pay-to-fish trout parks and trout preserves in the US, they aren't common and I don't think they're that popular (other than perhaps the trout parks in Missouri, which doesn't have much trout water). In Japan, though, they are quite popular. There are dedicated anglers - and dedicated equipment that can run up to $800 for a rod. By the way, a 1/8 oz spoon is over the recommended lure weight for that $800 rod.
Even in Japan, where micro spoons are very popular, there is no universally accepted definition of a micro spoon. I have seen one blog post that suggested  any spoon under 2 grams is a micro spoon. I have seen many more, though, that define a micro spoon as being no heavier than 1 gram. A one gram spoon is certainly micro!
I think, though, that at least here in the US the 1 gram limit is too low. Perhaps if small spoons become a lot more popular here it would make sense to divide them into those that weigh less than a gram and those that weigh more than a gram but we're not there yet.

Although I had initially chosen 1/16 oz (about 1.8 grams) as the upper limit for the purposes of this website but upon reflection I think even 1.8 grams is too light and a hard dividing line is too restrictive. Anyway, there is no clear break at 1.8 grams. There is no good reason to exclude the 1.9 gram Daiwa Lumion, or the 2.1 gram Rodio-Craft NOA or even the Daiwa Adam spoons, which come in weights from 1 gram up to 2.2 grams. It would make no sense for some of the Adam spoons to be micro spoons and some not, when all share the same length and width, varying only in the thickness of the metal.
Personally, I think of micro more from the standpoint of size than of weight. The Daiwa Eve Gekiatsu spoon weighs in at 2.5 grams but it is less than an inch long. I definitely would call a it micro spoon. On the other hand, the 2 gram Smith Pure spoon is a full inch and a quarter long, which strikes me as a bit too large to be a micro spoon. The Shimano 1.5g Slim Swimmer is an inch and an eighth, which is a little long, but it is narrow and only 1.5g. I think of it as a micro spoon. You're free to disagree.

Whatever the upper limit, the lower limit seems to be .4 grams. I have not seen any spoons that are lighter than .4g and have not seen rods rated for lures of less than .4g, although Tenryu gives a lower limit for their Rayz Alter Area rods of "approaching zero."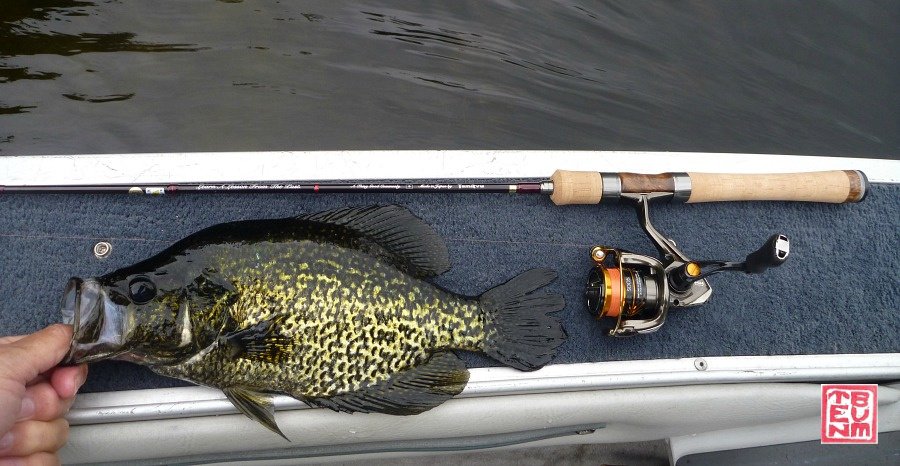 Tenryu Rayz Alter RZA61L-T and black crappie
You can't cast a .4g spoon very far, but you can cast it far enough to catch fish. For quite some time, the Daiwa Presso Vega .4g spoons were offered on this site and on the TenkaraBum.com sister site. TenkaraBum.com sells tenkara rods and fly rods, and the tenkara rods and fly rods could cast the .4g spoons easily. Lots of people caught lots of fish with them.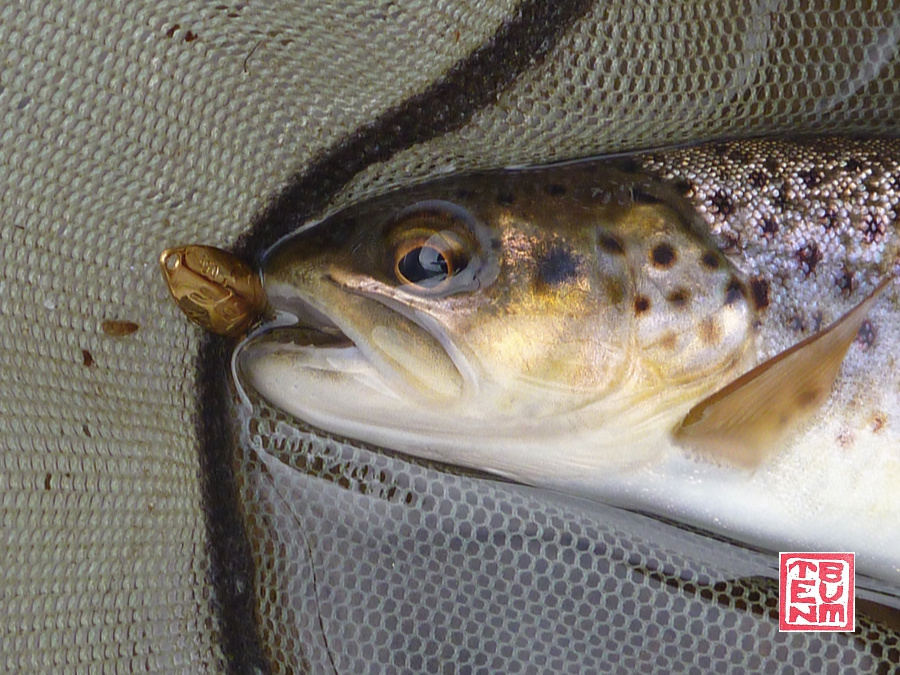 Rodio-craft Blinde Flanker .5g gold spoon
All good things must end, and Daiwa discontinued the Vega spoons. I have found a .5g spoon, the Rodio-craft Blinde Flanker, which I think is even better. They are a little smaller than the Vega spoons but they are thicker than the .4g Vega spoons, and they weigh 25% more. They cast just as nicely with tenkara rods and fly rods. Because they are both heavier and smaller, they get a bit deeper.
Since they are a little smaller than the Daiwa Presso Vega spoons, they are even more effective for sunfish. Sunfish have small mouths. They eat small things. They are much more likely to hit a small lure than a large one.

Although .4 and .5g spoons have been a big hit among tenkara anglers, slightly heavier spoons cast much better with spinning rods. The extra extra ultralight Daiwa Iprimi 56XXUL and the extra ultralight Daiwa Presso ST rods are rated down to .4g and the Tenryu Rayz Alter rods are rated down to "approaching zero." Both rods do much better with .9g or 1.2g spoons.


Eighteen inch smallmouth caught on .9g spoon.
Every year, a friend and I vacation in Maine to fish for smallmouth bass. Most of the fish we catch are 14-17". We don't usually fish micro spoons. This past year I spent some time fishing with my Tenryu Rayz Alter RZA61L-T, which is a great rod for catching modest fish. I was having a wonderful time catching the little 8-9" smallies that are common around the rocky shoreline of the lake we fish, using a Forest Tournament .9g spoon. Running the boat just a little way offshore, I was casting for accuracy, not for distance.  All was going according to plan until I cast to a rock pile in the middle of a cove and hooked this 18 incher. The soft Area trout rod took a while to subdue the beast. Patience and a reel with a good drag allow you to land nice fish, though.

Everyone thinks "big bait, big fish" but big fish eat small things, too! If you present a big fish with an easy meal, it's likely to take it.

Jacob E's micro spoon brookie
Of course, if you present a small fish with a meal small enough for it to take - it, too, is likely to take it. That's what Jacob E found out when fishing a tiny stream (less than 4' wide), catching over a dozen native brookies in less than an hour. The .9g Rodio-craft Cha2 Jr. was heavy enough to cast well but small enough that the little brookies couldn't resist it.

Daiwa Presso Eve 1.2g gold spoon
The Daiwa Presso Eve 1.2g spoons are heavy enough to cast well with any of the UL spinning rods offered on Finesse-Fishing.com. The Eve spoons are less than an inch long - plenty small enough for bluegills

Creek chubs will hit spoons if they're as small as this 1.2g Daiwa Eve.
For that matter, micro spoons are small enough for micro fish! Not all micros by any means, but creek chubs will hit micro spoons given half a chance.

Shimano Slim Swimmer 1.5g
Shimano's Slim Swimmer spoons are narrower for their length than most spoons. That makes them closer to the shape of most minnows. I have found them to be very effective. They come in a 1.5 gram weight, which would fit my definition of a micro spoon,  and in 2.5 and 3.5 gram weights, which would fit within a 1/8 oz definition of micro spoons. They also come in a 5 gram version that no one would consider a micro spoon.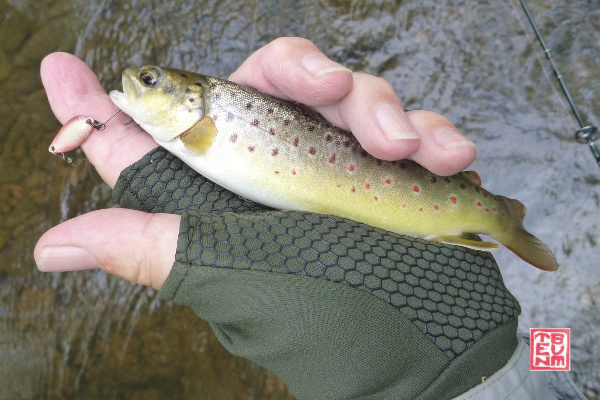 Forest Factor 1.8g
The Forest Factor 1.8g spoon shown above is heavy enough that an ultralight spinning rod can cast it as far as you'd need to cast on any small stream.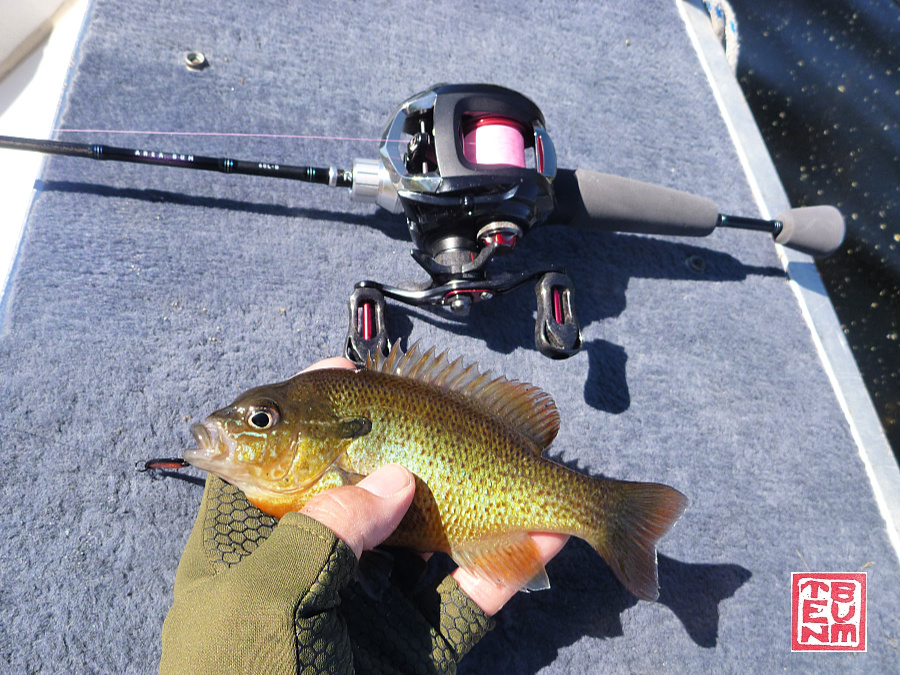 Daiwa Lupin 1.8g (discontinued), Daiwa Area Bum 60L-B (also discontinued) and Daiwa SS Air
Casting a 1.8g spoon is well within the capability of any of the BFS reels offered on Finesse-Fishing.com. As with the .4g spoons and spinning rods, they don't cast that far, but they cast plenty far enough to catch fish. The Daiwa Area Bum 60L-B was one of the few baitcasters designed for fishing Areas, and was thus one of the better baitcasters for fishing micro spoons. Daiwa has replaced it with the Presso ST 60LB, which I have not yet seen. Based on the Presso ST spinning rods I have seen and fished with, I think it will be a very nice rod for fishing the 1.8g micro spoons.

Although micro spoons are the most popular lure for fishing the Areas in Japan, they are also effective for fishing in streams, with two caveats: 1) they are light weight, so they do not get very deep. 2) if you fish downstream, the current will force them to the surface. I have done very nicely with them in smaller streams that do not have fast current, casting upstream and up-and-across into little bank eddies.
It was an eye-opener to see a Japanese YouTube video of a guy fishing micro spoons in a mountain stream with an extra ultralight rod designed for fishing in Areas. It was a very soft rod, and would not have done well with the heavy sinking minnows most steam anglers use in Japan. With the micro spoons, though, it actually worked very nicely.

To get the best action, attach the spoon to your line with a nonslip loop knot, a snap or a split ring.

Please order micro spoons, from the Spoons page in the Finesse-Fishing shop.

---
The hooks are sharp.
The coffee's hot.
The fish are slippery when wet.
---